Editor's note: This is Part 1 of a series by the Daily Chronicle looking into the city of Sycamore's water system. This project was made possible, in part, through a grant from the Fund for Investigative Journalism. This series is being made available to our readers for free. Please consider subscribing to help us continue the work we do on behalf of our communities.
SYCAMORE – Ashley Cole's family used to drink straight from the tap in her Sycamore home, she said, but that changed after the water flowing from the faucets first ran yellow.
"When we do get the dark yellow water, it is in all of the sinks, toilets and baths," Cole said.
Cole doesn't know whether her home in the 2000 block of Pioneer Way, built in 2014, has elevated lead levels in its tap water. Six homes about eight minutes south of her, however, were reported to have elevated lead levels during the city of Sycamore's most recent round of water testing. Those levels were discovered through samples collected Sept. 14, according to records the Daily Chronicle obtained in response to a Freedom of Information Act request.
"We have a filter on our fridge, but it worries me it doesn't do enough," Cole said. "And because we keep hearing about how the city water results don't match what other companies are getting."
Cole said city officials have come out to take water samples from her house within the two years her family has lived in the home, and they told her the home's levels were acceptable and not a cause for concern. Given the context of her fellow residents, however, she's among many other residents who are skeptical.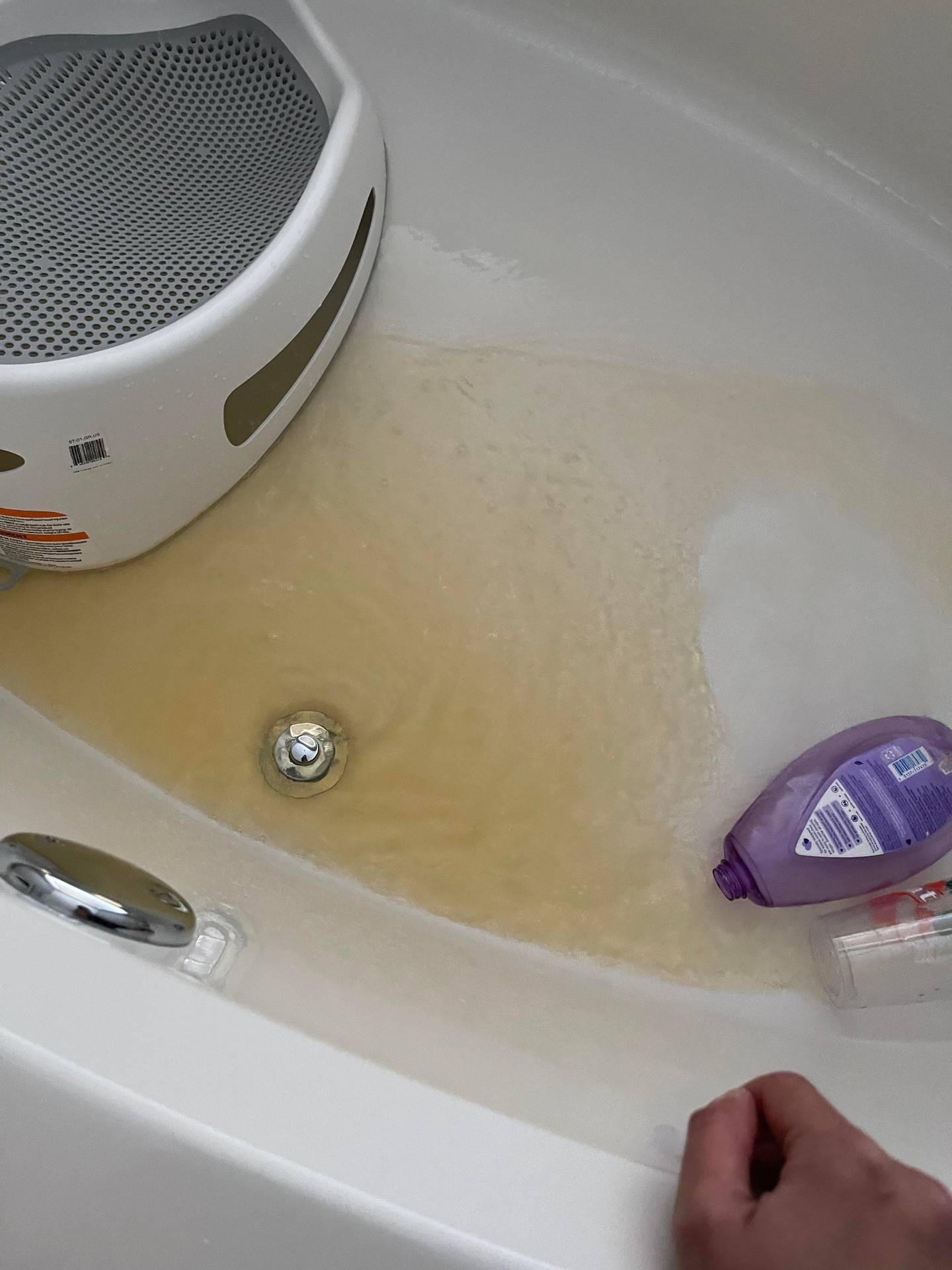 In the past year and a half, at least 60 Sycamore homes have been tested for lead in the water, with at least six reporting levels ranging from 18 parts per billion to 304. The amount deemed legal by the U.S. Environmental Protection Agency is 15. However, according to the U.S. Centers for Disease Control and Prevention, any amount of lead exposure can be damaging to a person's brain. The ongoing lead concerns, coupled with several residents experiencing discolored and foul-smelling water, has Sycamore homeowners on edge, saying the city isn't doing enough to remedy the water problems.
Because of lead concerns throughout the city, the Illinois EPA is requiring the city of Sycamore to increase testing on water samples, a department spokesperson told the Daily Chronicle in December.
"As a result of elevated lead sampling found in 2020, the Sycamore Community Water Supply was required to increase their monitoring as called for by the federal Lead and Copper Rule," Illinois EPA spokeswoman Kim Biggs said. "This monitoring now occurs every six months, and Illinois EPA is closely tracking those results."
The Illinois Department of Public Health is not investigating the city of Sycamore related to water quality concerns, said IDPH spokesperson Cristobal Martinez, who deferred additional comment to the IEPA.
Cole said because her own water in her home is discolored, while she's unsure of lead levels, her youngest son will seldom drink, saying "it tastes gross."
She's been contemplating installing a home filtration system, which she said her family estimated could cost about $8,000. It's something other residents have considered, too. Yet, she's not sure it would fix the problem, she said.
"It's hard to swallow that we pay so much in taxes and can't even trust the water to drink and bathe," Cole said. "It's concerning for our children. I strictly drank bottled water during my pregnancy as I was too worried to take a chance."
New year, same issues
It's been more than a year since Sycamore residents started to complain to the Sycamore City Council about the quality of water in their homes. Residents say they wanted to bring awareness to city officials that discolored, foul-smelling water comes out of their homes' taps and they refuse to use it. Those complaints soon turned into a larger fear that toxic lead, which can cause severe health issues, is prevalent in city water.
After a 2020 sampling of Sycamore homes showed elevated lead levels at some residences, state agencies began extra monitoring of water sampling in 2021, as required by the federal government, officials said.
[ Sycamore residents say water tests show elevated lead levels. City says otherwise. Here's what we know ]
After residents grew concerned about the existence of lead in their water, many went out and tested their water on their own: That round of testing in the summer 2020 showed elevated lead levels for three homes on Edward Street, Alden Drive and East Elm Street. Those tests were done by an EPA-certified St. Charles-based water conditioning and treatment company and showed high levels of lead – more than 60 parts per billion – for all three homes. However, results from a Geneva-based, EPA-certified lab commissioned by the city of Sycamore from samples collected July 8, 2020, showed 5.57 parts per billion in a sample size of 30 homes surveyed.
Clean Water Testing, an EPA-certified laboratory based in Appleton, Wisconsin, conducted the 2020 residents' testing samples, which were collected by Prairie State Water Solutions Inc., a St. Charles-based company. The city of Sycamore uses Suburban Laboratories Inc., which is based in Geneva and also EPA-certified.
The conflicting water test results have fostered a growing distrust between residents and city officials, who maintain Sycamore's water is safe to drink.
It's unclear whether the two issues – discoloration and odor, and elevated lead levels – are related, and Sycamore city officials have not identified a source of the discoloring and smell, but have outlined a plan to replace 120 lead service lines throughout the city. It'll be paid for in part by a $1.8 million loan from the IEPA the city of Sycamore was approved for in December.
The state's EPA is aware of the concerns and a spokeswoman said they're following the tests closely, requiring testing every six months.
Biggs said the most recent round collected Sept. 14, 2021, shows compliance with the federal lead and copper rule, which has a threshold that requires sample readings at the 90th percentile to test below 15 micrograms of lead per liter. She said the two most recent samples for lead in Sycamore's water supply show 8.43 Ug/L and 6.2 Ug/L. The agency's threshold for traceable amounts of lead in drinking water is 15 parts per billion, or ppb – meaning 15 micrograms per liter of water, or ug/L.
"The most recent six-month period sampling results show the system in compliance with the (federal lead and copper rule)," Biggs said Dec. 14. "Illinois EPA has not received any recent complaints from residents in Sycamore."
Even though much of Sycamore's water sampling shows lead levels within an amount that the state of Illinois has deemed legal, that doesn't mean some homes don't show elevated levels, or that lead isn't present.
What most recent results show
Six homes again showed elevated lead levels during the city's most recent round of testing on Sept. 14, 2021. Water samples were collected at 60 homes, documents show, and the city received the test results in October.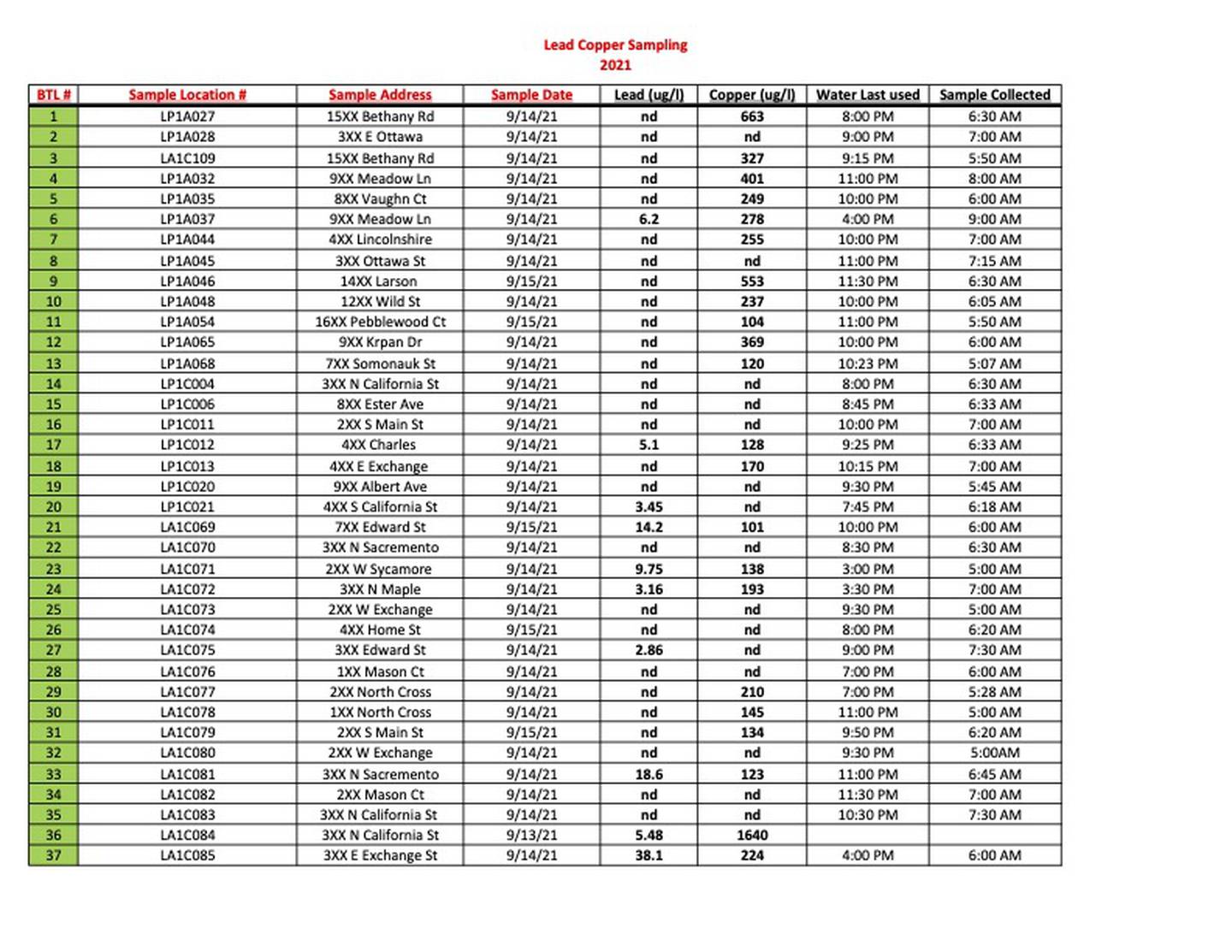 "Those all came back and we passed those again," Sycamore Public Works Director Matt Anderson said of the results.
There were six homes in that grouping, however, which showed elevated levels of lead, documents show. No amount of lead is safe for public consumption, according to the US Centers for Disease Control and Prevention, although exposure is preventable as long as causal factors are remediated.
A sample collected at 6:27 a.m. Sept. 14, 2021, reports one home in the 400 block of West Elm Street had lead levels at 304 ppb, records show. That's more than 20 times the limit set by the IEPA. A note in the record states the water was last used in that home a week before the sample was collected. Most other samples collected in the 60-home group were from homes where tap water was last used the night before, records show.
Five other homes also had elevated lead levels. A home in the 400 block of Edward Street recorded lead levels at 10.4 ppb, and another in the 700 block of Edward Street recorded 14.2 ppb of lead. In the 200 block of West Sycamore Street, a home reported 9.75 ppb. In the 300 block of East Exchange Street, another home recorded lead levels at 38.1 ppb. A home in the 200 block of North Sacramento Street showed 18.6 ppb.
All those homes are within a few blocks of each other on Sycamore's south side.
Are residents made aware if their home tests positive for elevated lead levels during city testing? The city of Sycamore says yes.
"Staff makes direct contact with the collector at a home that exceeds the IEPA's action level of 15 ppb," Anderson wrote in a Nov. 19 email to the Daily Chronicle. "In this round, three of the sixty locations exceeded 15 ppb and each was given the opportunity to resample – however, none of the residents chose this option. The city also follows up to determine possible causes for elevated readings and compares them to previous results."
He said the Elm Street home previously tested at 6.57 ppb.
"It was determined that the elevated reading [on Elm Street] was the likely result of testing outside IEPA guidelines," Anderson said. "IEPA sampling guidelines require the use of a faucet that has been in recent general use, however this faucet had not been used in over one week."
The sample collector at the Sacramento Street location reported the faucet used for collection had not been used in more than 24 hours. That property previously recorded a "no detect" result for lead, Anderson said. And the Exchange Street property, which tested 38.1 ppb for lead in mid-September, previously tested 9.32 ppb, Anderson said.
There weren't enough homes in the 60-size sample that reported elevated levels to warrant remedial action by the state, Anderson said, which requires that 90% or more of sample groups be 15 ppb or less.
"The latest round of tests resulted in 90% of the 60 samples were at or below 6.2 ppb for lead and 442 ppb for copper," Anderson wrote. "This means 90% of the samples collected were less than half the actionable limit for lead, and therefore no further action is mandated by the IEPA."
If more than 10% of the results exceeded the EPA's actionable limit, Anderson said, the city would be required to take steps including modifications to the corrosion control program, public education and lead service line replacement.
"Even with our low results, however, the city has been voluntarily and proactively taking steps to reduce the level of lead in the drinking water for our residents," Anderson said.
City officials maintain Sycamore's water is safe to drink and falls within legal standards set by the IEPA.
Sycamore Mayor Steve Braser declined several requests for comment related to this story.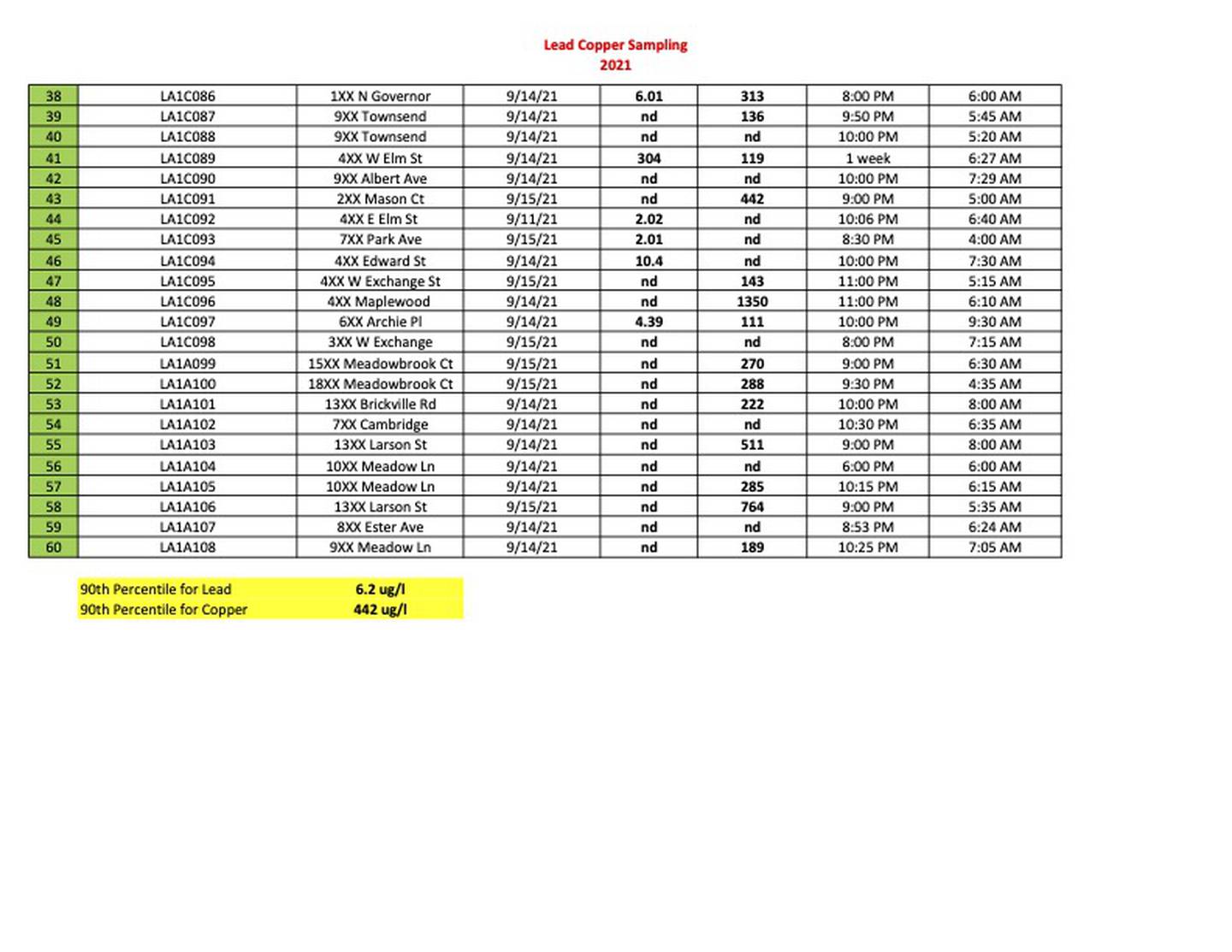 Where to go from here?
Sycamore's water woes aren't unique in Illinois.
"More than eight out of every 10 Illinoisans live in a community where brain-damaging lead was found in the tap water of at least one home during the past six years," a March 2021 Chicago Tribune analysis found. That's according to results from a limited number of water samples collected under federal regulations by the state's 1,768 water utilities. Illinois has more service lines made of lead than any other state, according to the report.
"East Moline found one home with 3,000 ppb of lead in tap water," the Chicago Tribune reported. "The Rockford suburb of Loves Park detected 2,700 ppb of lead in a home. Southwest of Joliet, the water system in Coal City found 1,260 ppb of lead in one of its samples."
Several residents filed a class action lawsuit against Sycamore in October 2020. The ongoing lawsuit was filed on several counts, including fraud, deceptive business, negligence and public nuisance.
The residents are asking the court to order several actions by the city, including the replacement of all water mains installed before 1960 and to declare the conduct of the city unconstitutional, according to court documents. They also are requesting awards for compensatory, punitive and exemplary damages.
A leading voice in the conversation and attached to the lawsuit, Jennifer Campbell, formerly of the 400 block of Edward Street, made it her mission in the summer of 2020 to attend months of Sycamore City Council meetings to voice her frustrations. She couldn't use the water in her home, she said at the time, because of its murky brown color and foul smell following the replacement of the Park Avenue water main three to four years prior.
Weeks later, she had a sample of her water tested independently that showed high levels of lead. She brought her findings forward publicly during several city meetings in August 2020.
Campbell's efforts have since brought together a collective of Sycamore residents who call themselves Citizens for Clean Water Sycamore, Illinois in a social media group on Facebook. Residents take turns posting pictures of brown water coming out of faucets, tubs and pipes.
Some voice concerns about health risks for themselves and their children due to potential longterm exposure to lead. Others lament the cost of their water bills amid concerns of quality. Many say they have a distrust of Sycamore city government, a festering refusal to believe when officials say the water is safe to drink.
In the year since, Campbell moved out of Sycamore and now lives in North Carolina.
"We have always longed to move south and avoid the harsh northern Illinois winters that we are all familiar with," Campbell wrote in a Nov. 30 statement. "We also wanted to make new memories. The water situation is not the specific reason why we moved, however it certainly did not make us more inclined to stay."
However, Campbell continues to champion clean drinking water.
"Even though we no longer live in Sycamore, this does not mean that my family and I and others have not been affected or harmed by the situation in Sycamore – nor has the city fixed the problem," Campbell wrote. "We are not going away. This is a cause worth fighting for."
In response to the class complaint, Sycamore officials a year ago denied "the allegation that the city has a water problem," the legal response filed Dec. 22, 2020 reads. The city's response says it can't specifically answer additional allegations regarding Sycamore's water smelling like sewage "so foul, metallic and rotten that is causes persons to gag," and that water "tastes metallic like blood."
The city's response declares multiple times officials are unable to directly respond to allegations that the water's poor quality renders it unusable or unsafe to drink or that it has lead levels higher than what is safe by state standards. However, the city admitted residents have been coming forward with concerns over the water in their homes since at least 2016.
"Sycamore further admits that it has assured residents that their water is safe to drink, and that the city's water meets or exceeds EPA standards," the lawsuit response reads.
The city of Sycamore maintains about 115 miles of water main serving 7,000 users, according to the city's Water Master Plan. The plan was developed in 2019 and the Sycamore City Council approved it as a means to address aging water infrastructure and develop a way to pay for it.
Steps for the plan, including replacement of lead-lined water service lines and hydrant flushing around the city, were placed on hold in early 2020 due to financial constraints brought on by the COVID-19 pandemic, city officials said at the time. Elected city officials since then applied for the now-approved IEPA loan and imposed an almost $7 fee on residents' monthly water bills in 2021, which they said would help pay to replace 120 lead water service lines.
Sycamore has started to notify residents if their home is identified as one serviced by the 120 water lines that are lined with lead. In that notification, residents are invited by the city to opt in to have their lead lines replaced at no cost. Those mailers went out Jan. 28. City officials have said more lead lines are out there and are working to identify them for future remediation.
Despite maintaining the city's water is safe to drink by IEPA standards, Sycamore city officials repeatedly have declined comment on the lawsuit, citing the ongoing nature of the case, including Braser.
Mark Vazquez, a Chicago attorney representing Sycamore residents attached to the lawsuit, said since it was filed, no additional residents formally have been added to the case.
"But all residents of Sycamore who have been affected remain represented by us, as far as the class that we represent," and they don't need to be named in order to be represented, Vazquez said.
Sarah Fox, a Northern Illinois University law professor, said if the class action involves fewer members as part of the class than, for example, the class action associated with the Flint, Michigan water crisis, Sycamore's case could potentially mean a quicker litigation process.
"But the reality is that litigation is a very slow process," Fox said. "And so this will be years in the making."
Cole said she wishes the city would be more transparent about the water quality issues in the meantime. "I think if they were upfront about the issue and reassuring people they were doing their best for resolution, people – myself included – wouldn't be so angry."