SYCAMORE – A former Sycamore City Council alderman is officially the city's new mayor about a month after the April 6 consolidated election.
Steve Braser, formerly a longtime third ward alderman, was sworn into office as the new mayor during the Sycamore City Council meeting on Monday night. He said during the ceremony he was joined by his wife, three of his four adult children and other relatives he hasn't seen for more than a year.
"I'm just happy to have them all here tonight," Braser said.
Braser previously announced his candidacy for the seat in early December 2020. That announcement came after now former Sycamore Mayor Curt Lang confirmed in September he would not be seeking a second term for the mayor's seat, saying the COVID-19 pandemic had worn him down and led, in part, to his decision.
Lang said after the April 6 election he was excited to hear that Braser was the then-apparent winner of the mayoral race, since the votes were not certified yet. He said Braser has been involved in city government for more than a decade and he has a good understanding of where the City is and where it hopes to go.
"I think he's very capable to lead us for the next four years," Lang previously said.
Braser said Monday he wouldn't have wanted to become the city's new mayor without the support of his City colleagues. He said he looks forward to working with the council and staff.
"I think that we have a very great council going forward and I'm looking forward to the next four years," Braser said.
Braser has been on the City Council for a dozen years and his family had owned Downtown Shoes for about 50 years. He previously said he wanted to run for the office because he loves the community and loves being involved in serving the community.
Braser said his first order of business as Sycamore's new mayor is finding a new permanent city manager after longtime city manager Brian Gregory became DeKalb County administrator starting March 1.
"That's going to be the most important here," Braser said. "We've got some strong applications and I look forward to going on from there."
Braser said he's unsure of how many people have applied for the job thus far. However, he said the City will have a better idea by May 19, when interviews are expected to begin. The selection will happen in June.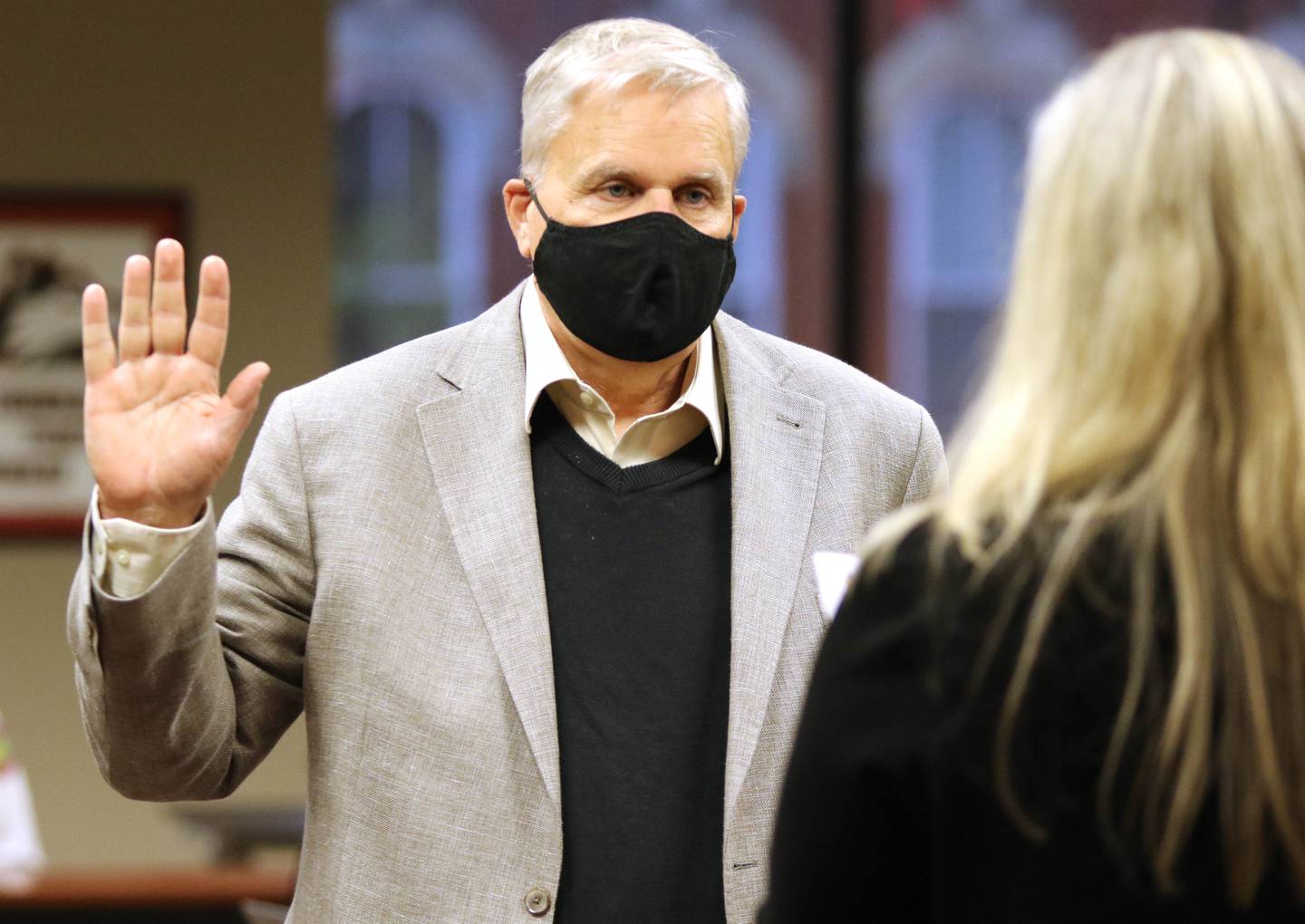 During a months-long renewed effort taken to City of Sycamore officials to address, a number of residents also got together and filed a class action lawsuit against the city in October of 2020, which remains ongoing. City officials have continued to deny the water, which many residents reported is brown and has a foul odor and texture, is unsafe to drink, though they are looking at getting a forgivable loan to replace lead water lines throughout the city. The council in recent months has also mulled over possibly implementing a separate program that would give a $1,000 utility bill credit for homeowners that replace lead water service lines on their private property.
Braser declined comment about the class-action lawsuit, citing the ongoing nature of the suit. However, he pointed to the City Council directing staff on Monday to re-draft a program meant to financially help residents replace privately-owned residential lead service lines by approving up to $1,000, as the proposal currently reads.
Braser also said he was "pleasantly surprised" to see U.S. President Joe Biden propose a $2 trillion plan that would, in part, eliminate lead pipes from water supplies across the country. Braser said it's still unclear what direct effects the proposed federal program will have on Sycamore residents, but he believes the program will affect a lot of people regardless.
"I don't think he mentioned it during his campaign," Braser said. "That's why I was pleasantly surprised."
Braser said he remains excited to get started and that he won the April 6 election. What he did not expect was to win with only 782 votes to challenger Adam Benn's 180 during the consolidated election, he said.
"I've made the statement to a lot of people, that I think I would be a lot more excited if I would have had 10,000 votes instead of one and a half out of every ten citizens of Sycamore showing up to vote," Braser said. "That was a bit of a disappointment and I am really trying to get more people involved in the community."
Sycamore aldermen sworn in Monday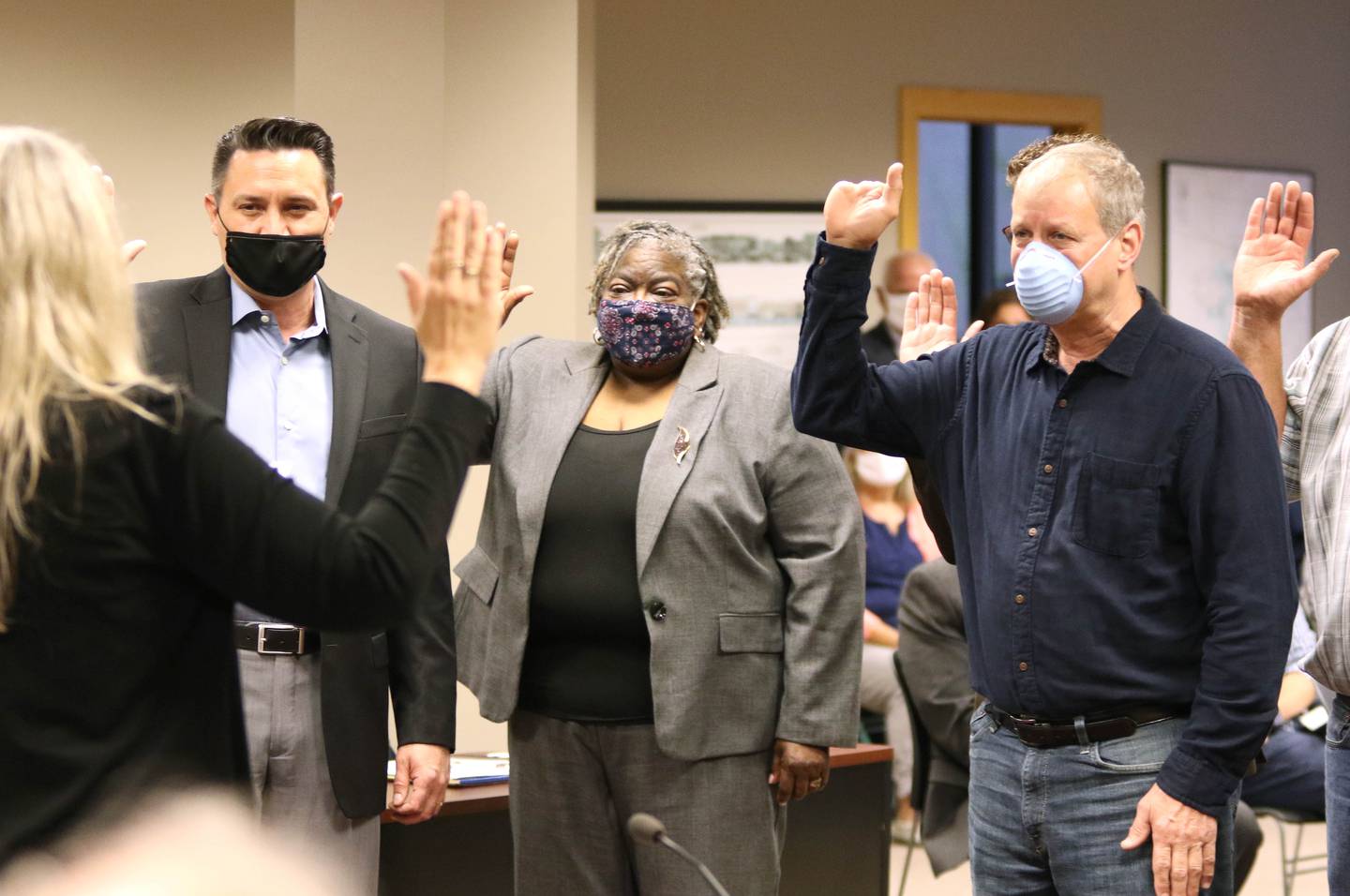 Several Sycamore aldermen also were sworn into office during the Monday meeting.
Sycamore First Ward Alderman Alan Bauer, Second Ward Alderman Pete Paulsen, Third Ward Alderman Jeff Fischer, Fourth Ward Alderman David Stouffer and Fourth Ward Alderwoman Virginia Sherrod all were sworn in by City Clerk Mary Kalk, who also was sworn into office earlier in the meeting. Braser previously clarified it was his aldermanic seat that was up for election this time around and he would not have been running again as alderman due to his mayoral campaign.
Paulsen won the only contested aldermanic race in April, with 137 votes to challenger Mike Rodriguez's 74 votes.