City of Sycamore officials are continuing to deny the city 'has a water problem,' according to court records which show the city's legal team has issued a response to a class action lawsuit in Illinois district court.
"Sycamore denies the allegation that the City has a water problem," the legal response filed Dec. 22 reads. The City's response says it can't specifically answer additional allegations regarding the city's water smelling like sewage "so foul, metallic and rotten that is causes persons to gag," and that water "tastes metallic like blood."
The answer to the class action complaint was filed Dec. 22 in the U.S. District Court for the Northern District of Illinois by the city's attorneys, Foster, Buick, Conklin and Lundgren LLC.
The City's response declares multiple times officials are unable to directly respond to allegations that the water's poor quality renders it unusable or unsafe to drink or that it has lead levels higher than what is safe by state standards, saying that they're unsure where such allegations come from.
In response to the lawsuit -- filed by residents Jeremy Pennington and Jennifer Campbell, part of the citizen-led group Citizens for Clean Water Sycamore and two leading voices throughout the most recent months-long back-and-forth between residents and city officials -- the City admits residents have been coming forward with concerns over the water in their homes since at least 2016.
Residents have reiterated they do not believe the city is acknowledging the severity of the problem, while city officials in turn have said the water remains safe to drink under standards laid out by the Illinois Environmental Protection Agency.
"Sycamore further admits that it has assured residents that their water is safe to drink, and that the City's water meets or exceeds EPA standards," the lawsuit response reads.
It's a narrative the City has maintained for months, when residents first began to step forward more publicly in August alleging the water in their homes was so bad they couldn't use it, and then through water quality testing done by a private-lab contracted out by residents, some tests came back showing high lead levels. Throughout, city officials have said the water, which many residents describe as brown, slimy and foul-smelling, is safe to drink.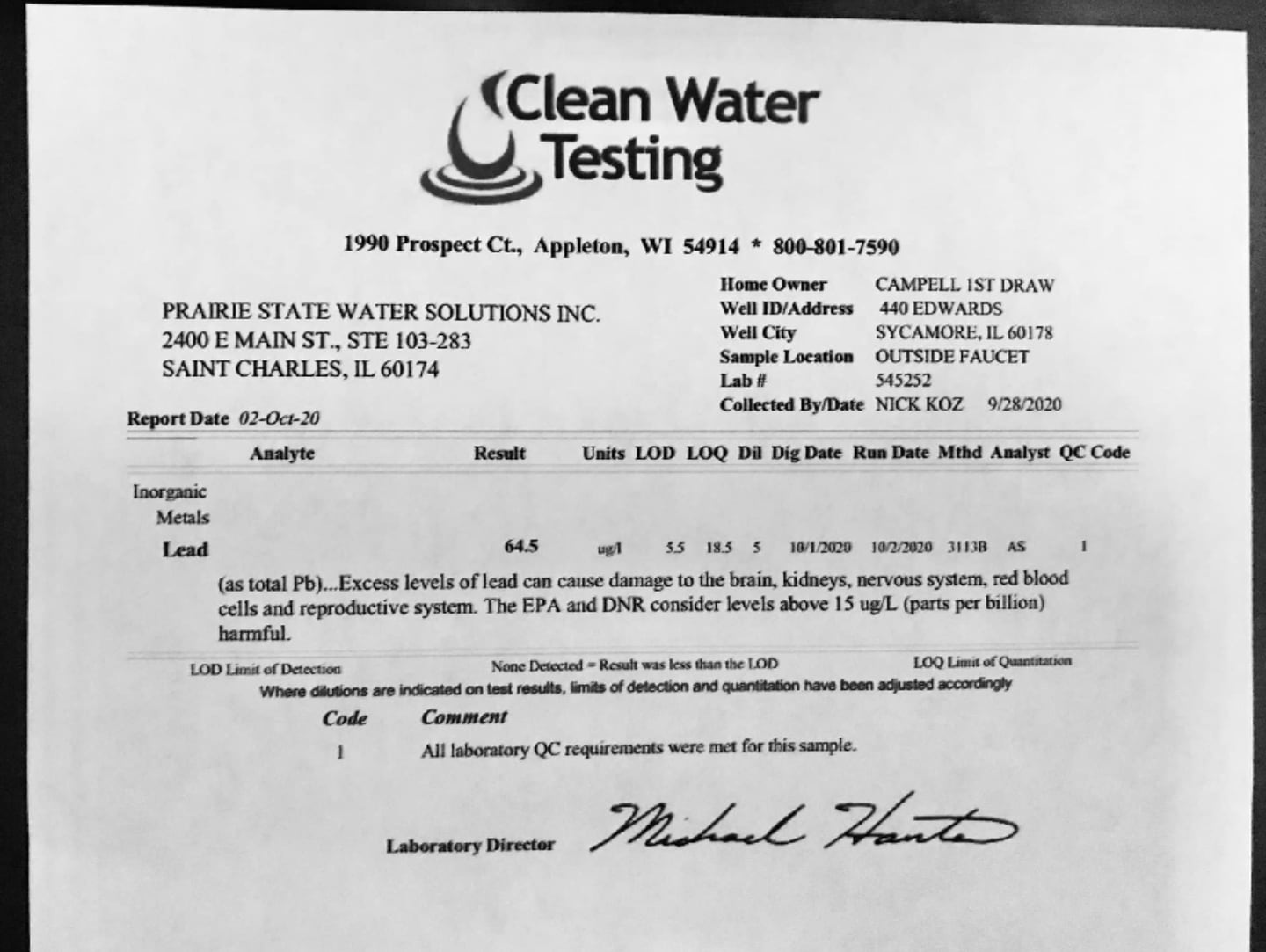 The class action lawsuit was filed Nov. 10 by Pennington and Campbell with class attorneys Steve W. Berman out of Seattle, Washington, and Mark T. Vazquez of Chicago on Friday on several counts, including fraud, deceptive business, negligence and public nuisance.
"Plaintiffs and members of the class have all suffered, and will continue to suffer, harm and damages as a result of the City's unlawful and wrongful conduct," according to the complaint.
The class members also allege that the city violated their 14th Amendment due process rights. The residents are asking the court to order several actions by the city, including the replacement of all water mains installed before 1960 and to declare the conduct of the city unconstitutional, according to court documents. They also are requesting awards for compensatory, punitive and exemplary damages.
The group said it's identified two major problems it said involve city water: a foul-smelling odor that prohibits them from using it and concerning amounts of lead in the water.
Test results from two EPA-certified laboratories show discrepancies in lead levels in Sycamore residents' homes.
Results for residents on Edward Street, Alden Drive and East Elm Street conducted by an EPA-certified Prairie State Water Solutions water conditioning and treatment company show high levels of lead – more than 60 parts per billion. The Evironmental Protection Agency's threshold for 'safe' amounts of lead in drinking water is 15 parts per billion.
However, results from a Geneva EPA-certified lab commissioned by the City of Sycamore show 5.57 parts per billion in a sample size of 30 homes surveyed.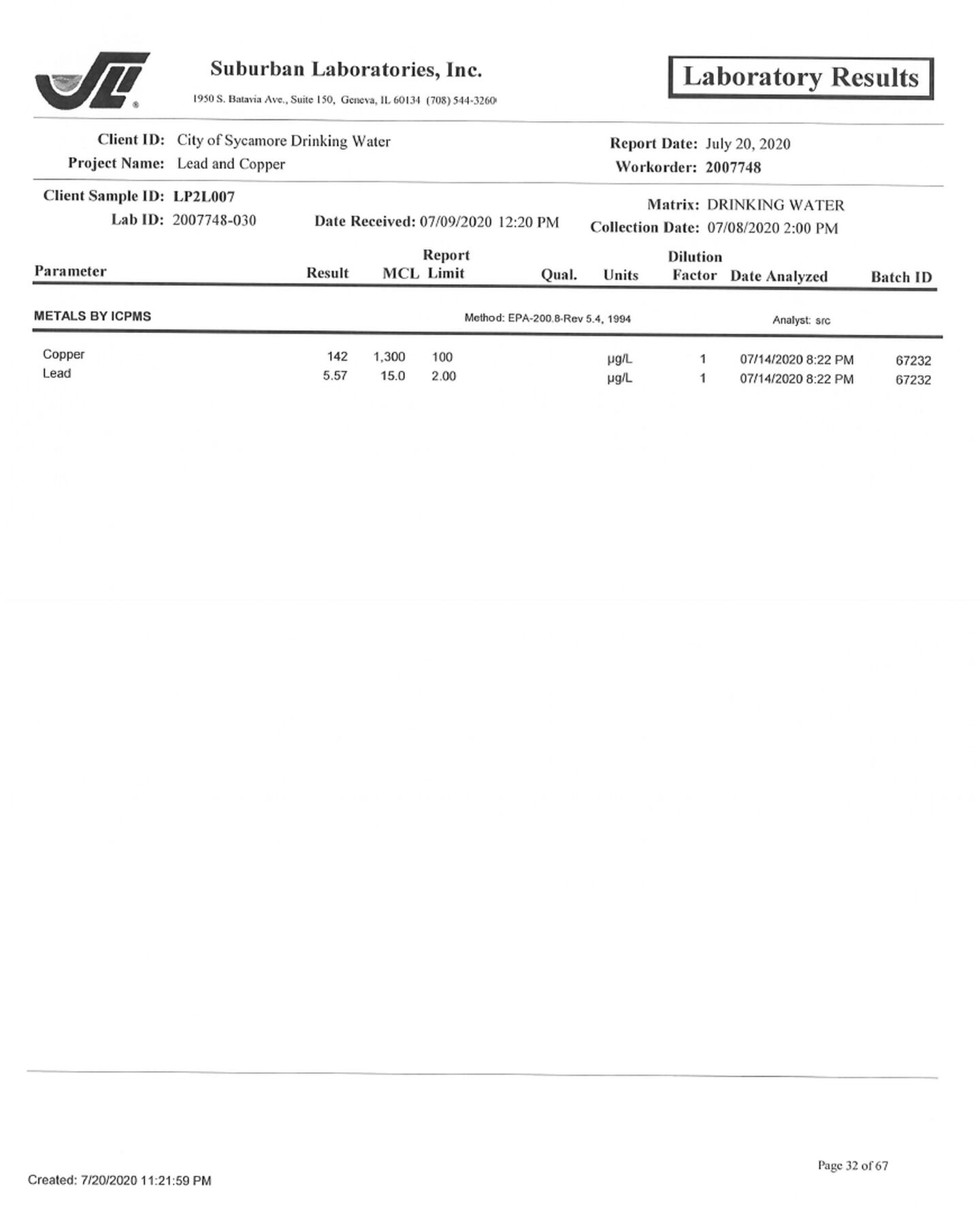 According to the City's response to the class action lawsuit this week, retesting of residents' water showed lead levels within the EPA's standards, once again contradicting test results from the Prairie State Water Solutions tests.
"Sycamore further affirmatively states that upon retesting of water for residents who have made complaints or expressed concerns, no test conducted by the City in line with EPA stands has yield a results out of acceptable EPA standards."
The City's response also states that Pennington "has not requested that his water be tested, and that Plaintiff Campbell has refused to allow the City to test her water."
On Nov. 2, the Sycamore City Council approved a $6.90 monthly water bill fee increase for city residents to help pay for a planned $11.2 million overhaul of the water system to address quality concerns. The water master plan, approved in 2019, was put on hold because of the COVID-19 pandemic and city officials not wishing to increase water bills during times of financial constraint.
The City's response to the lawsuit states they deny allegations that they've "put off replacing water mains for decades" or that the city's water system is "very old."