DeKALB — DeKalb alderman Scott McAdams' political opponents Thursday called for his resignation and for him to drop his reelection bid after court records surfaced that show a woman sought an order of protection against him earlier this year.
In the court request, the woman alleged McAdams verbally, mentally and emotionally abused her. McAdams, the 5th Ward alderman, has not been charged with criminal wrongdoing. DeKalb County Circuit Court Judge Marcy Buick denied the woman's emergency request, but a hearing on the full order is scheduled for 10 a.m. Feb. 24.
McAdams said in a social media post to his campaign page that he intends to stay in the race. When reached by phone, he declined to address the allegations and deferred further comment to the woman who filed the order of protection.
"There's a court hearing on the 24th of February." McAdams said. "That's all I can say until the court hearing is dismissed."
DeKalb County court records show the request for an emergency protection order was filed against McAdams on Jan. 9, more than a month after the woman accusing him said she called police during a heated argument.
DeKalb police were called to the 1000 block of Sharon Drive on the morning of Nov. 26 after the woman called 911 to report McAdams, according to her court complaint. In her request, the woman said police declined to make a report on the incident.
McAdams was not arrested or charged in November, and no criminal charges have been filed against McAdams as of Thursday, records show.
McAdams told the Daily Chronicle on Thursday that he's fielding ongoing health issues. McAdams suffered a heart attack first in mid-2021.
The allegations mark the latest calls for McAdams' resignation by his opponents who unsuccessfully sought to remove him from the April 4 municipal election ballot.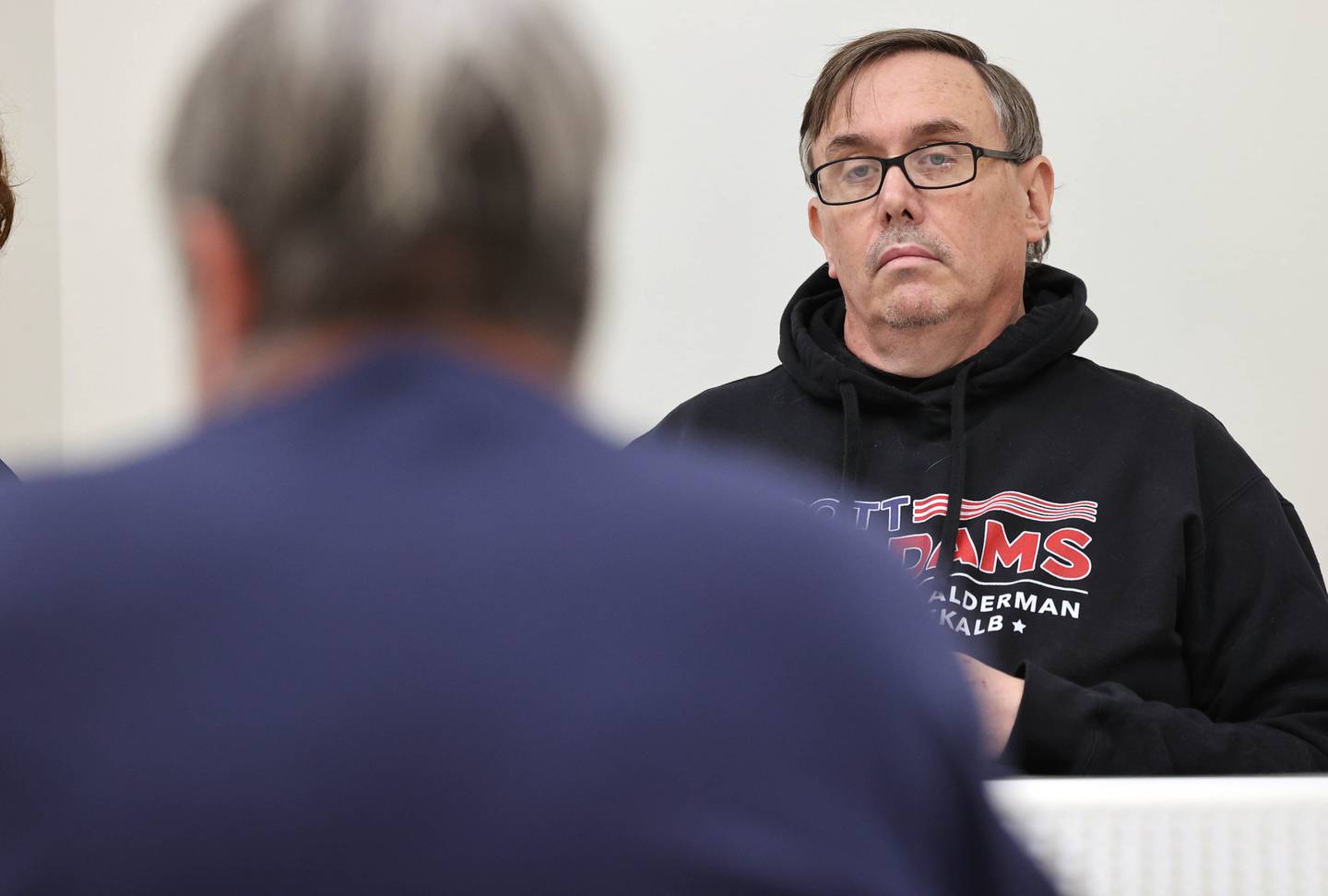 In a public social media post in response to those calls, McAdams said Thursday he will not resign.
In January, DeKalb residents Mark Charvat and Derek Van Buer – who is waging his own write-in candidacy for 5th Ward alderman – petitioned for the city's Electoral Board to remove McAdams from the ballot. Charvat and Van Buer alleged McAdams hadn't properly bound his candidacy papers and included invalid signatures.
The DeKalb Electoral Board denied their request. Van Buer and Charvat have since appealed in DeKalb County Court.
In a Thursday statement, Van Buer called for McAdams' resignation.
"Alderman McAdams is accused of actions that can only be described as despicable, ones which deem him absolutely unworthy of public service," Van Buer said in a statement. "The people of this great city deserve better. For his own sake and for the sake of DeKalb, Scott McAdams should resign immediately."
City Clerk Sasha Cohen – who cast the lone dissenting vote on the city's Electoral Board to remove McAdams from the ballot – also called for his resignation.
The clerk and McAdams have issued public rebukes of each other over the course of their terms. The clerk has faced his own public scrutiny, and was censured by the DeKalb City Council last month for repeatedly not showing up to work.
"This isn't about politics, it is doing what is right," Cohen said in a statement. "I am appalled that Ald. McAdams has not resigned yet, and call on him to do so immediately."