DeKALB – The DeKalb Electoral Board on Friday voted to dismiss objections against the City Council's 5th Ward aldermanic candidate Scott Adams, meaning the alderman will remain on the April 4 election ballot.
The objection petitions were overruled in a 2-1 decision at a hearing Friday, with City Clerk Sasha Cohen casting the lone dissenting vote.
The Electoral Board also consisted of 7th Ward Alderman Tony Faivre and Mayor Cohen Barnes. McAdams was represented by lawyer Anna Wilhemi, who also is chairperson of the DeKalb County Democratic Party. The city's lawyer, Matt Rose, also was present.
Derek Van Buer and Mark Charvat, residents of the city of DeKalb's 5th and 4th Wards, respectively, filed objections to McAdams' candidacy earlier this month. Van Buer and Charvat alleged that McAdams' nomination petitions were not properly bound and contain invalid signatures.
During Friday's hearing, the Electoral Board considered whether the objectors possessed the standing to contest McAdams' nomination petitions.
Wilhelmi motioned for the case to be dismissed over the matter, although her request was denied in a 3-0 vote.
The objectors also withdrew their request to review the candidates' signatures after finding that the DeKalb County clerk's review showed McAdams had satisfied the minimum requirement of 27 to remain on voters' ballots in the April 4 consolidated election.
Van Buer insisted upon wanting to see the candidate demonstrate how to place a nomination packet on a clipboard, a key debate as to whether McAdams had bound his paperwork properly. When McAdams filed his paperwork with the city clerk's office Dec. 12, he'd had it attached to a clipboard for a period.
Debate centered on whether that met legal requirements for bound documents.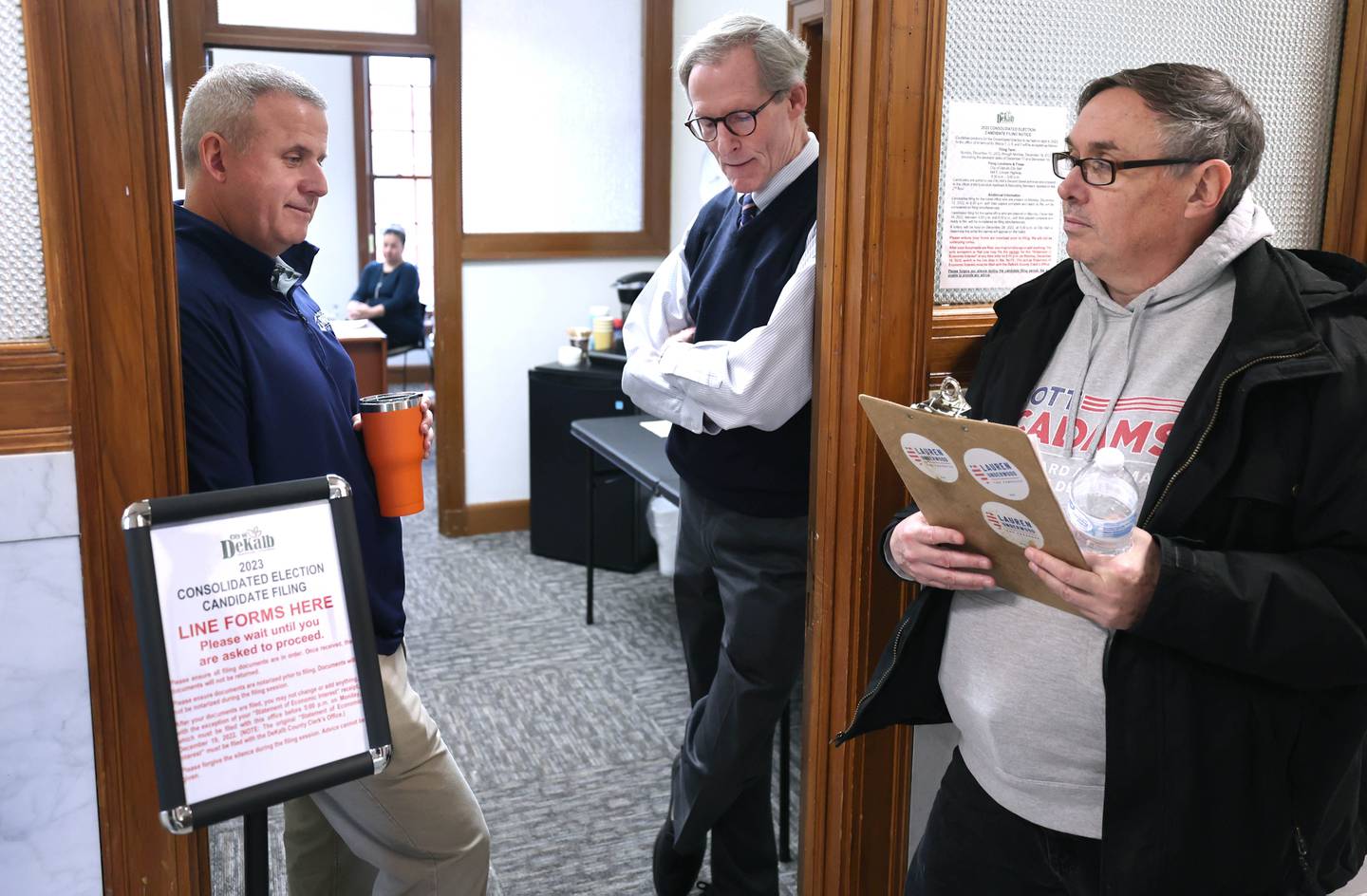 Faivre said he didn't feel that the Electoral Board needed to see it.
When asked if he had made adjustments to his clipboard since last week's hearing, McAdams testified under oath that he had not. He referenced a video that surfaced online of Wilhelmi using his clipboard at the initial Electoral Board hearing and said something has to give.
The comments came on the heels of a weeklong effort made by the objectors to get the candidate to react.
"They were not the nomination papers," McAdams said. "On that day, you were trying to make a demonstration, and the papers did move."
Another issue the hearing sought to expound on was whether a clipboard may act as a binder.
The city clerk contended that the candidate's argument may hold more weight had he not signed the receipt.
"I believe Ms. Scott is very good at her job," Cohen said. "I believe she is quite competent and that we should take her signature and note that there's no binding in concert with Mr. McAdams' signature on that document."
Barnes begged to differ.
"That doesn't mean it wasn't bound when it came to [Scott's] hand," Barnes said.
City Attorney Matt Rose stressed that code does not set forth a single method for securing nomination packets.
"There are many different ways to comply with the fastening requirement," Rose said.