SYCAMORE – A DeKalb County judge Monday found ex-DeKalb School District 428 Superintendent Douglas Moeller guilty of sending explicit photos of a female subordinate employee to school board members in 2017.
Moeller, who faces up to three years in prison, is expected to be sentenced Jan. 31.
Circuit Court Judge Philip Montgomery recapped testimony provided two months ago during Moeller's bench trial, as the 65-year-old Moeller sat next to his attorney, former DeKalb County State's Attorney Clay Campbell.
Montgomery found Moeller guilty of one count of non-consensual dissemination of a private sexual image, a class 4 felony. Moeller could be heard sighing heavily as Montgomery listed the ways prosecutors Monique Langrehr and Brooks Locke had proven Moeller's guilt.
Moeller leaned back and said, "Oh my God," when Montgomery ruled the images depicted bondage and, thus, were sexual in nature – a key question in the case.
Montgomery's ruling also found that Moeller had sent the private images without the woman's permission and gone to great lengths to hide who texted them to school board members.
"The extent that the defendant went to conceal how these photographs were sent, he would not have gone through the lengths that he did so, so that no one would know that he had sent them," Montgomery said, citing testimony. "He paid cash for the phone. He had someone else buy the phone from Best Buy. He set it up in another person's name."
Moeller and Campbell declined to comment after the ruling.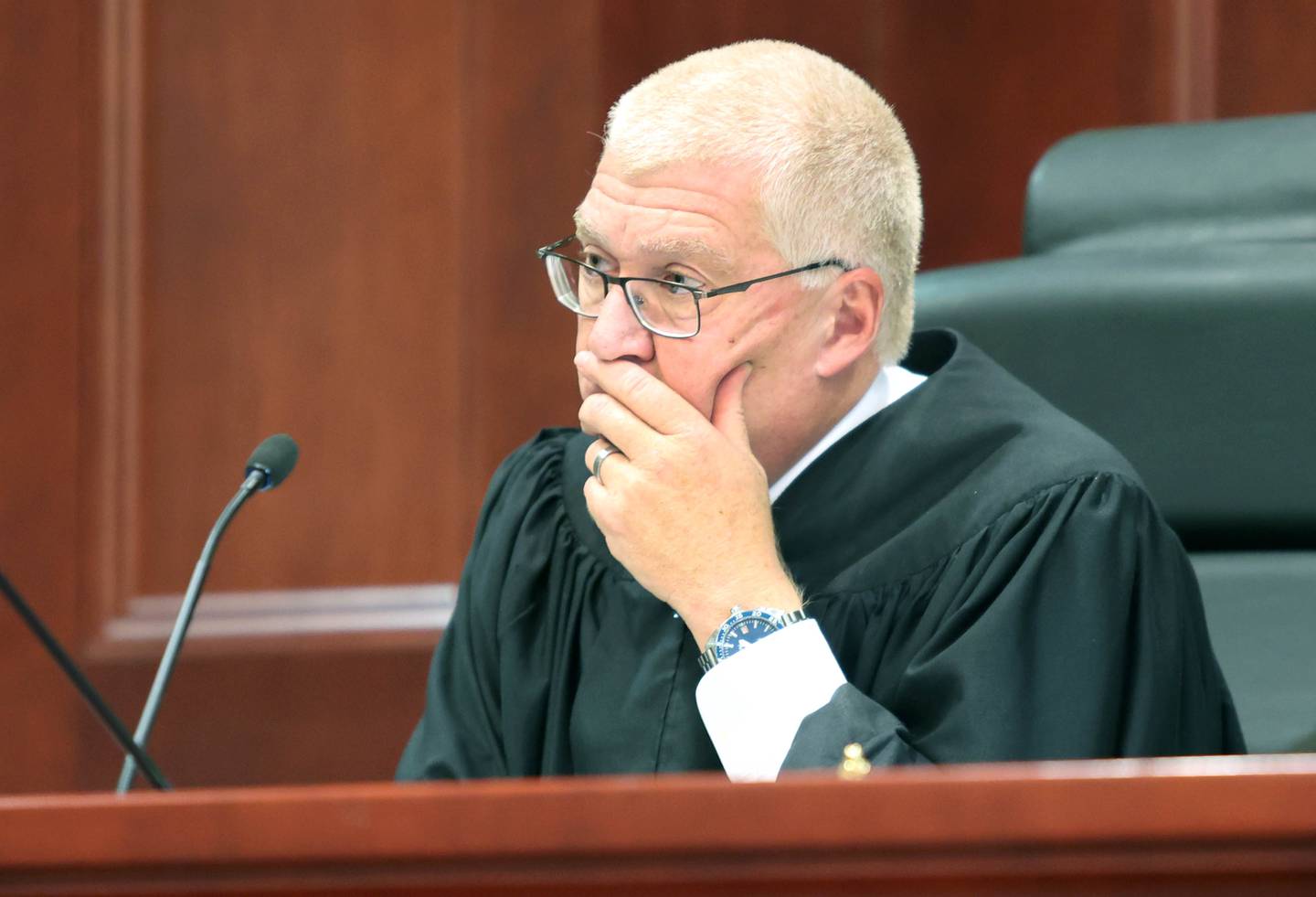 During the trial, prosecutors argued that Moeller sent the compromising photos of the woman because she scorned his sexual advances and had filed a complaint against him for unwanted attention. Moeller enlisted a former student to help him buy the cell phone he used to send the photos, prosecutors said. He sent the photos to school board members months after he was placed on leave and a day after the board approved a separation agreement with him in February 2018.
Moeller, of Elgin, was the district's superintendent from 2014 to 2016. He declined to testify in his own defense during the trial.
Moeller was arrested April 13, 2018, more than a year after he was placed on leave from his $199,600-a-year position Sept. 20, 2016.
The woman testified Oct. 5 that she'd developed a personal friendship with Moeller but declined to pursue a sexual or dating relationship with him. Before the criminal charges arose, the woman had filed a verified petition against Moeller in September 2016 in Kane County for stalking and no-contact. A Kane County judge later tossed that petition after the woman failed to appear for a hearing Oct. 6, 2016.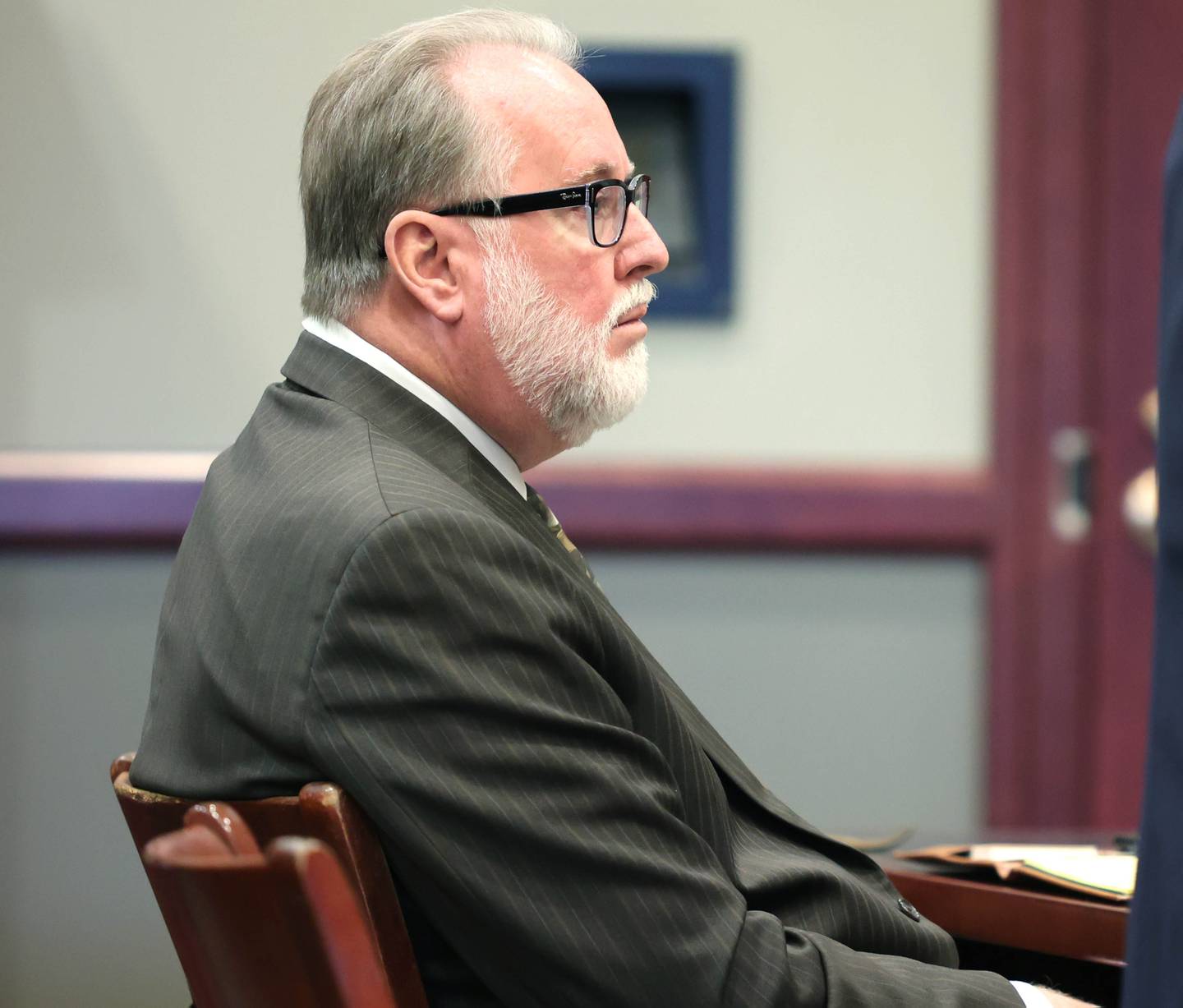 On Sept. 16, 2016, the woman also filed a complaint against Moeller with District 428 officials, alleging she was the target of unwanted sexual attention.
Former District 428 school board members Fred Davis and current DeKalb Township Supervisor Mary Hess testified that they'd received the photos from an unknown number. They said they immediately contacted Aaron Lockhart, the district's police resource officer, after receiving the photos. Lockhart since retired from DeKalb and now works with the Sycamore Police Department.
Lockhart testified during the trial that he knew both Moeller and the woman "pretty well," saying they all would sometimes socialize after work and eat dinner together. Lockhart said he was working Wednesday, Feb. 8, 2018, when Davis and Hess contacted him about the photos.