SYCAMORE – Former DeKalb School District 428 superintendent Douglas Moeller sent explicit photos of a woman who was his subordinate to school board members in February 2017 as retribution because she scorned his sexual advances, prosecutors argued Wednesday during his first day of trial.
Moeller, 65, is accused of sending compromising photos of the woman, a former DeKalb High School principal, to two school board members in retaliation after she filed a complaint against him for unwanted attention. He allegedly sent the photos months after he was placed on leave and a day after the board approved a separation agreement with him, prosecutors said.
" 'If I can't have her, I'll ruin her,' That's exactly what this defendant, Douglas Moeller, did to [the woman],' " Assistant State's Attorney Monique Langrehr said during her opening statements.
Moeller of Elgin was arrested April 13, 2018, almost a year after his retirement, which came after he was placed on leave from his position as top administrator in September 2016. He's been free on bail since his arrest.
The district's superintendent from 2014 to 2016, Moeller is charged with non-consensual dissemination of private sexual images, a Class 4 felony. If convicted, he could face up to three years in prison.
The trial was postponed twice this year, once in May and again in August. Moeller waived his right to a jury trial, court records show. Instead, Circuit Court Judge Philip Montgomery will decide Moeller's fate.
Moeller did not speak in court Wednesday except to his defense attorney Clay Campbell, a former DeKalb County state's attorney. It's unknown whether Moeller will be called to testify in his own defense this week. The trial is expected to resume at 1:30 p.m. Thursday.
Also a former DeKalb High School principal, Moeller's time in District 428 ended almost a year before he was hit with criminal charges. He was placed on leave, which ended in his retirement on April 30, 2017.
Before the criminal charges, the woman in September 2016 filed a verified petition for stalking and no-contact against Moeller in Kane County. A Kane County judge later tossed that complaint after the woman failed to appear for a hearing Oct. 6, 2016.
The former principal, also of Elgin, took the witness stand Wednesday for about 90 minutes.
Throughout her examination of the woman, Langrehr sought to paint prosecutors' case of Moeller: A boss who'd fostered a professional and friendly relationship with the woman after they first met as Elgin High School colleagues in 2006. Their colleagueship grew into a friendship over the years until it eventually devolved after the woman grew increasingly uncomfortable with Moeller's continued communications.
The woman acknowledged at one point she and Moeller had "fantasized" over what could have been had they not been colleagues.
Nevertheless, the woman testified Wednesday her relationship with Moeller was "professional and friendly." It was never sexual and they never dated, she said.
The woman said Moeller encouraged her to apply for DeKalb High School principal when the position became vacant in early 2016, and after she was hired in July 2016, the pair spoke frequently on the phone and in person.
Meanwhile, Campbell, Moeller's attorney, argued that the photos he is accused of sending – three photographs taken by another man on the woman's phone – weren't sexual in nature. Throughout his cross examination, Campbell repeatedly asked the woman to define her position in the photos, calling into question the charges related to a sexual nature.
Campbell also called into question the Elgin woman's testimony, attempting to portray her as an unreliable source.
"I would just respectfully suggest to the court that Mr. Moeller's only charged with one offense here," Campbell told Montgomery during his opening statement. "So we can get into this character assassination, these things that go back and forth between two people that are obviously in a relationship, judge, they shouldn't be in. They're working in the same school district. ... My focus here, judge, in defending Mr. Moeller, is the statute that's before the court."
When Langrehr asked how the woman classified her relationship with Moeller after she was hired as DeKalb High School principal, she replied that it had evolved. At one point, the pair engaged in a conversation where the woman said the pair "shared feelings of if things were different, what we would like our relationship to have been like."
"I would characterize it as professional, friendly, text messages that I would describe as flirtatious," the woman said of her relationship with Moeller. "He had been stopping over at my house a number of times on his motorcycle."
Prosecutors alleged Moeller began to suggest their relationship turn into something greater. The woman testified that Moeller asked her 5 or 6 times to share photographs of herself with him in a jacket he had left at her house, and would express dismay or frustration when she told him about her personal life, that it didn't include him.
The woman testified Wednesday she felt pressured to send Moeller the photos to satiate what she said were his frequent requests. She said she sent the photos using her personal cellphone to Moeller only, and did not give him permission to send them to others.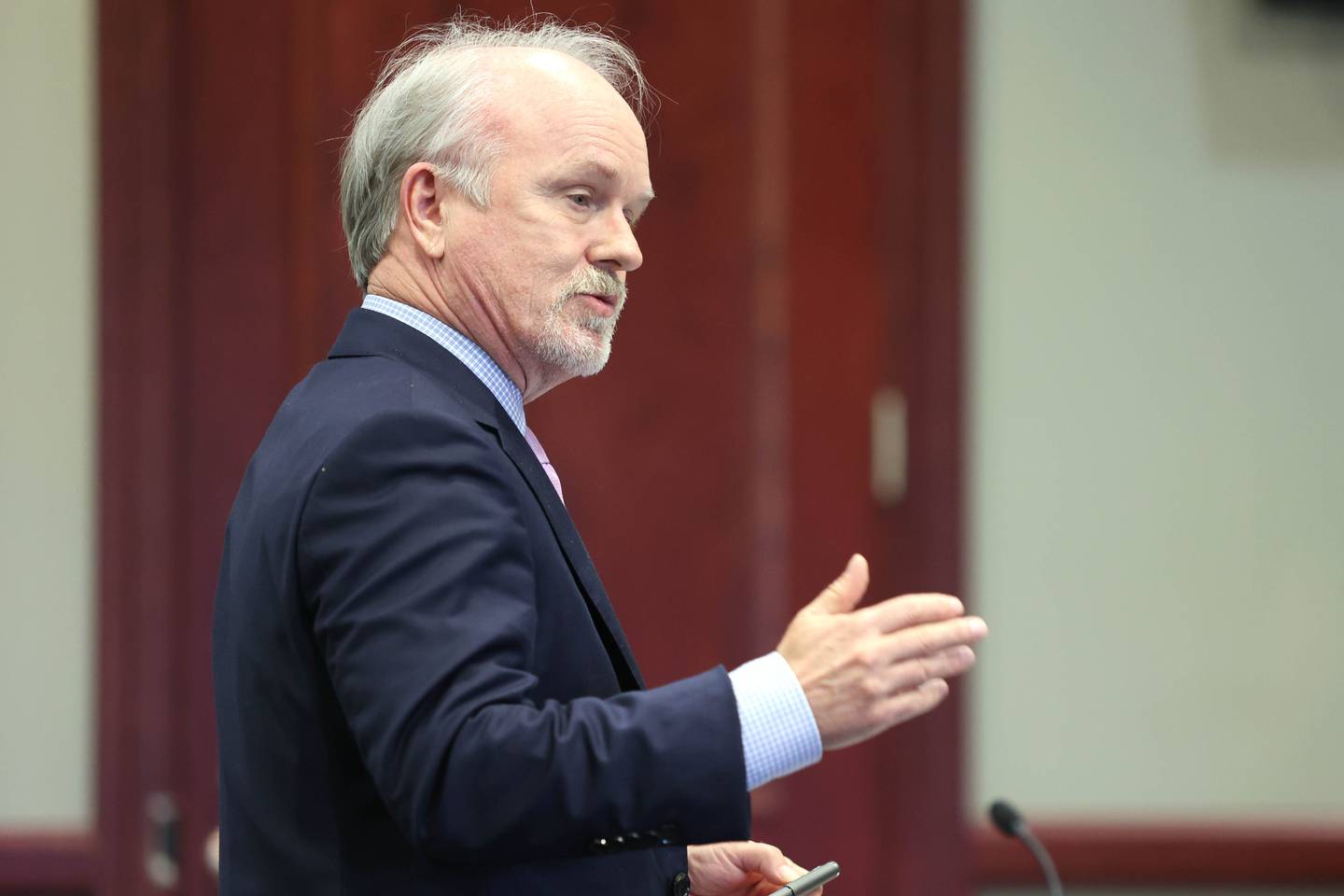 On Sept. 16, 2016, the woman filed a complaint against Moeller with District 428 officials, alleging she was the target of unwanted sexual attention by him after she had tried to distance herself from their personal relationship. The woman said at the time she filed the district complaint, she also had an hours-long conversation with former DeKalb School District 428 board president Victoria Newport at Newport's home where the woman disclosed "everything" to Newport, including that she had sent the suggestive photos to Moeller. The woman testified that she did not show Newport the photos, however.
The district announced Moeller had been placed on paid leave from his $199,600-a-year position Sept. 20, 2016.
On Thursday, prosecutors said, Montgomery will hear more about how Moeller is accused of soliciting aid from a former student, who saw Moeller as a mentor. Prosecutors alleged Moeller paid the former student in cash to buy a cellphone, which Moeller then used to anonymously send the photos.
Fred Davis, a former DeKalb school board member who served two terms from 2007 to 2011 and 2015 to 2019, testified that he was one of the school board members who received an anonymous text Feb. 8, 2017, with photographs of the woman. The text allegedly was sent one day after the school board voted to approve Moeller's retirement settlement, Davis testified.
"I got a text from a number that I did not recognize," Davis said. "There were three photos."
Davis said he could identify the woman in at least one of the photos.
Davis told the court that he first called the district's police resource officer Aaron Lockhart (who's since retired) to inform him of the photos.
"I said 'Aaron, I just got some photos,' " Davis said in his testimony. "And I said, 'I'm going to send them to you' and I said, 'Do me a favor.' I said, 'Call Doug and ask him if this is him to please stop this. I don't want to see him get in trouble over something this dumb.'"