DeKALB – A DeKalb developer is proposing to renovate the long-vacant former St. Mary's Hospital, a 100-year-old building on Fisk Avenue, into 32 one- and two-bedroom apartments.
According to city documents released this week, the proposal was put forth by Jon Sauser for 145 Fisk Ave,, which was most recently used by DeKalb School District 428 until 1992, and has sat vacant since. The four-story, 24,000-square-foot property sits on about 1.3 acres blocks from downtown DeKalb. Sauser has been a landlord and developer in DeKalb for years. In 2017, he sold some rental properties, now known as Hunter Star Properties, on DeKalb's north side to Evanston-based Hunter Properties.
Under Sauser's Fisk Avenue proposal – which will go before the DeKalb Planning and Zoning Commission during a public meeting set for 6 p.m. Monday at the DeKalb Public Library – the development would renovate the existing building and develop 23 one-bedroom units about 650 square feet in size, and nine two-bedroom units that will be about 900 square feet. The leases would be at "market rate," according to project plans.
In a project summary document published this week, city staff said the proposal would lift the long-vacant and deteriorating property in the neighborhood.
"This is an infill location so it will not have any negative impact on adjacent properties," city staff wrote. "It will actually improve the property values. Removing a boarded-up, dilapidated, unmonitored building will be a very positive impact for the general public's health, safety and welfare."
Although the building is a century old, Sauser's apartment proposal doesn't include a plan to demolish the existing structure. According to city documents, the space is mostly gutted inside. Sauser's development would add modern amenities and improvements to the north side of the building, according to the documents. Plans include a dedicated mail and parcel room for receiving packages, security cameras for the building, a tenant lounge, an exercise room with cardio and weight machines, and an outdoor patio with a natural gas grill.
Each unit would have 10- to 12-foot ceilings, a washer and dryer, central air conditioning, a dishwasher and quartz countertops, according to the documents. The plans also would keep "as many existing, mature ... trees as possible," in the surrounding area, and update curb, gutter, sidewalks and LED exterior lighting, according to the developer's plans.
Exterior plans for the proposal include changes to street access for a proposed parking lot that would contain 65 spaces. DeKalb city code requires 57 parking spaces for the number of units proposed, documents show.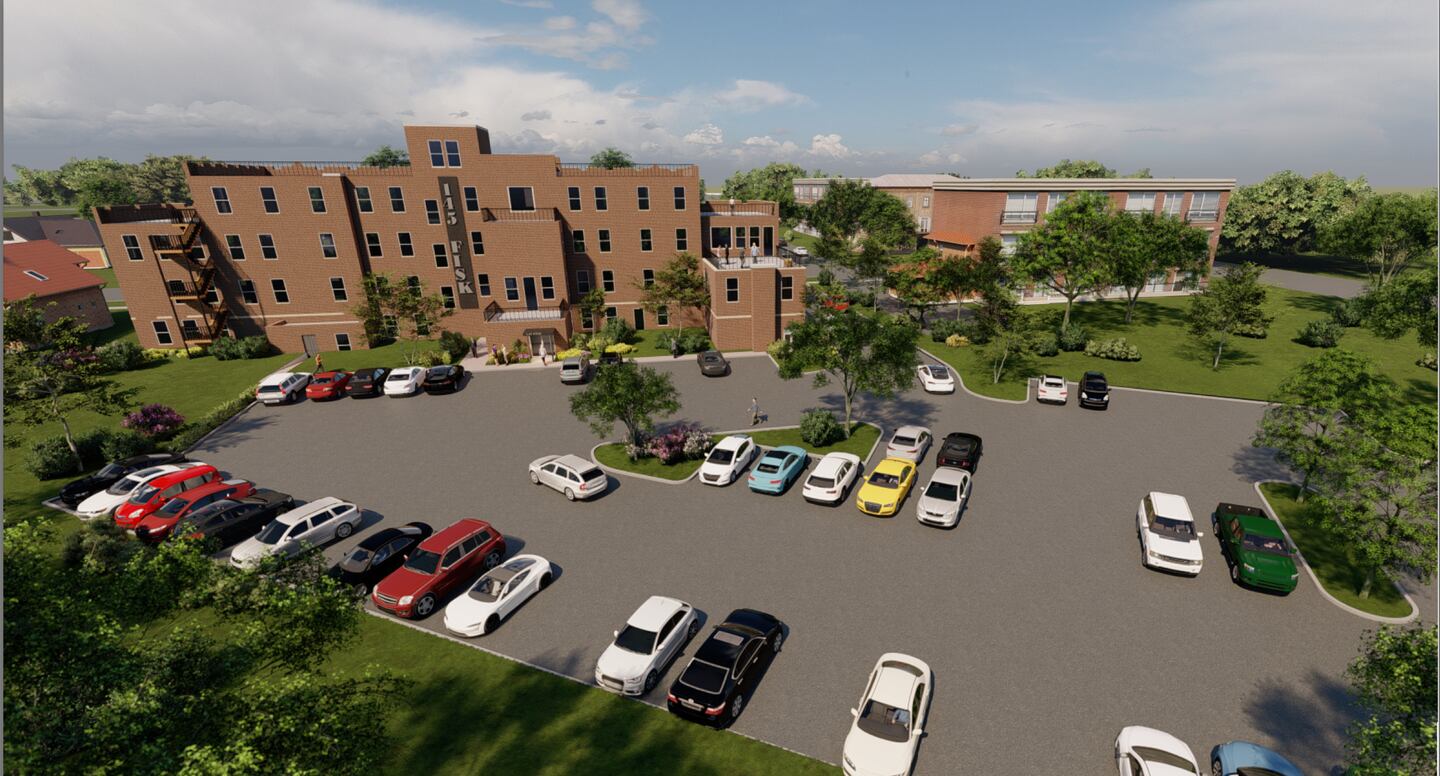 Sauser's plans would remove the existing access on Sycamore Road to the Fisk Avenue property and relocate it away from North First Street. The parking lot would go in between Sycamore Road and the building on Fisk Avenue, which is a one-way street running east to west from North First Street to North Fourth Street.
According to city documents, city staff did not identify any major concerns with the preliminary concept plans, though additional review would need to be made on engineering and stormwater management before final approval. The developer will also be required to submit a traffic analysis to determine what impacts might occur on Sycamore Road and Fisk Avenue if the apartment complex was built.
Neighboring landlords Jon and Margaret Delano, who own apartment buildings at 506 N. First St. and 108 Fisk Ave., submitted an email March 29 to the city indicating their support for the project, documents show.
"We support the proposal from Mr. Jon Sauser," the Delanos said in an email. "Thank you for sending us the information regarding the concept plan for 145 Fisk Avenue."
If plans move forward, the city's zoning commission will host another public hearing for more residents to speak on the matter. Residents also can speak during Monday's public comment portion at the beginning the meeting.
Building bumps along the way
It's not the first time in the 30 years the building has sat vacant that rehab proposals have come forward for 145 Fisk Ave.
The building was constructed in 1922 as St. Mary's Hospital, which closed in 1965. The space then was used as a girl's dormitory operated by Sisters of Mercy for a period, and then fell out of use again, remaining vacant from 1970 to 1973, according to city documents. DeKalb School District 428 then purchased and used the building from 1973 to 1992 as administrative offices.
In 1993, the building was sold and rezoned for multifamily residential use. A special-use permit was approved by the city for 12,000 square feet of space inside the building to be used as medical and dental offices, but those never opened, documents state.
In 2006, Midwest Estate Development LLC purchased the building and has remained its owner since. The plan initially was to convert the former hospital to luxury loft apartments, a proposal that also never happened, according to documents.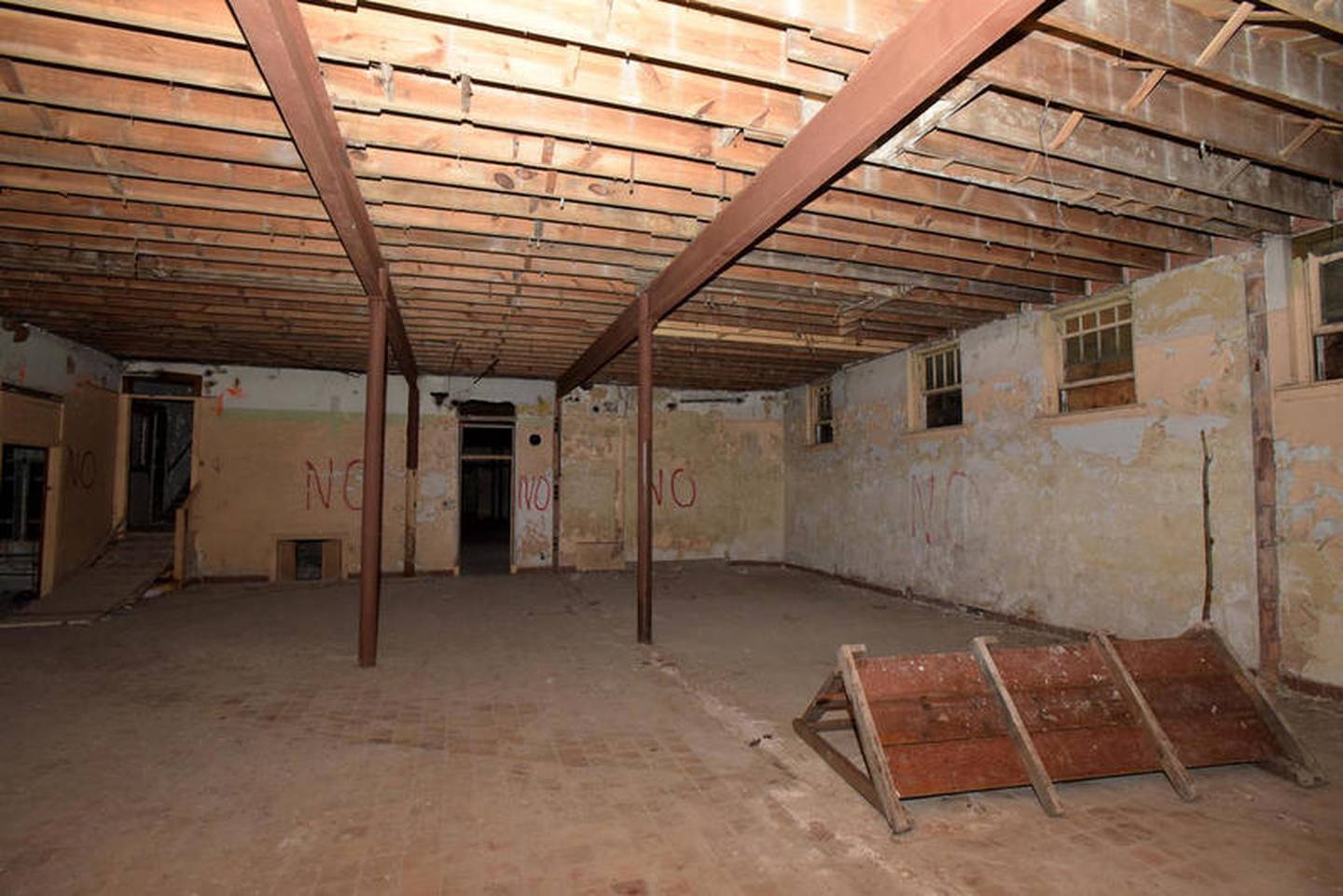 A 2019 proposal for the building has led to a lengthy legal battle between a developer and DeKalb City Manager Bill Nicklas.
From fall 2018 through early spring 2019, local developers Nicholas Cronauer and Chip Bulson courted the DeKalb City Council, vying for a $2.5 million tax increment financing grant to revamp 145 Fisk Ave. into a 40-room boutique hotel with plans for a restaurant inside also. The proposal was denied in April 2019 by an unanimous City Council vote after city officials said Cronauer wasn't able to provide proof of commercial viability and the developer's ability to finance the project.
In response, Cronauer, a Sycamore-based lawyer, filed a federal lawsuit against Nicklas. The lawsuit alleged that Cronauer "is convinced the City would have proceeded with the funding as planned but for the meddling" of Nicklas, and that Nicklas "sought to retaliate against it and favor" other local developers, and defamed Cronauer in the process. The lawsuit seeks damages of more than $2.5 million. DeKalb city attorneys have said the lawsuit is without merit.
The lawsuit was dismissed by a federal judge in January 2021 after about two years. A state lawsuit filed by Cronauer remains in court, however.
Since 2019, no developer had come to the city with plans for the space again until now. And 145 Fisk Ave. no longer falls within any TIF district for the city, since the closing of the city's second TIF district.
Monday's zoning meeting will task the commission with reviewing the initial stages of the latest proposal for 145 Fisk Ave. If Sauser's proposal moves forward, an official review of development and zoning plans will need to go again before the commission, and then for a City Council vote in the future. The commission also will discuss the city's 2022 Comprehensive Plan.