DeKALB – The DeKalb Fire Department's emergency response calls in 2022 remained steady compared to 2021, prompting the department to direct DeKalb city leaders to shore up vehicle, equipment and staffing needs in the city's 2023 budget.
In an annual report to the City Council this week, Fire Chief Mike Thomas named the fire department's focus amid 2022 data recently released by the department. Thomas was appointed DeKalb's fire chief in April 2022.
According to the report, 81% of calls for DeKalb Fire Department services in 2022 were for medical emergencies. Calls for medical and EMS care have risen steadily over the years, as they take up the majority of most emergency calls across the area, according to DeKalb and Sycamore data. In 2022, 68% of the more than 6,100 calls for medical services included patients who were transported by paramedics to a hospital, the report shows. Data shows 56% of patients received advanced life support and 44% received basic life support.
Thomas said the fire department continued to be quite busy last year. Thomas oversaw the department's $13 million 2022 budget for its 14 officers and 39 paramedics/firefighters, the report shows.
"Our call volume … was 7,400-plus calls, which is pretty consistent with last year, our busiest year," Thomas said. "We were just a handful of calls off from that year."
Firefighters also responded to 181 calls related to what the department classifies as "fire incidents," the report shows. That includes 56 building fires, 36 cooking fires, and 89 other fire-related calls originating in vehicles, equipment, trash and vegetation.
"Hiring is a daunting task because of the retirements and fewer people to pull from to get in this career. But our hires have been fantastic. Their training is going well."

—  Mike Thomas, DeKalb fire chief
Thomas said that what makes the fire department's job all the more challenging is when more than one engine is on a call for service at once.
"It's interesting to note we've had a number of simultaneous calls," Thomas said. "We had 2,744 occasions where we had more than one vehicle on the road at the same time."
At the same time, Thomas said fire department underwent a number of personnel changes last year.
"[Deputy Chief of Training] Bart Gilmore retired, and then we have a list of promotions … and that continues into this year," he said.
In February 2022, the fire department fulfilled the federal requirements of the Staffing for Adequate Fire and Emergency Response (SAF-ER) program grant by hiring eight new firefighters/paramedics.
Thomas said the fire department continues to seek replacements as opportunities become available.
"Hiring is a daunting task because of the retirements and fewer people to pull from to get in this career," Thomas said. "But our hires have been fantastic. Their training is going well."
The fire department this year has prioritized the onboarding of one new firefighter and finding four others to fill available positions due to retirements and resignations, according to city documents. Upon completion, department personnel will amount to 57.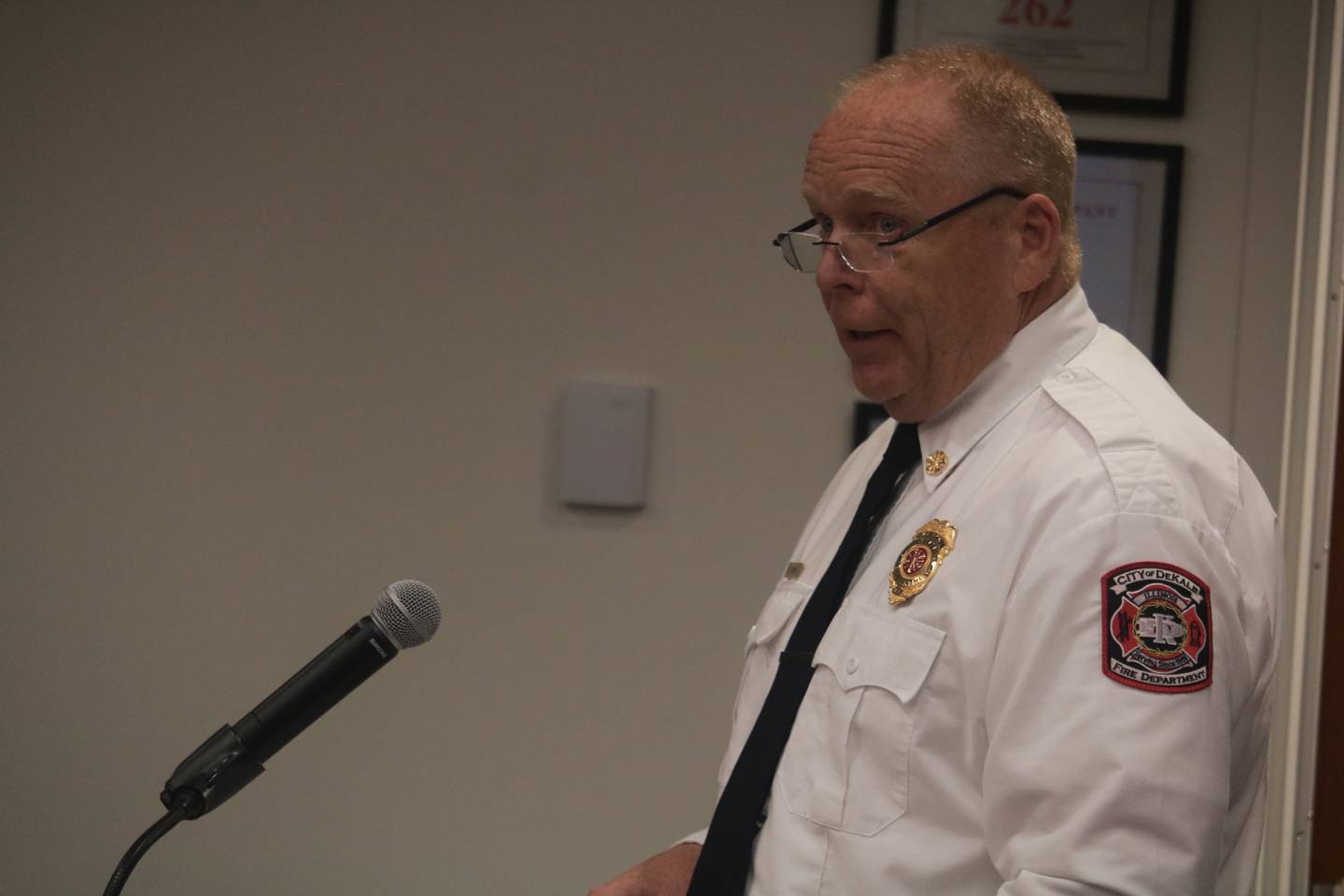 First Ward Alderwoman Carolyn Morris questioned if the fire department has all the support it needs staffing-wise.
"I know we've been working hard to get staffing up for you to balance out the burden and reduce overtime hours," Morris said. "How does it feel like that's working?"
Thomas tried to lessen the concern.
"We are currently three positions down right now," Thomas said. "We're just waiting for the three recruits to finish the paramedic requirement. They'll get a start date when that happens. But we can see a difference already."
Thomas thanked the City Council on behalf of the fire department for the support with all the new equipment and technology.
Among the new pieces of equipment the fire department anticipates getting this year are new self-contained breathing apparatus and portable radios.
In addition to that, the fire department is expecting that its new emergency alert system will be on line soon.
The City Council approved this purchase and installation contract in February.
"New station alerting system is being installed now," Thomas said. "We hope within about two to three months we'll have that up and running."
Mayor Cohen Barnes expressed gratitude for the fire department and all they do to keep the city. He said he knows the new equipment and tools are in good hands.
"You've got a lot of just really cool stuff to start learning how to maximize its usefulness within the department," Barnes said. "I know all of us at council are just proud of our fire department. It's been nice over the course of 2022 and even some into 2023 to be able to give you guys the tools and equipment that you need to be successful at your job."