SYCAMORE – A judge ruled Tuesday that ex-DeKalb School District 428 superintendent and convicted felon Douglas Moeller will serve no jail time after he was found guilty of texting explicit photos of a former woman employee to the school board in 2017.
Moeller, 65, of the 800 block of Carol Avenue in Elgin was found guilty after a two-day bench trial last month of sending explicit photos of a female subordinate employee who was a principal at DeKalb High School to school board members in 2017. He was convicted of one count of non-consensual dissemination of a private sexual image, a Class 4 felony.
He faced up to three years in prison.
Instead of a jail sentence, an agreement was reached with prosecutors and Moeller's defense lawyer, former DeKalb County State's Attorney Clay Campbell, Circuit Court Judge Philip Montgomery said Tuesday.
The victim said her professional reputation was ruined as a result of Moeller's actions and lamented the loss of her longtime education career.
"My name, especially in this age of social media, has been forever tarnished because this narcissist who had sole control of my employment forced me to give him something he could use as a weapon," the woman said in court. "Unfortunately justice came too late for me. ... I decided to go to the school board for protection. His friends on that school board supported him however, didn't hold him accountable, and ended my career. Nothing done here today can give me my former life back."
The woman said she'd lost her 22-year education career and a large potion of her pension, and her father had to go back to work to help support her as she almoast lost her home and possessions when she couldn't get a job after the allegations surfaced.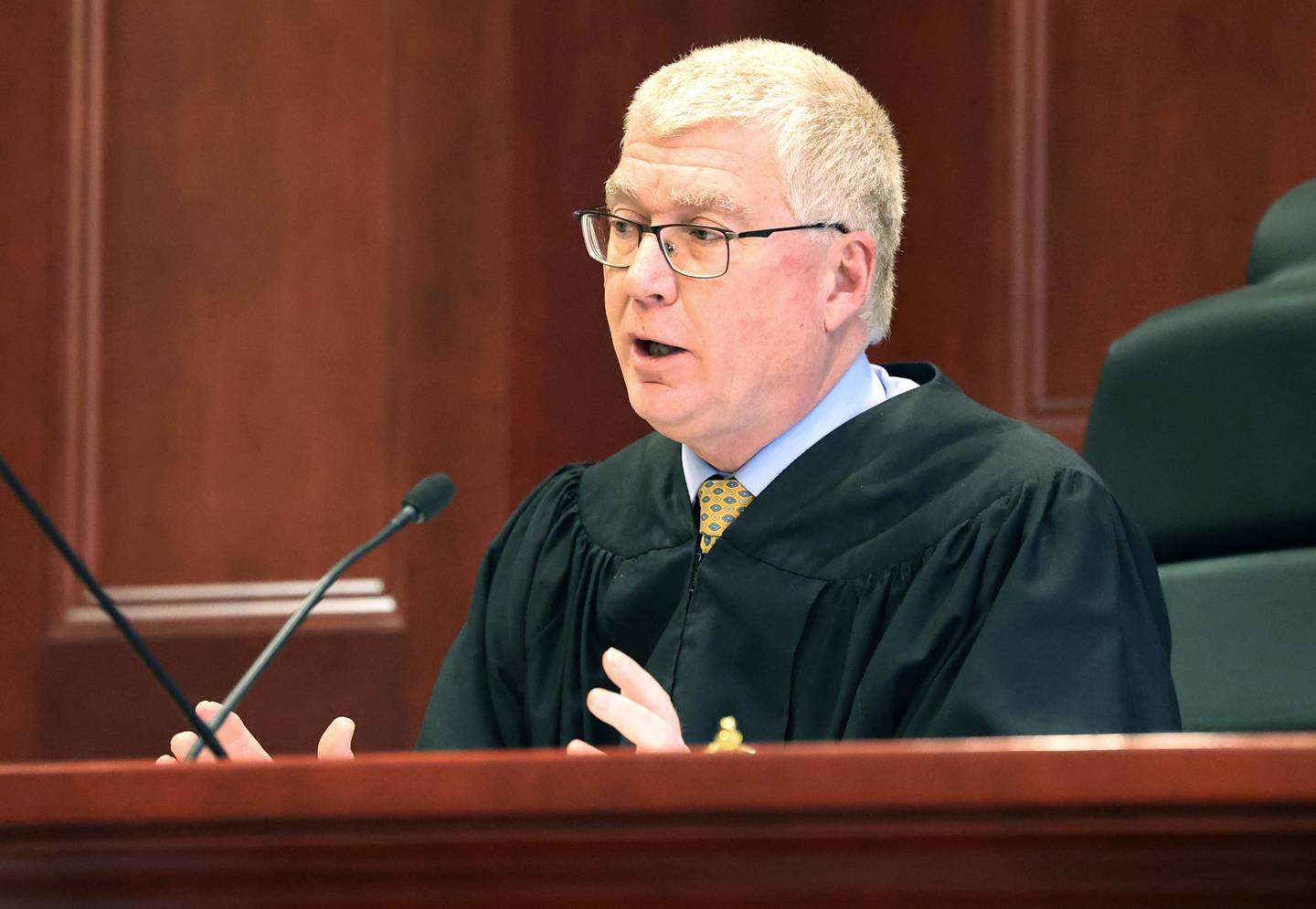 Moeller was the district's superintendent from 2014 to 2016. He was arrested April 13, 2018, more than a year after he was placed on leave from his $199,600-a-year position Sept. 20, 2016 pending a district investigation prompted by the woman filing a complaint against him, alleging inappropriate behavior.
The former DeKalb head of schools was found guilty of sending explicit photos of the woman to the school board one day after the board approved a separation agreement for him Feb. 8, 2017.
Montgomery sentenced Moeller to two years of conditional discharge – meaning a sentence requiring stipulations but not probationary supervision. Moeller also was ordered to perform 100 hours of community restitution, or service, continue any psychiatric treatments he may already be receiving, undergo a substance abuse evaluation and complete treatment if needed.
Moeller also was ordered to have no contact with a victim.
Montgomery's October verdict ruling also found that Moeller had sent the private images without the woman's permission and gone to great lengths to hide who texted them to school board members.
On Tuesday, Montgomery admonished Moeller and referred to phrases he said Moeller made in a pre-sentencing statement to the court.
"How you ended up in this situation I will never ever understand," Montgomery said to Moeller. "You used the phrase 'stupidity' that you 'feel bad' that it's 'not your nature.' ... Oh, I couldn't agree more. I cannot for the life of me understand how you could've put yourself in the position like this, a man in your position. And you're going to walk out of here a convicted felon. ... What you did here is beyond stupid."
Moeller did not offer additional public statements Tuesday – echoing his decision to decline to testify on his own behalf during the trial. He asked the judge if he perform community service in Kane County, and said he'd already made contact with Habitat for Humanity.
Montgomery said Moeller had accepted responsibility for his actions in a pre-trial report filed with the court Jan. 25, records show. Access to that court document was not available Tuesday.
Before the sentencing, Campbell asked the judge to consider his motion for a new trial, filed Jan. 3, records show. Montgomery denied the motion Tuesday. During his appeal, Campbell reiterated arguments he'd made throughout the trial questioning whether the photos of the woman depicted bondage – a key question in the case. Prosecutor Monique Langrehr argued that Campbell's appeal mirrored his trial arguments, which weren't supported by a verdict already in place.
During the trial, prosecutors argued that Moeller sent the compromising photos of the woman because she scorned his sexual advances and had filed a complaint against him for unwanted attention. Moeller enlisted a former student to help him buy the cell phone he used to send the photos, prosecutors said. He sent the photos to school board members months after he was placed on leave and a day after the board approved a separation agreement with him in February 2017.
The woman testified Oct. 5 that she'd developed a personal friendship with Moeller but declined to pursue a sexual or dating relationship with him. On Sept. 16, 2016, the woman also filed a complaint against Moeller with District 428 officials, alleging she was the target of unwanted sexual attention.
Moeller is ordered to report back to the court Feb. 1, 2024, to show that he's met the conditions of his sentence.