CHARLESTON - Princeton High School will be embarking on new territory in the IHSA Class 2A Boys State Track & Field Meet in Charleston this weekend.
For the first time in school history, the Tigers will be sending four throwers to compete, each competing in one event - junior Bennett Williams and sophomore Ian Morris will be throwing the discus while junior Payne Miller and sophomore Cade Odell will be in the shot put.
"It will be a really fun experience with all the guys with us. It will be a really, fun atmosphere for us, taking all the pressure off us having all them around us," Morris said.
"I'm excited, because this is one of the biggest thrower groups that's been for awhile. I think it's a good thing to see after a lot of hard work and we're ready to go out and compete," Miller said.
"It's pretty impressive, we've got four throwers going. Two for one event and two for the other event. Hasn't happened in a long time, if we ever have," Williams said.
The Tigers have a strong tradition in weights, especially under former coach Steve Kiser, with 19 state medalists from 1980-1995, but this is the first time to send four different throwers.
Princeton's best showing at State in the throws was in 1981. The Tigers had three throwers covering the four spots: Eric Foresman (shot/discus), Pat Pence (shot), and Mike Telfer (discus). Foresman and Pence went 1-2 in the shot while Telfer was runner-up in the discus.
PHS senior Greg Groat turned a double by winning both weight events in 1990.
Four for State
Getting all four throwers to State was the master plan of Tiger head coach Dan Foes and throws coach Curtis Odell.
"They've all been good for us all season and it's all nice to not have anybody left out," Foes said. "We felt having everybody concentrate on one event instead of having anyone of them doing both events to have good focus going into the State meet. The fields in both events are some of the stoutest that have been down there.
"The best thing they're all back next year."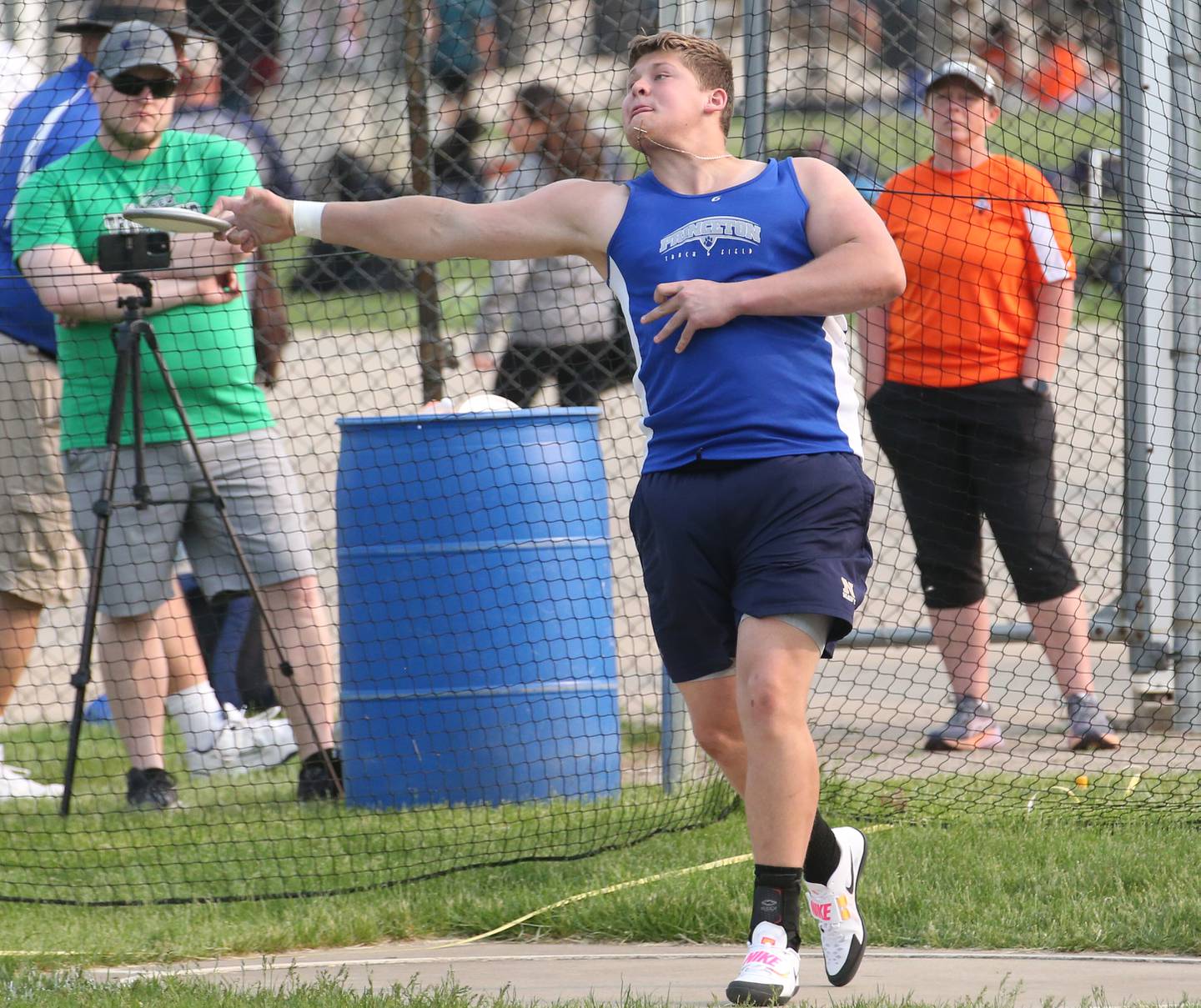 Williams, who is seeded second in the discus and his eye on the state championship, is excited with the idea of focusing on one event, even though he had been throwing the state standard in the shot put as well.
"I like being able to focus on and possibly even win state in the discus. It also allows me to work on my technique and not having to worry about switching out the ring and switching out my form," he said.
Foes said it's all worked out well for Williams focusing on the discus, because any struggles in shot put ring can carry over to the discus.
"We just said, 'let's simplify and get you concentrating on (discus),'" he said.
Can Williams join Groat in the Tigers' coveted ring of state discus champions? He topped the field at the Geneseo Sectional with a PR of 173-2 1/4 (52.79m) and is seeded second behind Salem junior Caleb Smith (53.5m).
"That's the goal," he said. "I've got good competition. At least the top eight, they're all throwing up in the mid to low 50s (meters). I feel like a mid-50 is probably going be what wins state this year and that's what I'm working to get towards."
"We really feel he can contend for a state discus title. He's right there with those guys," Foes said.
The boys say their coaches are a big reason for their success.
"They know what they're talking about," Williams said. "Our guys are very coachable. We listen well, and it allows us to just be able to get to work at practice and not stray off course."
"Their some of the best in the state," Cade Odell said.
While the boys, who also make up the line for the Tigers football team, compete and are all business in the ring, it doesn't mean they don't know how to have fun at State.
"Oh boy, all of us together. It will be a fun time," Morris said with a laugh.
"It's really cool. We all support each other. We'll make shots and jokes at each other in practice. That's what everybody does," Williams said. "But once it comes time for competition, we're all really supportive and working with each other and helping each other do the best we can do."
"I'm sure from the outside, any one looking in, "Wow, these guys giggle and laugh a lot.' But when it comes down to it, we work hard," Miller said. "I think even at some of the biggest meets, we're always giggling and laughing, when we should probably be more serious, but that's how we are."
"It's a great group of guys. We've been having fun all year. If any of us are tense, we just play around until we get relaxed and going and then just PR for the rest of the day," Odell said.
Odell was the first of the four to qualify for state when he hit the qualifier exactly on his first throw in the shot at the Geneseo Sectional and the others hopped aboard the Charleston caravan with their initial throws.
"Pretty nice to qualify on your first throw. Gives you a boost of confidence and now it's back to work the next day and keep working toward the goal of 50 (feet) and placing at state," Odell said.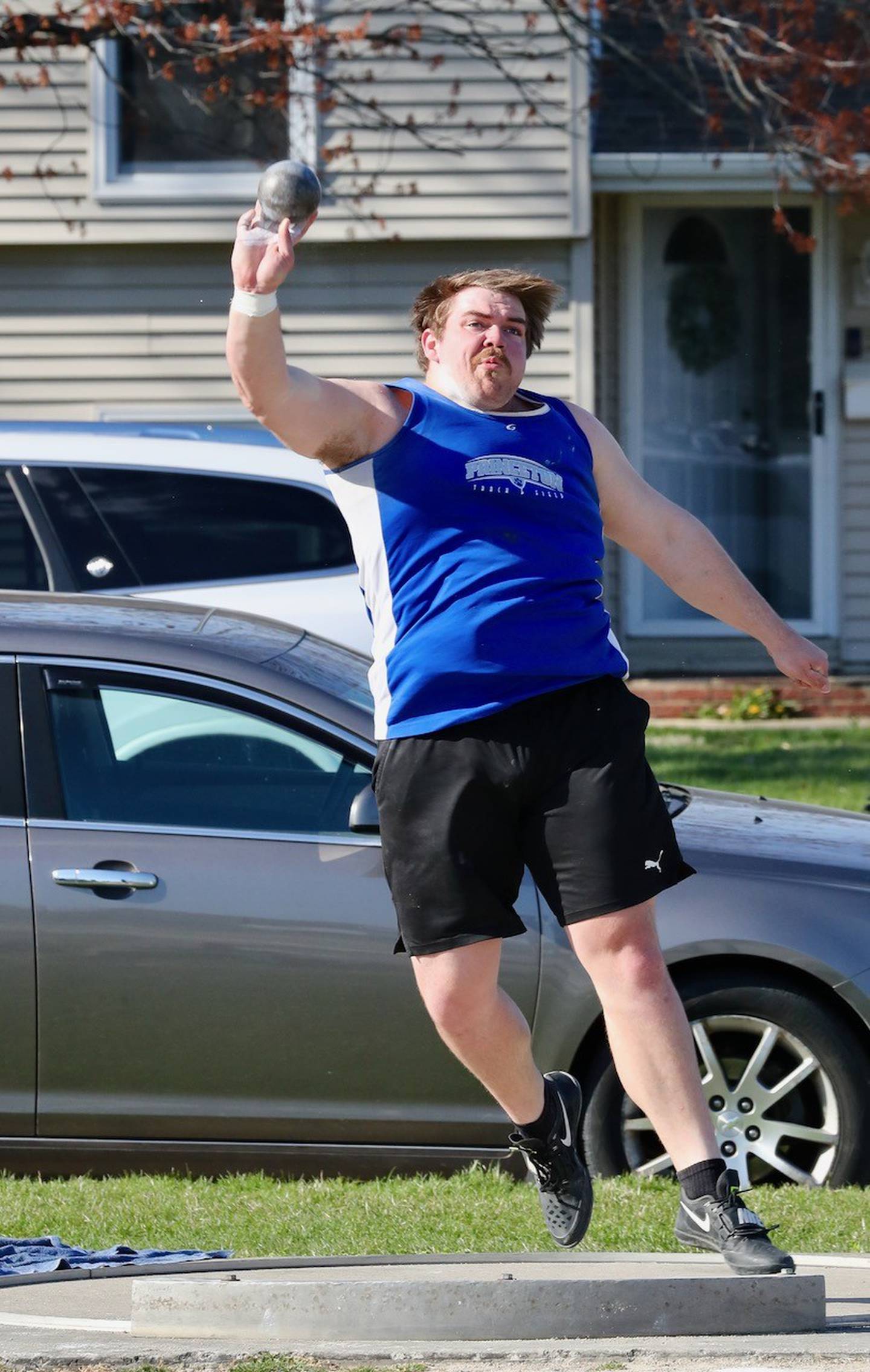 Learning experience
Miller, the son of a Olympics Trials qualifier, qualified a year ago in the shot, but did not medal when he said he let his nerves get the best of him. He believes it will be a learning experience he will share with his fellow Tiger throwers.
"I choked pretty hard. I was pretty nervous when I first got there," he said. "Having that experience, hoping I can go down there and bestow upon these guys the wisdom of just chill out. It's a big meet. there's a lot of good throwers. It's great to see and it's a fine art watching some of the guys competed.
"But in the end, you've just got to relax and do your own thing. All you can do is work hard and hope you can place. We're ready to go down and compete and have some fun."
Foes is also putting the eating establishments on notice with the Tiger crew coming to town.
"Food places better watch out when we get to State. Coach (Curtis) Odell and I usually take no back seat to anybody. With this group, you don't know," he said.