LOCKPORT – It had been a few weeks since Lincoln-Way East senior John Connors hit a home run.
Connors ended that streak in the bottom of the first inning Thursday, slamming a no-doubter to right center to put his team ahead 3-0 en route to a 10-3 victory over Lincoln-Way West in the Class 4A Lockport Sectional semifinal.
Connors and the Griffins (30-8) will be back in Lockport to play the Porters for the sectional championship at 10 a.m. Saturday.
"I am ecstatic right now. This is the biggest game I have ever played in."

—  John Connors, Lincoln-Way East senior
Connors added a two-run triple in a six-run fourth and finished the day 2 for 3 with five RBIs.
"I am ecstatic right now," Connors said. "This is the biggest game I have ever played in. We had faced their pitcher [Conor Essenburg] the last time we played them, and he did good against me. This time, I got a pitch I was looking for and deposited it right over the 347 sign in right-center.
"I was looking for his two-seamer. That's how he got me out the first time we played, and I was ready for it this time."
Staked to a 3-0 lead, Griffins starter Zach Kwasny cruised through four innings and left after a leadoff single in the fifth, having thrown 70 pitches and thus being eligible to pitch Saturday if needed. He struck out seven and allowed two hits and two runs.
"John has been a hot hitter all year," Kwasny said. "It makes it a lot easier to go out there and pitch when you have an early lead like that. It makes you relax and not have as much stress on every pitch. It made it easier to throw first-pitch strikes and get ahead of hitters.
"We are right where we want to be. We are playing for a sectional championship."
West (28-9) got a run back in the top of the second on an RBI single by Anthony Massa, scoring Lucas Acevedo, who had walked and reached second on a wild pitch.
East broke it open in the fourth.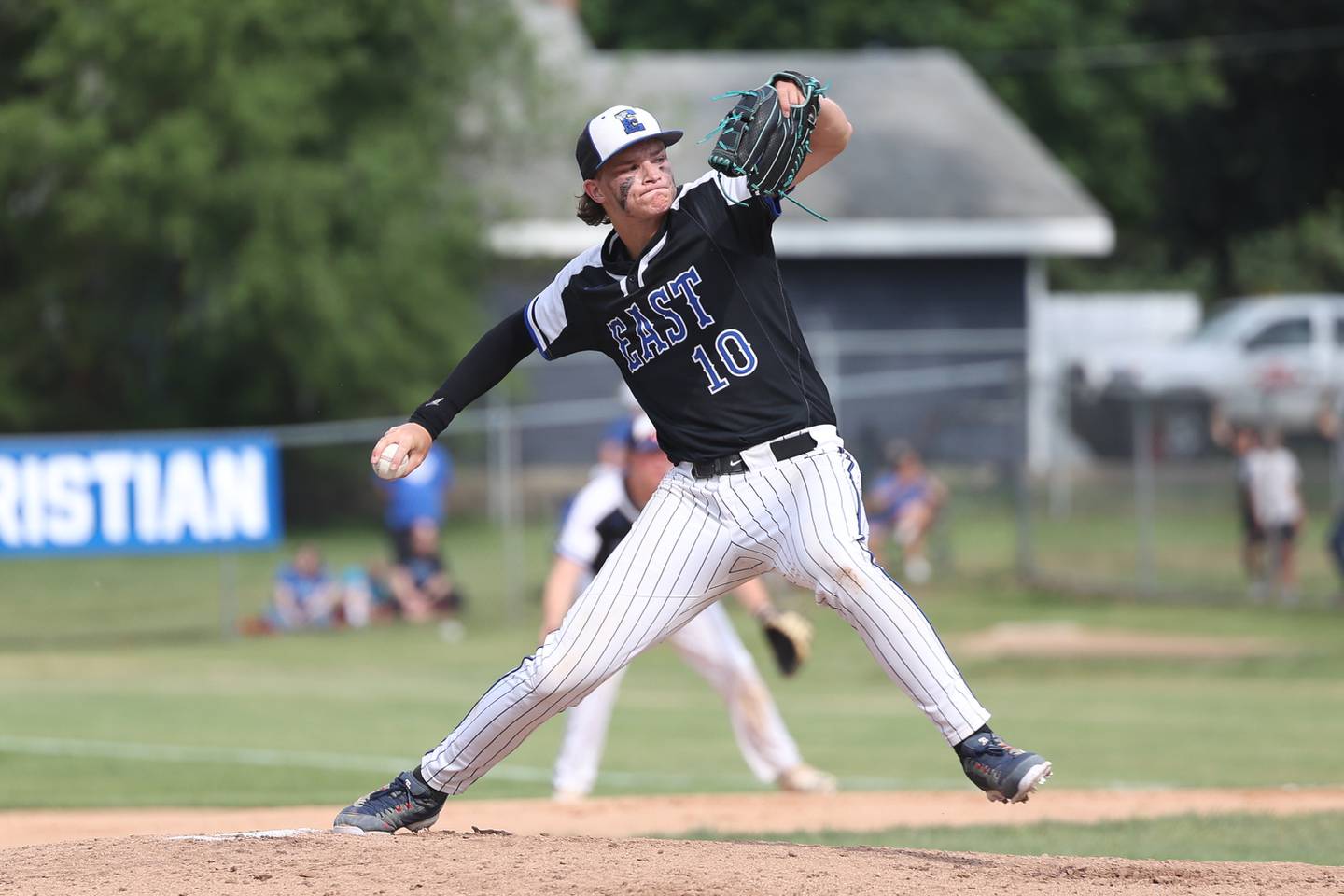 WIth the bases loaded, Matt Hudik hit a grounder to second that went off the second baseman's foot into right field. The throw from right sailed over the catcher's head, and all of the runners came around to score with Hudik reaching third.
Tyler Bell then reached on an error, allowing Hudik to score. After a walk to Aidan Knipper, Connors lined a triple down the right-field line to score both runners.
"They were shifted around toward left on me," Connors said. "I was able to hook a ball down the line and ended up with a triple."
East coach Eric Brauer was happy to see Connors end his homer drought.
"John has still been hitting well even though he hasn't homered for a while," Brauer said. "The last couple weeks haven't been very good days to hit. We had a lot of games with the wind blowing in and he has hit some balls that probably would have been home runs if not for the wind. It was blowing out at the start of the game, and he got one in the jet stream.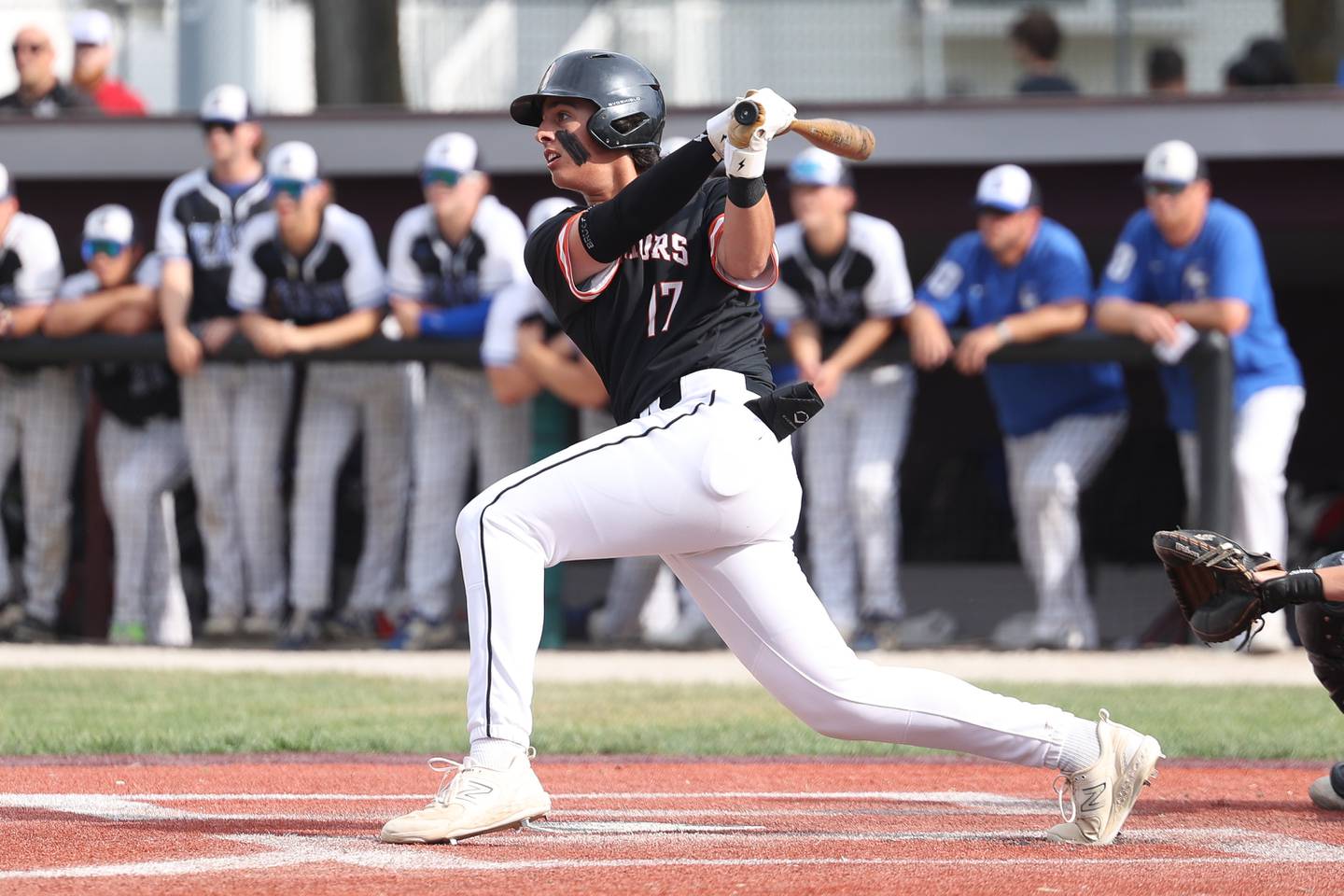 "That was just a huge swing for us. To get out to an early 3-0 lead in a game like this is exactly what you want. Then, when we got the six runs, we were able to get Zach out and be able to use him Saturday if we need to. I don't know if we would have taken him out at 3-1, but once it got to 9-1, we felt our bullpen would do the job, and they did. They threw well, got six strikeouts in the last three innings.
"We couldn't have asked for anything more. We get to play for a sectional championship at a great facility against a great program. They will bring a lot of fans, we will bring a lot of fans. It's going to be a great atmosphere and we are looking forward to it."