LEMONT – Giving Sage Mardjetko a run to work with is dangerous enough. Putting up a crooked number, however, usually spells doom for Lemont opponents.
The defending Class 3A state champions proved that Wednesday with a 7-0 win over Joliet Catholic Academy in the semifinals of the Class 3A Lemont Sectional.
Maya Hollendoner (two-run homer) and Avaree Taylor (2 doubles, RBI) were each 4 for 4, and Mardjetko was her usual scintillating self, firing a no-hitter with 18 strikeouts and one walk.
Lemont (30-1) was able to score a run in the bottom of the first without the ball leaving the infield. With one out, Natalie Pacyga reached on an error, went to second on a wild pitch, went to third on a grounder to second, and scored on a wild pitch. Taylor then hit her first double of the day, but was stranded at third.
After Mardjetko struck out the side for the second straight inning, Lemont struck again.
After Olivia Parent led off the bottom of the second with a single, Hollendoner launched a two-run homer to left, giving Lemont a 3-0 lead over the Angels, who finish with a 23-11 record.
"I was looking for a low pitch, and I got one and attacked it," Hollendoner said. "I just wanted to help the team and do my part. I guess I picked the right time to get hot."
Hollendoner singled in the third, fifth and sixth innings for Lemont, while Taylor had a ground-rule double and scored in the third before a single in the fourth and an RBI single in the fifth.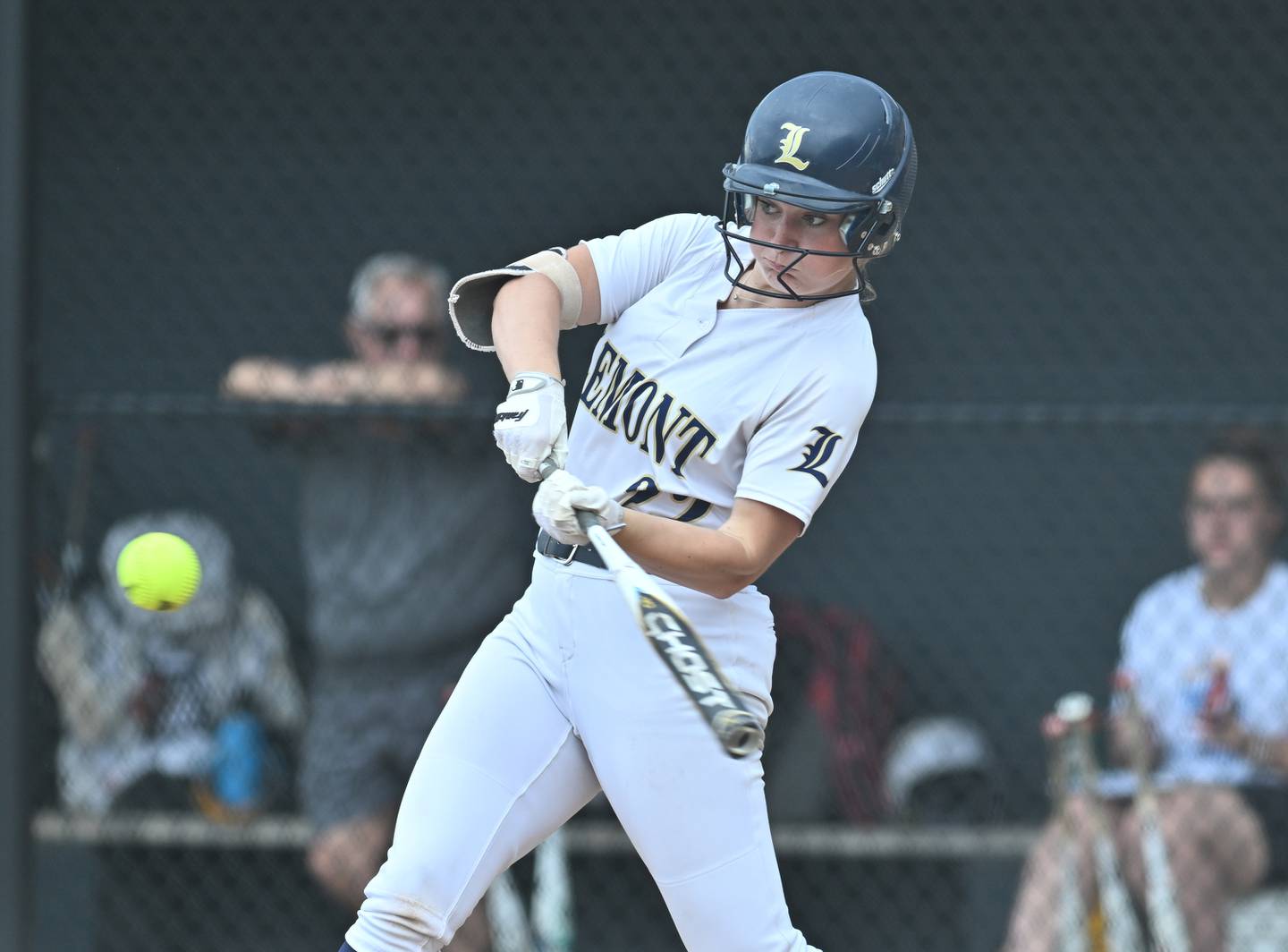 "Our hitters have really picked things up this year," Taylor said. "And, it's pretty much everybody. You can never tell who's going to carry us in a given game. If a few aren't hitting, then the other ones are there to pick them up.
"We don't just rely on one or two hitters to do the damage for us. We all can do damage."
The steady rain that fell early in the game was heaviest in third inning, and the wet ball contributed to Lemont scoring a pair of runs in the bottom of the inning on wild pitches.
The only damage done to Mardjetko's perfect-game bid came in the top of the fourth inning. With one out, Mardjetko walked Wrigley Fanter, but Fanter was retired on a fielder's choice grounder by Mack Brow before Mardjetko struck out the final batter of the inning.
Mardjetko, a South Carolina commit, faced 22 batters, one over the minimum, and struck out 18 of them.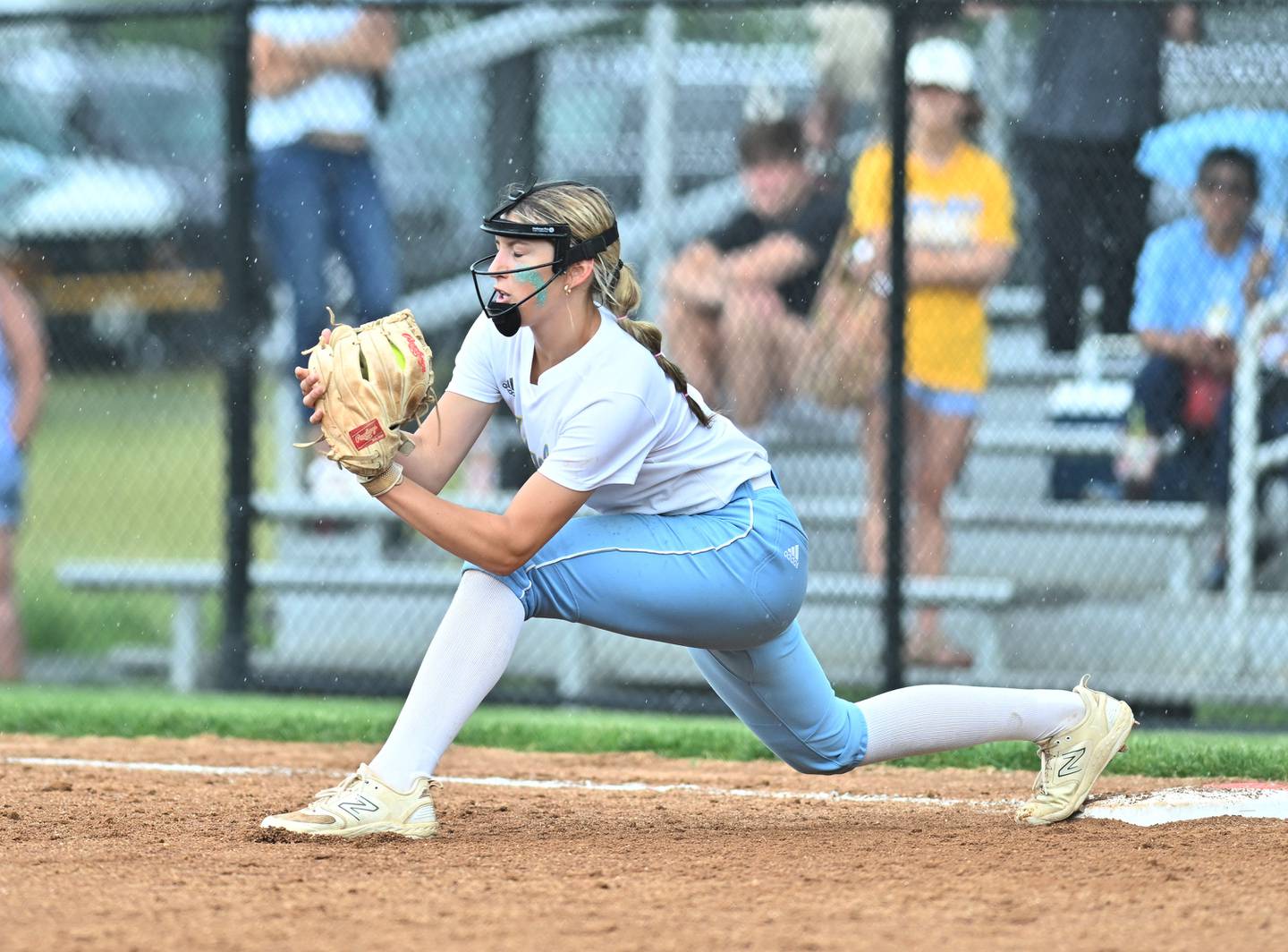 "We knew coming in that it was going to be tough," JCA coach Tina Kinsella said. "We wanted to keep it close, within a run or two, but giving up a run in the first and then the home run, chasing three against a pitcher like Sage is awfully difficult. We wanted to be short and quick to the ball, put it in play and make them make plays. But then we kind of got away from that. We know she likes to go up with her pitches, and we kept swinging at them.
"Still, it was a good season for us. Getting 20 wins and a regional title is a goal every year for this program. We didn't get it last year, but we did this year as a school of 2A size playing a schedule of mostly 3A and 4A schools. The season was a success, and you can't ask for more than playing the defending state champs in a sectional."
Lemont now moves one step closer toward its goal of a repeat of last year's Class 3A title and will take on Ottawa at 4:30 p.m. Friday for the sectional title.
"Our offense did a good job with a couple of girls going 4 for 4, and Sage was out there being Sage," Lemont coach Chris Traina said. "JCA is a good team.
"It's very exciting to be back in the sectional championship, and we're going to do the best we can."