FRANKFORT – Defense not only wins championships, it wins games against your archrival.
Lincoln-Way East learned that anew Friday night, outscoring Lincoln-Way Central by 28 points in the first three quarters en route to a 62-41 romp before about 1,500 spectators in the raucous East gym.
The leader of the pack was senior point guard Kaiden Ross, listed at 5-foot-9, which might be a tad generous. He stood tall by the estimation of coach Rich Kolimas with a 12-point showing that commenced with a game-tilting 3-pointer midway through the first quarter.
"A great team win," Ross said. "I just went out there and tried to control it and lead. The 3, I was just trying to give my team some energy."
That 3-pointer from the left side didn't silence the Central students right behind him, but it made their yelps irrelevant in the ears of Ross and his teammates.
"I didn't pay attention to them," Ross said.
East was an uncharacteristic 11-17 last season but has opened 3-1 this year, the only setback a seven-point loss at Lyons Township.
"I liked our energy tonight," Kolimas said. "The seniors really wanted this one. You could see the intensity and the focus. We won this game on the defensive end.
"We like to play more up-tempo, but we didn't want to get into a half-court game where they're in a zone, we're missing shots and they're coming down and missing threes. We were not going to allow that."
Sophomore Brenden Sanders added 10 bench points for the Griffins and played well enough on defense to see action in all four quarters.
"It's been hard to adjust to guarding better players," Sanders said. "The speed is the difference."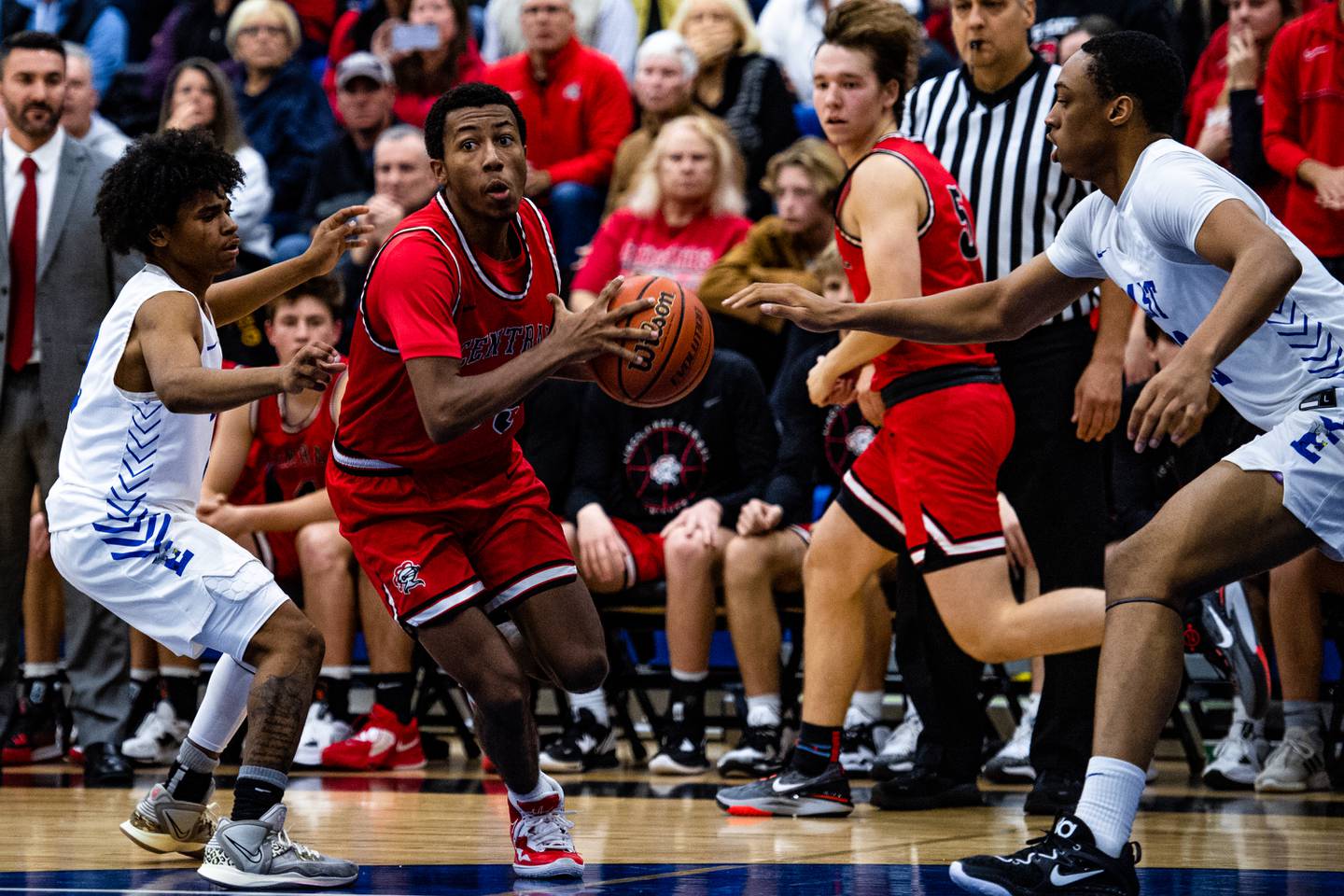 Central, 1-4, is learning the way new coach Evan Wyllie wants the game played. That he arrived from the University of West Florida and was greeted by a group with only nine minutes of playing time last season shows it'll be at uphill climb, at least at first, for the Knights.
"It's hard to simulate their size, physicality and athleticism in practice," Wyllie said of East. "We struggled. We tried to mix things up and didn't have an answer."
One thing he has is 3-point shooters. Eight of Central's 15 baskets were from beyond the arc. Senior Ethan Vrabec led the Knights with 13 points, including a pair of late 3-pointers. But Central was 15 of 41 from the field, while East was 24 of 39, and missed but once in the issue-settling third quarter.
"I think the atmosphere bothered us a little bit," Wyllie said. "This was our first true road game after four in tournament play."
And against East, no less, which came in determined to prove something.
"We were patient and disciplined on defense," Kolimas said.
That can take a team a long way.