CRESTWOOD – If you would have told the Lincoln-Way West baseball team before Tuesday night's Class 4A Crestwood Supersectional game that it would be able to limit a vaunted Brother Rice offense to five hits, the Warriors probably would have like their odds of being right in the ballgame.
But it was what the Crusaders did with that relatively scant hit total that proved to be the difference in a 5-1 Brother Rice victory at Ozinga Field.
The win lifts Brother Rice (35-5) into Friday's Class 4A state semifinals, where it will face Edwardsville about 3 p.m. Lincoln-Way West closed its season with a 25-7-1 record.
"Our coaches and I were talking about that after the game, five hits, we would have thought we would have been in a little better situation," Lincoln-Way West coach Jake Zajc said.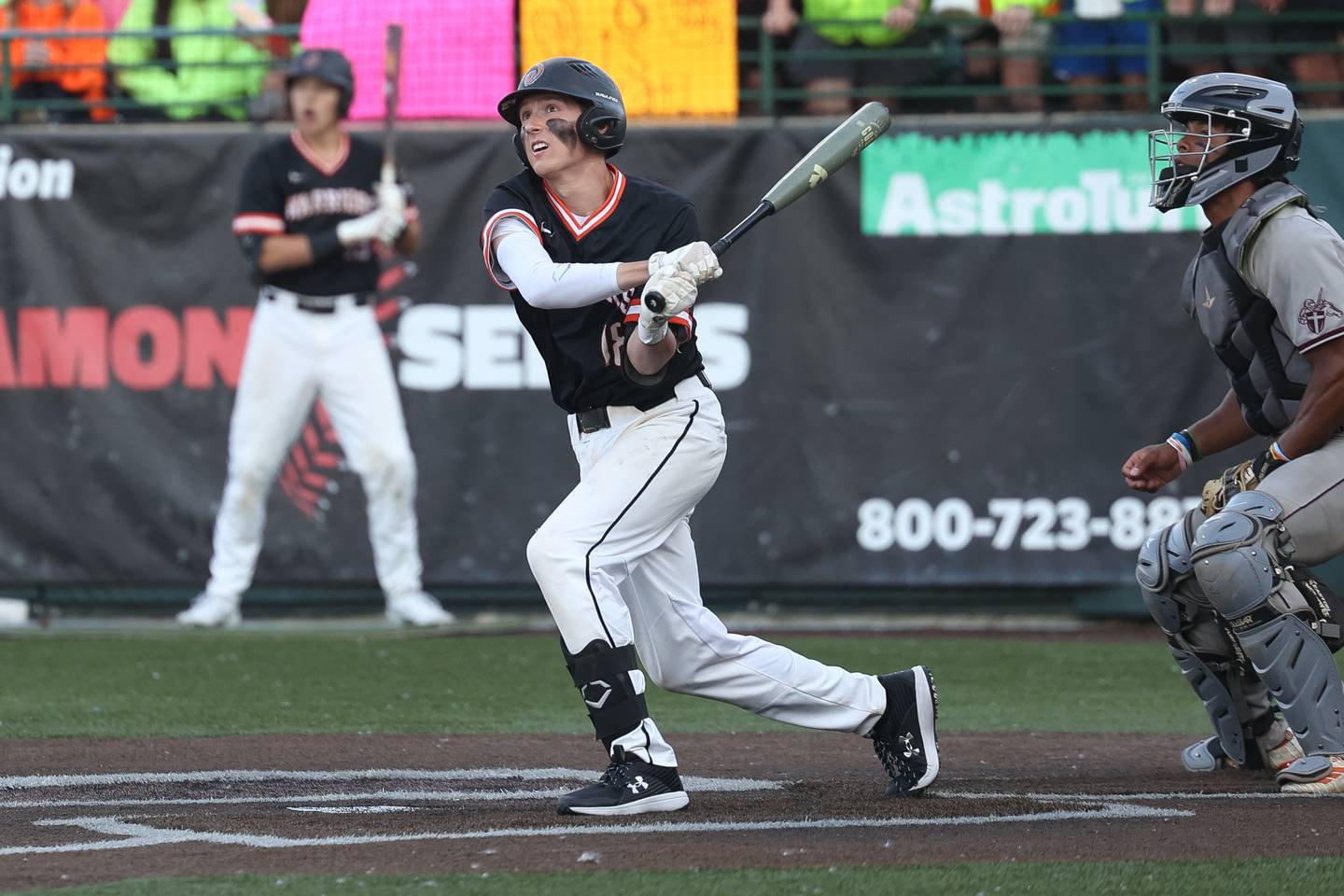 The biggest reason why five hits were enough for the Crusaders was the stellar pitching performance of Brother Rice starter Cole Van Assen. Van Assen, a Purdue commit, struck out 14, and at least two Warriors struck out in every inning other than the second.
He also ventured through the first six innings allowing only two hits and four base runners. Lincoln-Way West didn't manage to get a runner past second base until the seventh inning, when it scored an unearned run to break up the shutout bid.
"The way we've gotten here has been being able to get some guys on and put some pressure on the other team," Zajc said. "You have to tip your cap to him, we couldn't get anything going. We had a couple of opportunities, and we didn't move the ball around. We took a couple of strike threes and swung at a couple of ball fours, which hurt. When you play in a supersectional game, everything matters and gets magnified a little bit. It's unfortunate."
Lincoln-Way West was able to maintain contact with Brother Rice largely because of a stellar effort from starting pitcher Colton Kachinsky. Kachinsky, a junior, allowed only three hits over his six-inning stint, striking out four, and made pitch after pitch when it appeared as if the Crusaders might blow the game wide open.
"I was just trying to perform as best I could for our seniors," Kachinsky said. "I knew coming into this game that this was one of the best hitting teams in Illinois, so I needed to have my good stuff. And I had to just bring it, don't be afraid."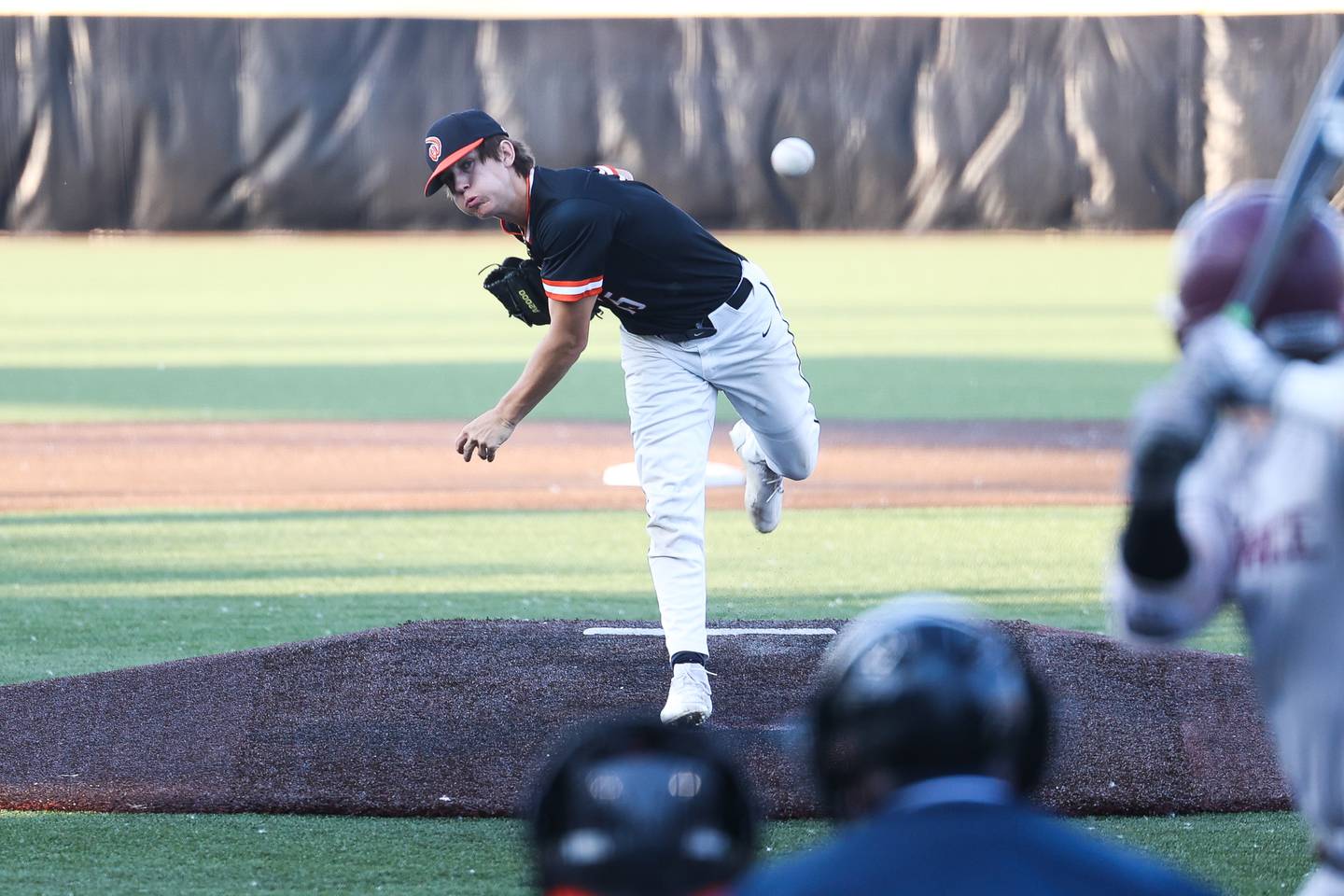 Kachinsky certainly didn't appear to have any fear. He wiggled out of a potentially ominous second inning by forcing multiple lead runners at third base, and limited the damage to two runs in a third inning that easily could have been much worse.
"We got a pitching performance out of junior Colton Kachinsky today that was what we needed," Zajc said. "And he gave it to us. Unfortunately, we have to tip our cap to their pitcher for making a lot of quality pitches, and our inability to put the ball in play against him really hurt through the duration of the game."
Brother Rice's first-inning score came off some adventurous baserunning.
Jack Lausch reached via a hit by pitch and went around to third on a single by Will Flanigan. Flanigan strayed too far off first base after the ball was returned to the infield and was caught in a rundown. Flanigan eventually was tagged out, but not before Lausch seized the moment and broke from third to score.
Aggressive base running set the stage for Brother Rice's two runs in the third as well. After Zion Rose rapped a one-out single and Lausch reached on a walk. The two executed a perfect double steal, which forced the Lincoln-Way West infield to play in. Flanigan delivered again, punching a single through the hole between first and second that allowed both runners to score.
Brother Rice tacked on two insurance runs in the seventh inning to push its lead to 5-0. Lincoln-Way West got a one-out single from Jacob Morris in the seventh and brought him around after the back end of a double play attempt caused the ball to get loose and allow the Warriors' only run to score.
"It's been a great ride," Zajc said. "The feeling of winning a regional and the feeling of winning a sectional to put ourselves in this position tonight was special. Very proud of this baseball team and thrilled to be the head coach of this baseball program. Our coaches did a great job. We just came up short, which is disappointing, but our best season at Lincoln-Way West is now 2022. It was just an awesome season."