NEW LENOX – This season didn't exactly start out well for the Lincoln-Way West boys volleyball team.
But the Warriors are picking up the pace now.
Coming off a second-place finish at the Wheaton Warrenville South Tiger Classic last weekend, Lincoln-Way West tuned up for some big upcoming matches by defeating visiting Providence, 25-18, 25-22, in a matchup of schools located 2.5 miles away from each other in New Lenox.
Connor Studer, a junior outside hitter, led the way with a match-high eight kills and added six digs. The Warriors (11-6) started 0-2 and were 4-5 before reeling off six wins in a row, including handing No. 1 seed Barrington its first and still only loss of the season in the quarterfinals of the Tiger Classic. Now they are looking like a team that was ranked in the state in the preseason.
"We've still been using the same lineup," Lincoln-Way West coach Jodi Frigo said. "We've played well with some top teams, taking Marist and St. Rita to three sets. We're just building confidence. We will be fine as long as we pass well, make plays and eliminate mistakes."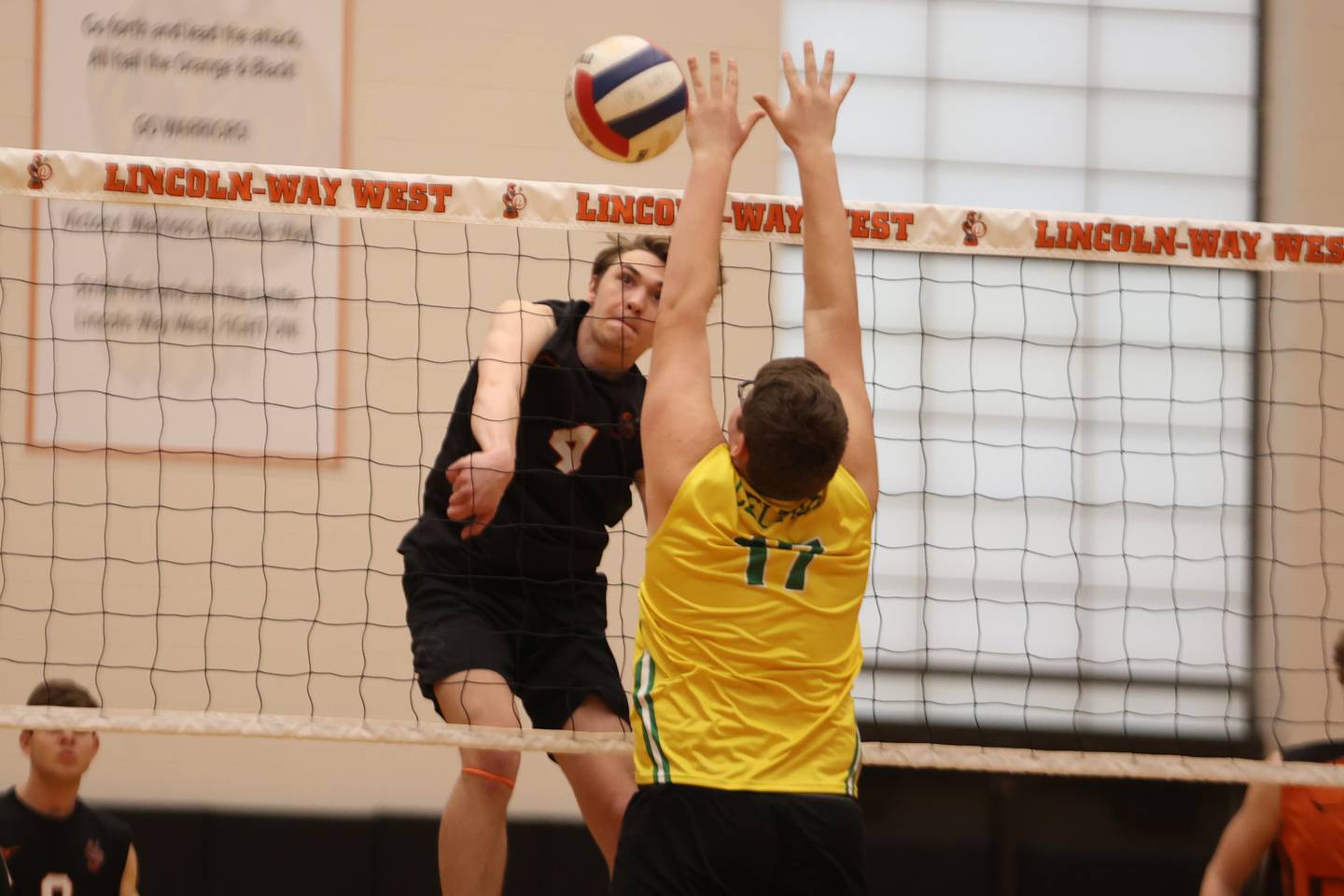 It also helps to serve well. That's what senior outside hitter Brian Lynch did in the first set. Providence led 7-6 until Lynch highlighted a 7-0 run with three aces, all of which were untouched, to put the Warriors ahead 13-7. They never trailed the rest of the match.
"I learned it from my club coach, Hector Kiely, at UNO," Lynch said of his serving strategy. "He always says just put a piece of carpet down on the court in your mind and aim for that."
Lynch had five kills and the three aces in the match. After the rough start, he's happy to help Lincoln-Way West get going.
"We started 0-2, but we had that Joliet West Tournament, and we finished third there," Lynch said of the Warriors going 4-1 at the Tiger Invite on March 25 and 26. "We just had to get a couple of wins. Now we're not tipping as much, we are just swinging.
"For us, it's not just a team, it's a group of friends playing together, and that makes it much better."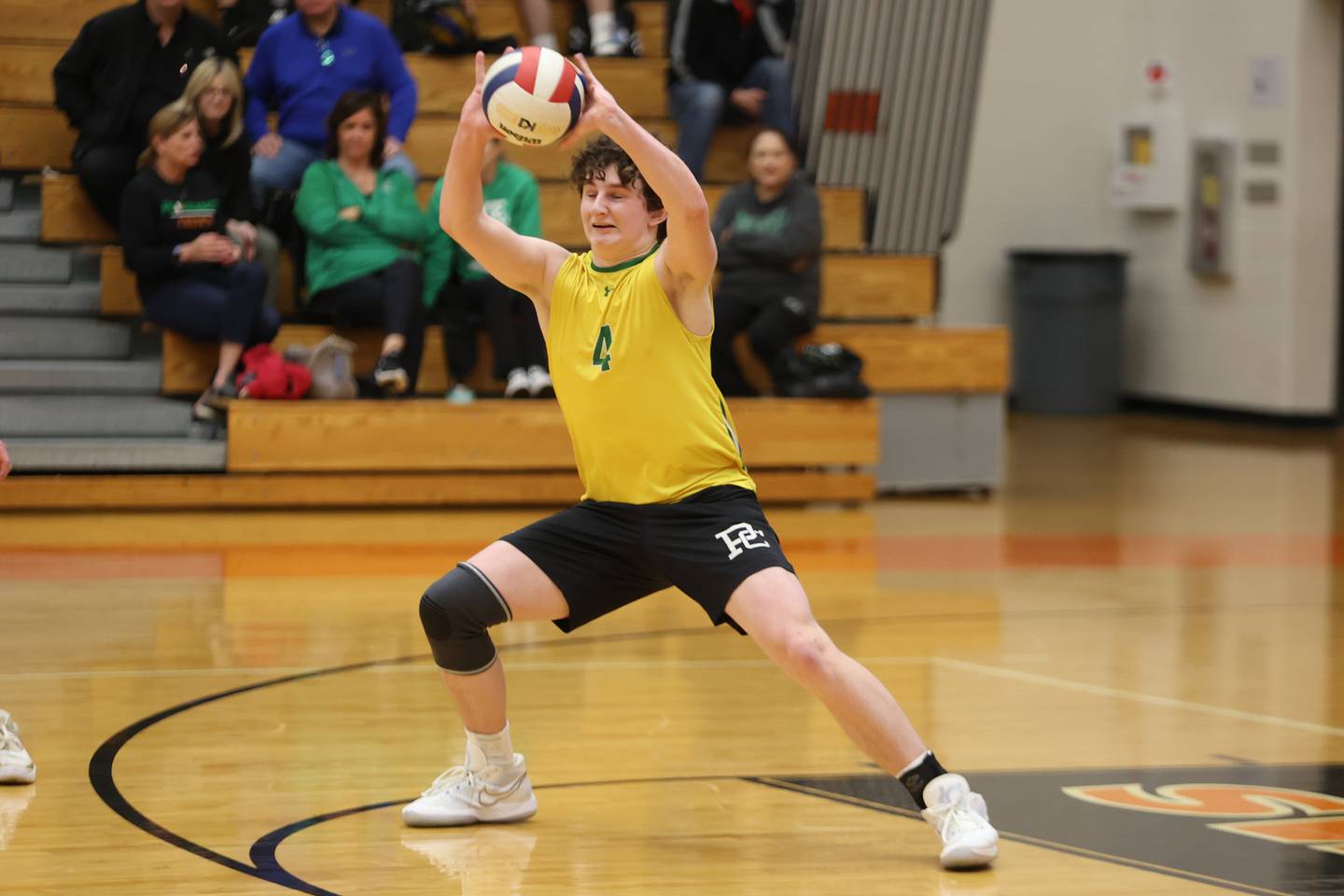 Providence (8-13) played better than it had in another all-New Lenox matchup in a 25-13, 25-16 loss to visiting Lincoln-Way Central on Monday.
"Sean Kane and Michael Kirchner played new roles for us and stepped up today," Providence coach Lee Rucinski said of his junior and senior players who stepped in at outside hitter and defensive specialist. "But [the Warriors] gave us six free balls, and we didn't put one away.
"We needed better defensive intensity. I'm a scale kind of guy and unfortunately, our negatives still outweighed our positives."
Kane clubbed three kills. So did junior right side hitter Jake Tess, who also had four aces, including a pair to start the match. Junior outside hitter Adam DeRubertis had a pair of kills, and senior setter Mitch Bartecki added 13 assists for the Celtics.
Tess tacked on two more aces midway through the opening set to pull Providence within 15-14. But two straight kills by Lynch highlighted a 6-2 Warriors burst as they went back up 21-16 and eventually closed out the first set on a deep kill in the left corner by senior right side hitter Logan Clarida (four kills, three blocks).
Lincoln-Way West never trailed in the second set, which was tied at 1-1 and 2-2. Then senior middle hitter Chase Dryan (four kills) deposited a kill to start a 4-1 spurt that gave the Warriors, who used a lot of players in the second set, the lead for good.
The Celtics wouldn't go easily, however. They closed within a single point on six occasions. The last of which was at 23-22 on a kill by DeRubertis. But Studer sprayed a kill, and Clarida and senior middle hitter Conner Dargan (three kills) combined on a block to end it.
"It's neat," Studer said of facing off against Providence. "I have a teammate on my [Ultimate 17 Gold] club team, Jake Tess, who is on Providence. We were talking out there. So it's fun to play with your friends and be able to play loose with the opponent."
It's also fun to win, and that's what the Warriors, who have captured three straight regional championships, plan to keep doing.
"We are running a four-man serve receive now," Studer said. "So we have more people [on serve receive] but take up less space. At the beginning of the season, we were arguing with each other and not communicating as a team.
"Now we are playing as a team and not as individuals. We see ourselves as the top-tier team that we should be."
Junior outside hitter Benen Flores had three kills for Lincoln-Way West. Junior libero Jack Ladd had four digs, while setters, junior Garrett Konopack (13 assists) and Andrew Tomaszewski (9 assists) combined for 22 assists for the Warriors.
Both teams are at the Smack Attack, which is hosted by Brother Rice, this weekend. In fact, the Warriors, who were SouthWest Suburban Conference co-champions last year with Lincoln-Way East and Lockport, host Lincoln-Way East on Thursday in the SWSC opener. Then the two teams turn around and play each other again Friday in pool play at the Smack Attack.
"Our overall focus is control and playing relaxed," Frigo said. "I'm OK with taking some losses. We just want to play well at the end of the season and have fun playing volleyball."