When Lien Dastgir was growing up on a small orange farm in Southern China, she knew her aunt was working behind the scenes to move Dastgir and her family to the U.S.
The process took 11 years and Dastgir was 16 when her family finally moved to Chicago. Dastgir's mother was Chinese and her father was Vietnamese. Dastgir went to high school not knowing a word of English.
Dastgir, a civil engineer who said she now speaks several languages, is the chief executive officer and founder of KAD Engineering, which provides construction management services to transportation agencies in the Chicago area.
She previously worked for other agencies, including several consulting firms and the Illinois Department of Transportation. But being a civil engineer was her dream, she said.
"I love it," Dastgir said. "I love the interaction with the contractors. I love getting to know the laborers. I love dynamics. There's always problems in the construction projects. There's never one day you just sit there, and nothing goes wrong. Something always goes wrong. It's really, really hectic, but I love the challenge; I love being challenged."
IDOT District One Bureau Chief of Construction Jon Schumacher said that when Dastgir worked at IDOT, she was a resident engineer that oversaw projects "on the state side of things" and then worked, almost in a supervisor role, with consultants on local projects using federal money, overseeing 30 to 40 projects at a time.
Schumacher said Dastgir "was really good" in both roles and having both state and federal experience helped her understand how all the different projects are administered and determine the best solution for any given situation.
"She is very thorough," Schumacher said. "If she's not familiar with something, she has no trouble asking for help. ... She's very personable very outgoing and that's really something you have to have in order to start a consulting company like she did."
Schumacher said Illinois will hire consultants to augment staff, with a list of approximately 400 prequalified firms.
"It's not an easy business to get into and get started," Schumacher said. "But she's really tough, she's doing a really great job getting the company up and running out of the connections with the other consulting firms. I think she's doing a really great job."
IDOT Region One District One Bureau Chief of Design Fawad Aqueel said that in Dastgir's early days at IDOT when he mentored her, she was "very excited to learn as much as possible. She was always trying her best above and beyond what is expected to learn as much as possible and do a great job. It's always great to have an employee who just wants to learn more and more."
Aqueel said Dastgir's company currently has contracts with IDOT and believes her company will continue to grow. He said she's already successful simply for starting a consulting business since that is "extremely hard to do. I think she has become mature and better, technically, over the years. So with the more experience she gained, she was able to make better engineer judgments, better decisions and become more confident in her work."
Thinking outside the career box
Dastgir recalled her early years of high school when she studied the dictionary to improve her English. She excelled in math because "math is the same everywhere," she said.
She said two programs really helped her excel: International Baccalaureate program and summer camps at Loyola University, which helped her gain computer skills since the family didn't have a computer at home, she said.
"Those summer camps really pushed me to think outside the box and chase the things I want to do," Dastgir said. "I realized that in America, if you work hard, you can be anybody you want."
Dastgir said her parents really hoped she would enter the medical field, especially since she did well in math and science. But the more Dastgir attended job fairs and explored her options, the more she realized medicine was not the career for her.
"I grew up on a farm where we did not have paved roads, just gravel and dirt," Dastgir said. "I wanted to be a civil engineer and build roads."
She earned her bachelor's and master's degrees in civil engineering at the University of Illinois at Chicago with the help of 11 civil engineer scholarships, she said. Dastgir said many of her classmates wanted to build bridges. She never swayed from her desire to build roads, she said.
Dastgir said early in her career a supervisor encouraged her by saying, "What you're doing it, keep doing it. You're just a fish at the bottom right now. Eventually you will swim all the way to the top, passing everybody."
She kept those words in mind when she started meeting employees who worked in high positions at the Department of Labor during her internships at Cook County Highway Department, USDOT at Washington, D.C, AECOM consulting firm and the Illinois Tollway, she said.
"It made me realize these were just persons like me, just that they have more experience, which is why they were so high up in their career and that I could be there, too, one day," Dastgir said. "I just had to work hard and build my confidence in my career path."
Stepping off the well-paved road
Dastgir decided during the pandemic she wanted to stop working for IDOT and open her own consulting firm. She wanted to train her employees the way she felt they should be trained, so they "can be self-efficient and independent and ready to work," she said.
She also hopes to do more mentoring and branch out into education, to help train up the next generation of civil engineers, she said.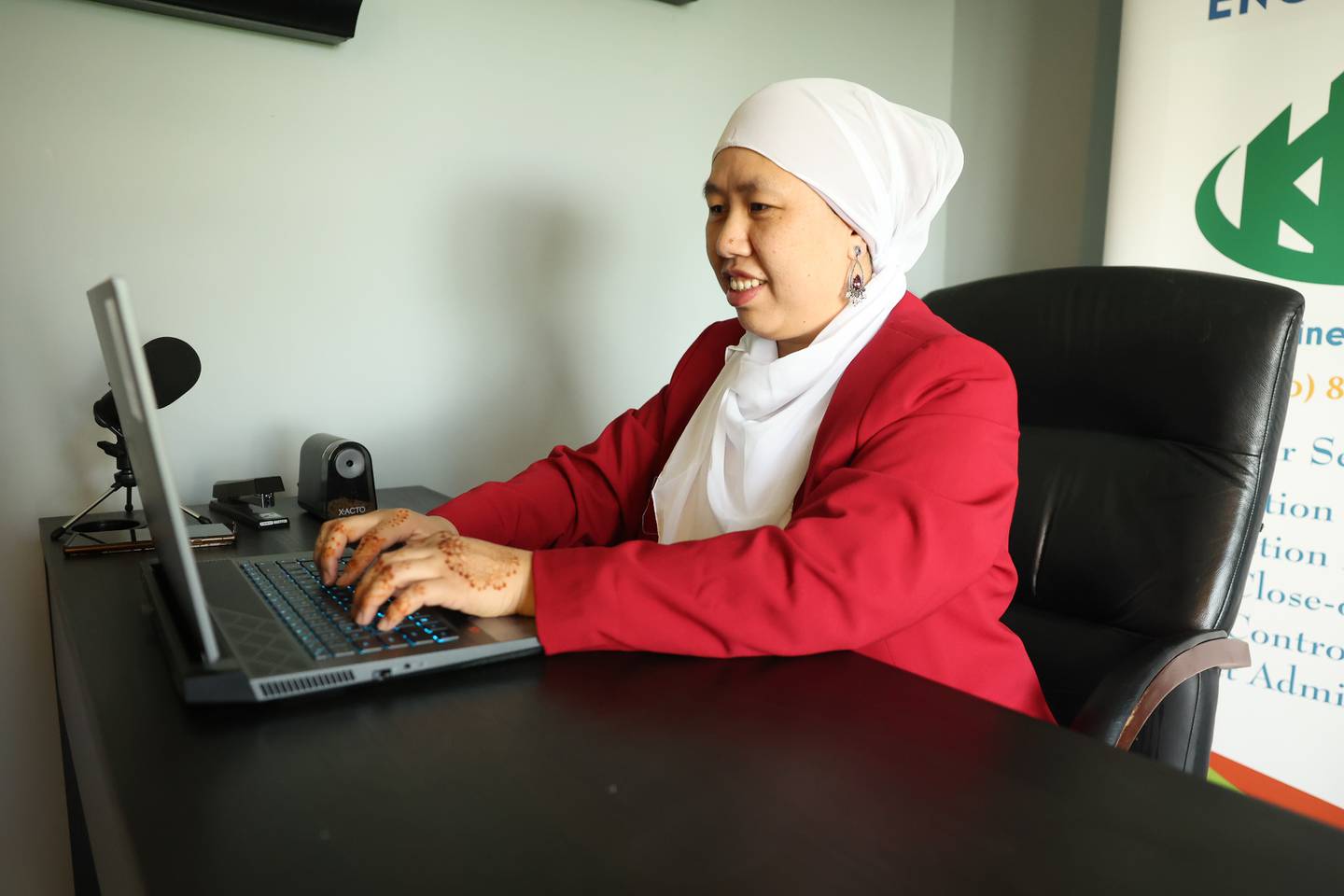 Her current projects include I-57 from Kankakee County Line to Steger Road, contract administration/project control IDOT, resurfacing 47th Street from Central Avenue to IL-50 Chicago and bridge replacement IL-171 over Long Creek Drive, Lemont.
Dastgir, who turns 43 in May, is also the mother of and is the mother of three children: 14, 10 and 2. She speaks multiple languages, including Vietnamese and Mandarin – and can read Arabic now since she converted to Islam when she married.
She also takes care of her elderly parents – her father is 83 and her mother is 74 – which includes taking them to doctor appointments since neither one speaks English, she said.
Dastgir doesn't mind.
"I'm more productive when I'm busy," she said.
For information, visit kadengineeringgroup.com.