A man who was arrested after not wearing a face mask during the Plainfield School District 202 board meeting on Monday said he was "unlawfully removed" from the meeting.
Tim Conrad, 35, was arrested after being asked to leave the meeting at Plainfield North High School.
District 202 spokesman Tom Hernandez said in an email statement that the board president, Kevin Kirberg, noticed Conrad was not wearing a mask and asked him three times to put on one. Kirberg then asked him to leave and then asked police to assist when Conrad would not comply.
A video recording of the meeting shows Kirberg asking Conrad multiple times to put on a mask before saying he would ask a police officer to escort him out of the meeting.
"At this time sir we would either need you to mask up or leave," Kirberg said.
A separate video of the incident that Conrad, a Republican precinct committeeman, gave to The Herald-News appears to show a police officer saying, "I am telling you that if you do not leave this auditorium, you'll be under arrest for trespassing."
The video shows the officer then ask Conrad to walk outside of the auditorium which he agreed to do.
Conrad can be heard arguing that his being asked to leave was "not lawful." He said to the officer and claimed in an interview that he is exempt from having to wear a mask under the Americans with Disabilities Act.
He said he has post-traumatic stress disorder which causes a "medical intolerability" to wearing masks. Conrad said becomes physically ill when wearing a mask.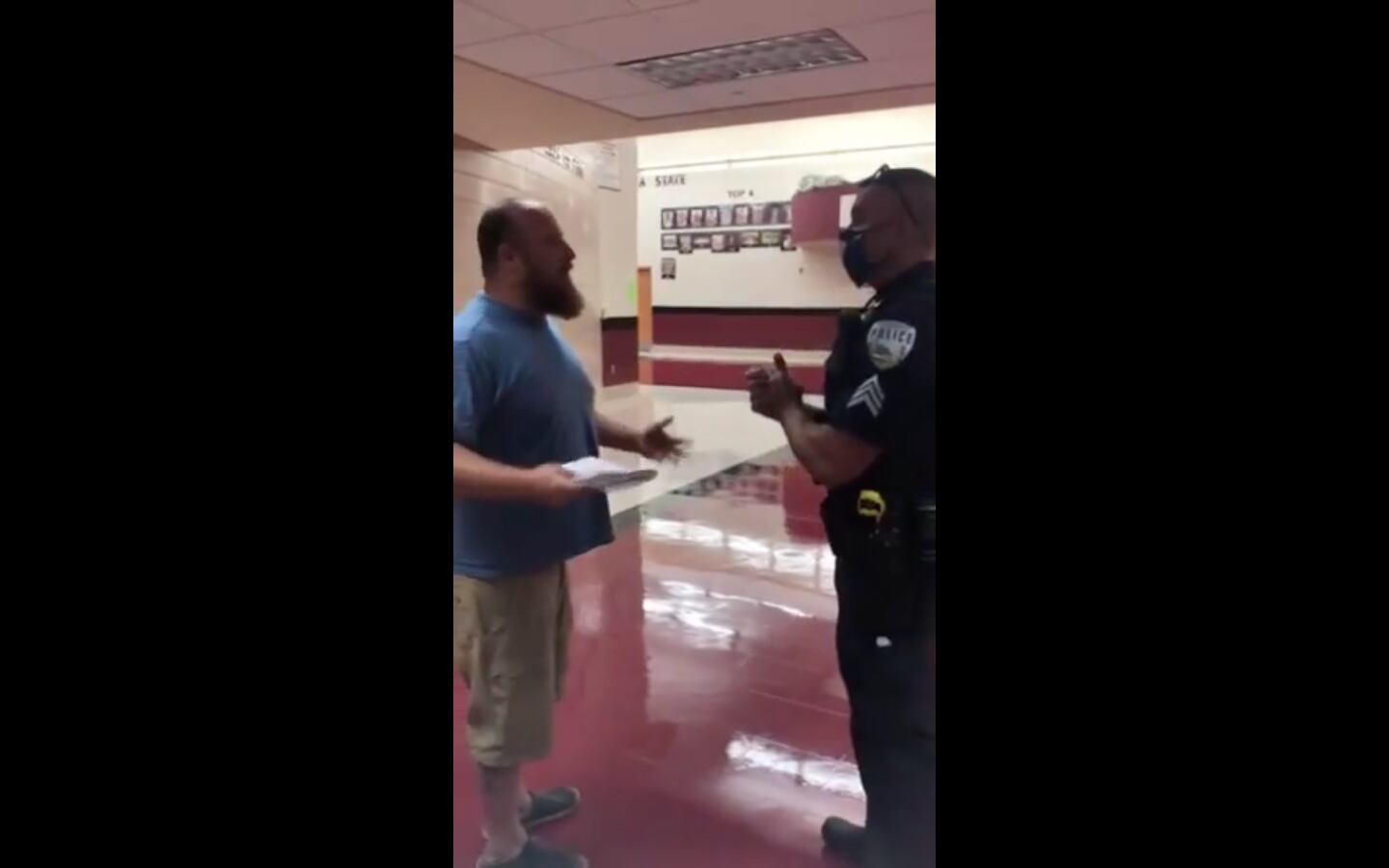 While Conrad declined to say what exactly caused his PTSD, he said it was due to a "non-combat related trauma." Conrad also said he was never in combat or the military.
Because of his condition, Conrad argued, he should not be required to wear a mask and should have been allowed to stay inside the auditorium.
"I can't wear a mask," Conrad said. "I don't have a choice. I just want to be able to go to a board meeting like everybody else."
He added being arrested was "humiliating" and that he was "unlawfully removed."
The video shows Conrad and the officers walking out of the auditorium and into a hallway. The officer can be heard at one point asking Conrad "are you going to leave or no?"
Conrad responded, "Why do I have to leave?"
The officer again asked Conrad to leave and after a few more seconds, he said he was under arrest for trespassing. Multiple officers walked Conrad outside of the building and to a vehicle parked in front of the school.
Conrad said he was later booked and released. A Plainfield Police Department spokesman did not immediately respond to requests for comment.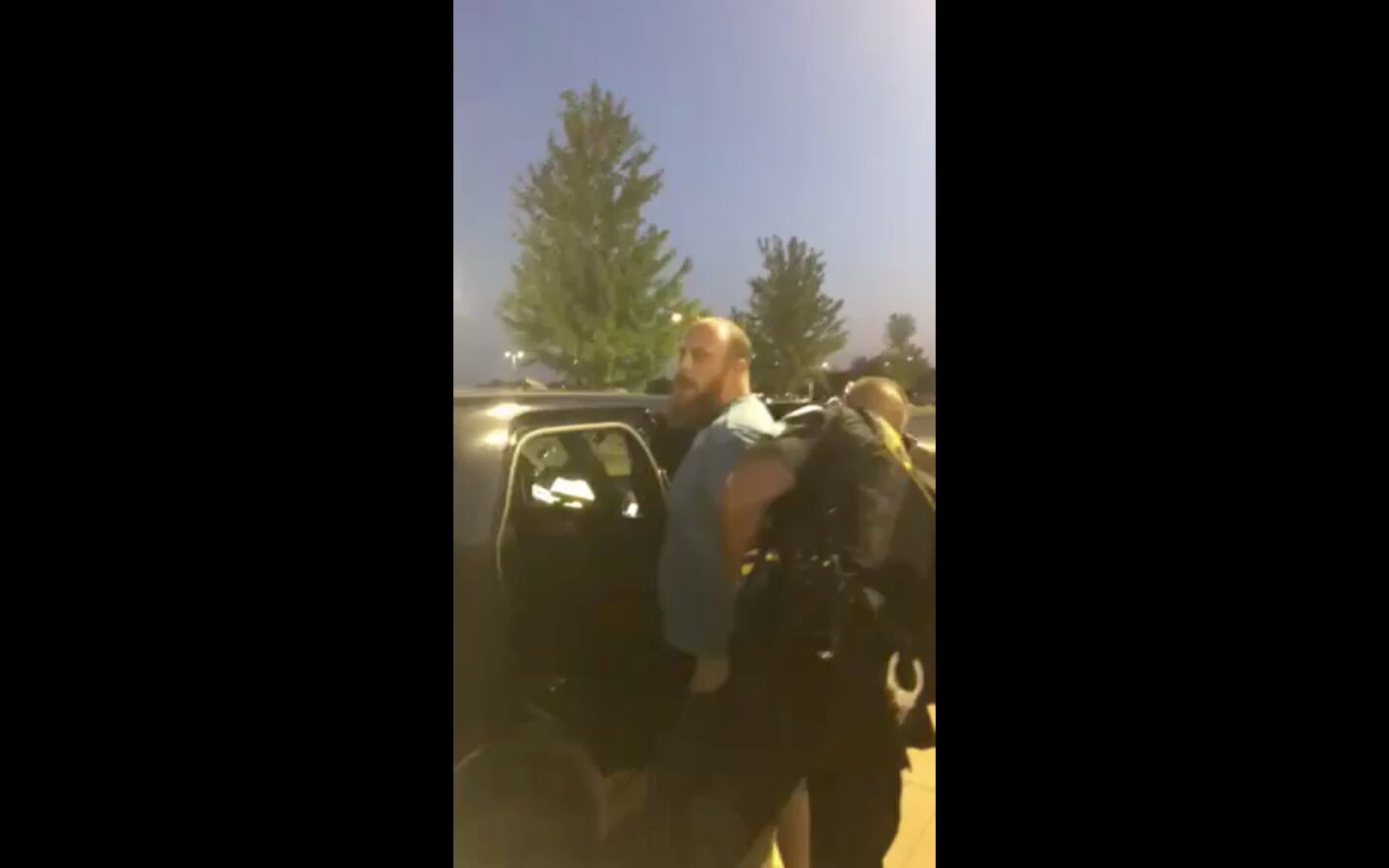 Hernandez explained that the school board began Monday's meeting by approving a resolution to make clear that everyone who is inside any school building for any event must wear a mask.
Anyone failing to do so would be given the opportunity to comply. If they failed to comply, the appropriate authority would direct them to leave the building and may request assistance from law enforcement.
Hernandez also said the district emphasized in all its communications via email and social media that masks would be required at the board meeting. He added Conrad presented nothing about his condition to the district.
"It wasn't a surprise to anyone, or shouldn't have been," Hernandez said in his statement.