As a coffee-drinking introvert, I'm always interested in trying a new brew in a local venue with a great atmosphere.
This past week, I grabbed a tea-drinking companion and tried four new venue.
So here's where I went and what I thought (in alphabetical order):
Book and Bean Café: Joliet
Book and Bean Café in Joliet is inside the Black Road branch of the Joliet Public Library (3395 Black Road) and is a favorite spot in town for me.
I love the deep, rich flavor of its coffee (Intelligentsia), and I love the feel of a community gathering place in the small café. I have spent many happy hours with my writing comrades inside this café.
In addition to coffee, Book and Bean sells cold drinks, tea, soup and sandwiches, and bakery. The café is very welcoming to artists of all types, even displaying rotating artwork by local artists on its wall.
Hours are 9 a.m. to 7 p.m. Monday through Thursday and 9 a.m. to 4 p.m. Friday and Saturday.
For information, call 815-725-8859 or to bookandbeanjoliet.com.
Critical Grind: Shorewood
This was one of the new places I tried, and it was super fun. Critical Grind is at 852 Sharp Dr. Unit L in Shorewood.
Its coffee brand is Two Brothers Coffee Roaster. Critical Grind also sells espresso, tea, smoothies, refreshers and specialty toasts.
My friend ordered a delicious strawberry acai refresher, along with an order of "Smalls" toasted – toasted bread topped with marshmallow fluff, chocolate drizzle and graham cracker crumbs. I was offered a taste and ate half the order while waiting for my French press.
The French press came out with a timer and verbal instructions to "press" when the sand ran out. I did and enjoyed three cups of delicious, slightly bitter (in a good way) coffee.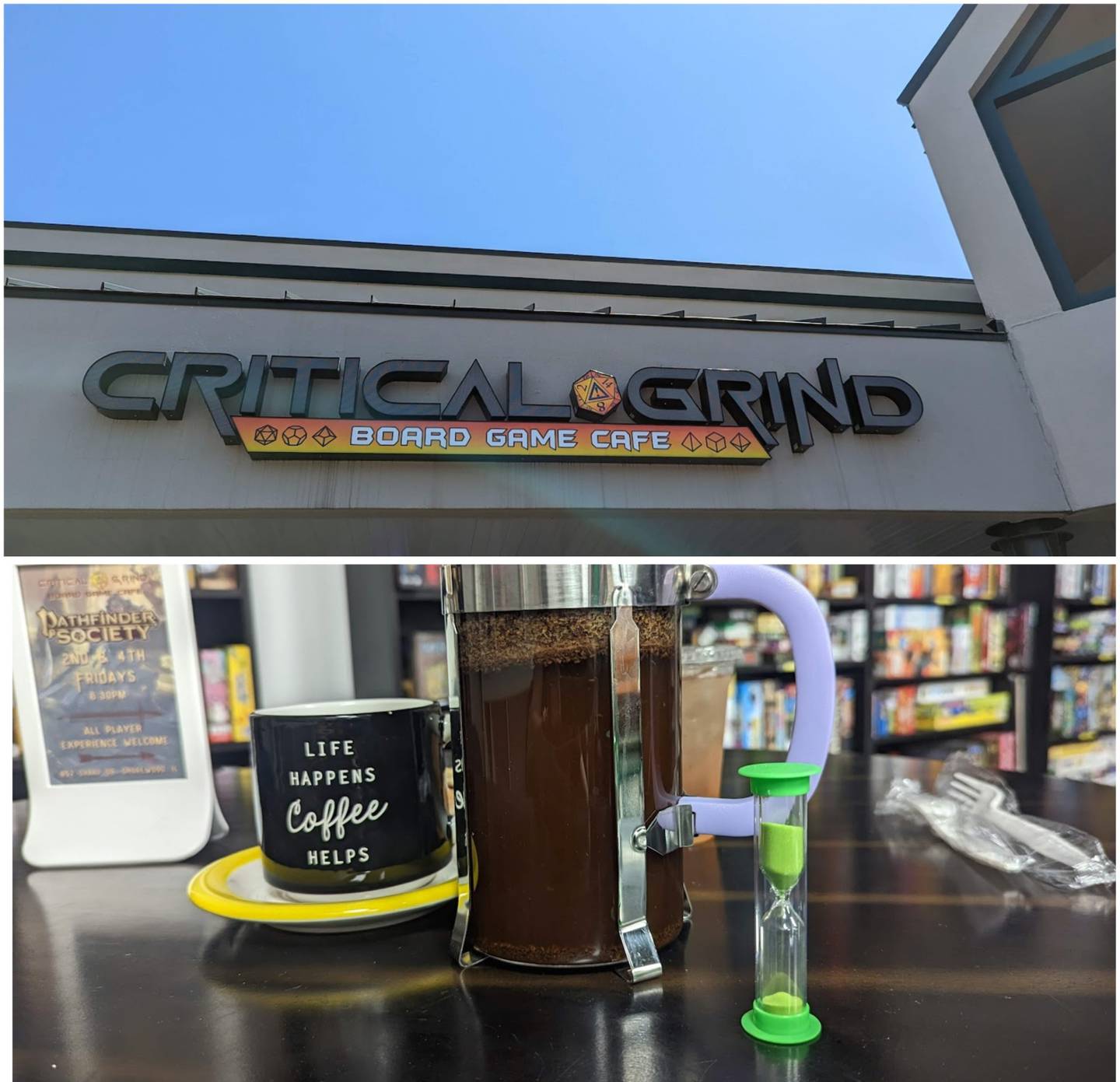 Critical Grind has a small lending library of books and free games in the back for patrons to play as they munch and sip. It offers unique gifts and games for sale.
According to its website, Critical Grind also hosts board game nights for people of all ages, including friends, co-workers and customers, even for team-building events. Critical Grind also offers a Dungeon Master for hire and can curate a personalized Dungeons and Dragons campaign.
According to its Facebook page, its hours are 7 a.m. to 9 p.m. Monday, Tuesday and Thursday; 7 a.m. to 11 p.m. Friday; 8 a.m. to 11 p.m.; Saturday; and 9 a.m. to 7 p.m. Sunday. Critical Grind is closed Wednesdays.
For information, call (815) 630-4235 or criticalgrind.com.
Jitters: Joliet
Someone brought me a coffee from Jitters three years ago, a wonderful Intelligentsia dark roast called El Diablo. That's the main reason I headed down to Jitters this week – hoping to finally savor another cup.
Timing is the main reason for my tardiness. Jitters, at 178 N. Chicago St. in downtown Joliet, is open only from 7 a.m. to 2 p.m. Monday through Friday, so I'm usually occupied elsewhere.
But El Diablo was not available that day. Instead, a coffee-drinking companion (for this trip) and I ordered the darkest roast Jitters offered: Black Cat Analog Americano.
My companion and I were warned that Black Cat Analog is super strong, but we disagree, so don't let the disclaimer deter you from trying it. Plus, the coffee stayed piping hot for a very long time.
Jitters has an old bookshop vibe, so I felt right at home.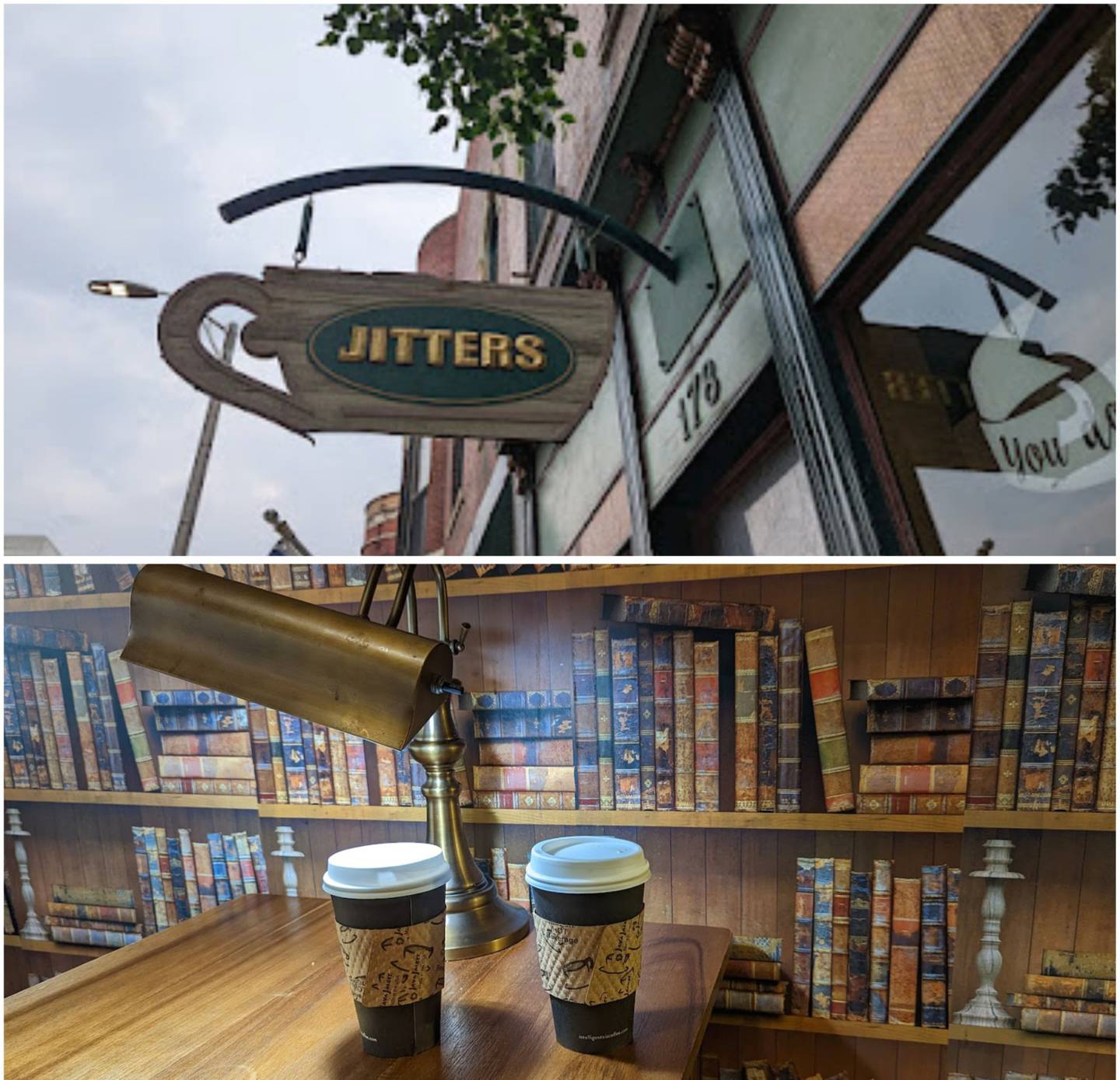 In addition to coffee, Jitters sells warm lattes, hot chocolate, smoothies, lemonade, iced tea, breakfast and lunch sandwiches, and salads.
For information and lots of food and beverage photos, call 815-740-0048 or go to facebook.com/JittersJoliet.
[ Coffeehouse in Joliet celebrates 15 happy years ]
Krema Coffee House: Plainfield and Lockport
This coffeehouse sat patiently on my "to-go" list for a long time, so I was happy to try it at last.
Krema Coffee House is at 24038 W. Lockport St. in Plainfield and 917 S. State St. in Lockport, according to its website. I visited the Plainfield location.
In addition to in-house roasted coffee, Krema Coffee House serves a variety of loose-leaf teas in unique flavor combinations, sandwiches, salads, pastries and craft toasts.
We ordered an apricot green tea and an Americano. My tea-drinking companion loved the flavor combination of her tea; I loved the mellow flavor of the Americano, which stayed wonderfully hot for more than an hour.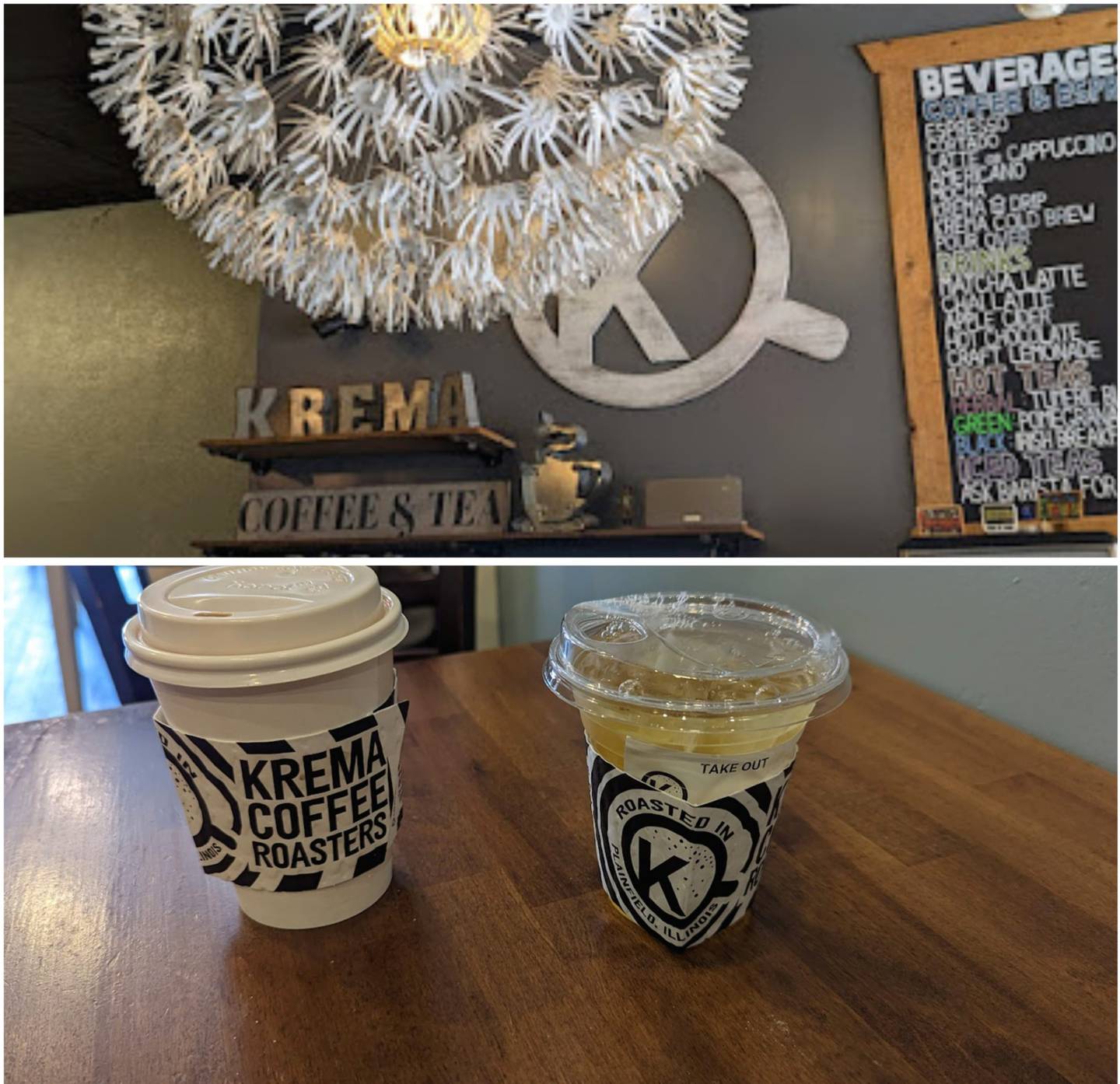 The interior looks like an old-time café and opens onto the sidewalk, which offers outside seating. We sat inside, only because the outside seating was full.
Krema Coffee hours are 7 a.m. to 5 p.m. Monday through Friday and 8 a.m. to 5 p.m. Saturday and Sunday.
For information, kremacoffeehouse.com.
Tazza Coffee: Joliet
A friend recommended this coffee venue, so, naturally, I had to try it.
I felt right at home in the wide-open space. The large front window opens to the top. So on a warm, sunny day, you feel as if you're hanging out in a repurposed garage with friends.
The menu features a variety of in-house roasted coffees, as well as teas, refreshers, sandwiches and bakery.
I appreciated the little extras that made relaxing with a light, hot Americano extra enjoyable: thick wooden coasters, green plants and even a chessboard in the back, although I couldn't stay that day to play a game.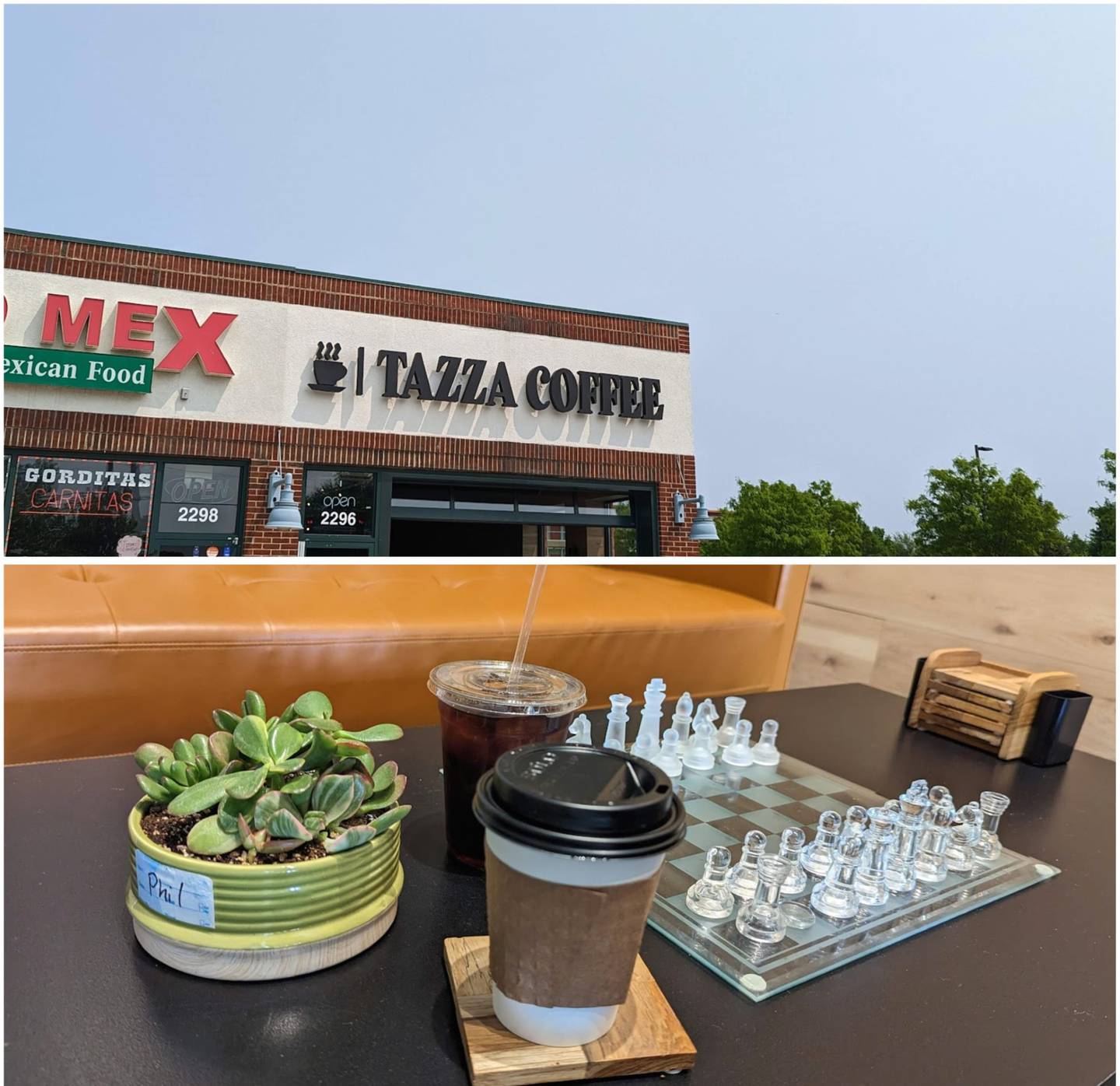 Tazza Coffee is at 2296 Essington Road in Joliet.
It's ours, according to Google, are 7 a.m. to 7 p.m. Monday through Saturday and 9 a.m. to 5 p.m. Sunday.
For information, call 815-710-1450 or go to tazzajoliet.com.