The Lion Electric Company on Monday gave a tour of its future Joliet factory to state and federal officials who extolled the value of providing government incentives to spur the production of electric school buses and trucks.
Lion Electric already has business waiting for the Joliet plant to open later this year, a company executive said.
"We have orders today that need to be built," Nate Baguio, senior vice president of commercial development for Lion Electric, said during a news conference that preceded the tour.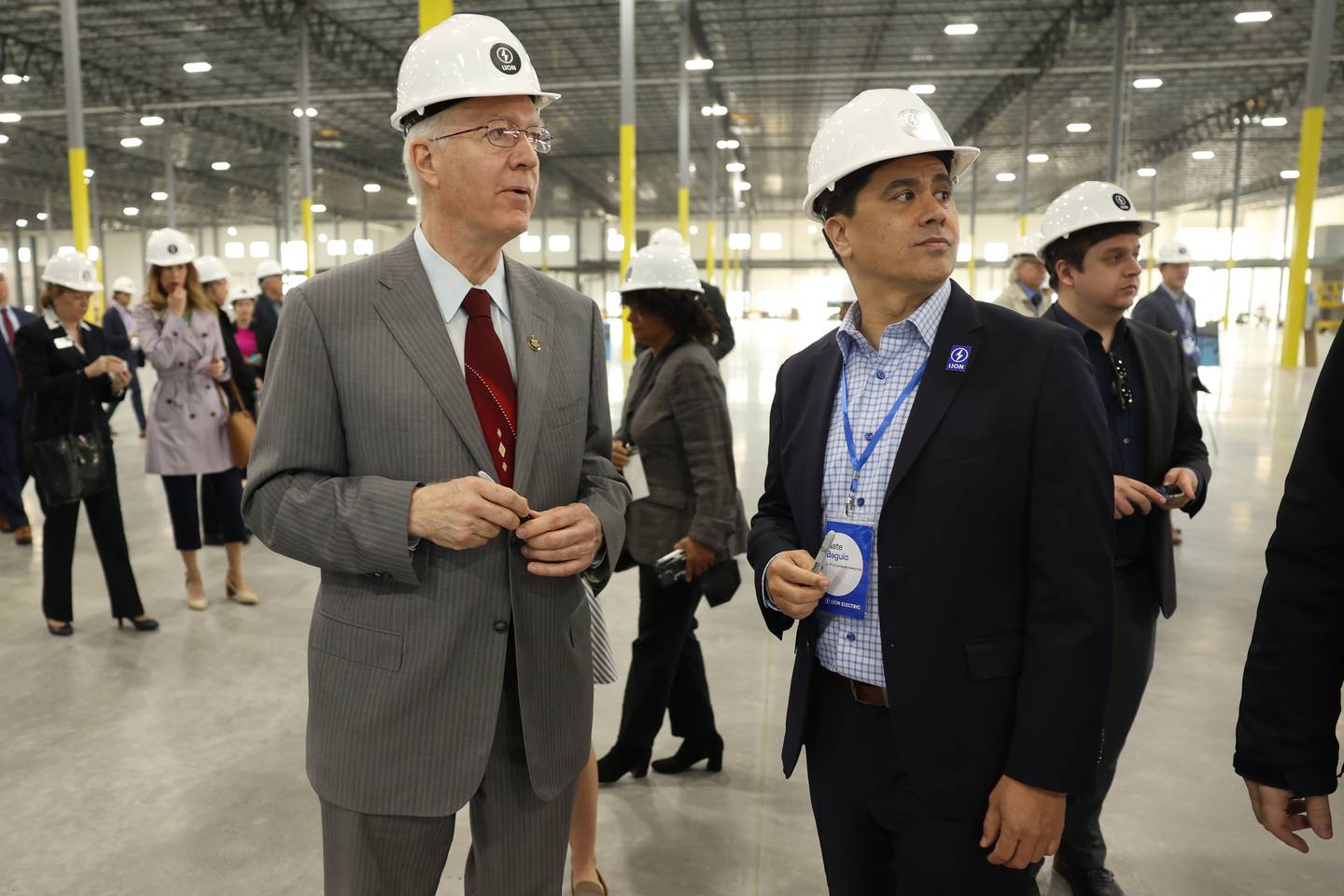 More than 2,000 vehicles that represent $550 million in business for Lion Electric are on order, and many of those will be built in Joliet, Baguio said.
The factory building, still waiting on production machinery to be installed, will be equipped to build 20,000 vehicles annually in four years and employ 1,400 workers. Some hiring has begun, although the hiring of assembly workers is still a few months away.
Lion Electric says the 900,000-square-foot facility at 3835 Youngs Road will be the largest manufacturing plant for electric school buses and urban trucks in the United States.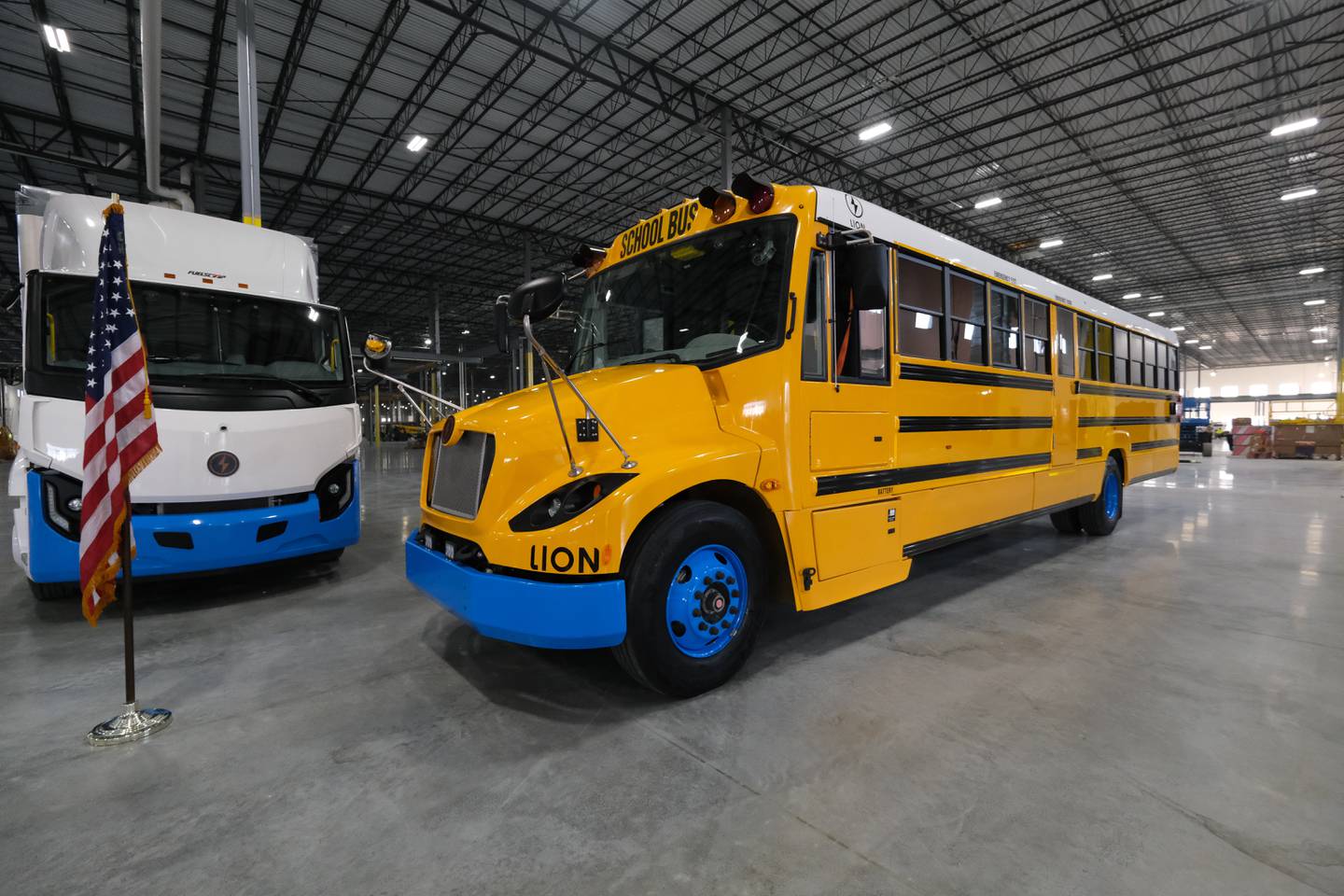 The Canadian-based company now has a smaller plant outside Montreal, and the Joliet plant will be equipped to handle business in the United States.
Three local members of Congress spoke at the news conference on the value of providing government incentives to encourage a transition to electric-powered, no-emission vehicles: Rep. Bill Foster, D-Naperville; Lauren Underwood, D-Naperville; and Rep. Sean Casten, D-Downers Grove.
Underwood noted that the federal infrastructure bill enacted last year includes $5 billion to support the development of electric transportation, including "critical investments in decarbonizing our nation's school bus fleet."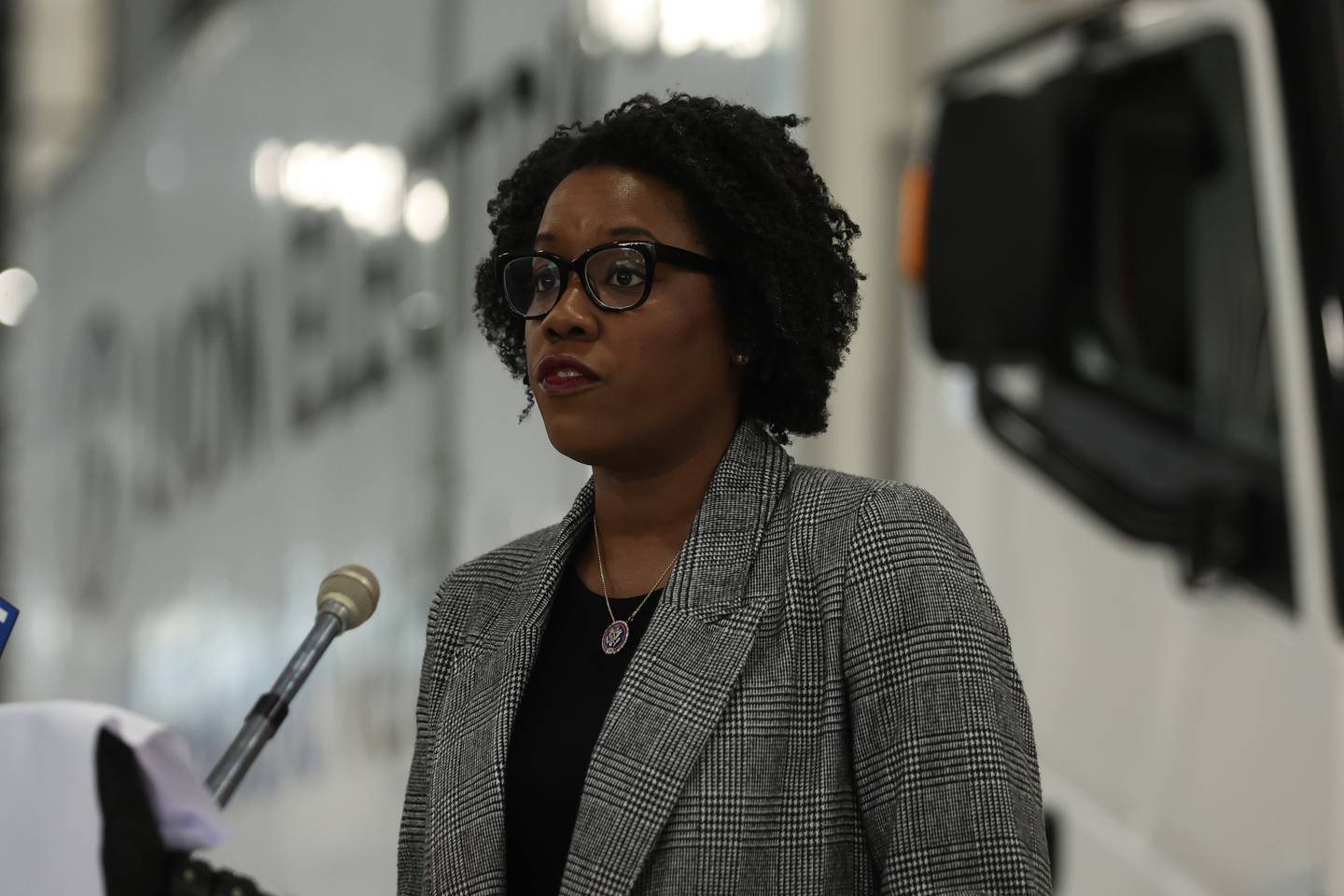 Also speaking at the event were Debra Shore, administrator for U.S. Environmental Protection Agency Region Five, which includes Illinois, and Sylvia Garcia, acting director of the Illinois Department of Commerce and Economic Opportunity.
Shore said the EPA last week announced $17 million in grants, including $1.2 million for Region Five, from its Clean School Bus Program, which encourages school districts to switch to electric buses.
"I hope they're going to be Lion school buses," Shore said.
A Clean School Bus Rebate Program will be announced in coming weeks, she said.
"This incentive will transform how millions of schoolchildren go to and from school," Shore said.
Garcia pointed to the Reimagining Electric Vehicles in Illinois Act that was passed last year as a source of incentives for the development of more manufacturing capacity for electric vehicles and related industry.
"In order to build on our manufacturing roots, the state of Illinois is making key investments," Garcia said.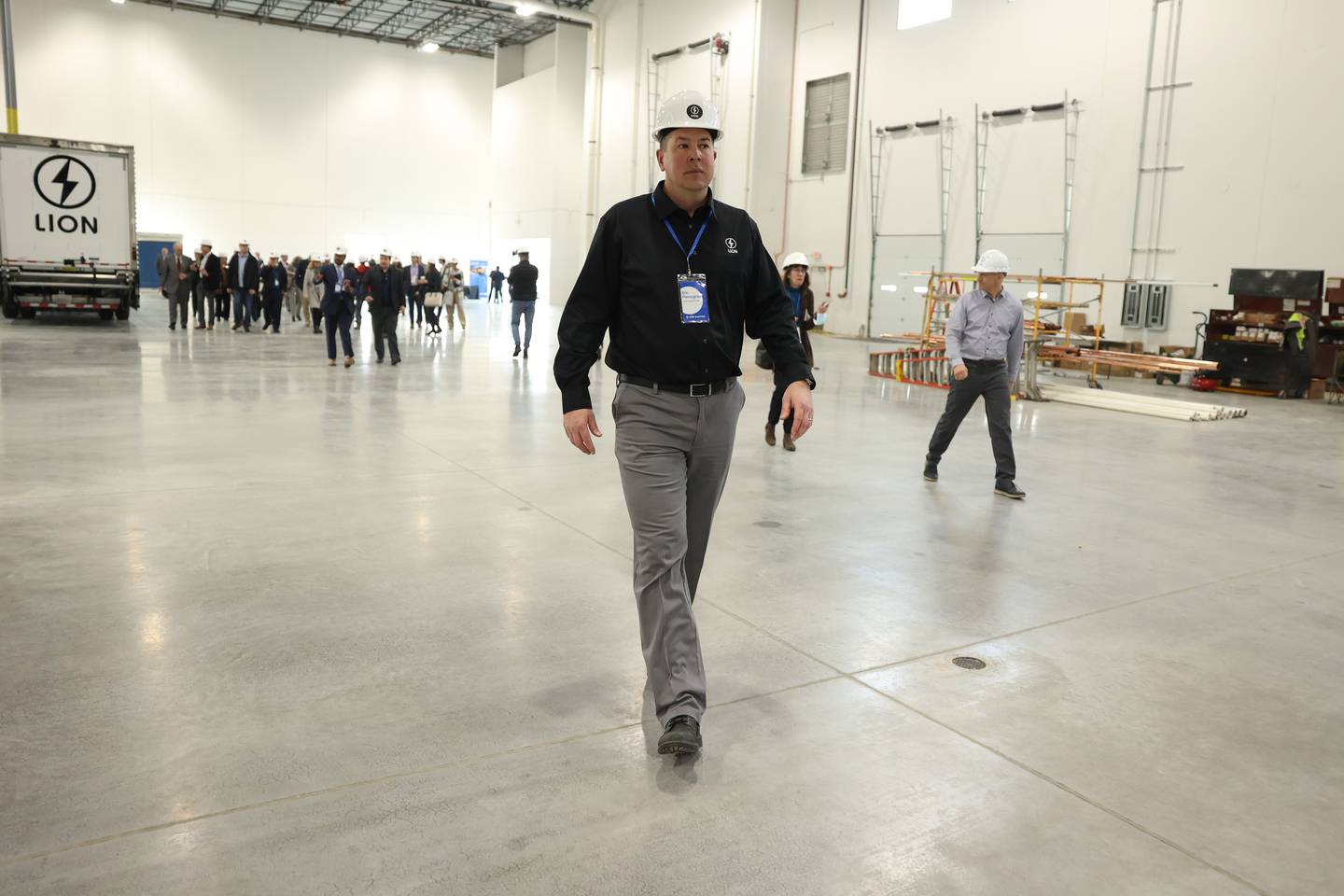 The tour went into a portion of a wide-open factory floor that General Manager Eric Pansegrau said would be filled with assembly lines and offices when fully built out. Artists' renderings on easels depicted what assembly lines would look like, and a Lion Electric spokesman said another tour will be held when machinery is in place.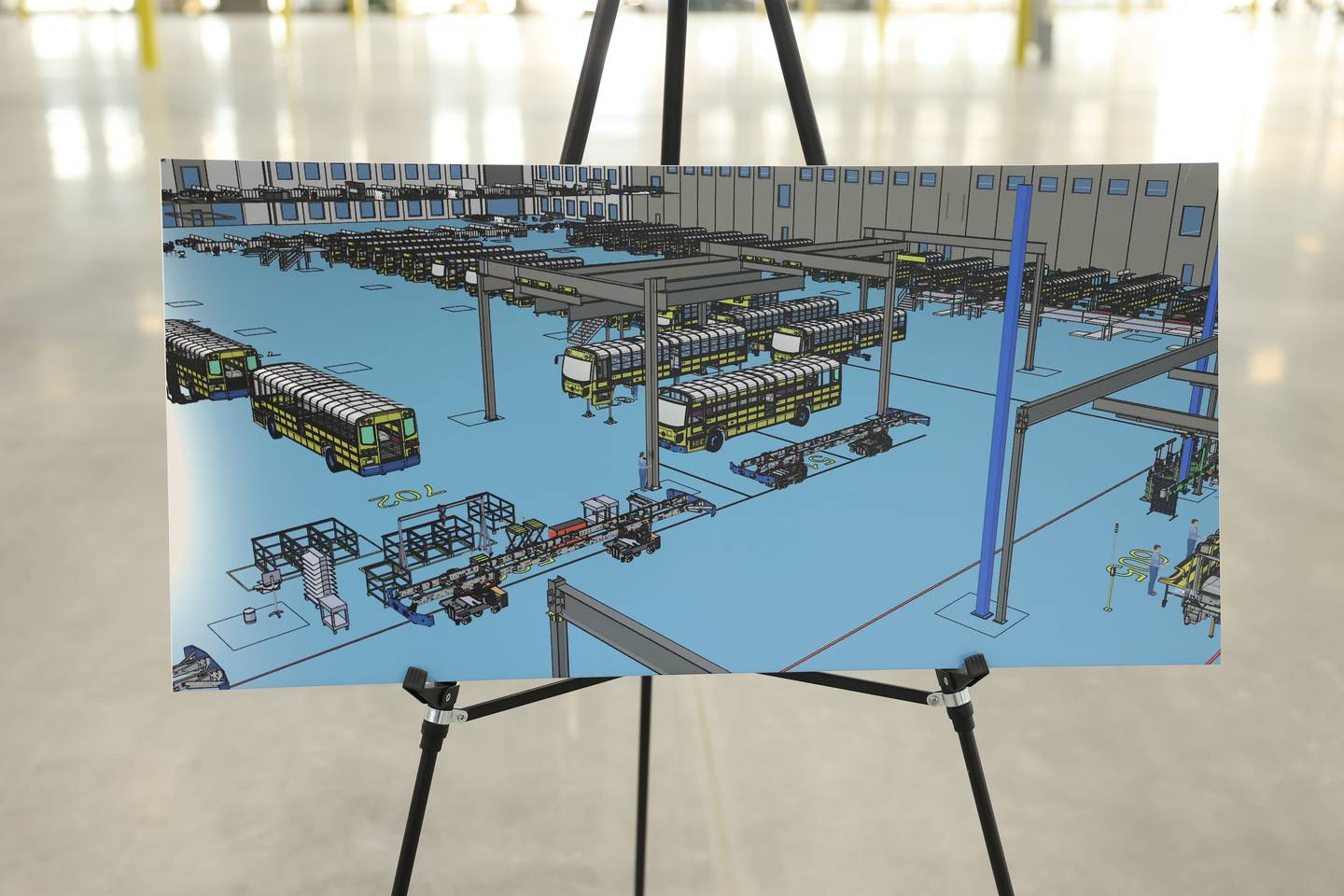 "Our facility will produce both buses as well as trucks," Pansegrau said as he led the tour. Buses will be built first followed by trucks.
"Our goal is to be producing vehicles by the end of this year," Pansegrau said.