A suspect in the shooting of a Romeoville police officer learned on Friday of his armed robbery charges in an unrelated incident, and he disputed the truth of those charges.
Samer Hernandez, 29, made his first court appearance on Friday morning following his arrest on Thursday in an incident that left Romeoville Police Officer Dominic Thielmann, 32, with a gunshot wound to the shoulder.
Romeoville Deputy Police Chief Brant Hromadka said Hernandez is a suspect in the shooting of Thielmann.
Officers were attempting to apprehend Hernandez after they spotted a vehicle that had been stolen, according to Romeoville village officials. When they approached the vehicle, Hernandez allegedly fled on foot and exchanged gunfire with the officers, officials said.
The shooting was reported to have occurred near the intersection of Sierra Trail and Summerfield Drive, which is in a residential subdivision.
Hernandez was in a wheelchair and wearing a leg brace when he was brought before Will County Judge Dave Carlson on Friday. Hromadka said Hernandez was injured before he was located by officers and could only speculate it was from jumping a fence.
Carlson asked Hernandez what his plans were for legal representation and he told him he "going pro se," or representing himself. Hernandez said he's represented himself in court before.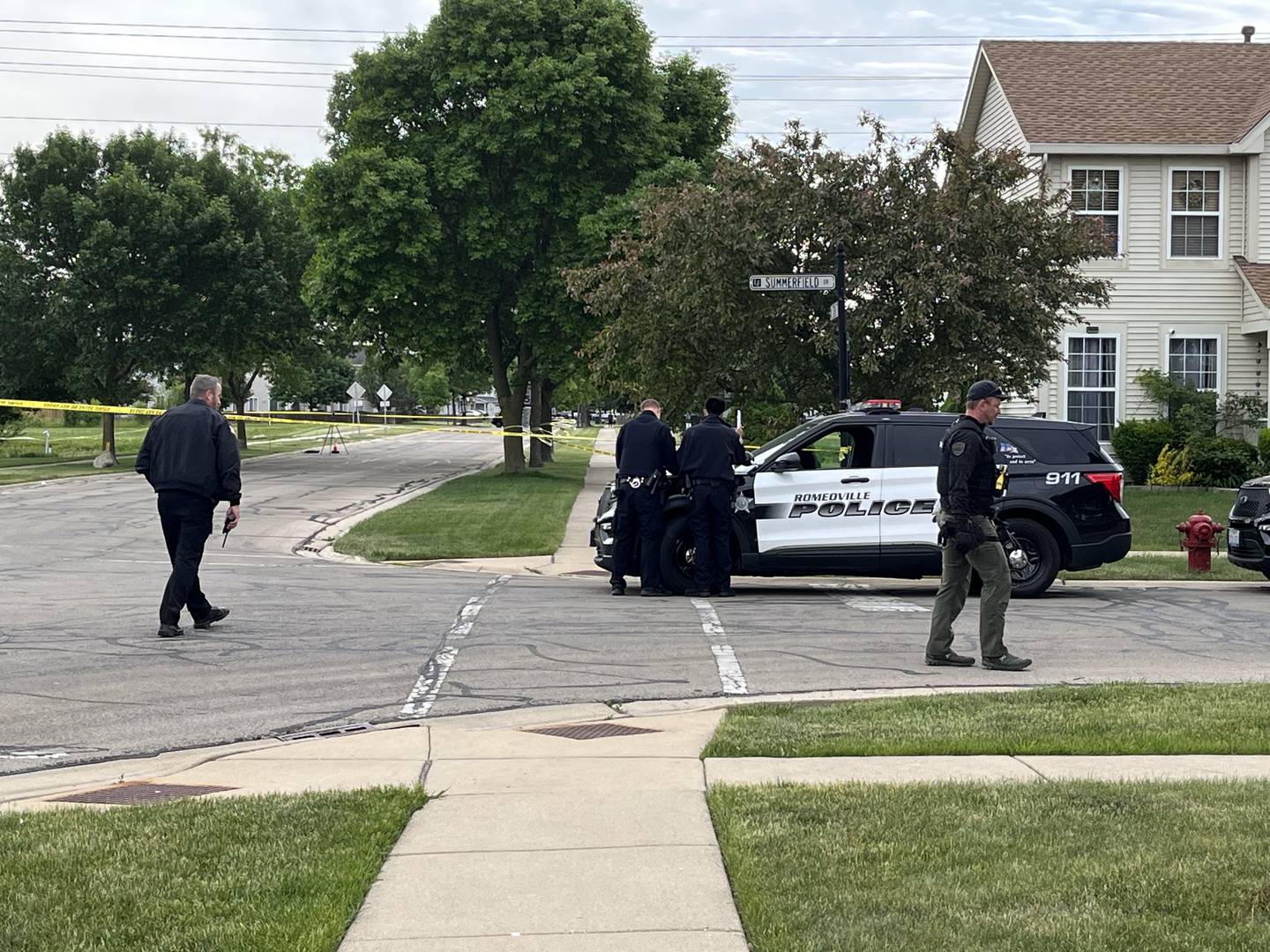 Hernandez asked Carlson to read him the charges filed against him in a six-count criminal complaint.
The complaint alleged Hernandez took a Nissan Murano from an alleged victim on May 20 while armed with a "dangerous knife" by "threatening the imminent use of force," and also took the same alleged victim's cellphone.
The complaint also alleged Hernandez took a cellphone and wallet from a separate alleged victim on the same day while armed with a knife.
I just want a fair, actual jury

—  Samer Hernandez
Hernandez faces charges of aggravated vehicular hijacking, armed robbery, unlawful use of a weapon by felon, unlawful possession of a weapon by felon and possession of a stolen motor vehicle.
Hernandez shook his head a few times as Carlson read the charges. Afterward Hernandez told Carlson, "I know this is not true."
"I don't steal," Hernandez said.
Hernandez said he was confident he can get the case dismissed. He also said he knows he has a criminal background and he feels like people are prejudiced against him because of it.
"I just want a fair, actual jury," he said.
Before Hernandez landed in jail on Thursday, he had been on parole from prison. He had been serving a two-year sentence on an aggravated unlawful use of a weapon conviction in Cook County.
Carlson set a June 15 court date for either an arraignment or a preliminary hearing to determine whether there's probable cause for the offenses Hernandez has been charged with.
Hernandez is also expected to have a review of his $5 million bond, which Carlson had set on his warrant for his arrest in the armed robbery case.
Hernandez could face a charge of attempted murder of Thielmann but that is pending the completion of an investigation by an outside law enforcement agency, according to Hromadka.
Thielmann, a tactical officer with the department's investigation unit, is in stable condition at Loyola University Medical Center in Maywood.