Nurses returning to work at Ascension Saint Joseph – Joliet will have to wait two weeks to see if a four-day work stoppage had had any impact on contract talks.
The nurses return to work Saturday morning. The next bargaining session is scheduled for Sept. 8.
"Nurses that work Saturday morning are going to come together, march into the hospital and take care of their patients," said John Fitzgerald, chief negotiator for the Illinois Nurses Association.
The INA represents nurses who are in their second drag-out contract talks with the hospital in three years.
Nurses in 2020 engaged in a 16-day strike before coming to a contract agreement.
The contract reached expired July 19. The last contract talks were Aug. 1.
Nurses called a two-day strike called for an unfair labor practice allegation concerning the hiring of agency nurses at the hospital. The work stoppage was extended another two days by Ascension, which said its contract with the staffing agency supplying substitute nurses required that they be used a minimum of four days.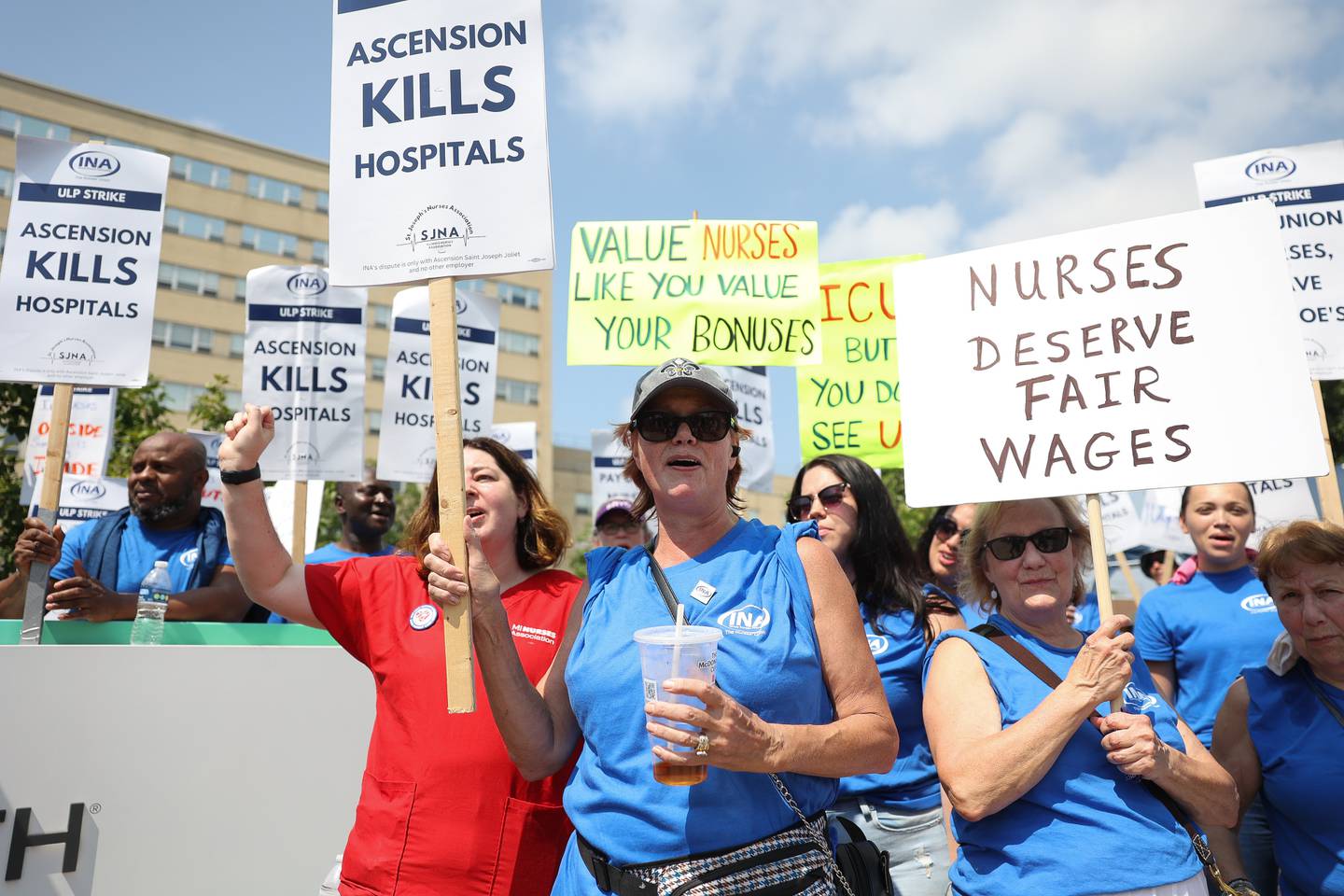 Ascension spokesman Timothy Nelson said the staff nurses will be allowed to return Saturday morning as planned. He would not comment on how many staff nurses were used in their absence.
Just as in 2020, contract negotiations are focused on hospital staffing.
Nurses contend the situation is only getting worse with the number of nurses dwindling from more than 800 five years ago to 520 today.
While the two-day strike called by the nurses did not settle anything, Fitzgerald said it did send a message to Ascension.
"I think Ascension thought they were going to break the nurses," he said. "These nurses showed Ascension and Joliet that they are not going to break."
Nurses hoped to demonstrate community support during the strike, and Fitzgerald said they got it.
"People who live in this town of their own volition came to the picket line and joined the nurses," he said.
Joliet Mayor Terry D'Arcy came to a strike rally to voice support for nurses and called for Ascension to negotiate a contract.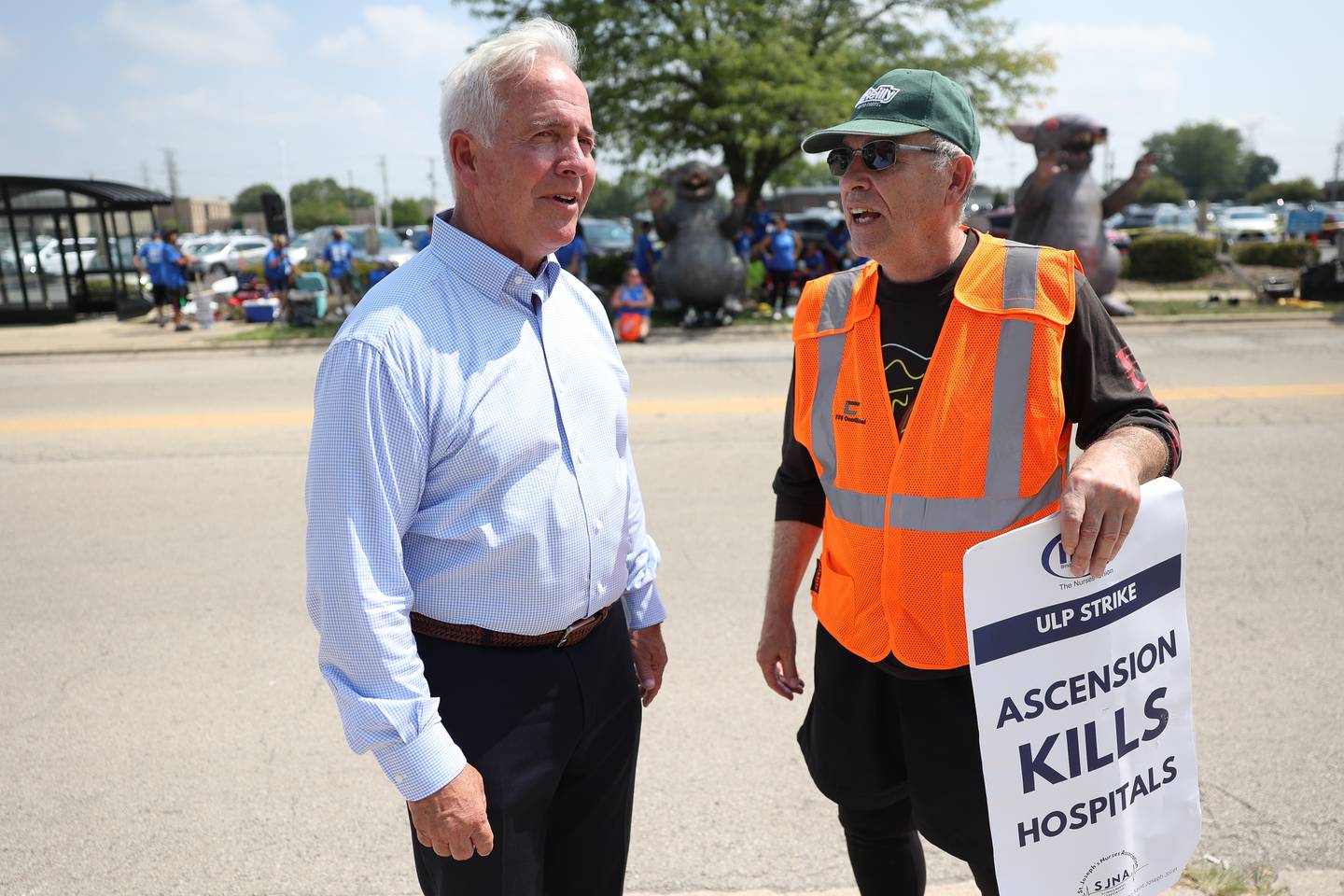 Fitzgerald said local businesses have sent food, other unions have joined the picket lines and local doctors have supported the cause as well.
Whether that matters to Ascension isn't clear at all.
St. Louis-based Ascension Health is considered one of the largest private health care providers in the country. According to its website, Ascension has 139 hospitals and 2,600 sites where it provides health care in 19 states. Ascension employs 139,000 people.
The Joliet hospital isn't the only location where it faces union issues.
Nurses have conducted short-term strikes, similar to the situation in Joliet, at two Ascension hospitals, one in Wichita, Kansas, and another in Austin, Texas, as they try to negotiate their first union contracts there.
Jamie Brown, president of the Michigan Nurses Association, this week joined Joliet nurses on the picket line and said the staffing issues in Joliet are found at other Ascension hospitals in Michigan and elsewhere.
"The number of patients that nurses take care of on the floor is ridiculous," Brown said.