Joliet Township High School District 204 continues to experience a declining number of bus drivers, and district officials are asking parents to consider taking their children to school if they can, especially at the beginning of the academic year.
Joliet Public School District 86 is waiting on final numbers but knows it, too, will have a bus driver shortage this year.
Because of the ongoing shortage of bus drivers, District 204 officials are letting parents know they may experience transportation delays if their child rides the bus, particularly at the start of the school year, which is Aug. 16, said Kristine Schlismann, director of community and alumni relations.
"If families are able to provide transportation for students, that is advisable at this time. All student drivers and car riders are encouraged to allow for additional time at the beginning of the school day due to additional students being dropped off by parents," Schlismann said.
Before the COVID-19 pandemic in 2020, District 204 had 115 bus drivers, Schlismann said. Last year, that number dropped to 92 bus drivers.
For the upcoming school year, the district has 83 bus drivers, Schlismann said.
"Unfortunately, this is an issue that school districts are facing across the nation," Schlismann said.
We are doing everything within our means to transport our students and we appreciate the patience of our parents and students."

—  Kristine Schlismann, District 204 director of Community and Alumni Relations.
Chicago Public Schools are among those districts. In a July 31 statement, Chicago school officials said they have filled about half of the driver positions needed for students who qualify for their transportation.
Some of the factors causing bus driver shortages nationwide include recruitment difficulties, low pay, early retirement, health concerns related to COVID-19 and drivers leaving for jobs in the private sector, according to 2022 survey from HopSkipDrive, a ridesharing company.
The survey also cited a lack of incentives and low driver morale as other factors causing the shortage.
Schlismann said District 204 will continue to adjust bus routes to provide "timely and reliable transportation," and contract with outside vendors for routes they cannot cover.
District 204 also is engaged in an active campaign to recruit more drivers through job fairs, community and online postings, weekly postcard mailings and other methods.
"We are doing everything within our means to transport our students and we appreciate the patience of our parents and students," Schlismann said.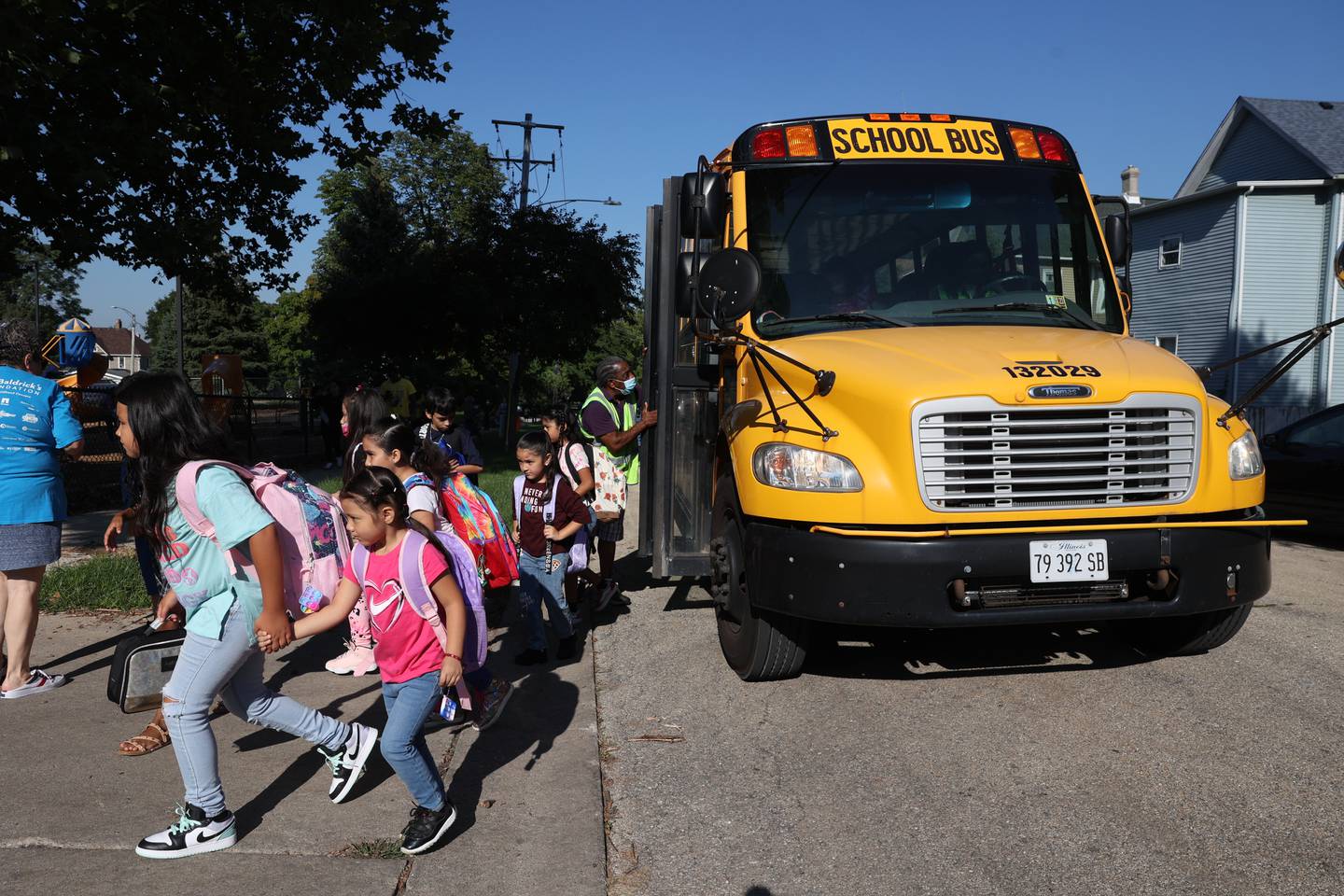 District 86 contracts with two bus companies, First Student and Grand Prairie Transit. Each company needs 55 drivers for the Joliet grade school routes.
"Both providers have told us they're going to be short this year," said Sandy Zalewski, director of communications and development for District 86.
First Student "told us they're going to be a minimum of five short," Zalewski said Monday. "Grand Prairie told us they're going to be short, but they don't know how many yet."
District 86 students start back on Aug. 16.
Some of the other major school districts in Will County do not share the same problem as District 204 and District 86, as those neighboring districts are expecting to begin the year with enough bus drivers.
Plainfield School District 202, one of the largest school districts in the state, has more than 170 bus drivers hired for the first day of school on Aug. 17.
In a statement, District 202 Superintendent Glenn Wood said the district has more drivers "ramping up to this school year than we have had in the last two school years."
"Hiring and keeping bus drivers for our regular and special education routes are always a challenge. We are confident District 202 will start off the school year with enough drivers," Wood said.
There are enough drivers to cover the bus routes for Valley View School District 365-U, which mostly covers Romeoville and Bolingbrook. The district has 133 drivers and four more in training, said Jim Blaney, the district's spokesperson.
Lockport Township High School District 205 also does not have a shortage of bus drivers, said Jeannette Castillo, District 205 director of public relations.
Castillo said the district has 48 out of 49 bus drivers hired and it is in the process of filling the 49th position.
"[District 205] is ready and looking forward to a great start of the 2023-24 school year," she said.