Lauren Frank's love and devotion to her husband, Illinois State Police Trooper Brian Frank, was evident May 13 as the couple departed Northwestern Medicine's Marianjoy Rehabilitation Hospital in Wheaton.
Family members, friends, medical personnel and dozens of state troopers gathered to salute Brian Frank as the 35-year-old left the facility – wearing a black T-shirt and his state police badge – to begin the next phase of his recovery at the couple's Lemont home.
The homecoming marks more than two years since Frank was injured Feb. 15, 2021, after he stopped to assist other troopers with a crash on Interstate 55. A driver struck Frank's squad car as it was parked behind the crash site with its emergency lights activated.
Frank suffered a traumatic brain injury that required several surgeries and a lengthy hospital stay. He remains "minimally conscious."
"No more sleeps," announced an emotional Lauren Frank to the dozens of well-wishers gathered in the Marianjoy lobby with more than 50 more assembled outside. "It's been 817 sleeps apart and it ends today. This day feels special ... a reminder of the love and support we're so blessed to have."
Flanked by state troopers and Marianjoy staff members, Lauren Frank expressed gratitude for medical personnel, technicians, volunteers and administrators' love and friendship.
"I knew we would be safe in your care," she said. "We will miss you so much. You're part of Frank Strong."
Lauren Frank also thanked state troopers, first responders, craftspeople who helped renovate their new home to accommodate her husband, her parents and her in-laws "for trusting me with Brian."
"I'm hoping and praying this is what Brian needs to return to us," she said.
A 10-year state police veteran, Frank served with the Criminal Patrol Team, a statewide unit whose members train other law enforcement officers and patrol state highways. He was recognized as the team's officer of the year in 2020 and received lifesaving and meritorious service medals that year.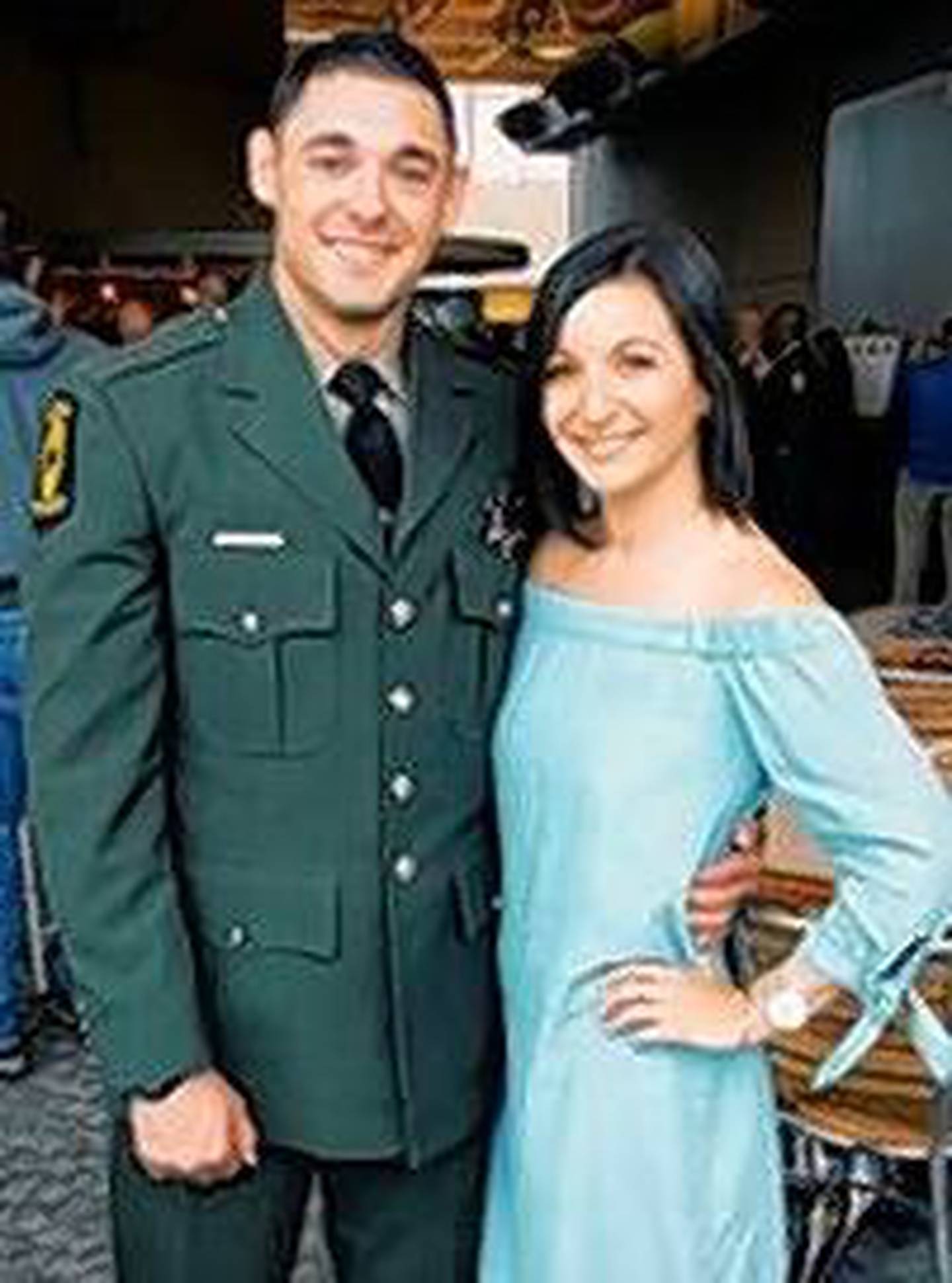 He also earned a 2019 commendation from the Illinois MEG Directors and Task Force Commanders Association. The department awarded him a Purple Heart medal in 2021.
"Today is a good day," Illinois State Police Director Brendan Kelly said. "Many people weren't sure we'd be here. [Trooper Brian Frank] is not quite done with what he has to do on this earth. We'll be riding along with Brian for as long as he needs us."
Trooper Robert Pagliano's Got Your 6 Foundation, an independent organization offering financial and emotional support to families of fallen officers and those who have been seriously injured, raised $50,000 for the Frank family. A GoFundMe account operated separately at gofundme.com/f/brian-frank-strong raised more than $135,000.
"One of the things families are most concerned with is their loved one being forgotten," said Pagliano, who established Got Your 6 in 2012 after the death of Trooper Kyle Deatherage.
Pagliano and his fellow officers are determined to raise awareness of 2001′s Move Over Law. Better known as Scott's Law, the legislation was named in honor of firefighter Lt. Scott Gillen, who was assisting with a crash on Interstate 94 in December 2000 when he was struck and killed by a driver.
The law, for which Lauren Frank has become an advocate, requires drivers approaching an emergency vehicle – or any vehicle with emergency or hazard lights activated – to slow down and move over.
"It's not just the law," Kelly said. "It's an act of respect. It's an act of kindness."
Angel Casillas, a 22-year-old Joliet resident charged with aggravated reckless driving and failure to yield to emergency vehicles in the 2021 crash, will plead guilty to the charges June 25, his attorney Cosmo Tedone said.
Casillas could face up to three years in prison, but probation is an option, Tedone said.
"This was a horrific accident," Tedone said. "Our hearts go out to the state trooper and his family. There's nothing that could undo the events that occurred that day."
Despite his long-awaited homecoming, Frank's "difficult journey is still underway," said Col. Margaret McGreal, state police patrol division deputy director.
The Illinois State Police will remain by his side, she said, noting that in Lauren, Frank has "a warrior, a fighter who does not give up."
More than 50 law enforcement officers saluted Brian Frank as Lauren Frank wheeled him to a waiting SUV. As it began to pull away, two Marianjoy nurses ran toward the vehicle, leaned in and hugged the couple.
"Brian, we love you so much," one said. "We'll miss you."
About 100 vehicles were expected to accompany the couple to their home, the Illinois State Police said. At the Marianjoy exit and along the route, firefighters and police officers stood beside firetrucks that had their ladders extended and American flags hanging from them.
"From day one she was determined to bring Brian home," McGreal said of Lauren Frank, "and today we are doing just that."
• Daily Herald staff writer Alicia Fabbre contributed to this report.
https://www.dailyherald.com/news/20230513/a-long-awaited-homecoming-convoy-escorts-injured-state-trooper-brian-frank-to-his-lemont-home