Illinois Gov. JB Pritzker joined U.S. Sen. Dick Durbin in Joliet on Saturday to inspire canvassers to rally others to get out the vote for the Nov. 8 General Election.
Pritzker and Durbin were with other Democratic elected officials and candidates for the Will County Latinx Day of Action on Saturday morning at El Camaleon Bar & Grill, 103 N. Ottawa Street in Joliet.
The rally was hosted by the Will County Democratic Latinx Caucus. More than 70 volunteers signed up to go out to precincts in Joliet and Lockport townships after the rally to engage Latinx voters and promote Democratic candidates on the ballot, said caucus Chairwoman Tanya Arias.
"We want to make sure that we are out there promoting [and] encouraging to get out the vote and have representation at the table as well," Arias said.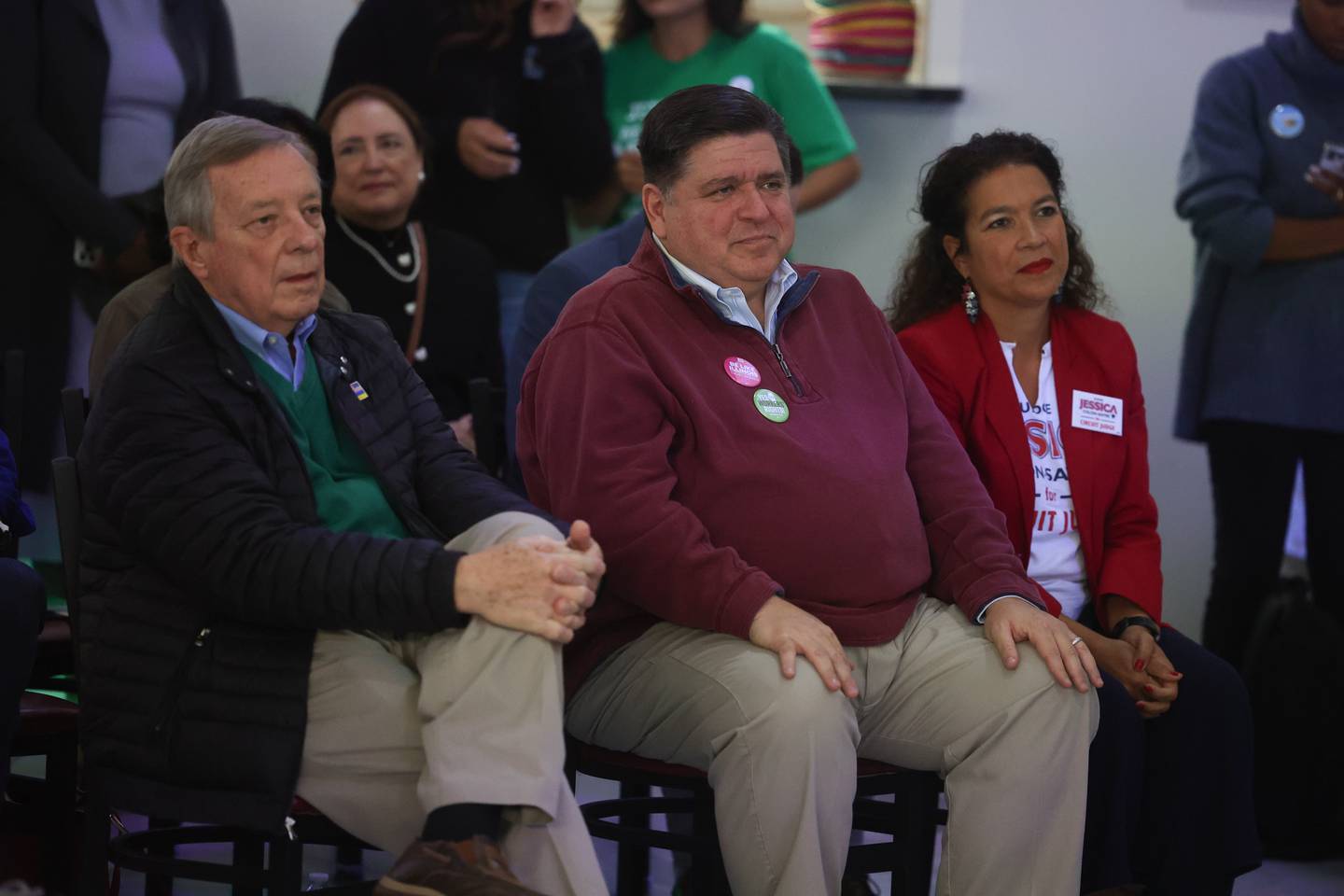 During the rally, Pritzker, Durbin and other Democrats highlighted their accomplishments while criticizing Republicans. State Rep. Elizabeth "Lisa" Hernandez, D-Cicero, the first Latina chairwoman of the Democratic Party of Illinois, said the party is doing everything they can to defeat "Republican extremists."
Pritzker told the crowd that Democrats have "an awful lot to brag about."
"Over the last few years, we got an awful lot done. Let's start with, we've codified into law a women's reproductive rights in the state of Illinois. We're not going to let that go. Not going to let that go. We also are about to put on the Constitution of the state of Illinois workers' rights," Pritzker said, referring to the proposed amendment on the ballot to give workers a fundamental right to organize and bargain collectively.
Pritzker called his opponent, state Sen. Darren Bailey of Xenia, an "anti-immigrant, anti-LGBTQ, anti-Muslim Republican candidate, a Trumper."
"We're not going to let him win, are we?" Pritzker asked. The crowd yelled, "No!"
Durbin said former U.S. President Donald Trump, who endorsed Bailey, wants to return to the White House.
"We are not going back to those days," Durbin said.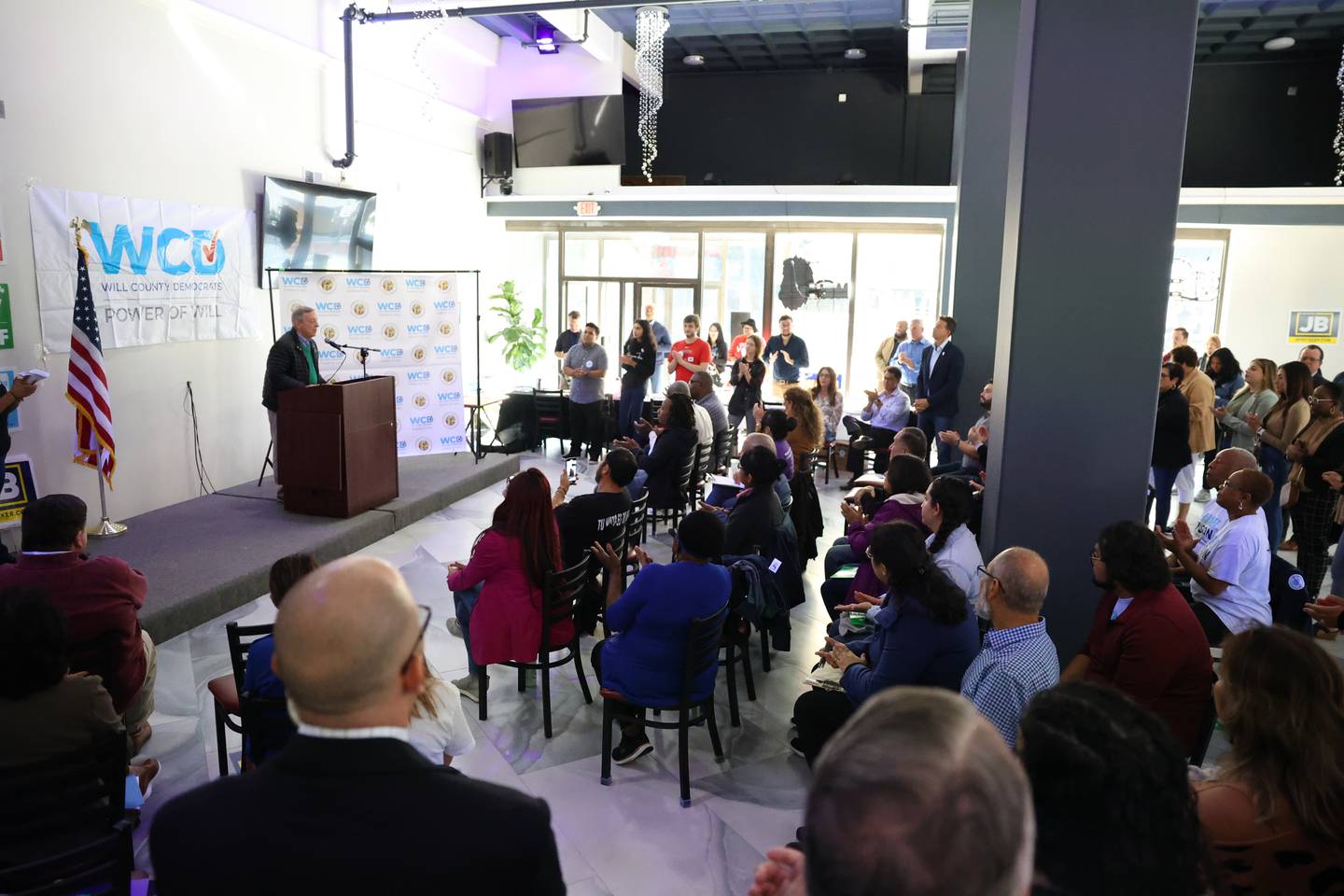 In Illinois Comptroller Susana Mendoza's speech, she accused former Republican Gov. Bruce Rauner's administration of being responsible for racking up a state bill backlog of $16.7 billion, and eight credit rating downgrades.
"$16.7 billion, it's not a number. It tells a story of all of the people who went without services because [Rauner] wanted to destroy our brothers and sisters in organized labor," Mendoza said.
Mendoza encouraged the canvassers at the rally to "keep up the fight" and "preach the gospel" of what Democrats have done for people in Will County and Illinois.
"Get out there and help us. Make sure the misinformed people see the light," Mendoza said.
Hernandez said one of her top priorities as chairwoman of the state's Democratic Party is connecting with "diverse, underrepresented communities across Illinois." She said direct voter contact – canvassing, texting and phone banking – is a critical component to their party's success in November.
"Political pundits may say that Democrats are at risk of losing Latino voters. Not in Illinois and not in Will County," Hernandez said.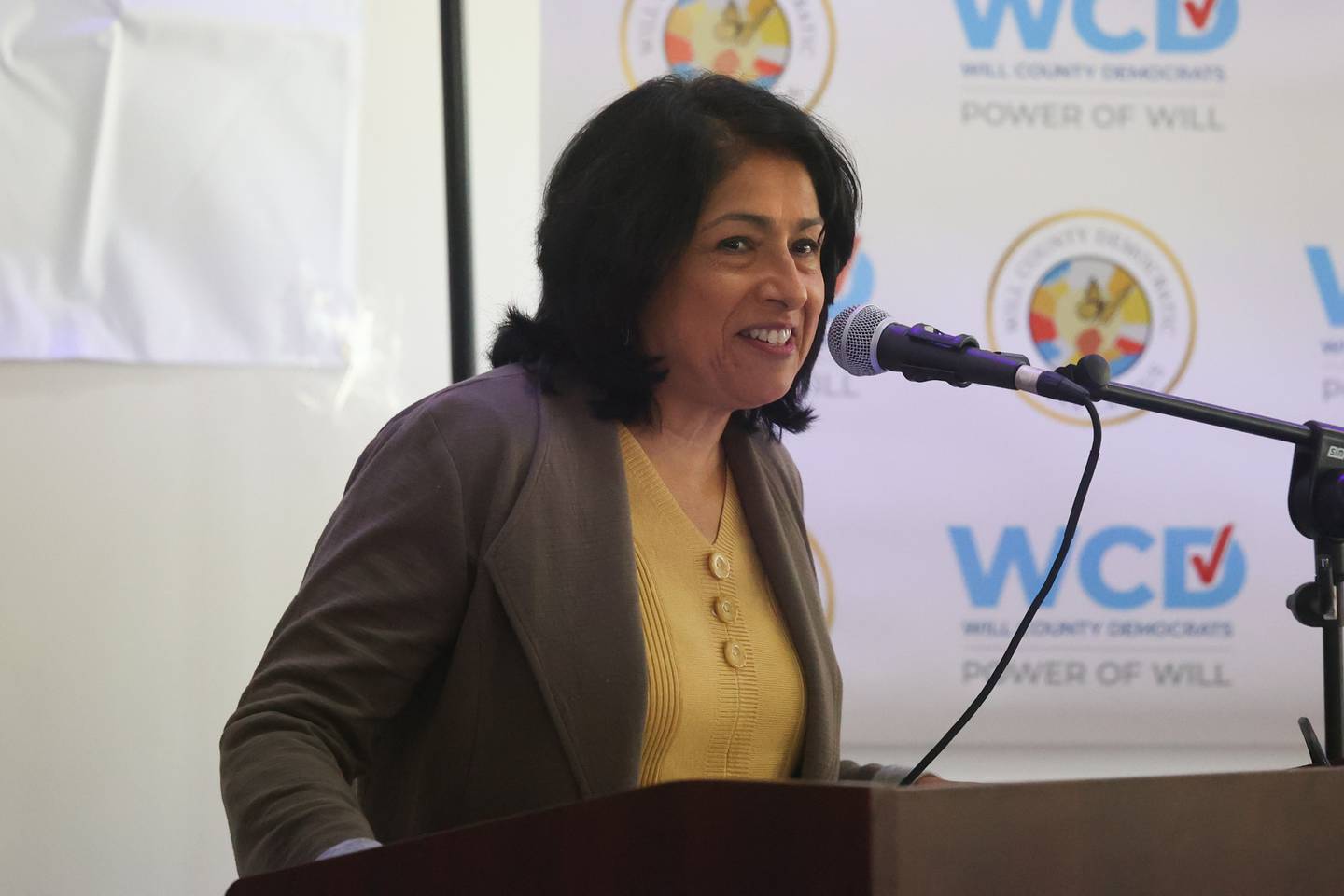 Hernandez noted that many local officials are of Latinx heritage, such as Will County judges Jessica Colón-Sayre and David Garcia, Joliet City Council member Cesar Guerrero, Joliet Township High School District 204 Board member Lorraine Guerrero Neumayer, and Joliet Township officials Angel Contreras, Alicia Morales and Cesar Escutia.
"Latinos are showing up. We're mobilizing, we're active. Most importantly, Latinos are leading," Hernandez said.