Much like the hundreds of others at Settlers' Park in Plainfield on Saturday, Cheryl Sanders cheered speakers as they bashed efforts to restrict abortion rights around the country
Sanders, a Bolingbrook resident, said she came out to the "Bans Off Our Bodies" rally to express her dismay, as many women have around the country, toward the potential overturning of the 1973 U.S. Supreme Court case Roe v. Wade which legalized abortion nationwide.
Several rallies for abortion rights have taken place in response to the leak of a draft opinion which indicated a conservative majority on the court is in favor of striking down the landmark ruling. Chief Justice John Roberts has confirmed the draft's authenticity, ordered an investigation into how it leaked and has said it's not necessarily the court's final opinion.
"It is unfathomable to me that we are in the position that we're in right now," Sanders said. "And I know if we stand up, if we go to the polls, we're going to be able to stop this madness."
Saturday's rally in Plainfield, organized by the Will County Progressives, attracted a large crowd of mostly women. Christine Bright, one of the organizers, said she hoped the threat of abortion restrictions in multiple states will energize women to vote in the upcoming midterm election.
She added that women in Illinois were "fortunate" because the state Legislature in 2019 voted to codify abortion rights into law. Planned Parenthood of Illinois has said the number of patients seeking abortions in Illinois could increase significantly due to those coming from other states, if the high court overturns Roe v. Wade.
Several rally attendees in Plainfield on Saturday held signs reading "Keep abortion safe and legal."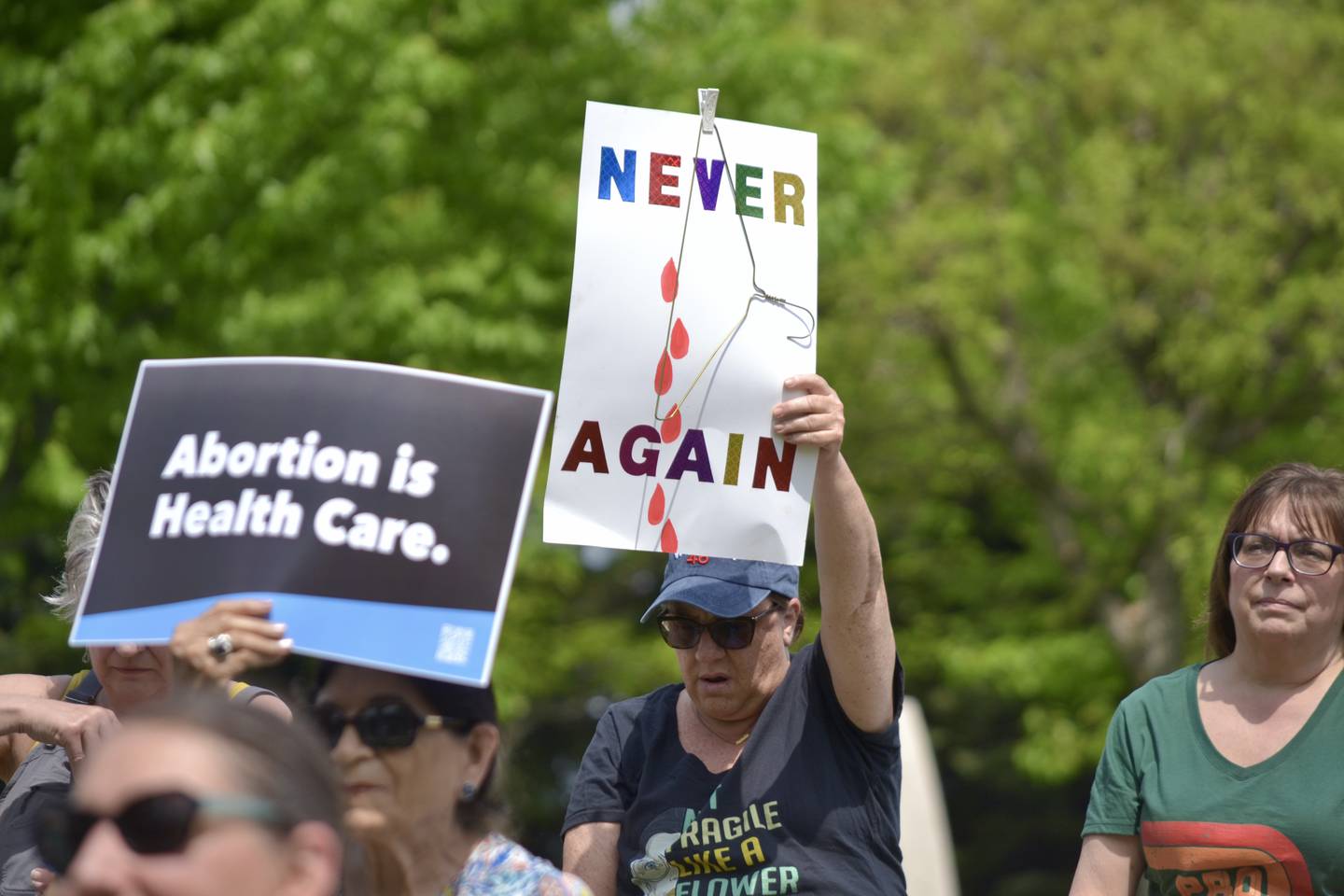 One sign read "Never again," and included a coat hanger, a reference to self-induced abortions performed before the procedure was legalized throughout the U.S.
The Will County Progressives members said they planned Saturday's rally in coordination with the Plainfield Police Department out of a concern for attendees' safety.
There was a small number of anti-abortion demonstrators who showed up to Saturday's rally. While organizers were speaking to the crowd from an amphitheater, one anti-abortion demonstrator stood nearby with a sign that read "Planned Parenthood is wholesale homicide!" At one point while Bright was speaking, the anti-abortion demonstrator blew what sounded like a horn several times.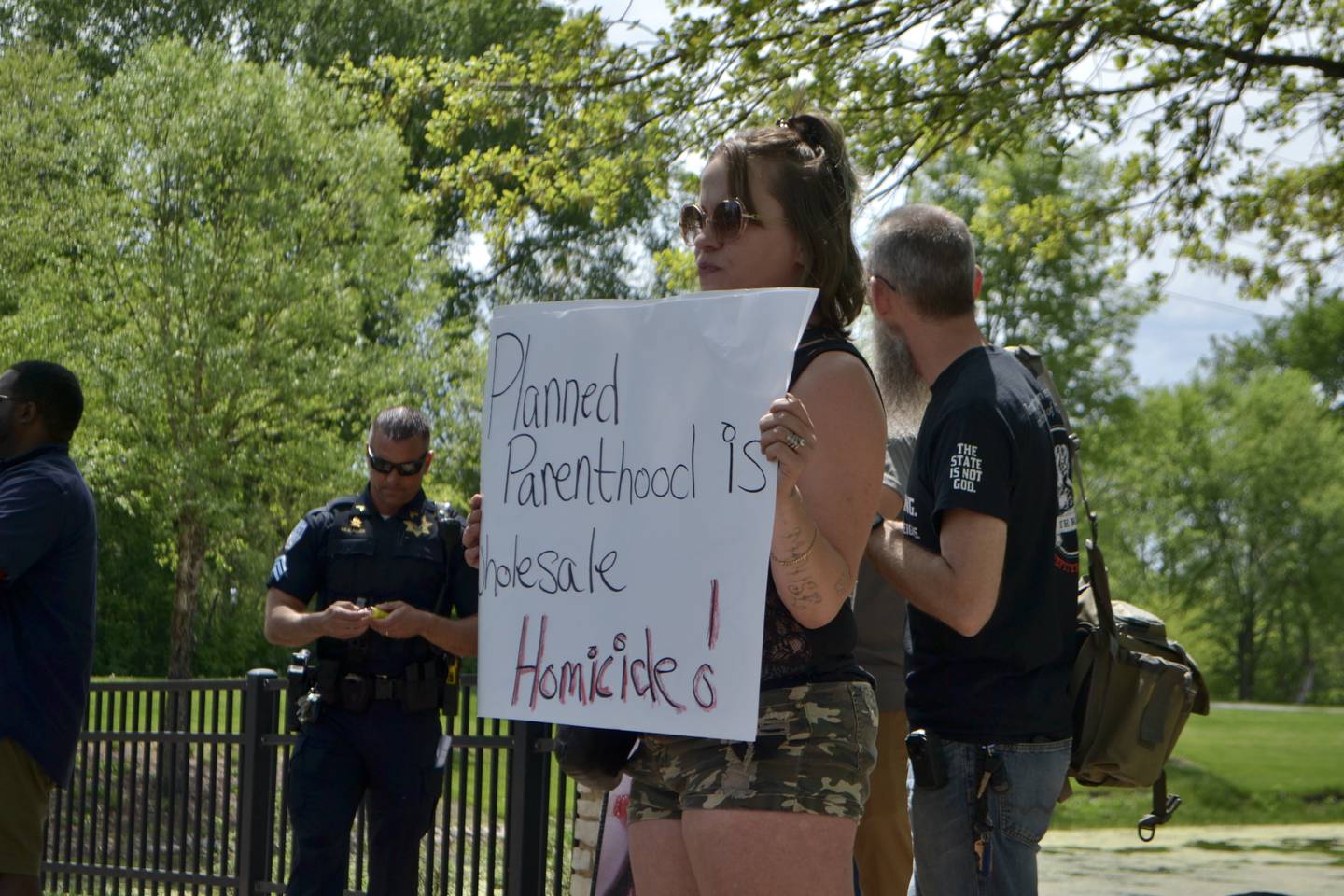 "So let's not pay them any mind," Bright said of the counter-demonstrators. "Do not allow them to goad you into any fights."
Some of the pro-abortion rights attendees responded to the counter-demonstrator by standing in front of her with their own signs.
Police officers stood within the crowd and at times spoke to the counter-demonstrator after she blew her horn while organizers were speaking. She blew the horn repeatedly as U.S. Rep. Lauren Underwood, D-Naperville, took the stage.
The congresswoman denounced Republican efforts to secure a conservative majority on the Supreme Court in hopes of one day overturning Roe v. Wade, including the blocking of one of President Barack Obama's nominations to the high court.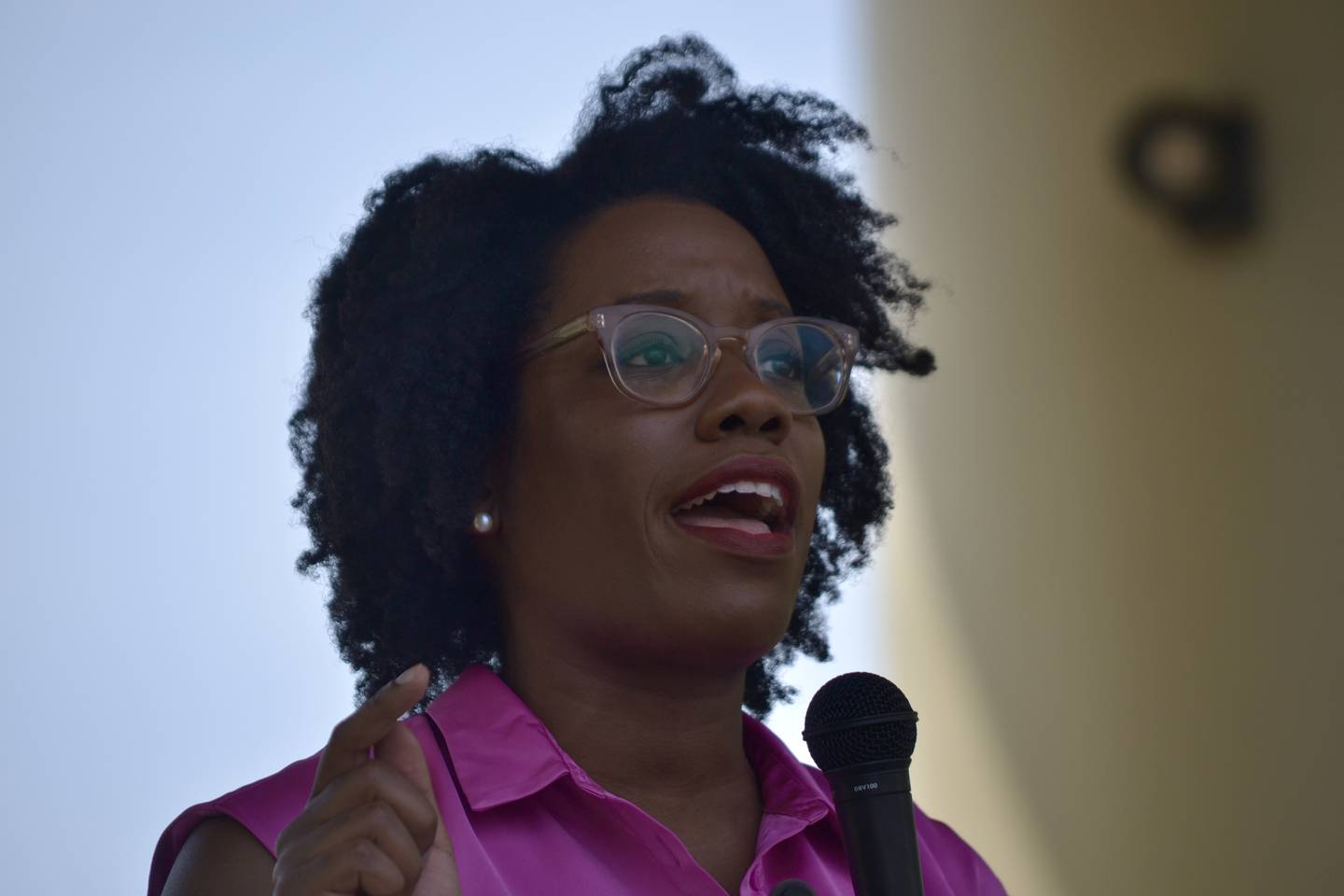 "I think that we are all feeling the same stunned disbelief right now, the same rage and the same fear," Underwood said.
She added that while "pro-science" states such as Illinois have pushed back against Republican efforts to restrict abortion access, "that may not matter," she said.
"American women are facing an unprecedented loss of our fundamental legal rights," Underwood said.
She said the "radical, far-right" majority on the court is expected to finalize that draft opinion, or some version of it, in the coming weeks.