SouthWest Suburban Conference
Bolingbrook
Coach: Christopher DeSanto
2021 record: 13-12
Top returners: Ariana Battle, IF-P; Tyanna Thomas, IF-P; Jaelynn Taylor, C-IF-P; Sydney Hinojosa, C-IF; Isabella Farias, IF
Key newcomers: Karina Choi, P-IF-OF
Worth noting: The Raiders are slowly building a solid base of experience in their program, as they now have 11 players that were on varsity last season. Progress was made with that group as Bolingbrook finished above the .500 mark and took second in its conference.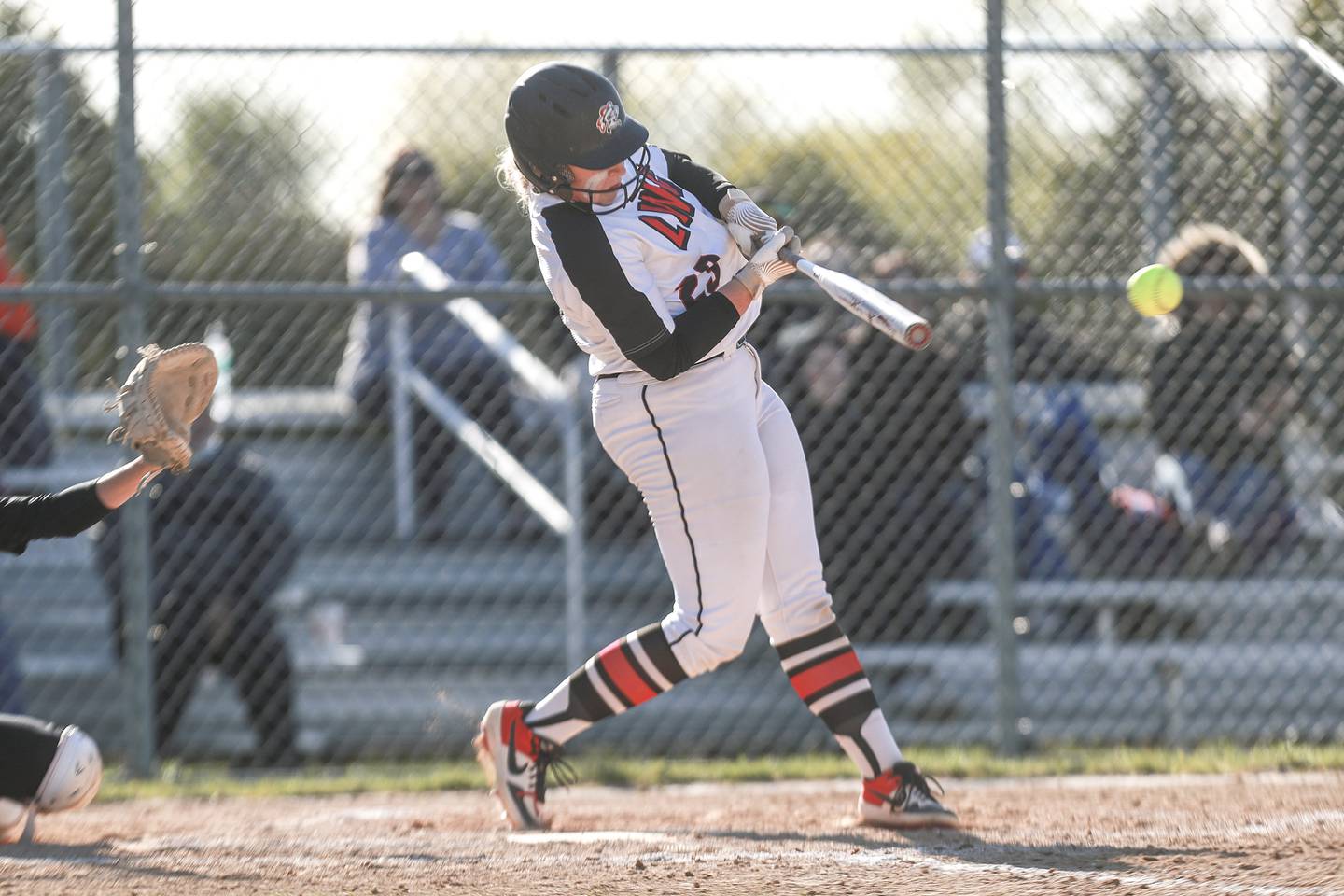 Lincoln-Way Central
Coach: Jeff Tarala
2021 record: 30-4 (Class 4A State Runner-Up)
Top returners: Lyndsey Grein, P-IF; McKenzie Murdock, IF; Jamie Widule, IF; Cienna Gehrke, IF; Skylar Swatkowski, IF; Lucy Cameron, C-IF; Alexis Youngren, C-IF
Key newcomers: Lisabella Dimitrijevich, P
Worth noting: Herald-News Softball Player of the Year Grein will provide the foundation for the Knights, who finished second in the state in 4A last season. A Virginia Tech commit, Grein struck out 292 batters and won 26 games, while hitting 11 home runs and driving in 35. While graduation hit the ranks pretty hard, it is hard to imagine too much of a fall off from the standard the program has set.
Lincoln-Way East
Coach: Elizabeth Hyland
2021 record: 24-5
Top returners: Chloe Geijer, IF; Madisonn Pomykalski, IF-OF; Danielle Stewart, P-IF; Katie Stewart, C-IF
Key newcomers: Maddie Hickey, P; Mackenzie Gallagher, IF
Worth noting: The Griffins will obviously see challenges on a daily basis in a very difficult and deep conference race, but they should be up for the task as several potent bats return for them. Both Danielle Stewart and Katie Stewart proved to be difficult outs, and there's no reason to believe that trend won't continue.
Lincoln-Way West
Coach: Heather Novak
2021 record: 16-10
Top returners: Allie Wondrasek, P; Abbie Gregus, C; Molly Marquardt, IF
Key newcomers: Cameron Ball, IF; Olivia Calderone, IF-OF; Katelyn Kundys, IF-OF
Worth noting: The Warriors graduated nine seniors last season but they return a key part of the foundation this season. The battery of Wondrasek in the circle and Gregus behind the plate gives Lincoln-Way West a tremendous foundation. Although there are voids to fill, underclassmen, particularly in the sophomore class, seem poised to help.
Lockport
Coach: Marissa Chovanec
2021 record: 14-16
Top returners: Kendal Herschbach, IF; Addison Foster, IF; Macey Schaaf, OF; Stephanie Hayes, IF
Worth noting: Foster, an All-State selection as a sophomore, and Wisconsin-Green Bay signee Kendal Herschbach will be asked to lead a relatively young Porters team. The biggest challenge may be sorting out who will log the lion's share of the innings in the circle.
Southwest Prairie Conference
Joliet Central
Coach: Jonathan Rashid
2021 record: 1-15
Top returners: Natalee Curry, IF; Alexandria Guzman, IF; Cameron King, P-IF; Caroline Baltz, P-OF; Makalya Vinson, OF
Key newcomers: Krista Sierra, P-OF; Natalie Reyes, IF; Alexia Vaksdal, C
Worth noting: Joliet Central has a new coach in Rashid, who has succeeded in boosting the program's numbers thus far and is hoping for incremental progress for a team that needs to gain experience as it goes.
Joliet West
Coach: Heather Suca
2021 record: 25-3
Top returners: Avery Houlihan, SS; Brooke Schwall, P-1B
Key newcomers: Hope Hughes, C-IF
Worth noting: The Tigers could continue the winning ways they have achieved in recent seasons, but will be doing so with an almost entirely new roster of players. Only five upperclassmen dot the roster, and a challenging early-season schedule could lead to some growing pains.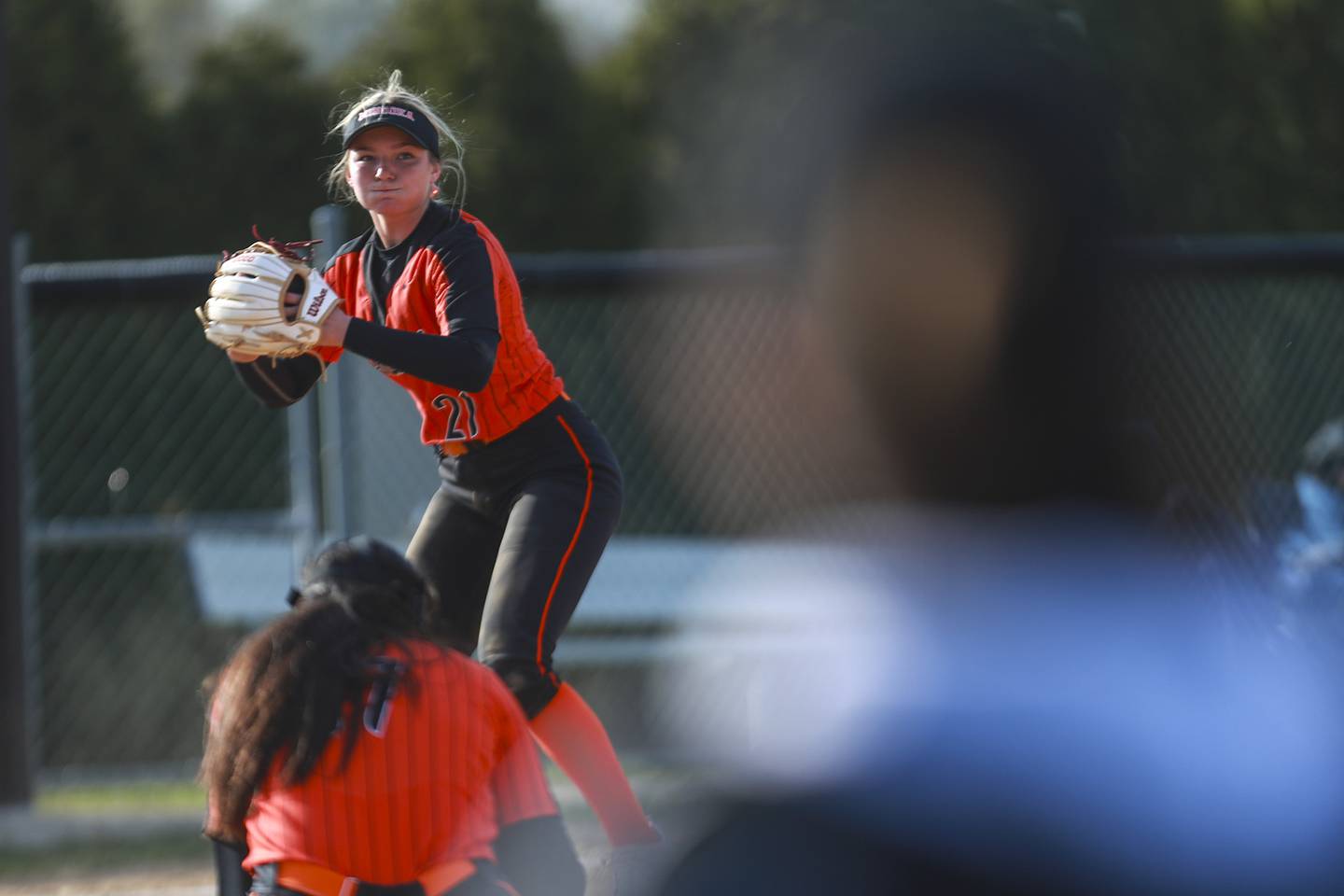 Minooka
Coach: Mark Brown
2021 record: 16-15
Top returners: Sofia Dziuba, OF; Megan Medlin, C-IF; Peyton Lowden, P-IF; Chloe Kohnhorst, C-3B; Anna McClimon, OF
Key newcomers: Taylor Macklin, P; Madison Kelly, IF
Worth noting: Minooka went on an epic run to reach the 4A State Tournament after starting the postseason with a sub-.500 record. They could be dangerous again considering a number of key contributors were underclassmen. Dziuba hit about .600, and six of the nine starters return to try to keep the momentum going.
Plainfield Central
Coach: Kate Welsh
2021 record: 7-14
Top returners: Tricia Hogrefe, IF-OF; Mia Johnson, P; Abby DeGrado, OF
Key newcomers: Jamie Crawford, P; McKenna Ignasak, C
Worth noting: A mostly young group, the Wildcats will lean heavily on five returning players. Hogrefe, an All-Conference performer as a freshman, will be looked on to lead a group that has solid potential.
Plainfield East
Coach: Rebekah Grimes
2021 record: 8-18
Top returners: Ally Rodriguez, OF; Teagan Pranchke, SS; McKenna Repovich, P; Isabella Stewart, IF
Key newcomers: Avery Welsh, P; Lauren Brock, C
Worth noting: Although Plainfield East doesn't have a lot of returning starters, the Bengals do have a solid senior class. Grimes is hopeful several players are ready to make a leap into larger roles, while some promising newcomers should add more versatility to the Plainfield East attack.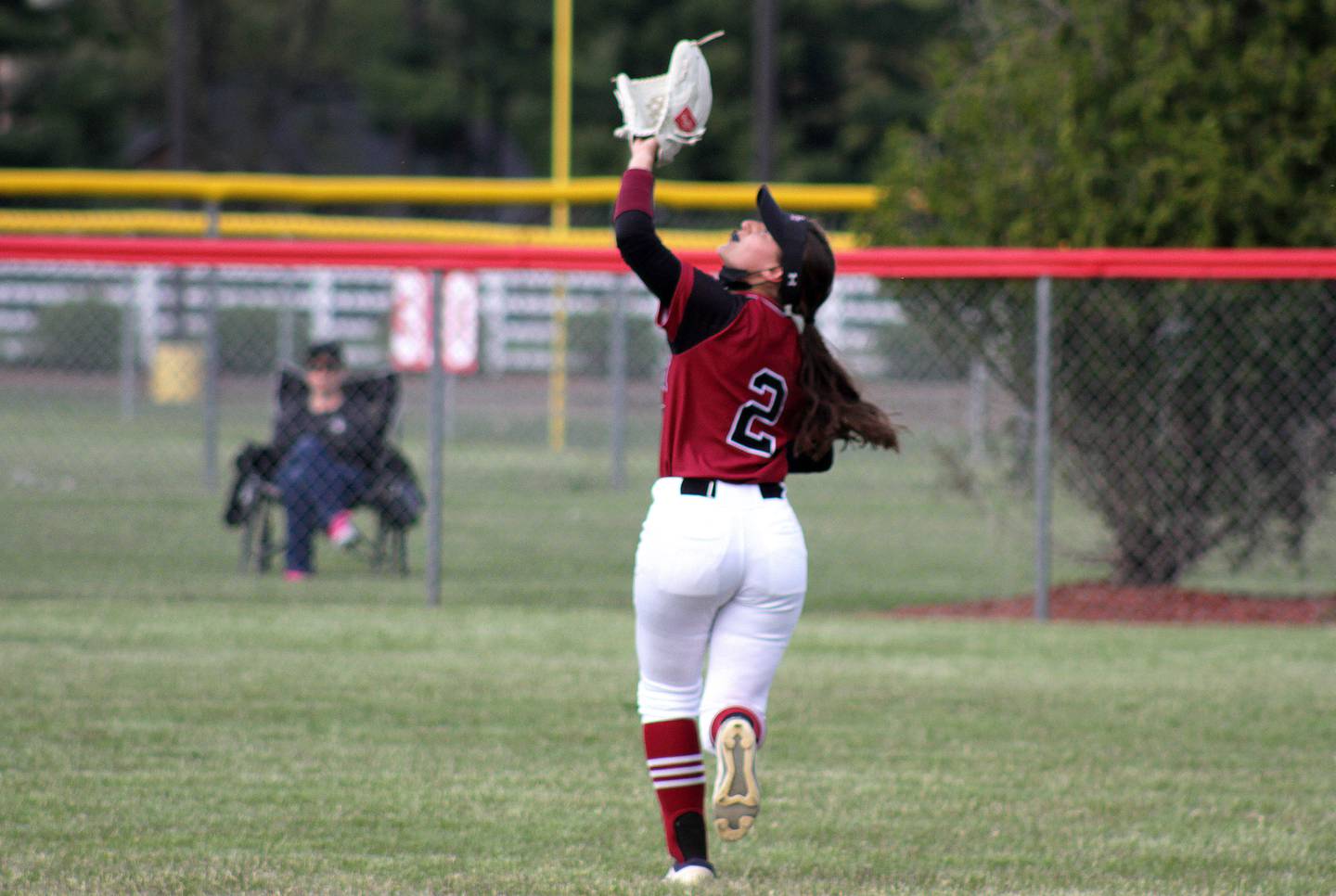 Plainfield North
Coach: Deanna Blyth
2021 record: 18-7
Top returners: Victoria Countryman, IF-OF; Kiera Suntken, OF; Natalia Lesincki, C
Worth noting: The Tigers have won back-to-back regional titles and appear ready to make a run at a third. Countryman, a Purdue commit, should be the catalyst for the Tigers, but she won't be alone as Plainfield North returns six starters.
Plainfield South
Coach: Dan Deacon
2021 record: 14-9
Top returners: Addison Brandl, P; Ana Fluder, SS
Key newcomers: Katie Nichols, C; Kaylee Aimone, IF; Bella Alonzo, OF; Hallie Boardman, P
Worth noting: Plainfield South is quite young, but other than a lack of varsity experience, hopes are high for the Cougars. Five seniors, including Brandl and Fluder, should provide an early anchor while the talented youngsters gain their footing.
Romeoville
Coach: Katie O'Connell
2021 record: 5-10
Top returners: Cat Giacomo, OF; Bella Picchi, IF; Jolete Anderson, C-IF; Juliana Anderson, C-IF; Emily Gabrelcik, P-OF; Alaina Moreno, P-IF
Key newcomers: Rylee Teel, C-IF; Delaney Giacomo, C-IF; Kayla Dehoyos, IF
Worth noting: As a whole, the Romeoville roster is pretty young but does have a fair amount of experience. The Spartans season will likely hinge on how quickly some of the newcomers adapt the level of play required at the varsity level.
GCAC
Joliet Catholic
Coach: Tina Kinsella
2021 record: 23-9
Top returners: Wrigley Fanter, IF; Morgan Bruno, IF-C; Mack Brow, IF
Worth noting: The Angels ran all the way to the 2A State Championship, losing to Rockridge in the title game. This year's team will have to replace graduated ace Andie Broniewicz, but there's a lot of returning offense to help the transition go smoothly.
Providence Catholic
Coach: James Holba
2021 record: 17-20
Top returners: Gianna Russo, IF; Nicole Magdaisz, OF; Ava Jeziorski, IF-C; Gillian Jones, IF; Amanda Zbonski, OF; Abbey Johnson, IF-P; Grace Golebiowski, OF-P; Keara Maloney, OF; Gaby Reyes, P; Janice Cavallone, IF; Kelley Rourke, IF
Key newcomers: Kaylinn Kundrat, P; Annika Hannigan, C-OF; Genevieve Patterson, OF; Kailee Sullivan, P-IF
Worth noting: The Celtics return eight starters and were really gaining momentum at the end of the season. With all of that experience back, Providence's hopes are high, and rightfully so. The anchors of the team look to be Russo and Magdaisz, as both of them are stat-sheet stuffers.
South Suburban Conference
Lemont
Coach: Chris Traina
2021 record: 28-5
Top returners: Sage Mardjetko, P-OF; Frankie Rita, C-SS; Allison Pawlowicz, SS; Raegan Duncan, IF-OF; Avaree Taylor, P-IF
Worth noting: Lemont was state runner-up in 3A last season and looks positioned nicely to make another deep postseason run with the excellent battery of Mardjetko and Rita. They are two of five returning starters for Lemont, who basically returns its entire infield.
Illinois Central Eight Conference
Coal City
Coach: Rodney Monbrum
2021 record: 13-9
Top returners: Kaitlyn Jasper, P; Kerigan Copes, IF; Makayla Henline, IF; Mia Ferrias, OF; Mackenzie Henline, C; Jadyn Shaw, IF/OF
Worth noting: Although the Coalers return eight of nine starters, Coal City is still a young team as five sophomores are in that group. Jasper should log the majority of the innings for the Coalers, a team that sees itself as capable of being in the mix in the Illinois Central Eight.
Peotone
Coach: Steve Strough
2021 record: 8-10
Top returners: Emma Spagnoli, C; Alyssa Pasch, IF; Mackenzie Strough, P-OF; Taylor Thweatt, IF; Amanda Hasse, IF; Mady Kibelkis, OF
Key newcomers: Ashley Velman, IF-P
Worth noting: The Illinois Central Eight isn't a breeze for anyone, but a more experienced Peotone group might be able to put up a bit better fight this season in the competitive conference. The infield returns largely intact, so sorting out the pitching staff seems the biggest concern.
Reed-Custer
Coach: Nick Arndt
2021 record: 4-18
Top returners: Grace Cavanaugh, IF-OF; Halle LaGrange, IF; Grace Moyers, P-IF; Mya Beard, C-OF
Key newcomers: Delaney Bruciak, OF; Addison Brown, P
Worth noting: Reed-Custer remains a young program, but some of the core picked up valuable experience as underclassmen last season. There is a lot of growth potential for the Comets and understanding how to harness it will be key to how quick they progress.
Wilmington
Coach: Jack Skole
2021 record: 9-9
Top returners: Jessica Castle, P-IF-OF; Anna Liaromatis, IF; Abby Pitts, IF-OF; Kaitlin O'Donnell, IF
Key newcomers: Olivia Hansen, P-IF; Grace Burkey, IF-OF
Worth noting: A pair of second team All-Staters in Castle and Pitts give the Wildcats an excellent base to build on, and the returning starters give hope that experience could carry them to a better record.
Interstate 8 Conference
Morris
Coach: Jennifer Bamonte
2021 Record: 12-14
Top returners: Kylee Claypool, P-OF; Madigan Doss, 3B; Grace Lines, 2B; Maddie Noon, P-1B; Maddy Shannon, C; Jaelyn Wiers, OF
Key newcomers: Addison Stacy, SS; Kayla Jepson, OF
Worth noting: Morris is anchored by a deep and capable senior class, leading Bamonte to have high expectations. Blend that with a quality junior class, many of whom already have gained valuable varsity experience, and Morris could be a surprise team in the Interstate Eight.
Tri-County Conference
Seneca
Coach: Brian Holman
2021 record: 24-5
Top returners: Maddy Klicker, IF-OF; Madi Mino, IF; Zoe Hogas, C; Allie Arwood, IF; Lizzie Davis, IF-OF; Taya Roe, P; Callee Bauer, OF; Kennedy Hartwig, IF-OF; Sam Vandevelde, IF-OF
Key newcomers: Alyssa Zellers, P-IF; Neely Hougas, IF-OF
Worth noting: It will be difficult to replace All-Stater and graduated pitcher Maggie Carpenter, but Seneca's returning players hope to lead them to success. A loaded schedule might be a deterrent, but the experienced core should be able to weather most storms.
River Valley Conference
Gardner-South Wilmington
Coach: Cassi Carlson
2021 record: 8-11
Top returners: Katelyn Farris, IF; Jayden Buchanan, P; Aspen Lardi, SS; Bella Vyce, C
Key newcomers: Makaila McDaniel, OF; Hannah Balcom, IF-P
Worth noting: Gardner-South Wilmington's younger players gained experience last season as the Panthers had very few upperclassmen on the roster. Now, a more prepared roster of players could take a substantial step forward.