JOLIET – For virtually all of her career, Andriana Acosta has played basketball close to home.
The Crest Hill native played for Joliet Catholic Academy, where she was a member of the Class 3A state runner-up team in 2013-14 as a sophomore, and went on to star for University of St. Francis in Joliet, where she continued her on-court success while earning her Bachelor's degree in International Business and Marketing and her Master's degree in Management.
That is about to change, as Acosta will take her talents to Ireland in the fall, where she will play for the Limerick Celtics.
"It's definitely going to be different playing far away from home," Acosta said. "But, it's exciting to be able to continue my basketball dream. My parents [Maria and Felipe], the rest of my family [two brothers and a sister], and my friends are very supportive.
"It's nice to know that I will have so much love and support for me while I am playing over there."
Acosta earned NAIA All-America honorable mention honors this season by averaging a double-double and posting 15.4 points and 12.2 rebounds per game. The latter number was the fourth best in the nation. Besides leading the team in rebounding, Acosta also topped the Saints in field goal percentage (.488), free throws made (107) and steals (47). She also was second in total field goals made (169), free throw percentage (.823) and scoring.
It is believed that she is one of only three Saints to have amassed more than 1,000 points and rebounds in her career. She closed out her six-year run with 1,358 points and 1,210 rebounds in 155 games played. The Saints finished 27-7 and advanced to the NAIA National Tournament for the seventh consecutive season.
Basketball always has been a family affair for Acosta.
"My parents are split, but they always made sure one of them could get me where I needed to be," she said. "Whether it was my dad taking some time off of work to get me to or from practice or my mom leaving the other kids at home to take me to a weekend tournament. They sacrificed a lot for me, and I am grateful.
"My younger brother [Ante] is a basketball player at Joliet Junior College, so we work out together. We are very competitive, and we make each other better."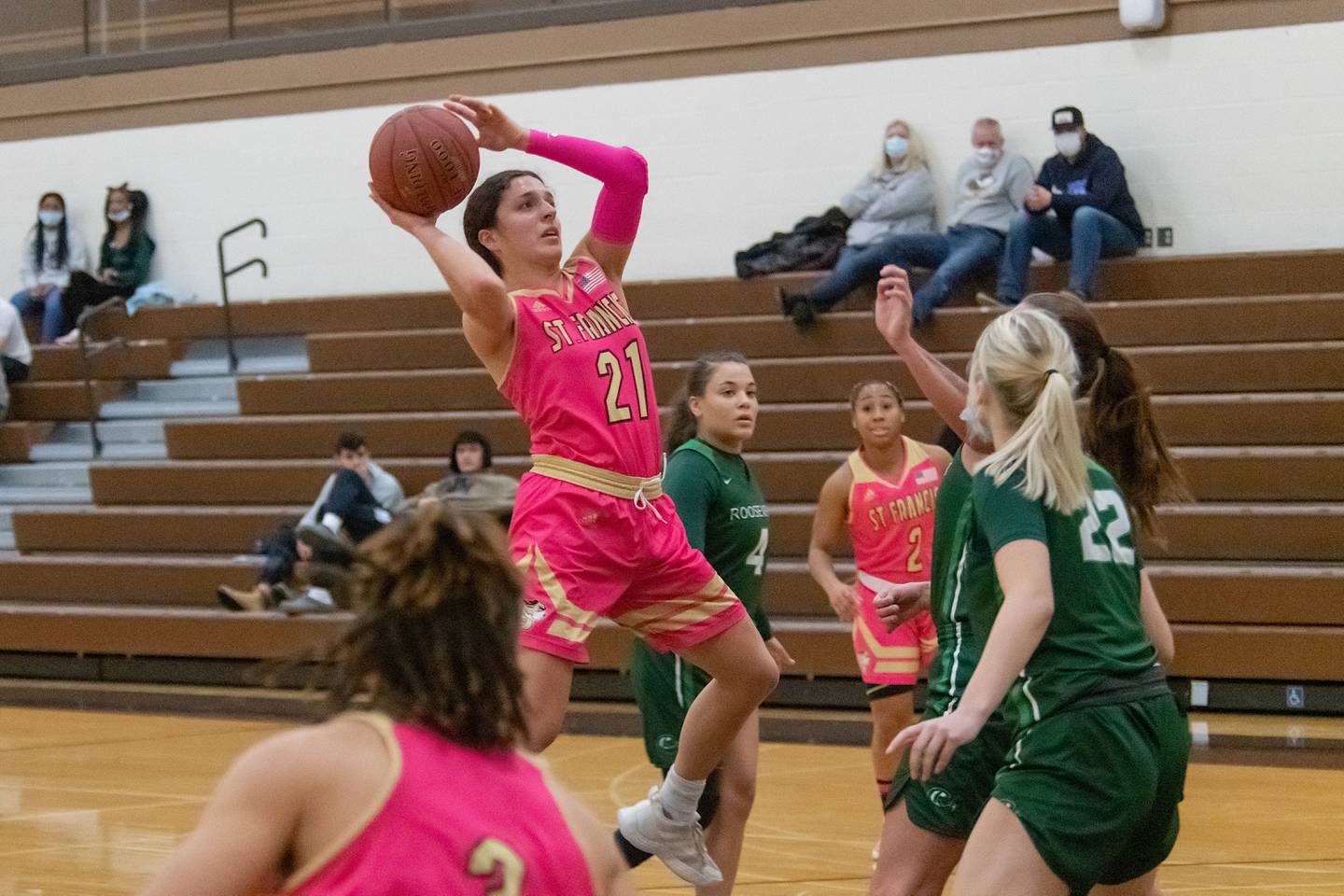 Acosta said she enjoys traveling and has spent some time in Europe, but this will be her first time in Ireland.
"I am excited to experience a new culture," she said. "I love to travel, so this is going to be fun. I hope to make some connections that will help me out when my basketball career is over.
"Two years ago, when I was supposed to be done playing and we didn't know that we were going to get an extra year due to COVID, someone from European Basketball News reached out and asked if I had thought about playing after college. I told [USF] Coach [John] McGinty that I wanted to pursue that. He got me in touch with my agent, Matt Krejci, who is close with [former USF coach and current Lewis University coach] Sam Quigley-Smith, and Matt got things rolling for Europe."
Acosta said that the Celtics play a style she likes to play, and that should help her make the transition.
"I was talking to one of their former players," she said. "She told me that they have a great coaching staff, and they like to play at a fast pace, which suits me. They have plays, but it is more of a read-and-react style, and I like doing that."
Until she leaves, Acosta, who currently lives in Shorewood, will work out and prepare for her upcoming adventure. But she will take a little bit of home with her when she departs for Ireland in the second week of September in preparation for her first game in early October.
"I really enjoyed my years at JCA," she said. "I played three sports there, and that's part of the reason why Sam recruited me. I also love the people at USF and the culture they had there. It was kind of like an extension of JCA, and I know I have the love and support from a lot of people here."