BLOOMINGTON — The Coal City wrestling tradition is as strong as anyone's. There was, however, one thing missing.
The Coalers had never won a state championship, having finished second seven times, third twice and fourth once.
Saturday night at Grossinger Motors Arena, they changed that.
Freshman Brody Widlowski pinned Yorkville Christian's Eli Foster in 1:36 of the 113-pound match to give the Coalers a 32-25 lead with one match to go. They forfeited that match to make the final score 32-31, and the celebration began.
"Coach [Mark Masters] told me before my match that we needed a pin to get a more than six-point lead and win the title," Widlowski said. "We had some momentum going after we got a pin by our 285 [Michael Gonzalez].
"It feels great to win the title. Some of our dads started the youth program about 10 years ago, and we knew we could be a part of something pretty good."
The Coalers were very good, not only at winning matches and scoring bonus points, but also at preventing bonus points by the other team when Yorkville Christian happened to win. Coal City got pins from Mateo Blessing at 145, Gonzalez at 285 and Widlowski at 113. Braiden Young at 182 and Joey Breneman at 195 each picked up points late in their respective matches that turned a decision win, worth three points, into a major decision, worth four.
"This is a great senior class," Masters said. "After finishing second four times, it feels good to finally win a title. These are high-class kids, and they did a great job with their leadership. We have had the right coaches in place for them since they were in youth wrestling, and they weren't fazed.
"We told them to not make it any bigger than it was. They came out like it was a regular match, and no one backed down."
Gonzalez turned in a big pin at 285, especially after Yorkville Christian's Jackson Mehochko pinned Drake Dearth at 220 just prior. Gonzalez made quick work of Garrett Tunnell, pinning him in 1:11 and pushing the momentum in his team's favor.
"I had to get those points back," Gonzalez said. "I saw Drake get pinned and knew I had to get them back. Every extra point counts huge in a match like this.
"It feels really good to win the title as a senior. We won the team title when we were in eighth grade, so it seemed like we were destined to do it again. We were second when I was a freshman, then there was the COVID year, then we didn't make it to state last year. Coming back and winning the title is great."
Blessing's pin moved the Coalers from a 6-3 lead to 12-3 and brought the substantial Coal City crowd to its feet.
"I was hoping to get everyone amped up," Blessing said. "Then when Brody pinned his guy, I didn't know what to do, so I just broke down in tears. We've been together for the last 10-12 years, and we have been through a lot together."
After singing a stirring rendition of "The Star-Spangled Banner" prior to the finals, Coal City senior Derek Carlson put forth a strong effort in the 170-pound match. He lost 6-2 to Jackson Gillen, but he kept the score close and surrendered just three team points.
"Sometimes a win for us is not giving up any bonus points," Carlson said. "All of our guys fought like hell to do their best.
"Honestly, I was more nervous for the national anthem. I didn't want to forget the words. After I did that, I felt like I had my warmup all done, and I was relaxed."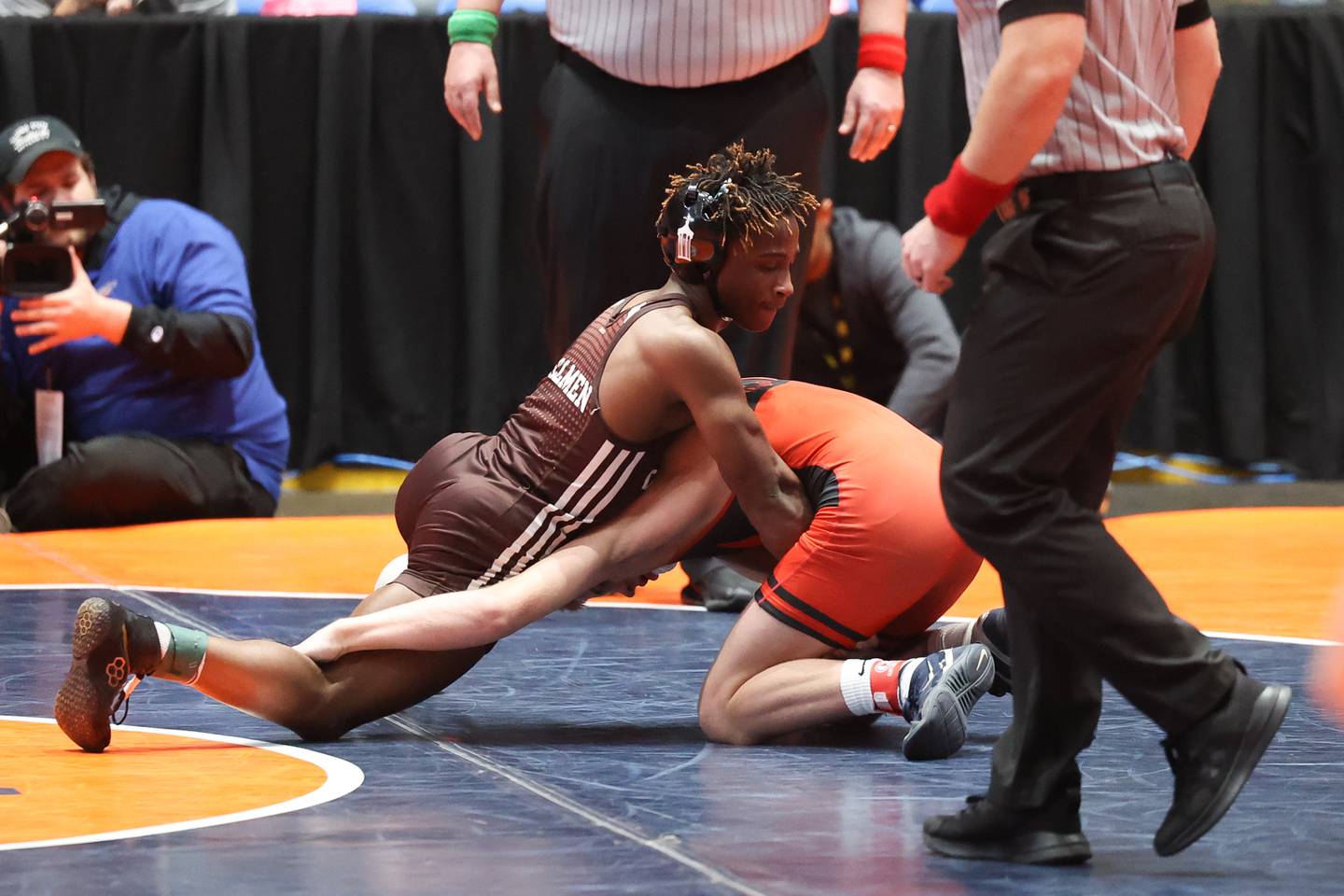 Class 2A
After storming through a difficult regular-season schedule and climbing into the national rankings on Flowrestling.com, Joliet Catholic Academy's bid for a second straight Class 2A title fell just short in a 28-27 loss to Washington.
The Hilltoppers got wins from Gylon Sims at 132 (8-7), Mason Alessio at 160 (pin in :33), Nico Ronchetti at 195 (5-3), Dillan Johnson at 285 (forfeit), Jason Hampton at 113 (pin in :28) and Aurelio Munoz at 120 (6-2).
"It wasn't the ending we wanted," JCA coach Ryan Cumbee said. "It just wasn't our night. Washington is a very tough team, and we took it right to the last match. We prepared well and put ourselves in a position to win. We just didn't execute like we have in the past.
"We are still a young team, and we will use this as a learning experience."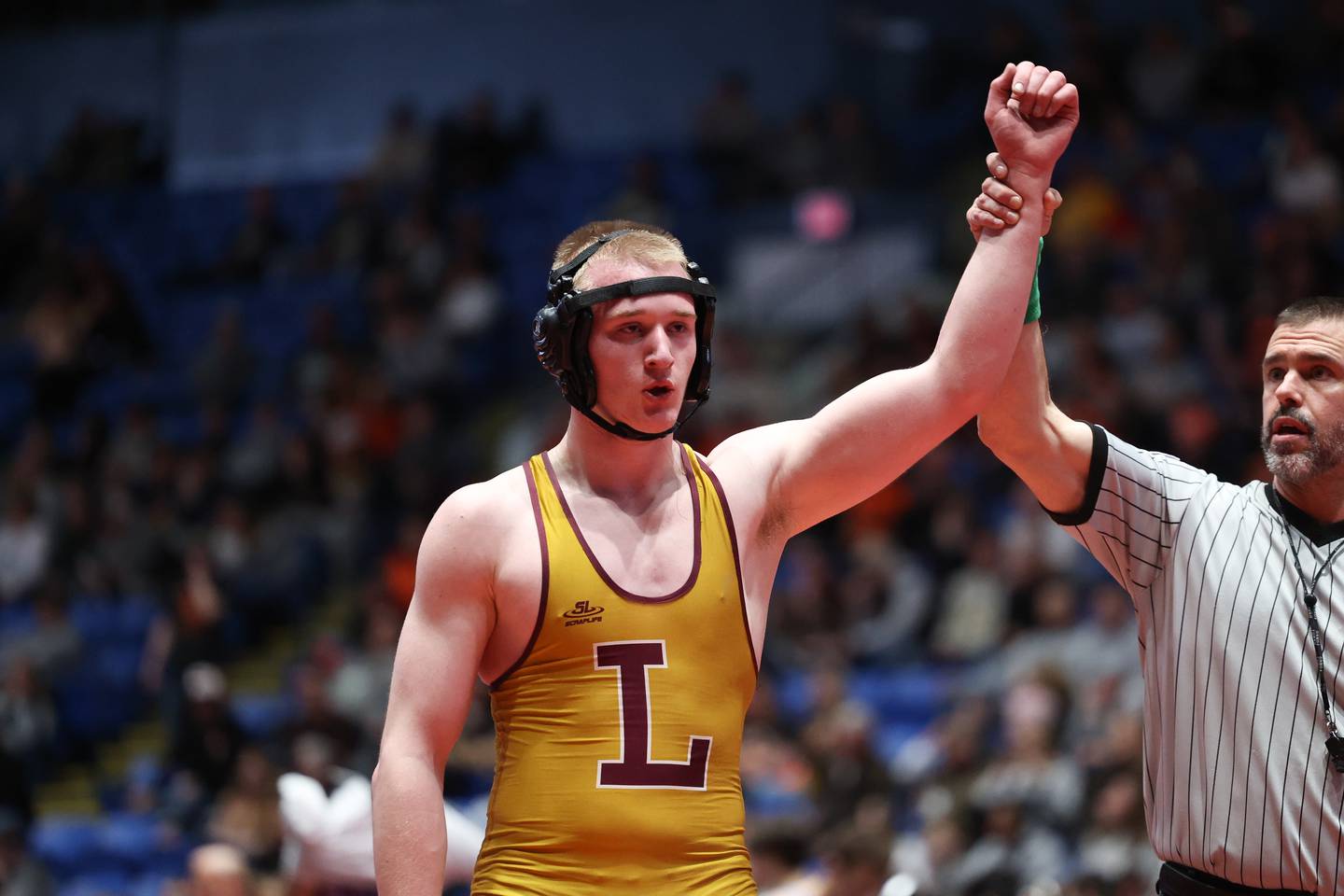 Class 3A
For the second straight season, Lockport finished third in the state's largest class. No small feat for a team that lost Brayden Thompson, one of the nation's top wrestlers, to a transfer in the middle of the season.
The Porters beat Yorkville 45-16 in a battle of Oster brothers as coaches, with Jameson coaching Lockport and Jake coaching Yorkville.
Picking up wins for the Porters were Logan Kaminski at 138 (3-1), Chris Miller at 152 (13-3), Durango Valles at 160 (15-5), Logan Swaw at 170 (4-3), Aidan Nolting at 182 (12-2), Payton Roberson at 195 (injury default), Wojciech Chrobak at 285 (14-6), Dominic Vukobratovich at 106 (pin, 0:39), Isaac Zimmerman at 113 (pin, 3:30) and Liam Zimmerman at 120 (pin, 5:57).
"These guys have gone through a lot," Oster said. "Since December, these kids have stepped up and gotten better each week. They topped it off with their best performance of the year tonight.
"We split with Yorkville earlier this season, and we beat them by more tonight than we did when we beat them earlier in the year. It speaks to the depth in our program. We have six seniors on our 21-man roster, and also six freshmen and six sophomores, so the future of the program looks good. After the semifinal loss, we talked and said we could either finish the season with a win or a loss.
"The kids came back and wrestled a hell of a match."