ORLAND PARK – The Lockport Township boys soccer team was down but not out.
Dylan Morgan scored the tying goal with 2:44 to play in the second overtime. The Porters then went on to outscore Bloom Township, 4-2, in penalty kicks for a 3-2 victory Wednesday evening in the Class 3A Sandburg Sectional semifinal.
The Porters (17-1) will play Romeoville (19-4-3), a 3-2 winner over Lincoln-Way Central in a match that also was decided by a 4-2 score in penalty kicks the day before, at 6 p.m. Friday for the sectional championship.
"I don't think we played our best game, but we drug ourselves out of that hole," Lockport coach Chris Beal said. "We struggled with the long-ball game, we didn't know whether to drop or press, and we were disjointed.
"It looked bleak, but we always believe we can score goals. Dylan just took a shot. It wasn't the greatest shot, but he took it and that's what counts."
Morgan, a senior, slipped the ball by goalkeeper Svend Cruz and just inside of the left post for the equalizer. Neither team had a shot after that and the game went to penalty kicks. A first for Lockport on the season.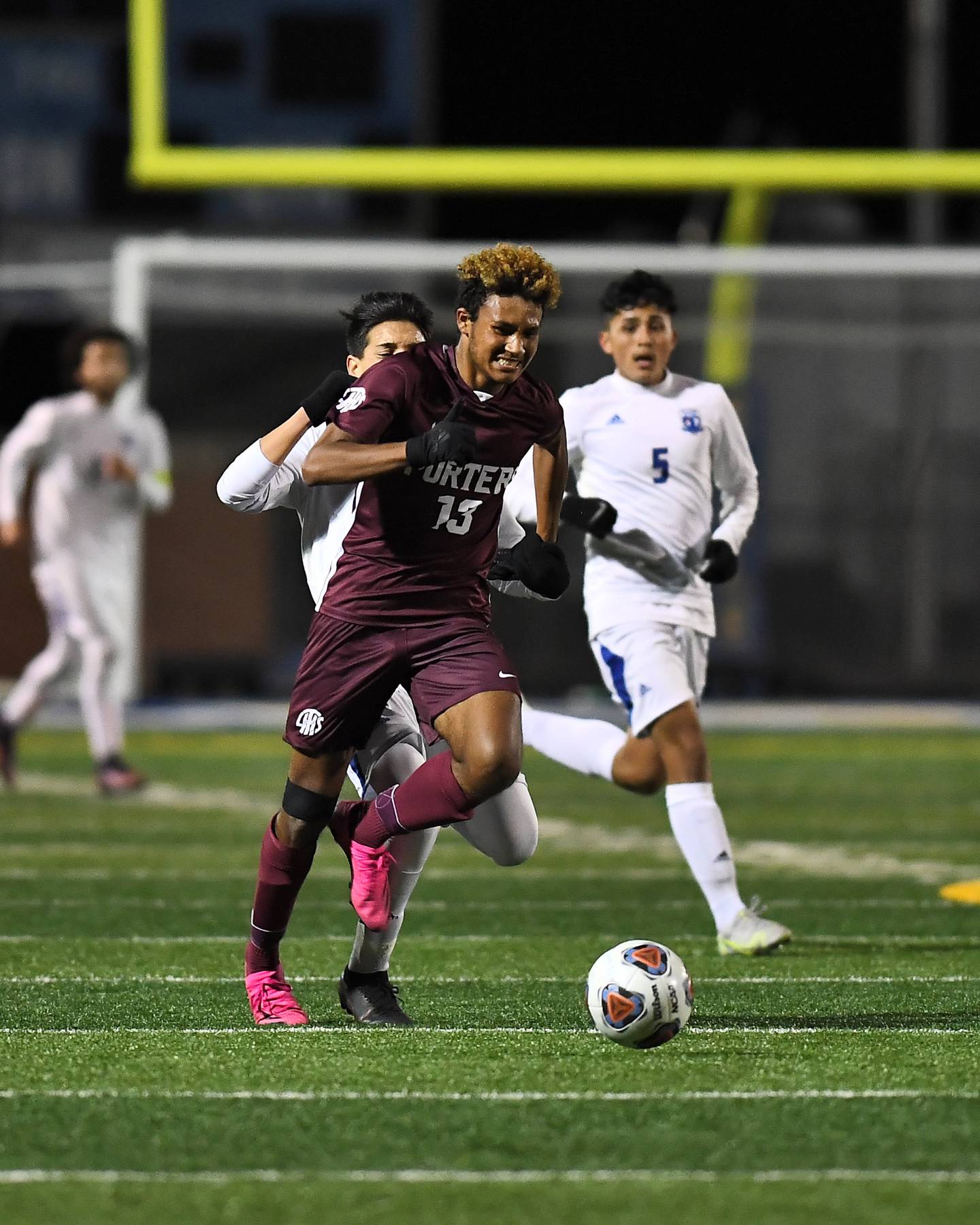 The Blazing Trojans (20-4-2) shot first in PKs and made their first two. And Lockport's Adam Doyle and Dominic Williams made theirs.
Then senior keeper Pat Marshall stepped up and dove to his left to deflect the third attempt he saw. Senior Gabe Czako made up for missing a penalty shot with 24:53 left in the second half of regulation and put the Porters up, 3-2, by converting in the right corner.
Marshall then got just enough of Brandon Bravo's ball and deflected it off the crossbar. There appeared to be some confusion, but the ball bounced outside the line.
"I knew it wasn't a goal but my heart was beating outside of my chest," Marshall said. "I just saw (Bravo's) hips, and knew where he was going and had to stop it.
"It was very tense, very stressful. But we had to give it our all. We didn't want to go out like this. I knew if I could make a save that the guys got me."
Nate Blazewski, a sophomore, then clinched the Porters win by nailing his attempt into the upper right corner.
"I shot it where I shoot it all the time in practice," Blazewski said of the clincher. "We play with heart, all of us. We fought hard to get here, and I knew Pat (Marshall) had our back. He made two great saves, and he's the reason we are here."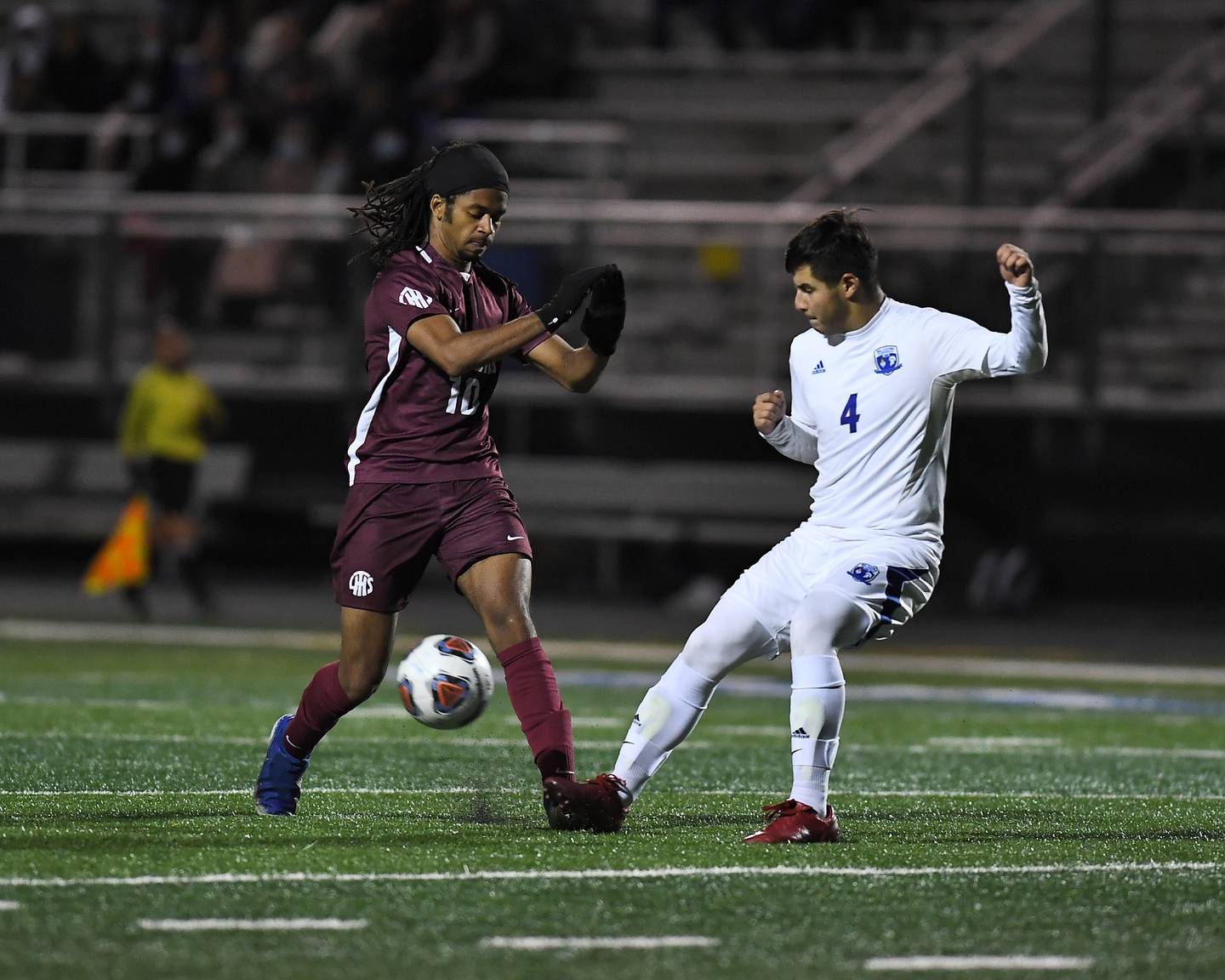 Lockport scored first when senior Danny Kajtezovic blasted a goal from 40 yards out on the right side with 12:32 left in the first half. Bloom tied it up when Jonathan Magana got out in front of the pack, drew Marshall out of the net, and chipped it over and in with 12:37 to play in regulation.
In the opening 10 minute overtime period, Christian Munoz got past the defense and put it into the right corner to give the Blazing Trojans the lead. It was the 126th career goal for the senior and 51st this season.
Lockport ties its 2014 team (17-3-3) for the most wins in school history. That team lost, 2-0, to Thornton Township in the finals of the Sandburg Sectional.