BOLINGBROOK – Guarantees don't really exist in high school basketball, but putting the ball in the hands of the Bolingbrook backcourt in a close game is about as close as one can get to one.
Guided by the efforts of that splendid backcourt, particularly DJ Strong and Mekhi Cooper, Bolingbrook was able to fend of Lincoln-Way East for a 65-61 victory that effectively secured the Raiders the SouthWest Suburban Conference Blue Division crown.
"It's not going to be pretty all the time and whenever you get one of the best teams in the state coming in who we beat before, you know they're they're going to play a part in it too," Bolingbrook coach Rob Brost said. "And so, of course, we could play better and we could be cleaner and all of that stuff, but it's not about that. It's about the resiliency of our group and doing what we need to do when we need to do it."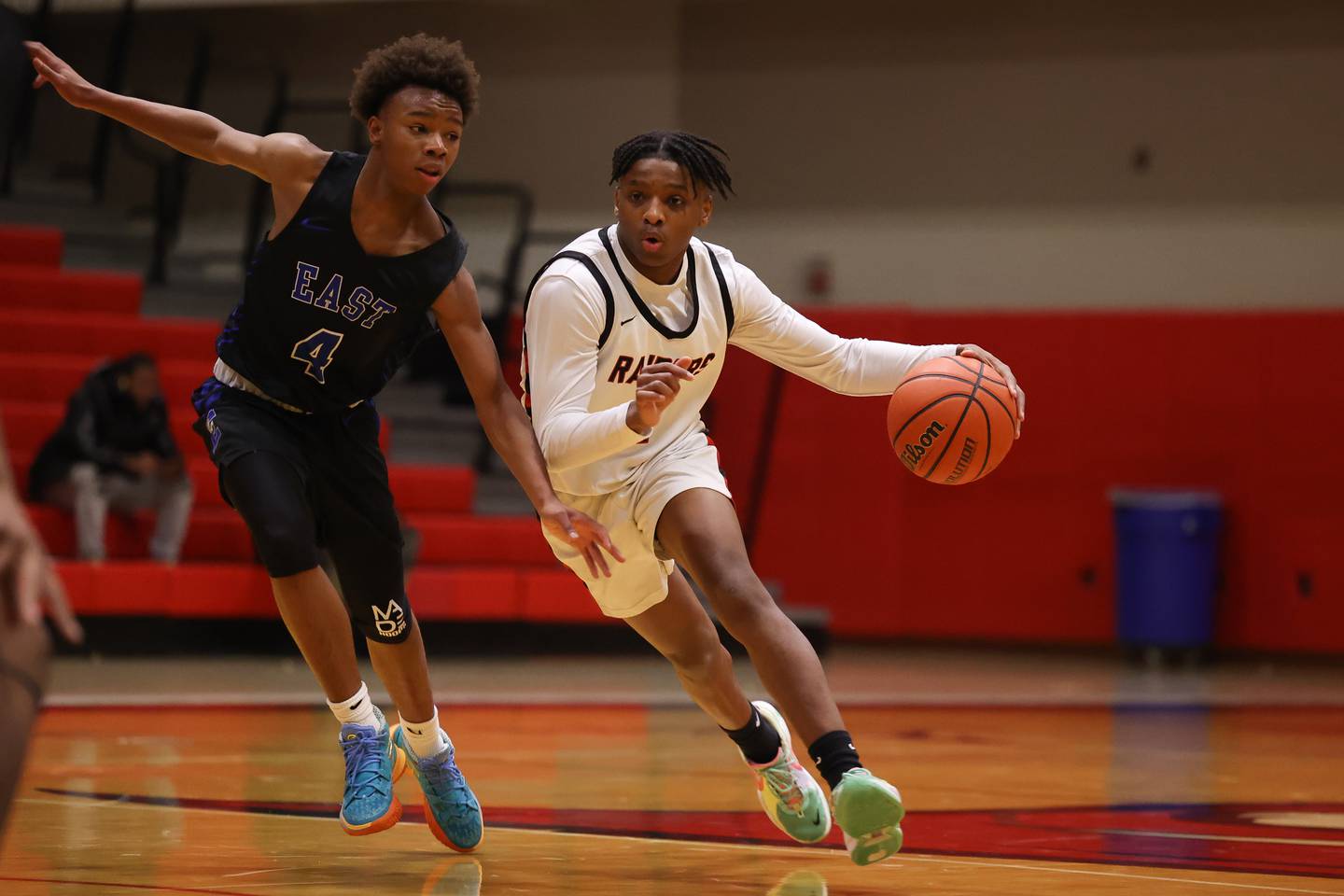 Critical moments were abundant in the fourth quarter, and the Raiders (21-6, 6-0 SWSC Blue) answered the bell nearly all of those times.
Bolingbrook captured its first lead since early in the first quarter at the 6:10 mark of the fourth quarter on a pair of Aries Hull free throws. It was be the start of a procession of free throws, largely made, that the Raiders attempted in the quarter.
Strong was the biggest benefactor of that, converting 8 of 9 free throws in the fourth quarter on his way to a team-high 19 points. One of those made free throws came on the back end of a traditional three-point play where the basket was counted for Strong off of a goaltending call with 33 seconds to play. It gave Bolingbrook a four-point lead at the time and was pivotal in the win.
"My team did a great job of spreading the floor and getting me good opportunities with the ball. I was able to get to the line and knock down those shots," Strong said. "Once you get out there it's second nature. We just stay together, we love each other and we just played hard."
Despite being a spectacular free throw shooting team in general, Bolingbrook did crack the window open slightly for Lincoln-Way East (21-4, 4-2) by only splitting a pair of free throws with 18 seconds left. The Griffins missed a pair of 3-point tries that could have tied the game.
In all, Bolingbrook made 26 free throws on 30 attempts.
"I don't want to jinx it because obviously we have got more games to go," Brost said. "But when we can spread teams out and get our guards going downhill and the other team has to foul it's usually a good scenario for us."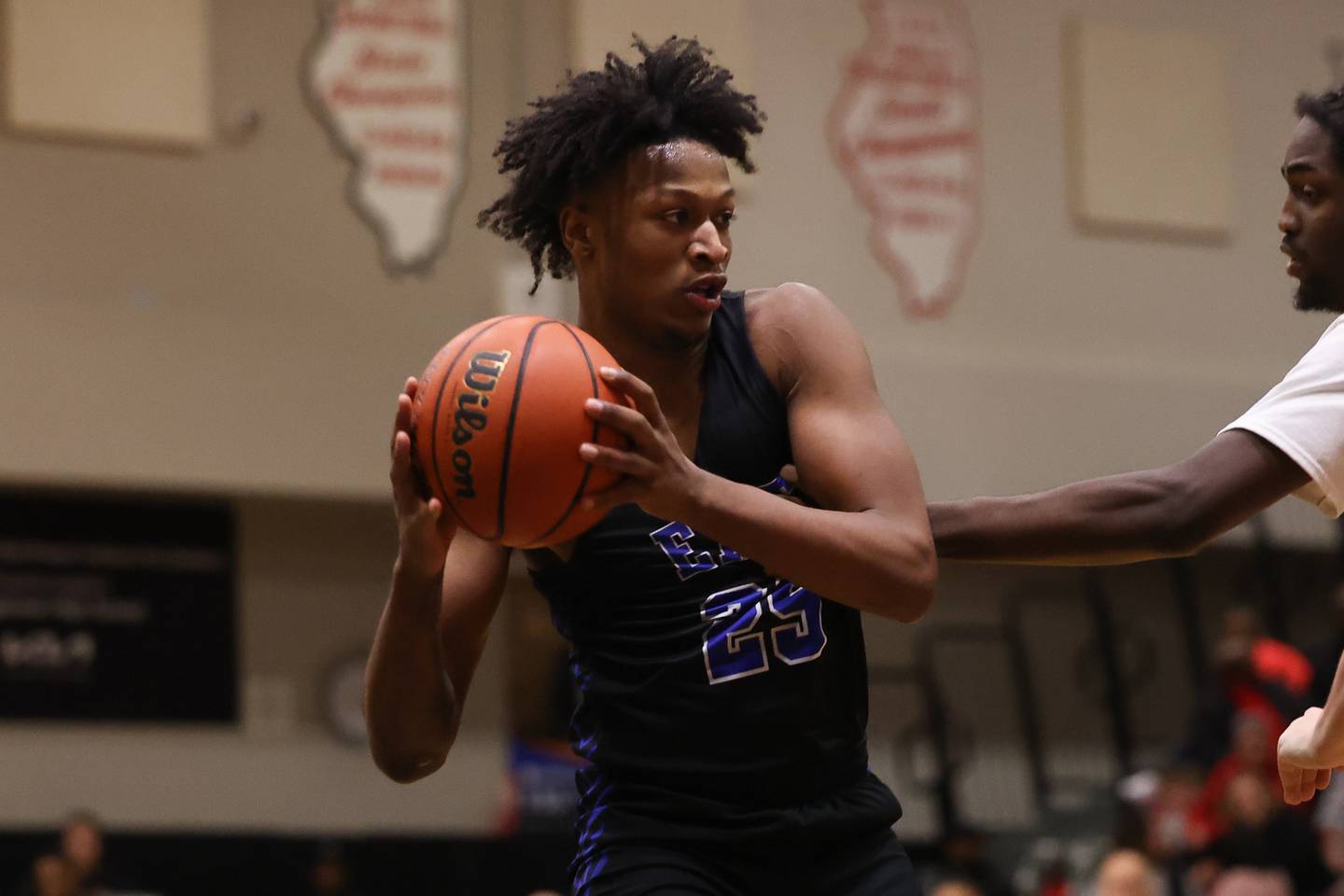 Lincoln-Way East appeared to be poised to try to run away with the game in the first half, building a double-digit lead late in the second quarter as George Bellevue started out the game red hot. Bellevue reached double-digit scoring just four minutes into the game and finished the first 16 minutes with 16 points.
But Bolingbrook managed to rectify some of its turnover woes by scoring the final six points prior to the half to close the gap to 34-30.
Cooper joined Strong in double digit-scoring for Bolingbrook by finishing with 18 points, including an 11-point third quarter burst that helped bring the Raiders back into position to win the game.
Bellevue led all scorers with 20 points, freshman BJ Powell added 13 and Kaiden Ross and Matt Hudik added 10-point efforts.