JOLIET – There's a bullseye directly on the backs of the Joliet West basketball team, and everyone knows it.
The Tigers, currently ranked No. 1 in Class 4A in the Associated Press poll, sustained several notable runs from a Romeoville team that entered the contest with thoughts of a massive upset in mind before Joliet West broke free late for a 79-71 Southwest Prairie Conference victory.
"We talk about it every day. Today's pregame talk was understanding we've been slotted the No. 1 team in 4A, the No. 2 team in the state overall, and in somebody's poll we are the 21st-ranked public school in the country," Joliet West coach Jeremy Kreiger said. "So I told them today, outside expectations of what people believe we are doesn't necessarily mean who we are unless we show that. So all I do is talk to them about how everyone is going to give you their best shot.
"Nobody we play has anything to lose. They just empty out their chambers, shoot all their bullets and hope, 'Did we upset them?' "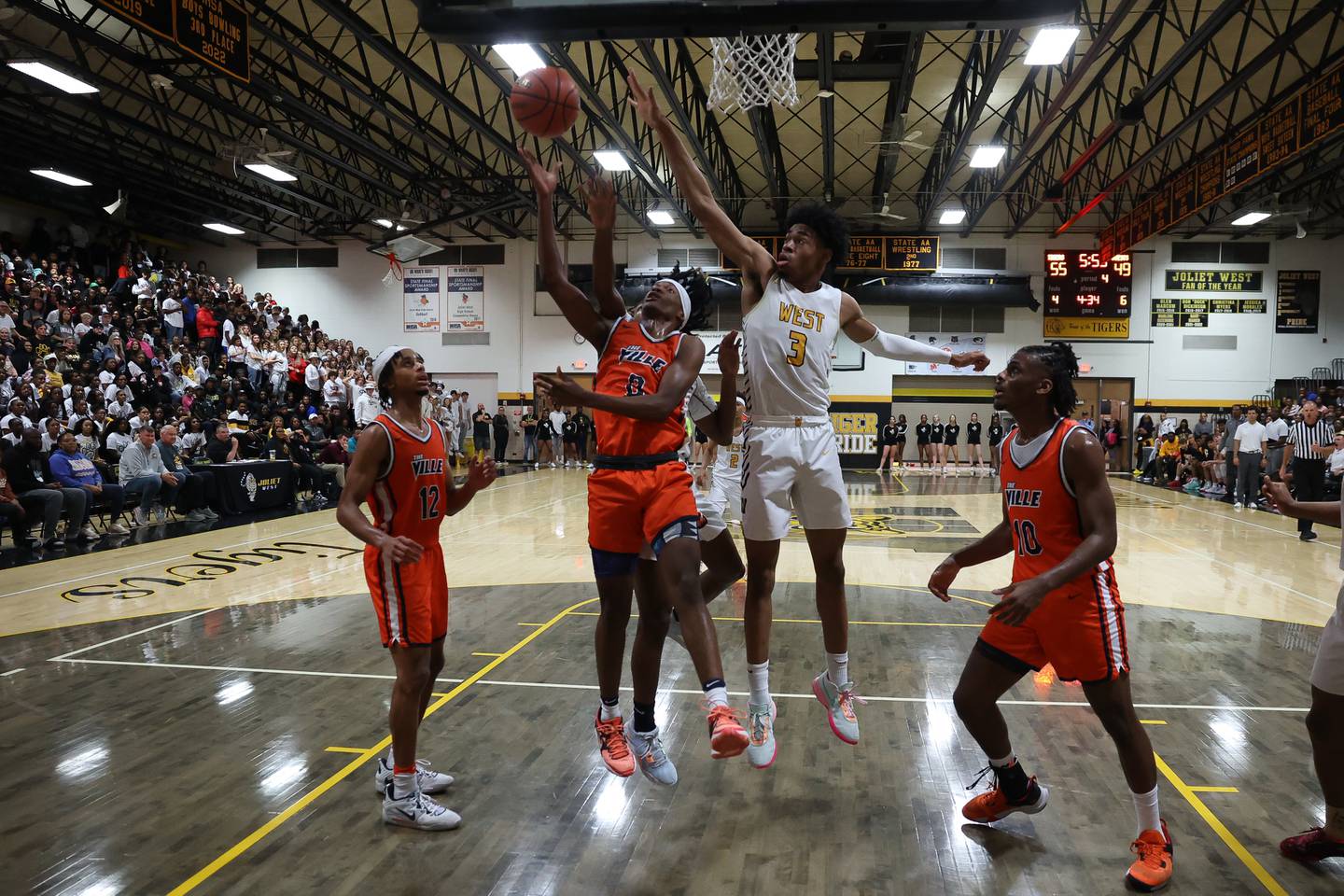 Romeoville certainly had its eyes on doing so. After claiming a 34-33 first-half lead, the Spartans (4-2, 1-1) pushed their lead to 40-36 on a 6-2 run to start the second half.
Even after Joliet West (5-1, 2-0) answered that small push with a 9-0 scoring run of its own, Romeoville didn't let the Tigers run away and hide.
But teams as good as Joliet West sometimes find creative ways to gain separation.
After Jeremiah Fears (team-high 23 points) split a pair of free throws, a loose ball situation allowed Joliet West to retain possession with three-tenths of a second left in the third quarter.
Jeremy Fears, who sat long stretches of the game with foul trouble, was quickly substituted into the game and passed along a series of instructions to one of Joliet West's big men, Drew King, for a possible tip-in.
The defense bought into the ruse, gliding to defend King on the inbounds, which allowed Jeremy Fears to slip into open space for the tip-in of his own and allowed Joliet West to leave the third quarter with a 55-47 cushion.
"I just told Jeremiah to throw it up there, and I'd just tip it up," Jeremy Fears said.
It was an odd night for Jeremy Fears. The Michigan State recruit was whistled for his second foul five minutes into the game and his fourth foul at the 2:11 mark of the third quarter. It was a bit of a tight-rope walk for him for most of the game, but even on the bench he didn't hesitate to provide the leadership that Joliet West needs to thrive.
"I had early fouls, but I had to do what I needed to do," Jeremy Fears said. "When I did get back in, I just tried to be a leader on the floor. Know that I didn't have to score, play make, just being me."
Jeremy Fears' foul trouble gave other Tigers an opportunity to step up and take some of the spotlight. King had an excellent game off the bench, scoring eight points and had multiple blocked shots, while Arquis Yancey and Aaron Gant Jr. provided lifts to the Joliet West backcourt.
Yancey, who was just cleared to play coming off a meniscus injury, hit a big 3-pointer that pushed Joliet West's lead into double digits for the first time midway through the fourth quarter.
"I want to give love to Aaron Gant and Arquis Yancey for the contributions that they made to tonight's game," Kreiger said.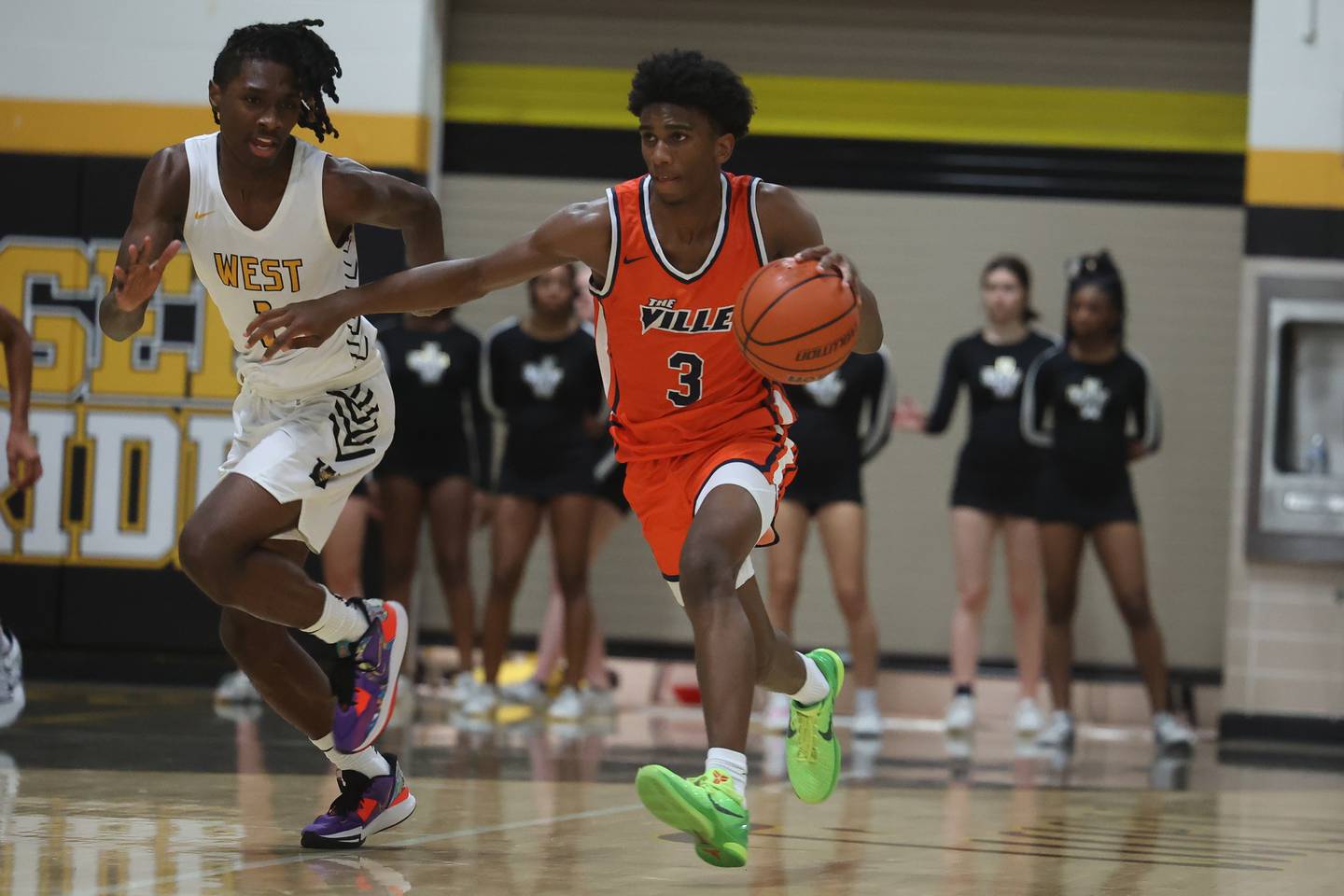 Romeoville got a strong effort from Troy Cicero Jr., who led all scorers with 26 points. Meyoh Swansey added 15, T.J. Lee had 13 points, and Deonte Cunningham added 12.
The Spartans were very much the aggressor, but ultimately that rigorous style led to four different Romeoville players exiting due to fouling out.
"The officiating was neutral, and I loved how physical they allowed this game to be," Kreiger said. "But we forgot how to match that. When they are diving on the floor and they are ripping the ball out of our hands, you just have to be willing to meet a bull with a bull. We didn't do that all of the time, but at the end of the game, we're not going to worry about what the 'W' looked like."