FRANKFORT — Entering Saturday afternoon's game, Lincoln-Way East boys basketball coach Rich Kolimas knew that non-conference opponent Plainfield East would like to get the ball inside to 6-foot-6 junior Andrew Soenksen.
So, his team pressured further out on the court than they normally do, and guards Tylon Tolliver and Kaiden Ross were instrumental in keeping the ball on the perimeter, away from Soenksen. The Griffins also forced 15 Bengal turnovers, all of which helped lead to a 62-40 win for Lincoln-Way East (6-9).
"We knew that Plainfield East is very patient and they run their offense well," Kolimas said. "We pushed our defenders out on the floor and put pressure on. They did a real good job and made Plainfield East uncomfortable."
The Griffins controlled the game from the start. After Soenksen was able to get the first basket of the game, Lincoln-Way East scored the next eight points, incuding a steal and a layup by Ross. A basket by Caleb Jackson ended the Griffins' run before Lincoln-Way East got a free throw by George Bellevue (15 points, 11 rebounds) and a basket by Tolliver, who led all scorers with 16 points, to take an 11-4 lead at the first-quarter mask break.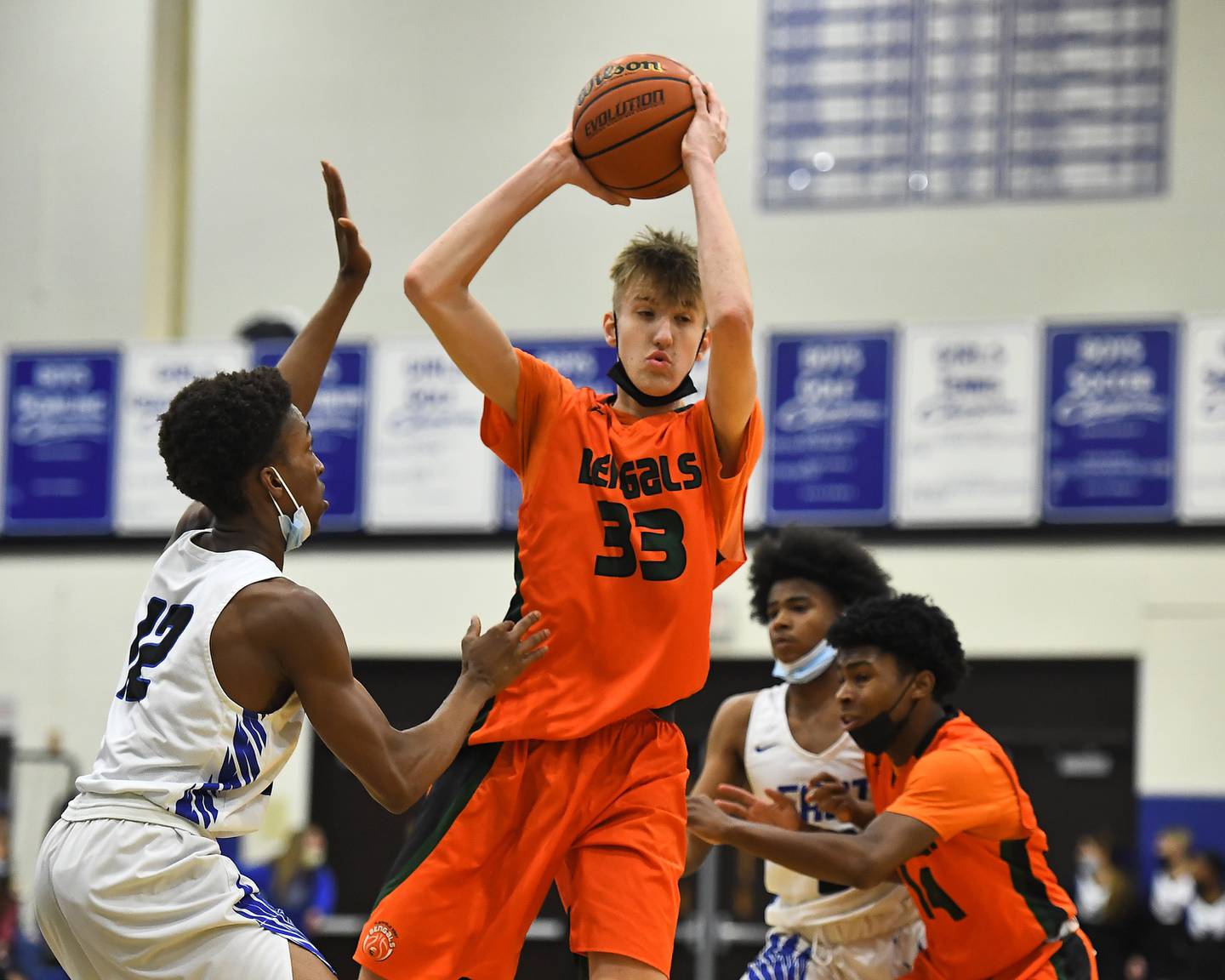 The first quarter ended with the Griffins holding a 15-8 lead, which increased to 18-8 when Tommy Cheney hit a three-pointer to start the second. Plainfield East (5-9) answered with a 7-0 spurt to trim the lead to 18-15. A three-pointer by Jayden Silva started the run, followed by a basket bay Joshua Whitehurst and a put-back by Soenksen, who finished with a team-high 11 points. Silva had three three-pointers and finished with nine points.
"We played with more energy in the first half," Plainfield East coach Michael Fowler said. "We have found ourselves in the same position in a lot of games. We are struggling to score, and when you aren't scoring a lot, you can't turn the ball over and give the other team more scoring opportunities.
"Playing a game at 1:30 on Saturday after a Friday night conference game is tough, and you have to have that effort for four quarters."
Lincoln-Way East rebounded to take a 27-17 lead into halftime.
The third quarter saw Tolliver score eight points, including a pair of three-pointers, while Ross also drained a trey for East as the Griffins held a 44-29 lead heading into the fourth. They kept their foot on the gas as the fourth started, going on an 8-0 run for a 52-29 lead, and cruised from there.
"In the first half, they went away from their man-to-man and went to a 1-3-1 zone," Kolimas said. "We haven't seen a lot of zone, so we made some adjustments at halftime and attacked it better. It helped that we hit some shots from outside and they had to go back to man-to-man. When they did, we had a size advantage and got some inside scoring.
"We had a rough start to the year, but we went to Effingham for a tournament and bonded. We are getting better and we might be getting ready to make a run in the second half of the season."