Joliet Central
Coach: Larry Thompson
Last season's record: 5-7
Top returning players: Josh Adim, sr. (G, 5-10); Brian Campbell, sr. (F, 6-3); Aiden Finch, sr. (G/F, 6-1); Marquis Johnson, sr. (G/F, 6-1); Anthony Lee, sr. (G/F, 5-8); Keyshawn Smith, sr. (G, 5-6)
Top new players: Anthony Nava, sr. (G, 5-4); Jayden Turner-Jackson, jr. (G/F, 6-3)
Worth noting: Joliet Central has a number of players returning with some varsity experience but still needs some players to step into more regular roles. Adim is the team's leading returning scorer after hitting at a seven points-a-game clip last season, but the Steelmen will need some players to step up and fill some voids.
"We are very happy to have a chance to play a full high school basketball schedule this season," Thompson said. "We expect to be competitive and represent Joliet Central with the resiliency of Steel."
Joliet West
Coach: Jeremy Kreiger
Last season's record: 12-2
Top returning players: Skylar Crudup, sr. (G/F, 6-1); Jayden Martin, jr. (G, 6-1)
Top new players: Jeremiah Fears, fr. (G, 5-10); Drew King, so. (C, 6-7); Justus McNair, so. (G, 6-2)
Worth noting: The Tigers are hoping that success will breed success with a number of younger players who need to step into larger roles. Crudup and Martin logged meaningful minutes over the past two seasons and should provide a solid foundation. The breakout could be Fears, whose older brother Jeremy remains at La Lumiere Prep Academy in Indiana.
"We are excited for this young group that has been able to view our past two years of success and now have the opportunity to build upon that success coming into year three of our leadership," Kreiger said. "Where we lack true varsity on-court experience we have some very talented, athletic and driven student athletes. Like previous years, we will rely on our team defense to wear teams out, play in transition and allow for a balanced attack offensively with contributions from all over."
Minooka
Coach: Kevin Cain
Last season's record: 8-5
Top returning players: Darren Anderson, sr. (F, 6-3); Ricky Hill Jr., sr. (G, 5-10); Trevor Hudak, sr. (G, 6-1); Adrian Manning, sr. (G, 5-10); Cade Ooms, sr. (F, 6-0)
Top new players: Nick Andreano, Jr. (F, 6-3); Preston Van Pelt, jr. (G, 6-0)
Worth noting: Minooka likely will have one of the area's more electric backcourts with the combo of Hill and Hudak. Anderson is an intriguing player as well as the all-state track athlete will be asked to use his athleticism for Minooka.
"We bring back game experience and will be senior-heavy," Cain said.
Oswego
Coach: Chad Pohlmann (fifth season)
Last season's record: 2-6
Top returning players: Max Niesman, jr. (G, 5-10); Deakon Tonielli, jr. (F, 6-6); Caleb Wright, sr. (G, 6-3); Kyle Zeck, jr. (G, 5-10); Mark Melton. sr. (G, 6-0)
Top new players: Armani Hunter, jr. (G, 5-9); Jordan Brooks, so. (G, 6-1); Jeremiah Akin, jr. (F, 6-3); Noah Bush, jr. (G, 6-0); Nick Scott, jr. (F, 6-1); Demetri Barrett, jr. (F, 6-5)
Worth noting: The Panthers were very young last season, starting three sophomores in a season cut short due to a positive COVID test. Pohlmann likes the depth of this group, which is not big but has quickness, athleticism and some shooters. "Our experience is limited so we feel we will be better later in the year than right from the get-go," Pohlmann said. Niesman and Tonielli will lead as Oswego's two returning starters. Niesman averaged 10 points and shot 43% from the 3-point line as an all-conference sophomore guard. Tonielli, a Division I football prospect, averaged 10 points and five rebounds. Wright, Zeck and Melton all played limited minutes last season but will fill big roles this season. Hunter is a quick transfer from Neuqua Valley who is an outstanding defender with an improved shot, and Akin a transfer from Oswego East who provides excellent energy and rebounding. Pohlmann thinks Brooks could have a breakout year and is one of Oswego's best overall players who can score. "Our depth should aid our pressure defense style of play and motion offense," Pohlmann said.
Oswego East
Coach: Ryan Velazquez (fifth season)
Last season's record: 10-3
Top returning players: Patrick Robinson, sr. (6-5, G/F); DeVon Oregon, sr. (6-0, F); Darren Oregon (6-0, sr., G); Mekhi Lowery, jr. (G, 6-5)
Top new players: Gavin Garcon, sr. (G, 6-0); Joey Patti, jr. (PG, 5-9); Ryan Johnson, jr. (G, 6-6); Tyler Jasek, jr. (F/C, 6-6); Mason Blanco, jr. (G, 6-2)
Worth noting: The Wolves are an experienced and a competitive group with three returning starters from the team that won the Southwest Prairie West and a senior class that was unbeaten as sophomores. Robinson, a Missouri-St. Louis recruit, averaged 12.3 points, 3.3 rebounds and 2.2 assists as a junior and is a versatile talent with guardlike skills who can defend the post. DeVon Oregon averaged five points and Darren Oregon six points and are steady glue players who can guard. Lowery averaged seven points as a sophomore and has loads of potential. Garcon is another senior contributor with juniors Patti, Johnson, Jasek and Blanco providing depth. "The Wolves will look to compete every night and improve from last season," Velazquez said. "Oswego East looks to compete for a conference championship in a competitive SPC."
Plainfield Central
Coach: Gregg Bayer
Last season's record: 4-7
Top returning players: Colin Bailye, jr. (F/C, 6-6); Donovan Brown, sr. (G, 6-2); Luke Cervelli, sr. (C, 6-7); Bryce Shoto, jr. (G, 5-9)
Top new players: Marquese Dotson, sr. (F/C, 6-5); Alen Mujcinovic, sr. (G/F, 6-2); Cameron Velasquez, sr. (G/F, 6-1)
Worth noting: It wasn't a smooth sail for the Wildcats last season, but several younger players got plenty of minutes, including Shoto, the team's point guard and floor general, and Cervelli, who are returning starters. That experience could pay huge dividends, especially early this season.
"This group has a good balance of guard play and size which should make us difficult to defend," Bayer said. "They are a high IQ group who will play extremely hard. We look to be competitive in the always balanced Southwest Prairie Conference."
Plainfield East
Coach: Mike Fowler
Last season's record: 5-6
Top returning players: Donovan Byrd, sr. (G, 5-7); Dylan Silva, Sr. (F, 6-1); Bryant Tchoffa, sr. (F, 5-11)
Top new players: Jett Jones, so, (G, 5-10); Ehi Ogbomo, so. (G, 5-10); Andrew Soenksen, jr. (F, 6-6)
Worth noting: It will largely be a new group of Bengals that try to climb the ladder in the Southwest Prairie race as a large number of contributors have left via graduation. The roster does have some decent size with a trio of player 6-foot-6 or taller, which could help them gain an advantage.
"We will have a good mix of seniors and underclassmen, as well as a good mix of size this season," Fowler said. "We are looking to compete for the SPC East title."
Plainfield North
Coach: Robert Krahulik
Last season's record: 7-7
Top returning players: Demir Ashiru, jr. (G, 6-2); Braden Corbett, sr. (G, 5-8); Kendrick Cyracus, Sr. (F/C, 6-5); Drew Cznarik, jr. (F, 6-3); Mason Delaney, sr. (G, 6-1); Thomas Fitzgerald, sr. (C, 6-4); Dylan Lindberg, sr. (G, 6-0); Grant Wrobel, sr. (F/C, 6-4); Grant Zak, sr. (F, 6-3)
Top new players: Jeffrey Fleming, so, (G/F, 6-3); Gerald Floyd, jr. (F, 6-2); DeAngelo Jones, jr. (G, 5-9); Shaibu Mohammed, jr. (F/C, 6-5); Sean Schlanser, jr. (G/F, 6-1)
Worth noting: Plainfield North will be blending some new players into the mix as several key contributors have moved on. Ashiru was the team's leader in assists and second-leading scorer, while Delaney was the team's third leading scorer. Many of the other roles will be filled either by varsity newcomers or players that saw a limited role on last year's squad.
"A little different team than last year, look to be more uptempo," Krahilik said. "We'll pressure more on defense and expect to compete in conference and play hard every game."
Plainfield South
Coach: Tim Boe
Last season's record: 9-4
Top returning players: Kenyi Callahan, sr.; Nolan Gerdich, jr.; Zander Tubbs, sr.; Tim Ward, sr.
Top new players: Tristan Acevedo, jr.; Joe Allison, jr.; Jon Carr, sr.; Ethan Crandall, jr.; Kelvin Tate, sr.; Jermaine Theodore, jr.
Worth noting: Plainfield South lost quite a few valuable members of its roster to graduation and has only one returning starter from a squad that reached the SPC Tournament championship game, falling to Joliet West. Callahan is that lone returning starter, but there are several others that logged minutes last year.
"An undersized Cougars team will have to rely on it's heart, hustle and desire as it's balanced attack on offense and defense will look for extra energy from its deep bench," Boe said.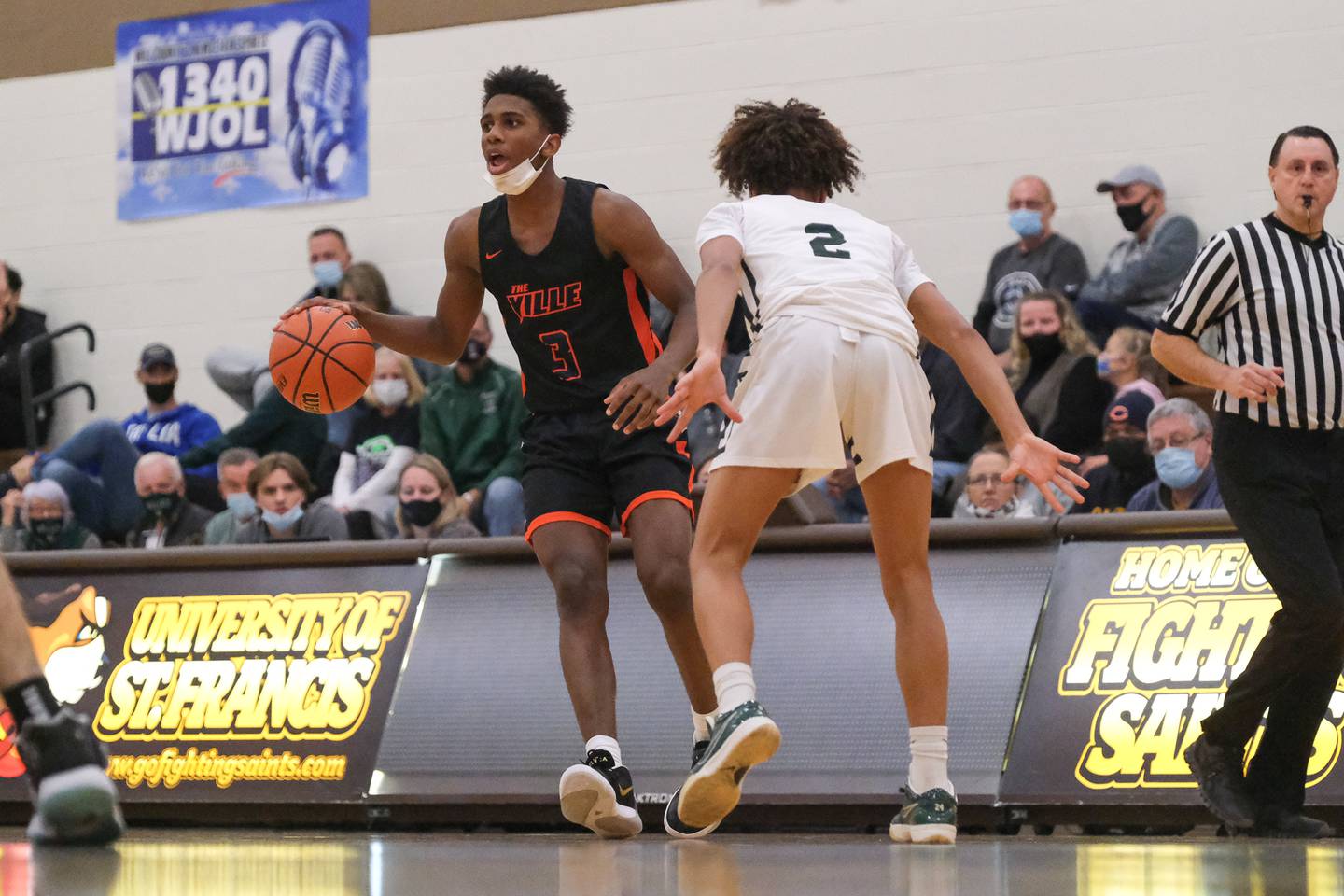 Romeoville
Coach: Mark Howard
Last season's record: 4-8
Top returning players: Deonte Cunningham, jr. (F, 6-4); Torry Harris, jr, (F, 6-5)
Top new players: Troy Cicero, jr. (G, 6-1); Kaharie Logging, jr. (F, 6-5); Meyoh Swansey, so. (G, 6-2); Keshaun Vavel, fr. (G, 6-0)
Worth noting: The Spartans are almost an entirely different team than last season. Joliet Central transfer Troy Cicero provides a solid scorer for Romeoville to lean on, but the other components are largely unknown. But promising underclassmen Swansey and Vaval are expected to make an impact despite their youth and inexperience and the junior class has good size and some potential breakout players in that mix.
West Aurora
Coach: Brian Johnson
Last season's record: 1-15
Top returning players: Ty Rogers, sr. (F, 6-7); Isaiah Siler, sr. (G, 6-0); Kenyon Weekley, sr. (F, 6-5)
Top new players: Josh Pickett, so. (G, 6-4)
Worth noting: The Blackhawks took their lumps last season, but did manage to get some underclassmen some valuable minutes and West Aurora should be in much better shape this time around because of it. Rogers was an All-Conference performer who averaged 12 points and five rebounds as a junior, while Weekley was also contributing at an 8-point, 5-rebound clip. Pickett will immediately bolster the West Aurora backcourt as he is regarded as a top prospect from the Class of 2024.
"Last year was a tough year," Johnson said. But we are bringing back a senior group that grinded through the bizarre year and have strong varsity playing experience. We look forward to competing every night in a tough conference."
Yorkville
Coach: John Holakovsky (second season)
Last season's record: 3-7
Top returning players: LeBaron Lee, jr. (F, 6-5); Nate Kraus, sr. (G, 6-1); Justin Jakstys, sr. (F, 6-8); John Swarn, sr. (G, 5-10)
Top new players: Mike Dunn, so. (G, 5-10); Jovaughn Brown, jr. (G, 6-1); Lucas Fisher, sr. (G, 6-1)
Worth noting: The Foxes are either young or inexperienced throughout most of their roster. Lee is the only player who returns who received regular minutes in every game last season. Swarn, Kraus and Jakstys all had moments where they contributed, but had much smaller roles than what will be expected this year. There is perhaps more height and athleticism than Yorkville teams the past few seasons, but it's a young and inexperienced group.
"I think we will have some learning moments throughout the year but also have a lot of potential to upset teams in conference and win nonconference games," Holakovsky said. "It will all depend on how we develop and grow throughout the four-month season."