CHANNAHON – Camyn Viger probably could have run faster Saturday. Instead, the junior led a pack of his Plainfield South cross country teammates over the finish line at Channahon Community Park to pace the Cougars to the team title in the Class 3A regional hosted by Minooka.
Viger's 3-mile time of 15:37 on the hilly 20-turn course was off his course-record pace of 14:45 of earlier this season, but with the first five Cougars coming across the line like the Blue Angels in formation at the Chicago Air and Water Show, 0.7 of a second separating Viger from Dylan Maloney, with Owen O'Shea, B.J. Sorg and Ethan Reynoso in between, the team strategy paid off.
"It makes me feel amazing to run as a pack like that and still come out on top," Viger said. "I was definitely expecting us or [Plainfield] North to win. This week, we took it a little easier. Next week, we'll get back into it and go hard."
The pack formation was concocted by the team, coach Jason Crowe said.
"They wanted to work together; that was the plan as a team," Crowe said. "We're celebrating our seniors today."
Plainfield North senior Oliver Burns won the individual race in 14:51.7, beating Oswego East's Parker Nold to the line by 1.6 seconds. Burns was almost a minute ahead of teammate Owen Stahl, but the Tigers, in finishing second, also advanced to sectionals as a team, as did Yorkville, Oswego East, Oswego and Minooka.
"It felt hard because I was expecting more people to be around me," Burns said. He called on an experience in this year's Bix 7, a distance race in Davenport, Iowa, to carry him along.
"From a mile in to the end was just like the Bix. There, I was running alone, racing myself to become better. Today's time was all right for today. That's all I needed to do, but I was hoping to do a little bit more."
Marcellus Mines of Joliet West was happy to be running at all. The junior had missed several weeks, including last week's conference race, with back issues. He was running free at Saturday's start, but a mile in, it began to tighten. But Mines had faith he would finish.
"God's got my back," Mines said. "He lets me push through everything, so I wasn't worried at all. It got tight, but I think I'll be able to push through it for the rest of the season."
He finished fourth, the first runner to qualify as an individual, and will be joined by teammate Julian Esquivel. Plainfield Central qualified three individuals: Tyler Schick, Harlan Watson and Arnold Arce.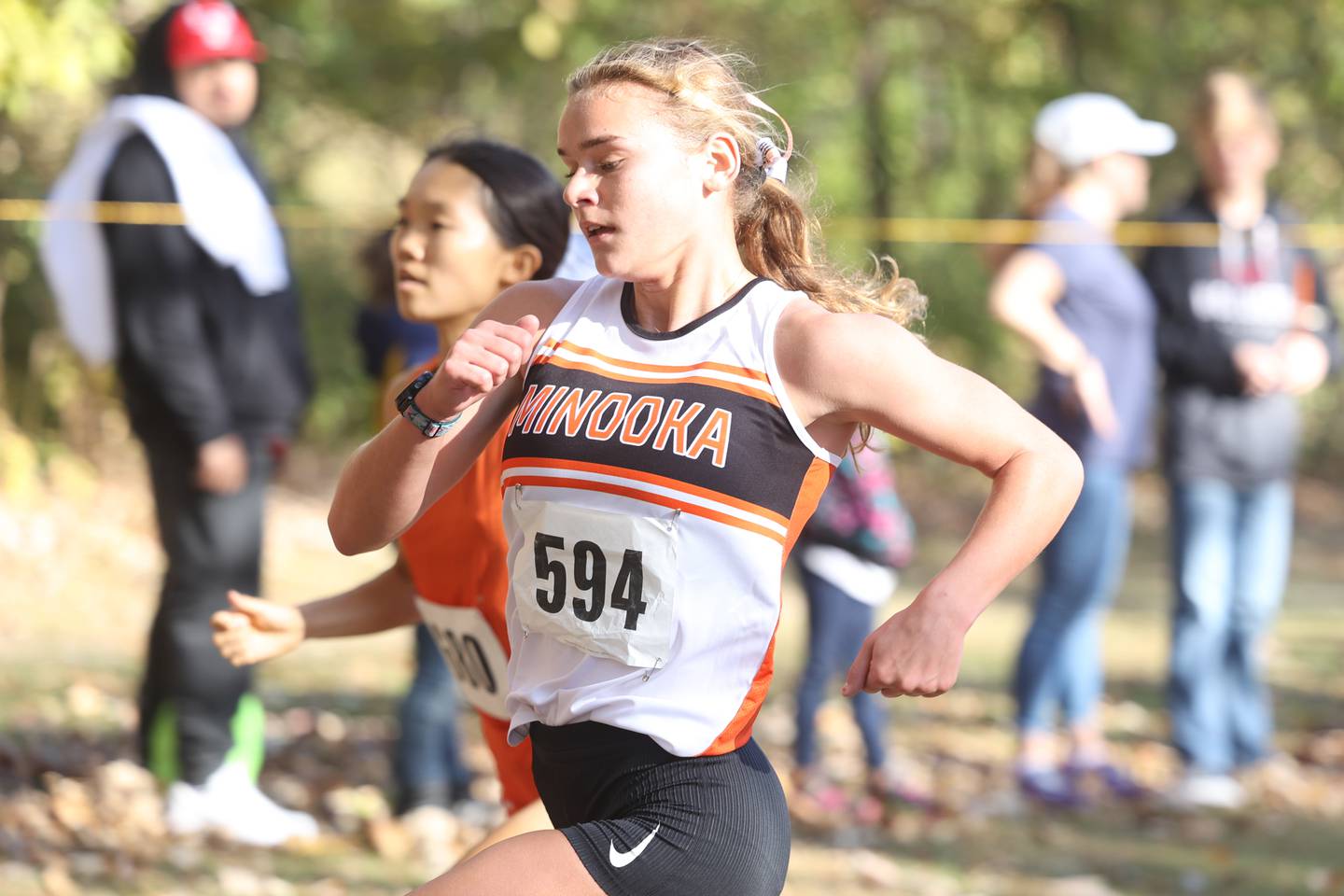 While Minooka's boys grabbed the last spot in next week's sectional, the Minooka girls grabbed the regional title. Sophomore Maya Ledesma led the Indians with a career-best second-place finish in 18:05.2, 14.5 seconds behind Oswego's Audra Soderlind (17:50.7).
"We've built a bond this season," Ledesma said. "We have each others back throughout the race. Even if I'm ahead, I can hear the cheering for my teammates behind me."
For Kevin Gummerson, who coaches both Minooka squads, advancing twice over as a team was the key.
"That's the element: the team," Gummerson said. "If you know you've got six other girls, and the alternates, counting on you, you're going to push hard. Maya did a tremendous job today."
Soderlind took second in last year's regional in Moline, and ascended to the top this year with a simple strategy.
"My coach [Alicia Rafferty] had us practice going out fast in all of our reps," Soderlind said. "It was helpful at the first turn, getting out fast. And just kind of hold it from there. The pace is easier once you settle in."
Soderlind led by about 14 seconds from about a mile in to the finish.
The girls teams of Oswego East, Yorkville, Oswego, Plainfield North and Joliet West also qualified. Lily Anderson of Plainfield East and Hannah Kilday and Bridget Kemp of Plainfield Central also advanced.