All-Area Team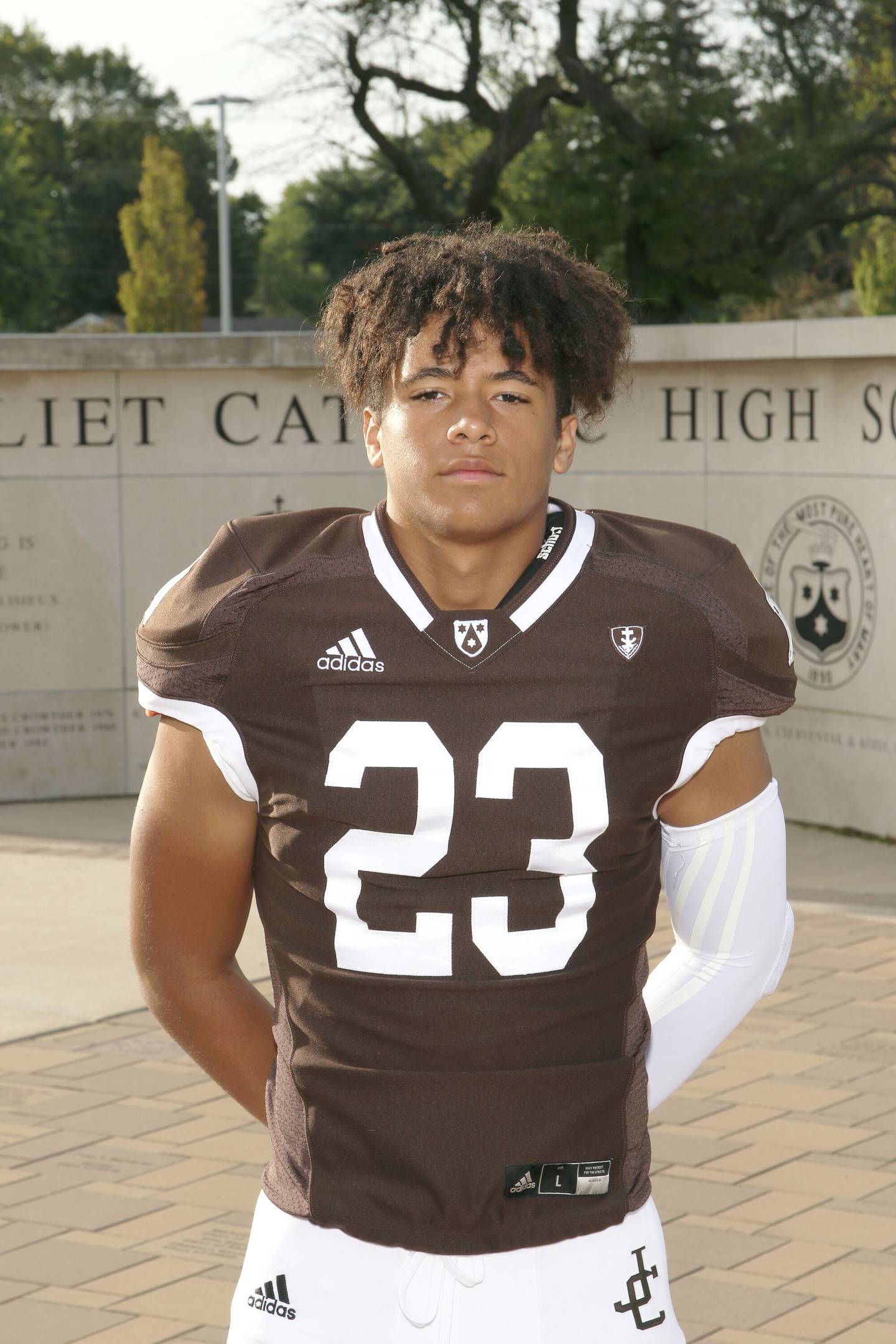 Jordan Anderson, Joliet Catholic, RB: The recent University of Illinois commit had a monster junior season leading the Hilltoppers' offensive attacek. He crashed through the 1,000-yard rushing barrier in only six games and did so with a limited workload that allowed him to average nearly 11 yards a carry to go with his 16 touchdowns, many of which were of the long-yardage variety.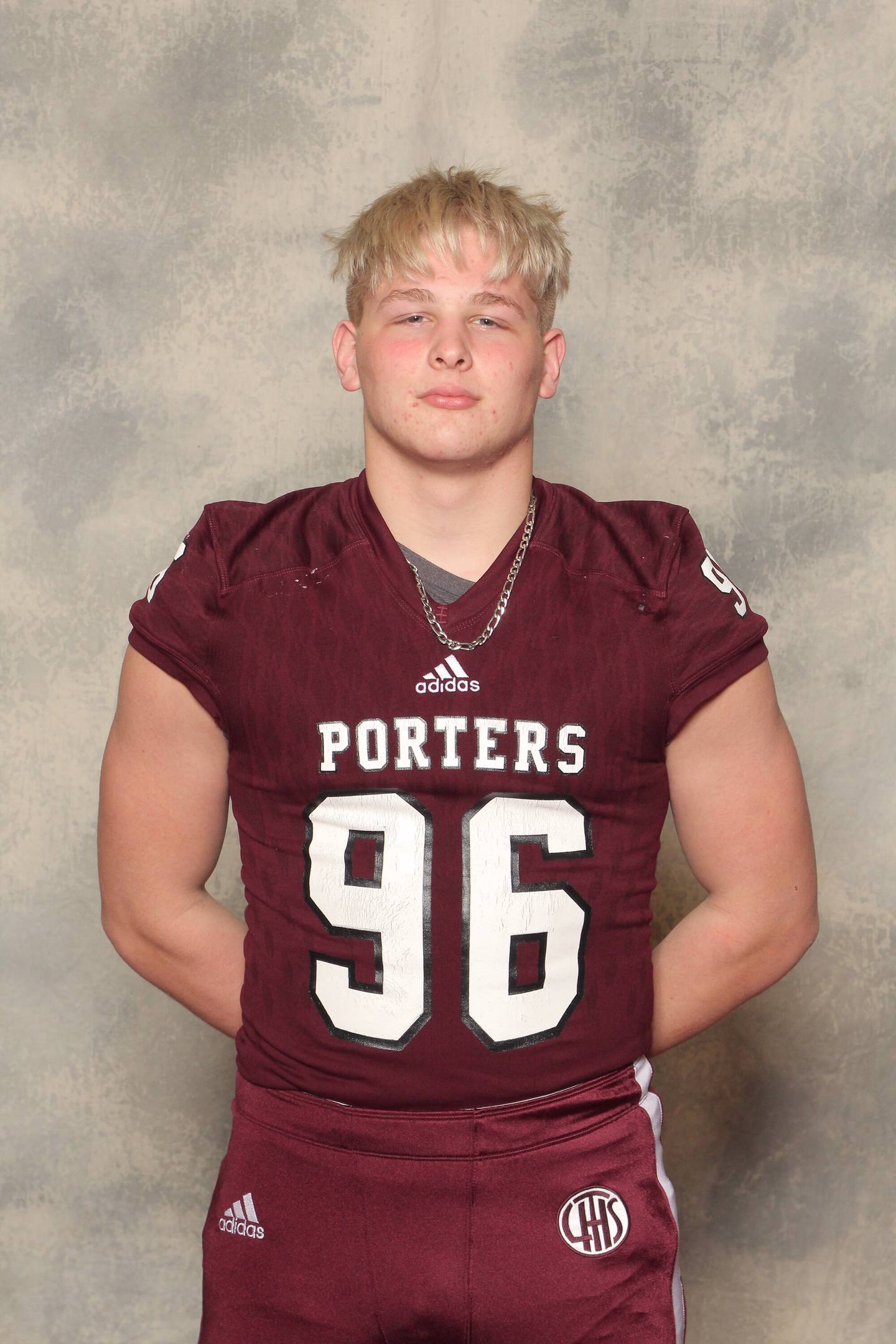 Andrew Blackburn-Forst, Lockport, DL: Almost an immovable object for the Porters up front, Blackburn-Forst was a real challenge for opposing offensive lines to contain. He finished with 34 total tackles, six for loss, and a pair of sacks while often drawing lots of extra attention from offensive lines trying in vain to slow him down.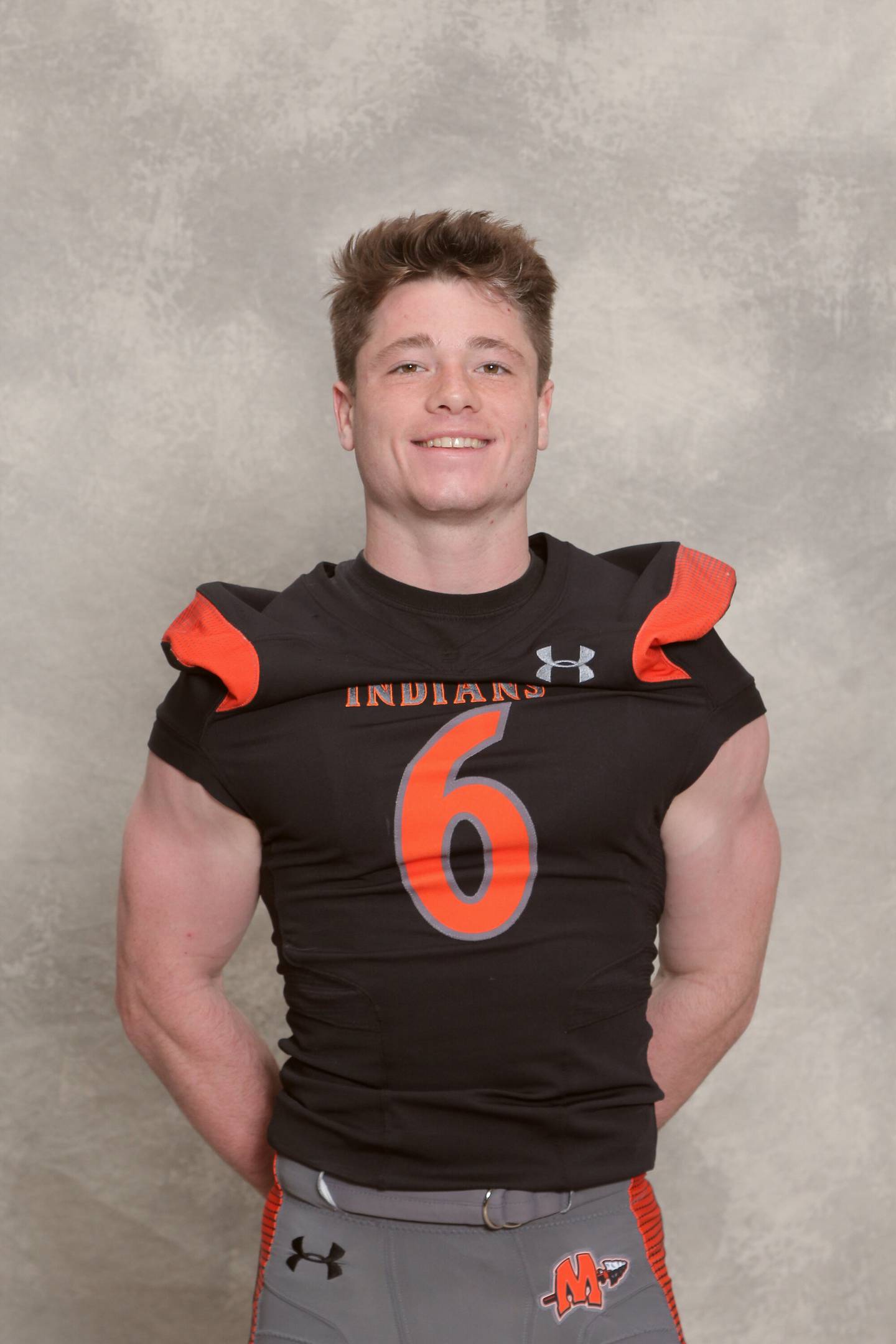 Mason Cave, Minooka, LB: Cave was a tackling machine for the Indians, averaging double-digit stops a game. He finished with 70 total tackles, with nine tackles for loss and a pair of sacks, and served as the bedrock for the Minooka defense.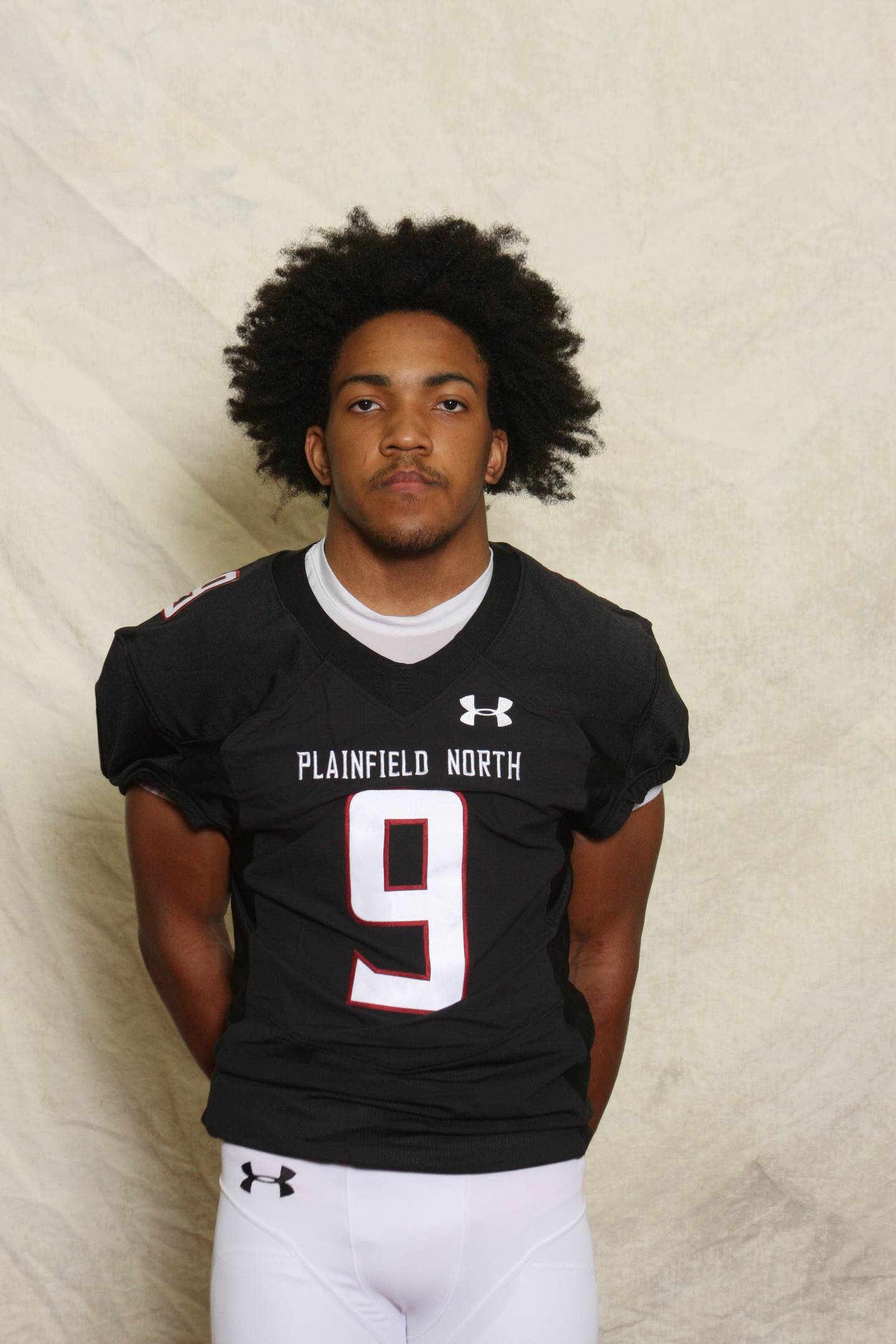 Carlos Conley, Plainfield North, DB: Conley's defensive stats don't crackle, but teams knew better than to throw in his direction very much. Conley was also a game changer on special teams, racking up return yards in bunches and turning the tide in several games with either return game scores or huge yardage gains.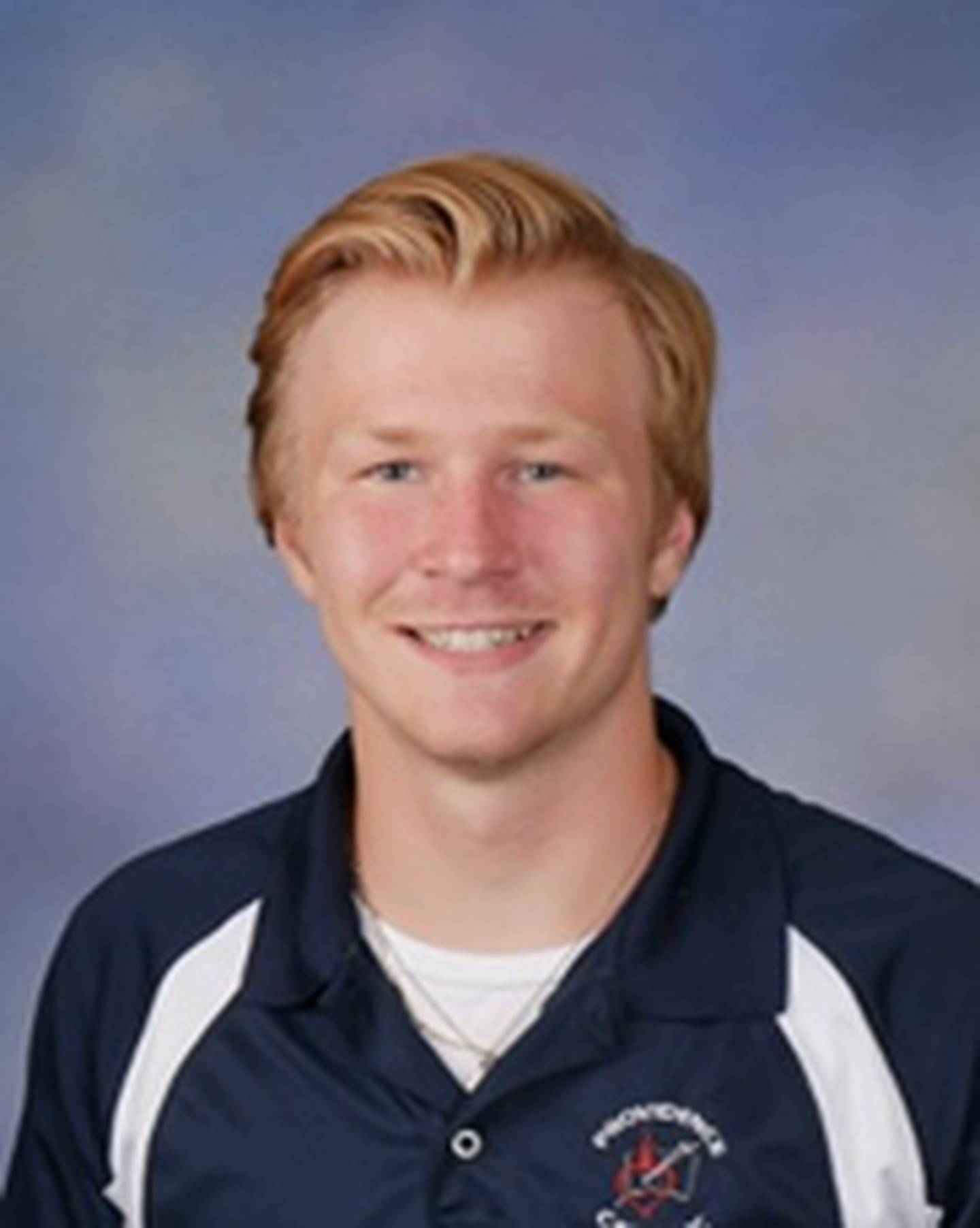 Kevin Conway, Providence, QB: Conway was the CCL-ESCC Green Co-Offensive Player of the Year, and it was easy to see why. In almost every game, Conway accounted for multiple Providence touchdowns either through the air or with his feet. He also was a contributor in the secondary.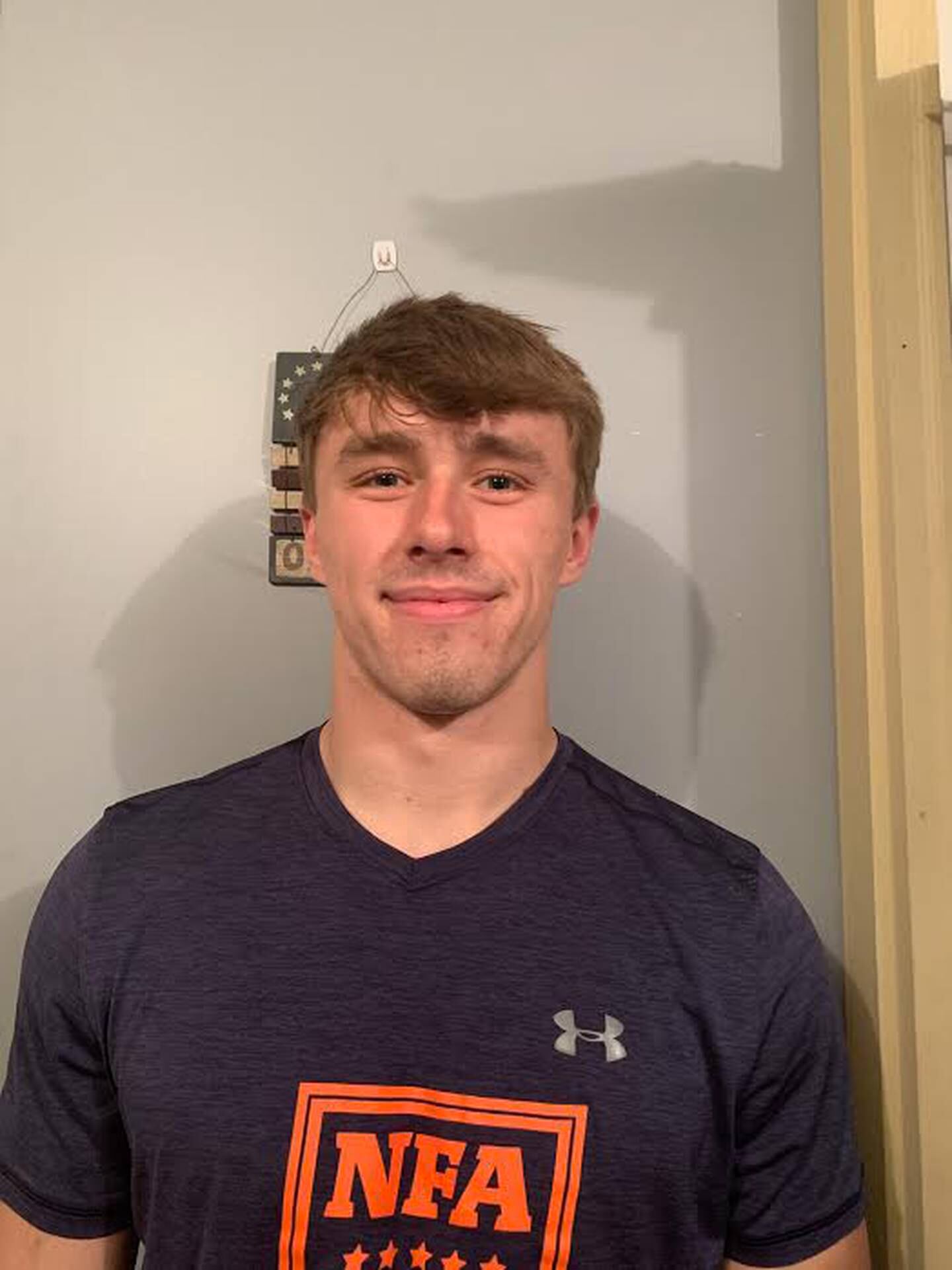 Asa Cooper, Coal City, RB: The Coalers got only five games in this season, but Cooper was an explosive force in every one of them. Cooper scored at least two touchdowns in every game and had 13 on the year. He finished with 804 rushing yards and ran for at least 140 yards in all but one game.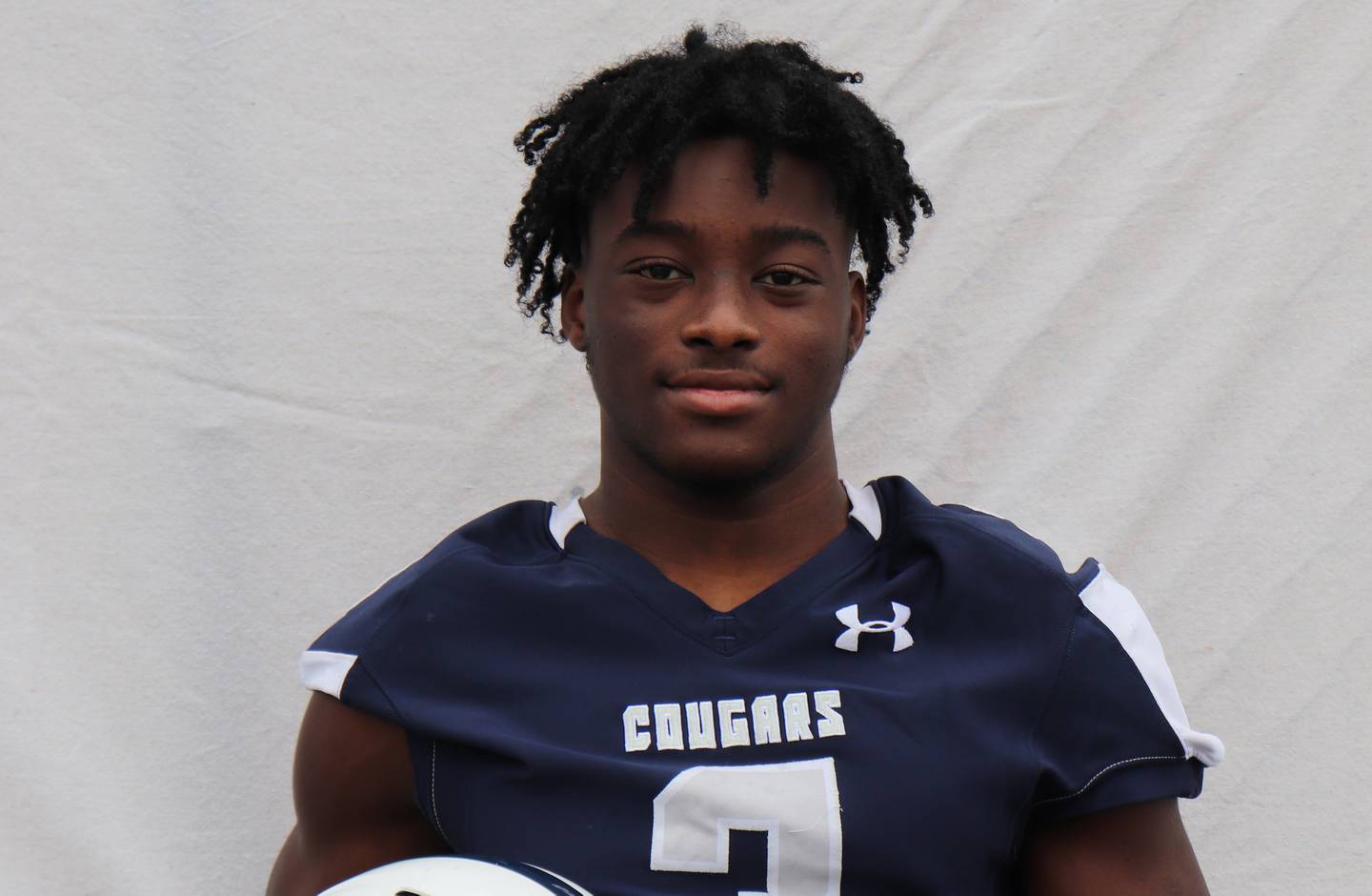 Chris Garrett, Plainfield South, DB: Garrett exemplified what Plainfield South defenses have become known for: a gritty sort that makes it extremely difficult on opponents to do what they want to do. Garrett recorded 11.5 total tackles, picked off three passes and ran one back for a score, impressive accomplishments especially when the Cougars were limited to four games.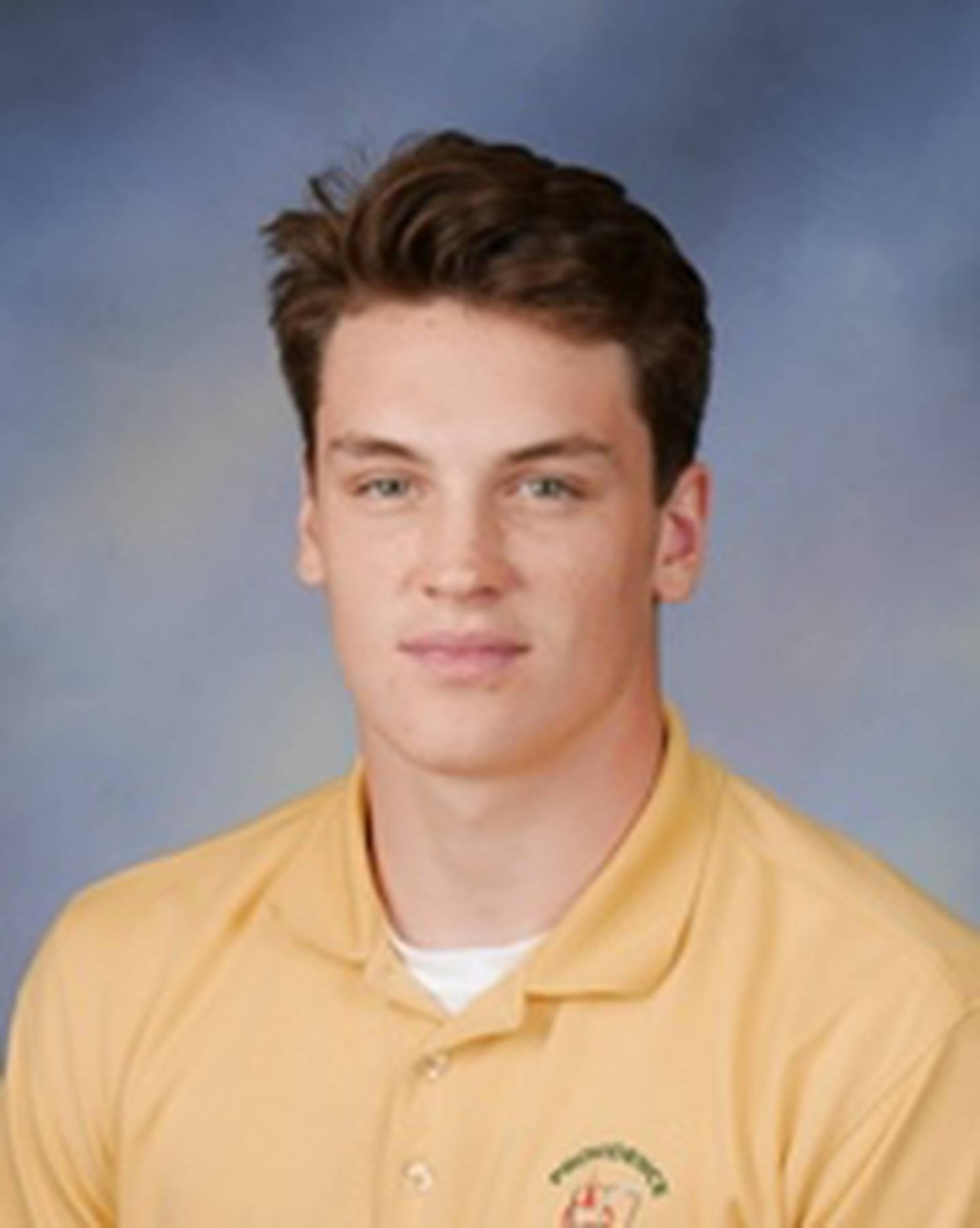 Jameson Geers, Providence, TE-DE: The Minnesota-bound Geers was a wrecking ball on both sides of the ball for the Celtics. He saw plenty of double-duty action this season, but it was really only his opponents who were feeling fatigued. Geers shared CCL-Green Offensive Player of the Year honors with teammate Kevin Conway.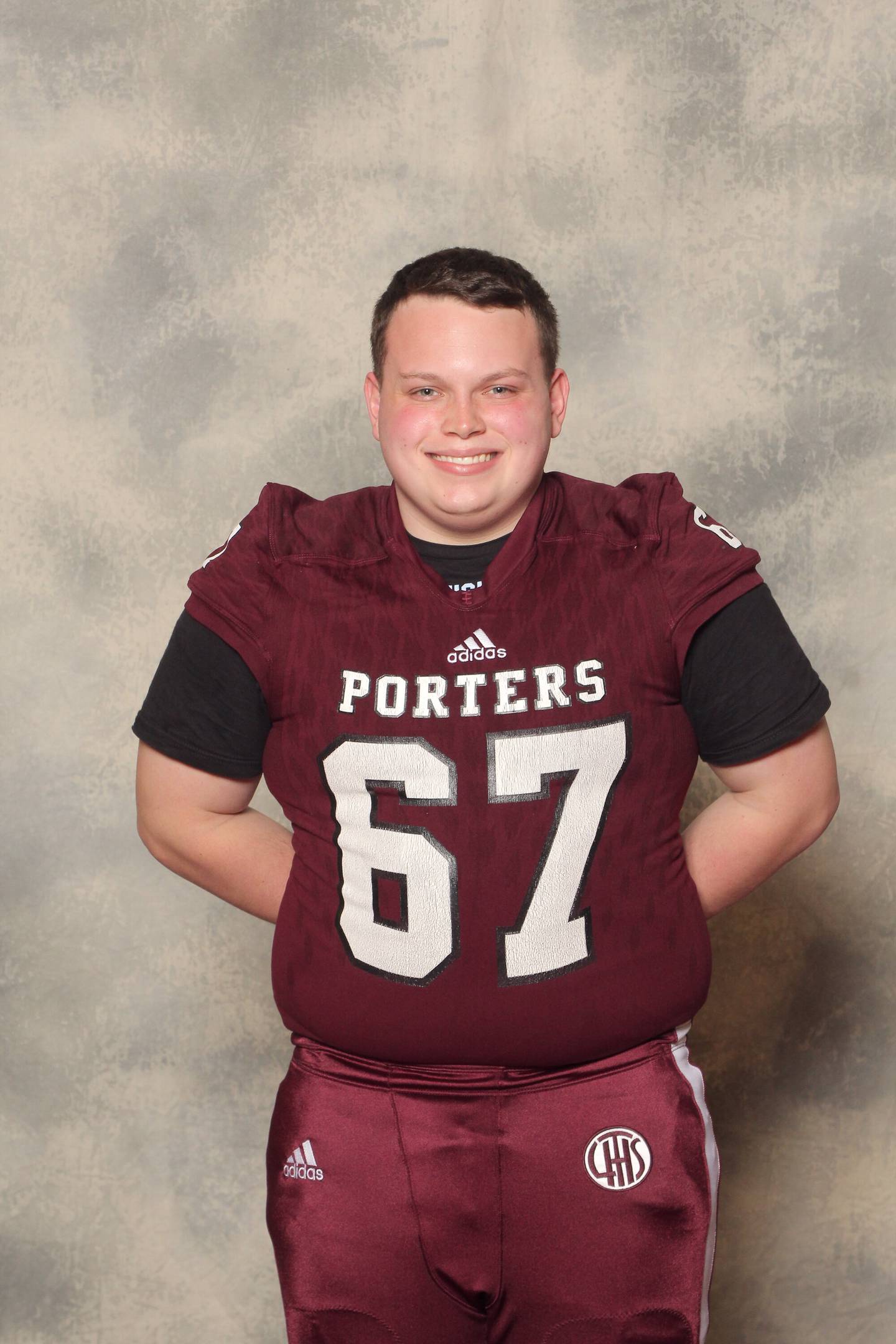 Kyle Hartman, Lockport, OL: Hartman was the leader of a solid, productive offensive line for the Porters. Lockport leaned heavily on the ground game and averaged just under 5 yards a carry, largely because of lanes created by Hartman and his teammates. Personally, Hartman provided more than 50 pancake blocks over his two-year varsity career.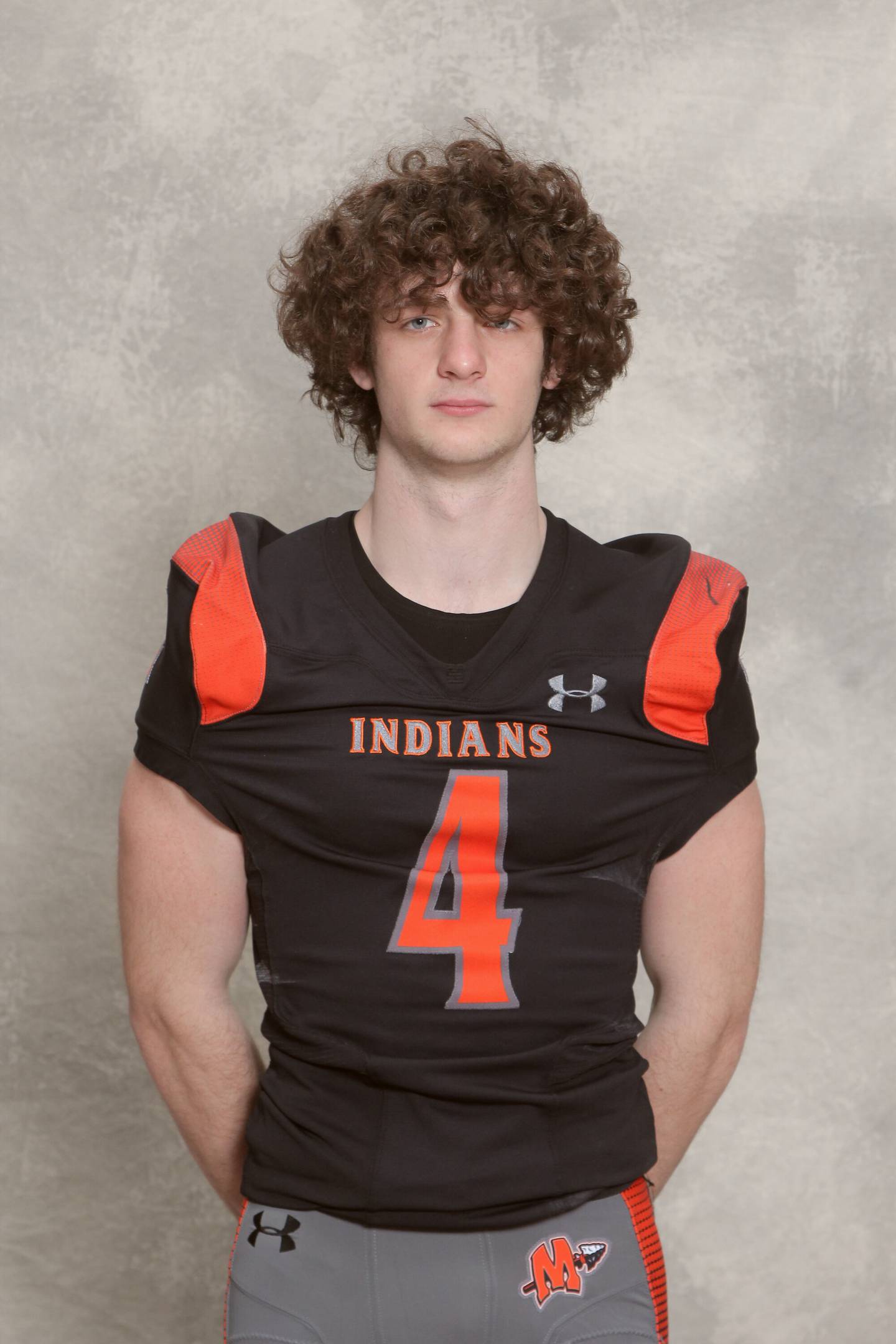 Trevor Hudak, Minooka, WR: Whenever Hudak touched the ball, a big play usually followed. Hudak averaged almost 10 yards a rush and nearly 20 yards a reception while also returning a punt for a touchdown and a kickoff for a score to finish with seven touchdowns.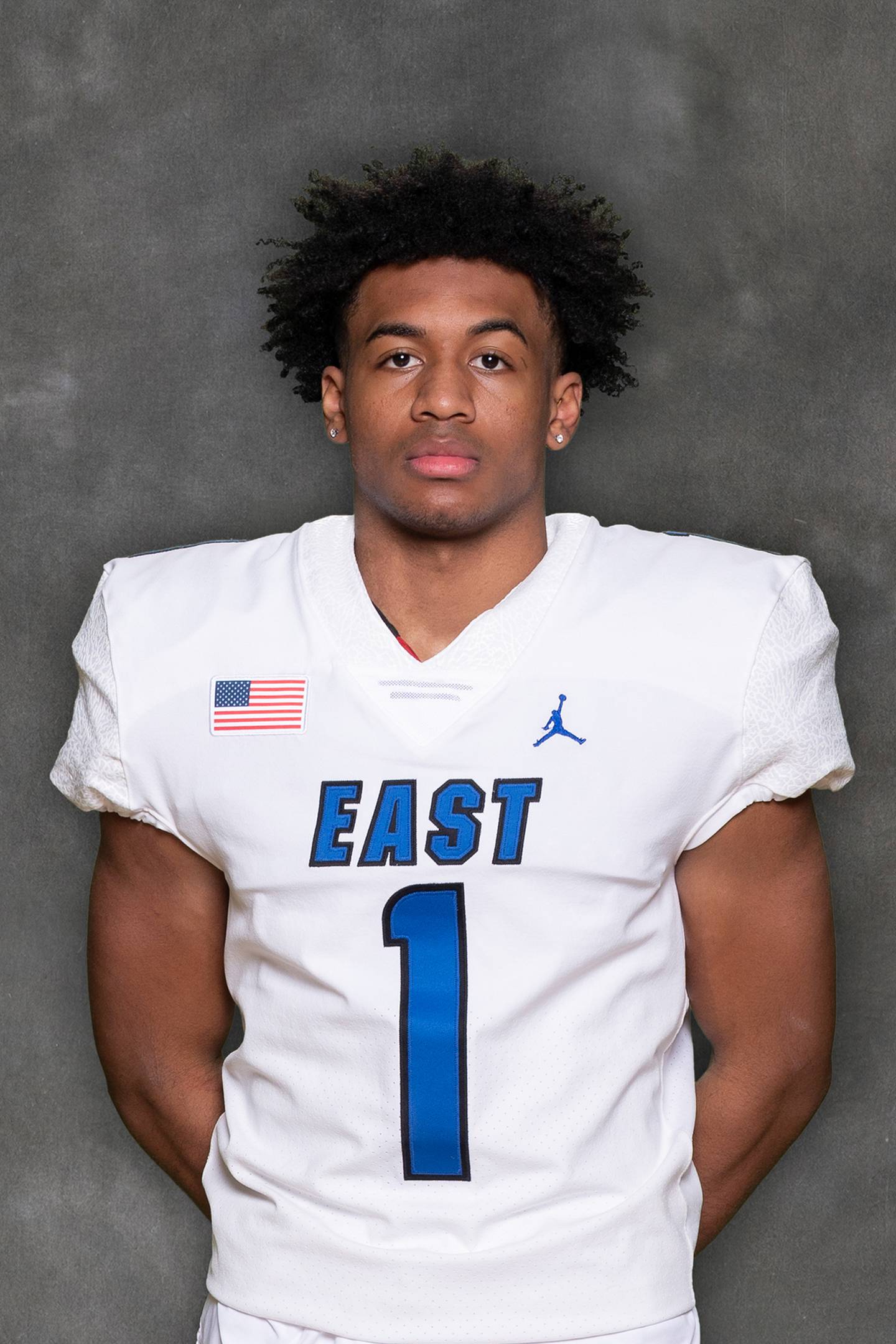 Jamal Johnson, Lincoln-Way East, RB: Despite many defenses engineered to try to take this Bowling Green recruit away, Johnson still managed to run for more than 100 yards in every game that he had a full workload of carries. Johnson's final numbers were limited by the fact that the Griffins often didn't have starters playing full games because of lopsided scores, but there was no one they wanted the ball with more when outcomes were not clear.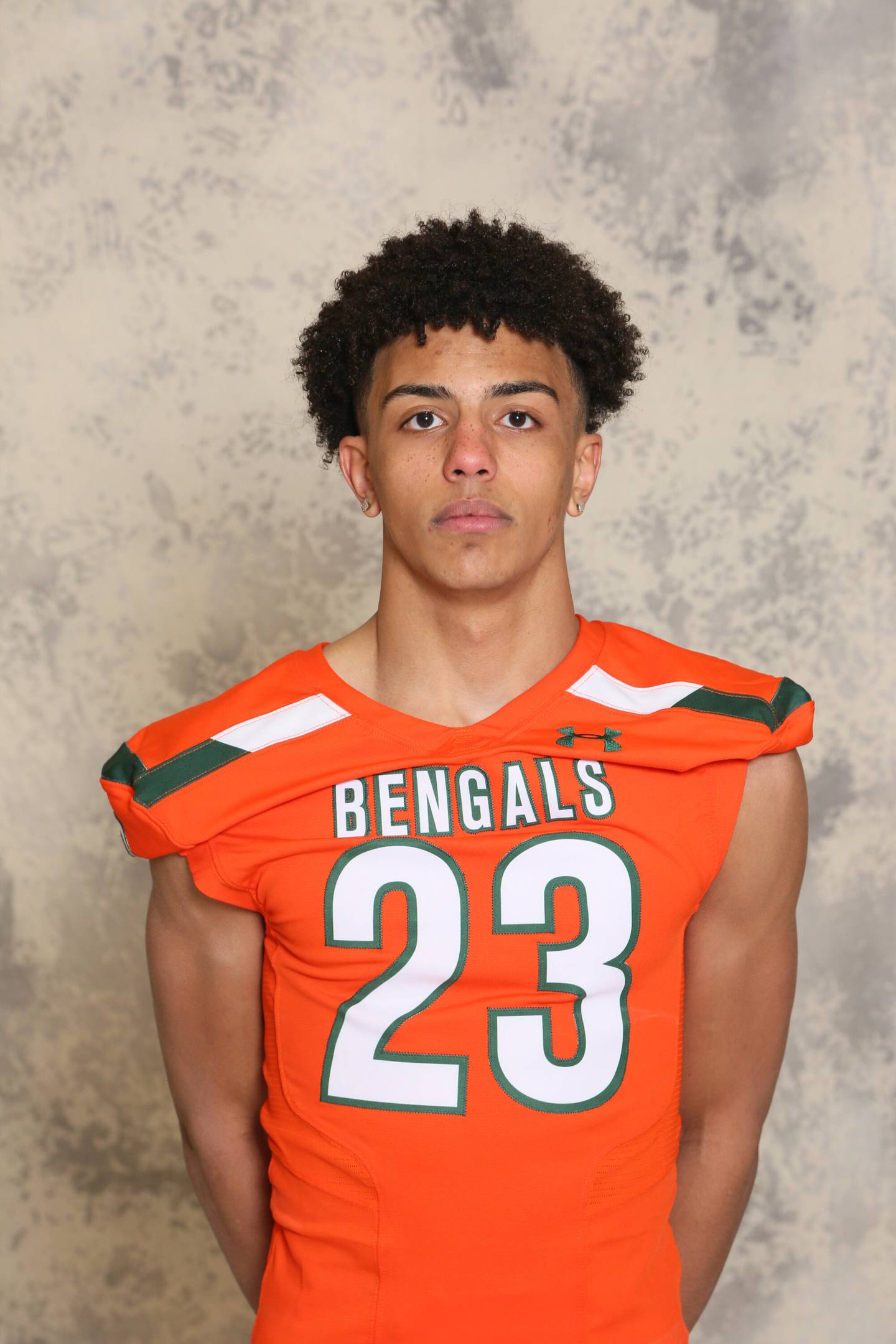 Jordan Knowles, Plainfield East, WR: Knowles put up video game numbers this season primarily for his ability as a yards-after-the-catch monster. He latched on to 28 passes for 760 yards, an average of more than 27 yards a catch. He also scored on 43% of passes he caught, as he scored 12 times.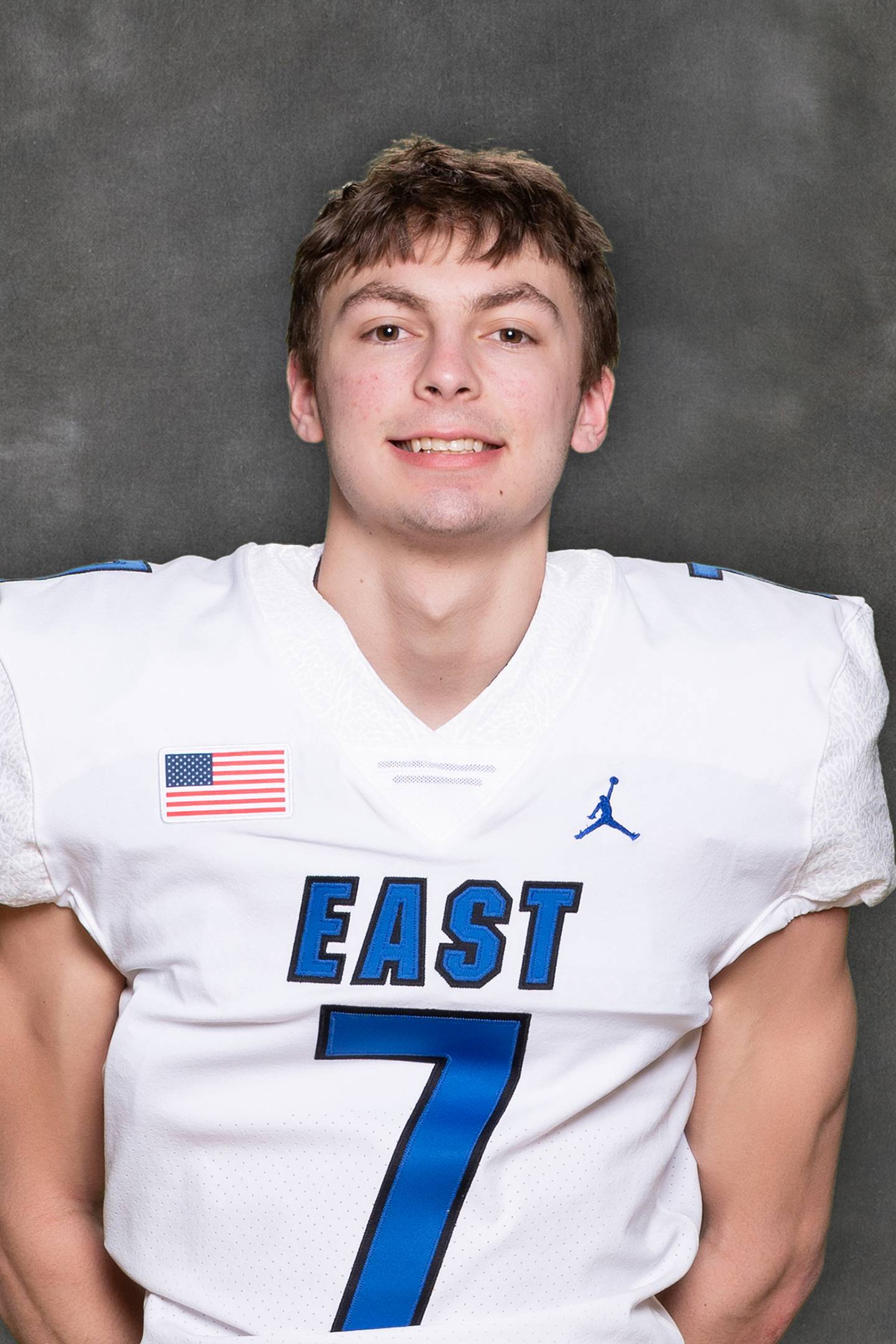 Matt Kordas, Lincoln-Way East, S: The Bowling Green recruit went from being one of the younger inexperienced leaders of a great defense to one of the leaders of a defense that did not miss a beat. Kordas was part of a unit that made passing into the Griffin defense a hazardous exercise.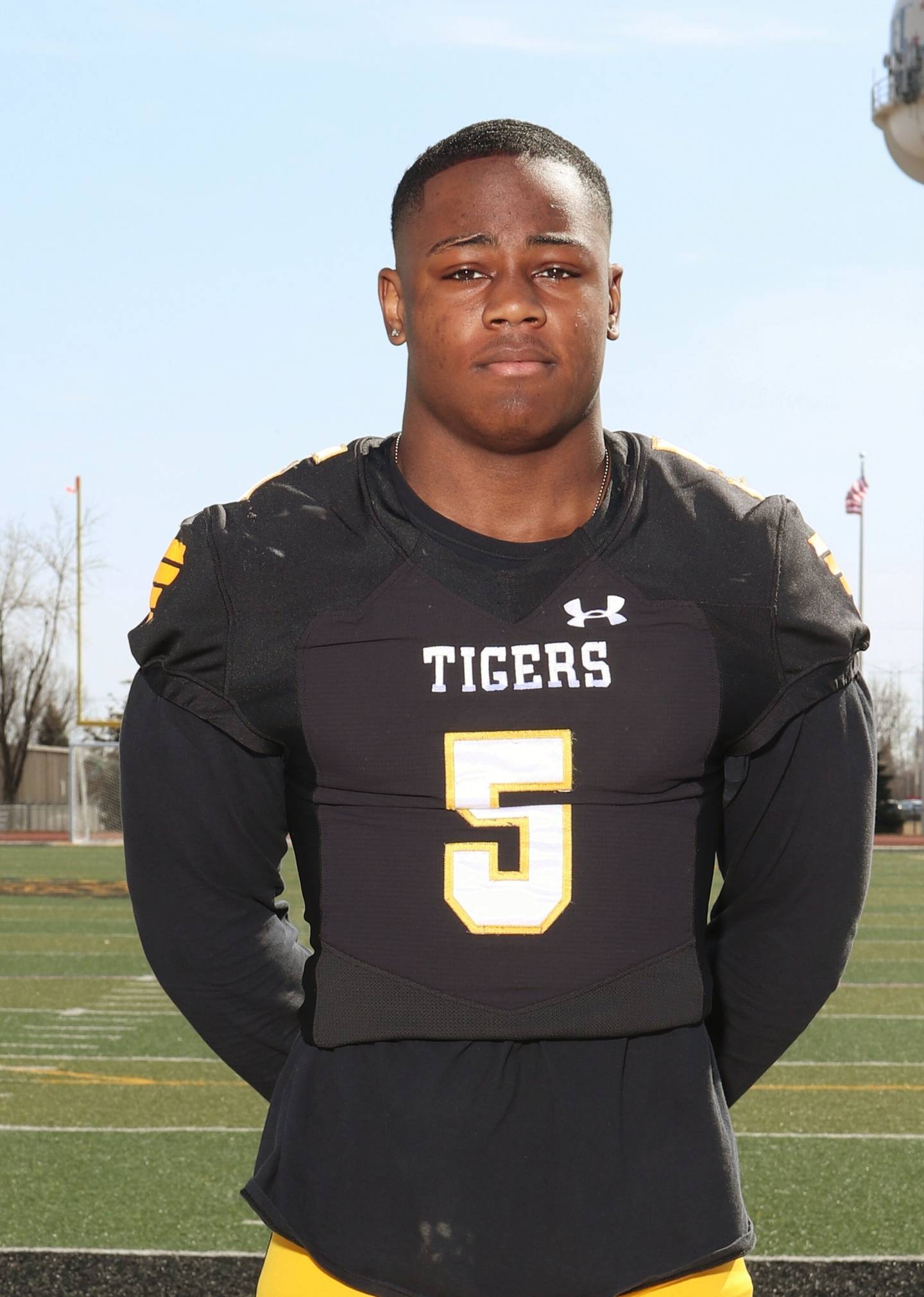 Bryan McCoy, Joliet West, LB: McCoy earned his reputation as one of the state's best prospects in the junior class by putting forth a dominating effort in the heart of the Tigers' unit. He proved to be adept both as a run stopper and in pass coverage.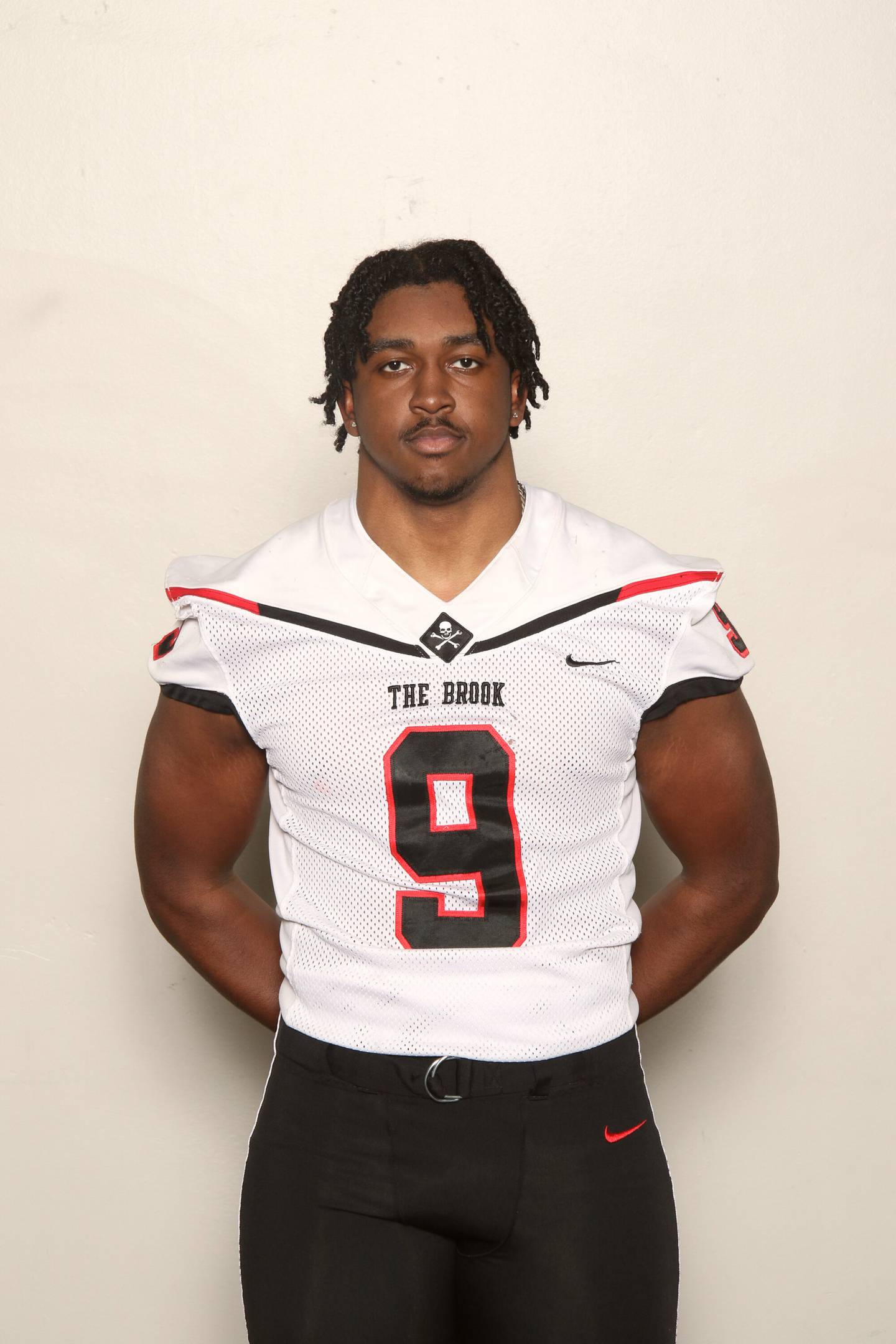 Tyler McLaurin, Bolingbrook, LB: McLaurin served as another coach on the field and mentor for a young Raiders defensive unit. A highly skilled and savvy player, McLaurin seems more than prepared to transition into a Big Ten-level player next season as a Michigan commit.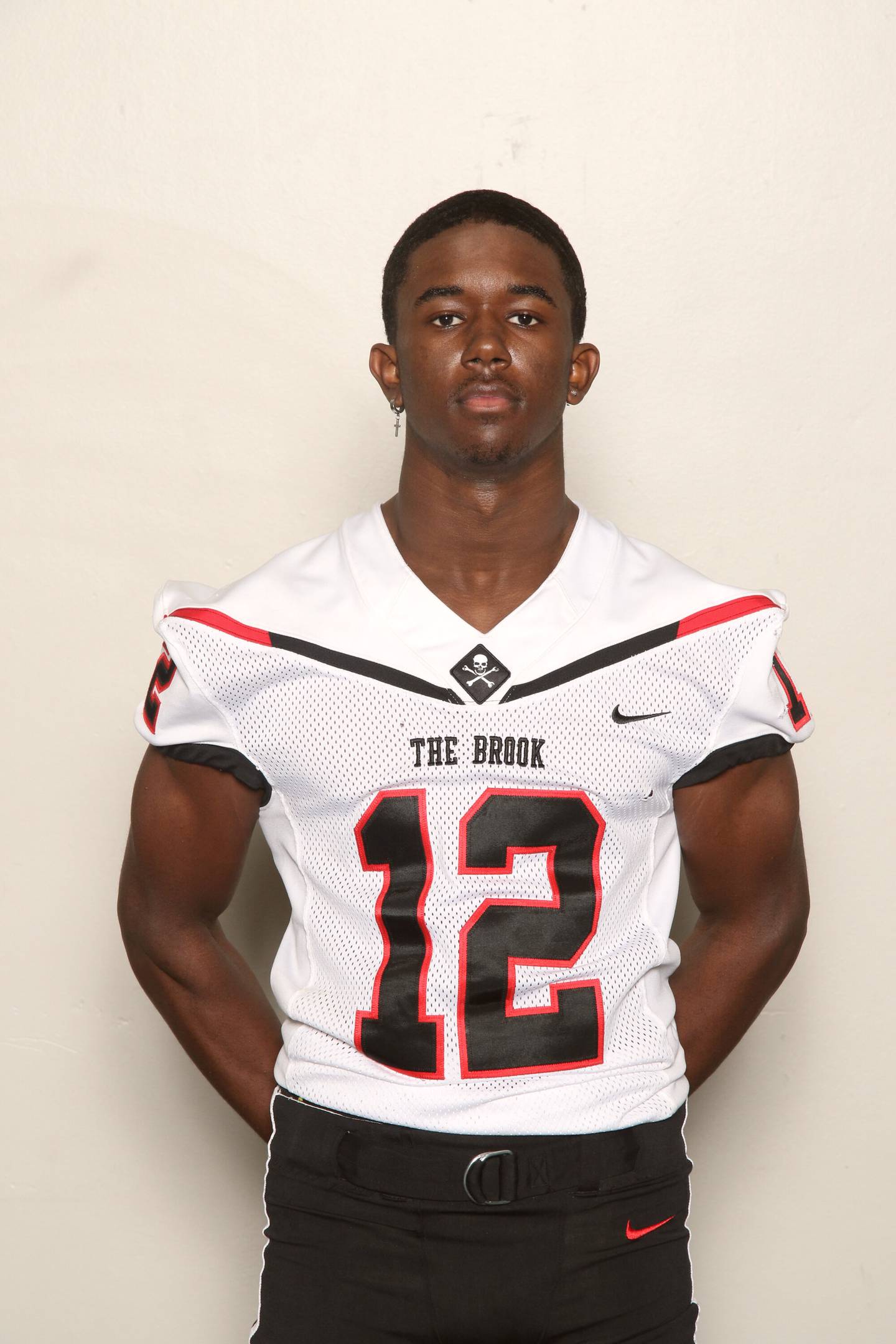 Andrew McElroy, Bolingbrook, WR: The Raiders went away from a traditional run-heavy offense to more of an aerial attack, and one of the reasons was they'd better be able to use the many skills of McElroy. He developed into a serious home run threat and made circus catches on the regular.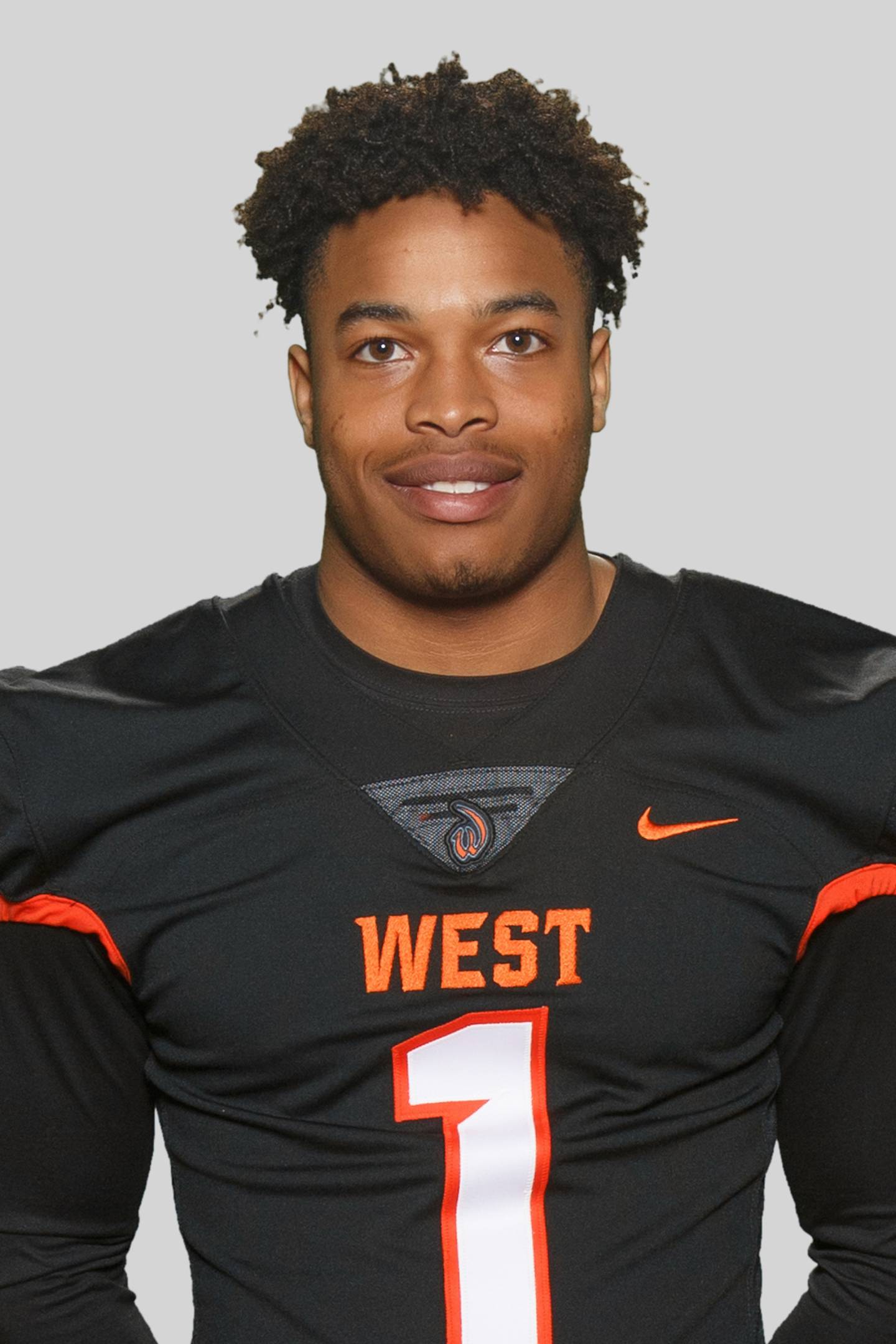 Eric Nowak, Lincoln-Way West, WR-DB: Nowak simply made things happen for the Warriors. He made 20 catches, averaging more than 26 yards a catch. He finished with seven touchdowns scored in a variety of ways and was a lockdown cornerback on defense. He rarely left the field in close games.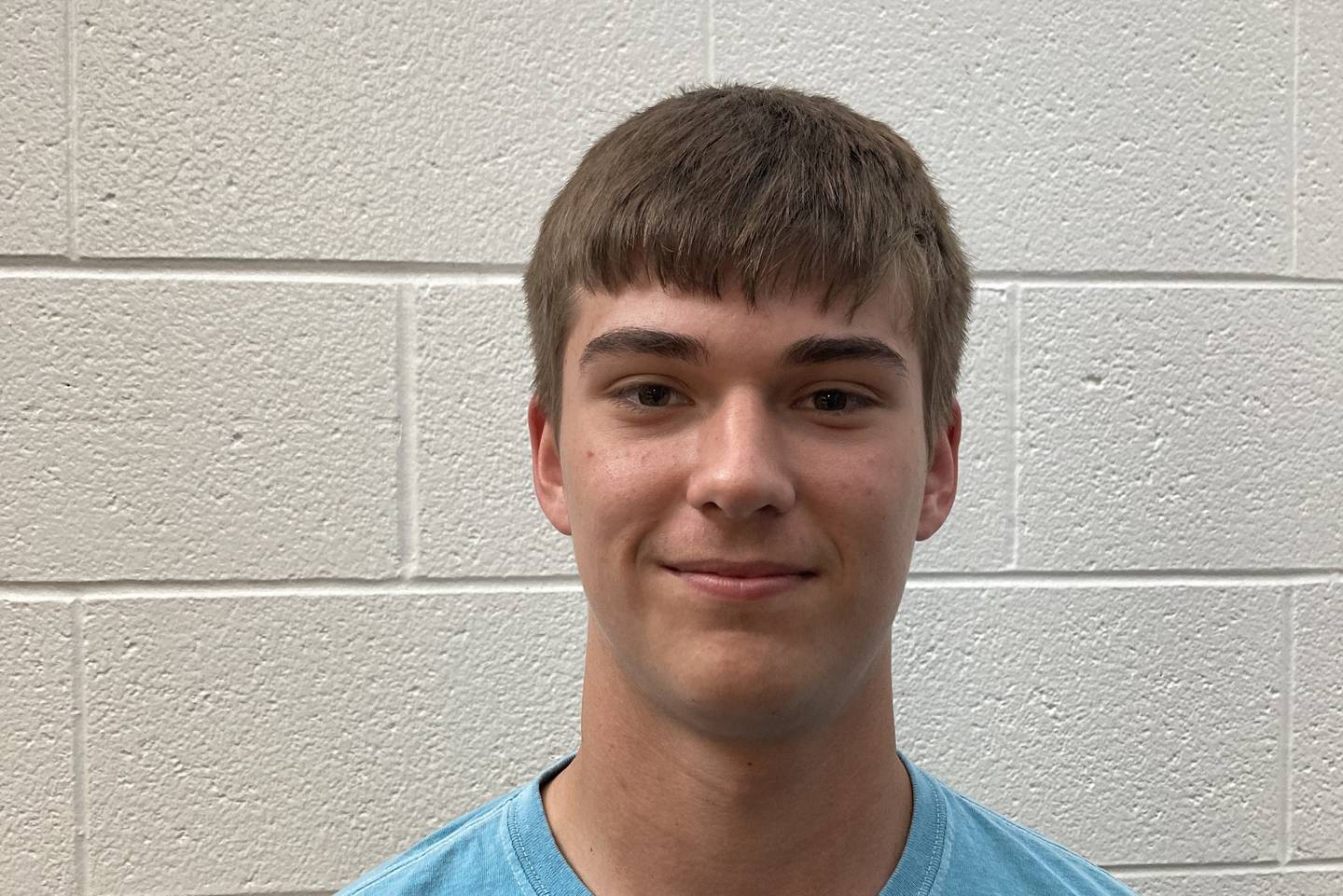 Zachary Romak, Morris, QB: Romak was an impressive engineer for the Morris offense. He threw for nearly 1,000 yards and 13 TDs and was the team's leading rusher, piling up almost 400 yards on the ground while tacking on two more scores.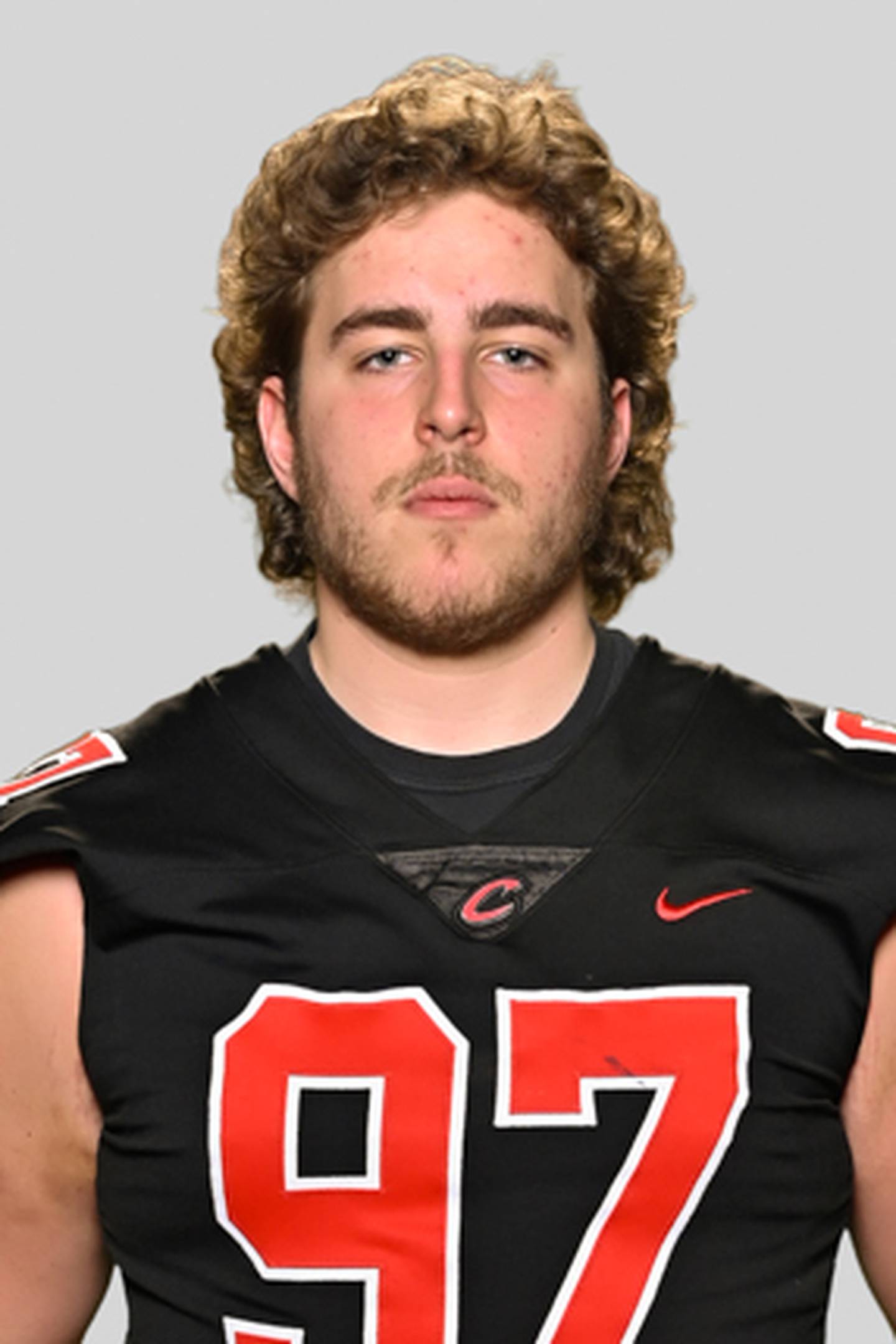 Kyle Shalati, Lincoln-Way Central, DL: Lincoln-Way Central's defense was salty this season, and a big reason for that was Shalati, who was in the center of it all creating havoc in the trenches. He finished with 41 total tackles and a pair of sacks.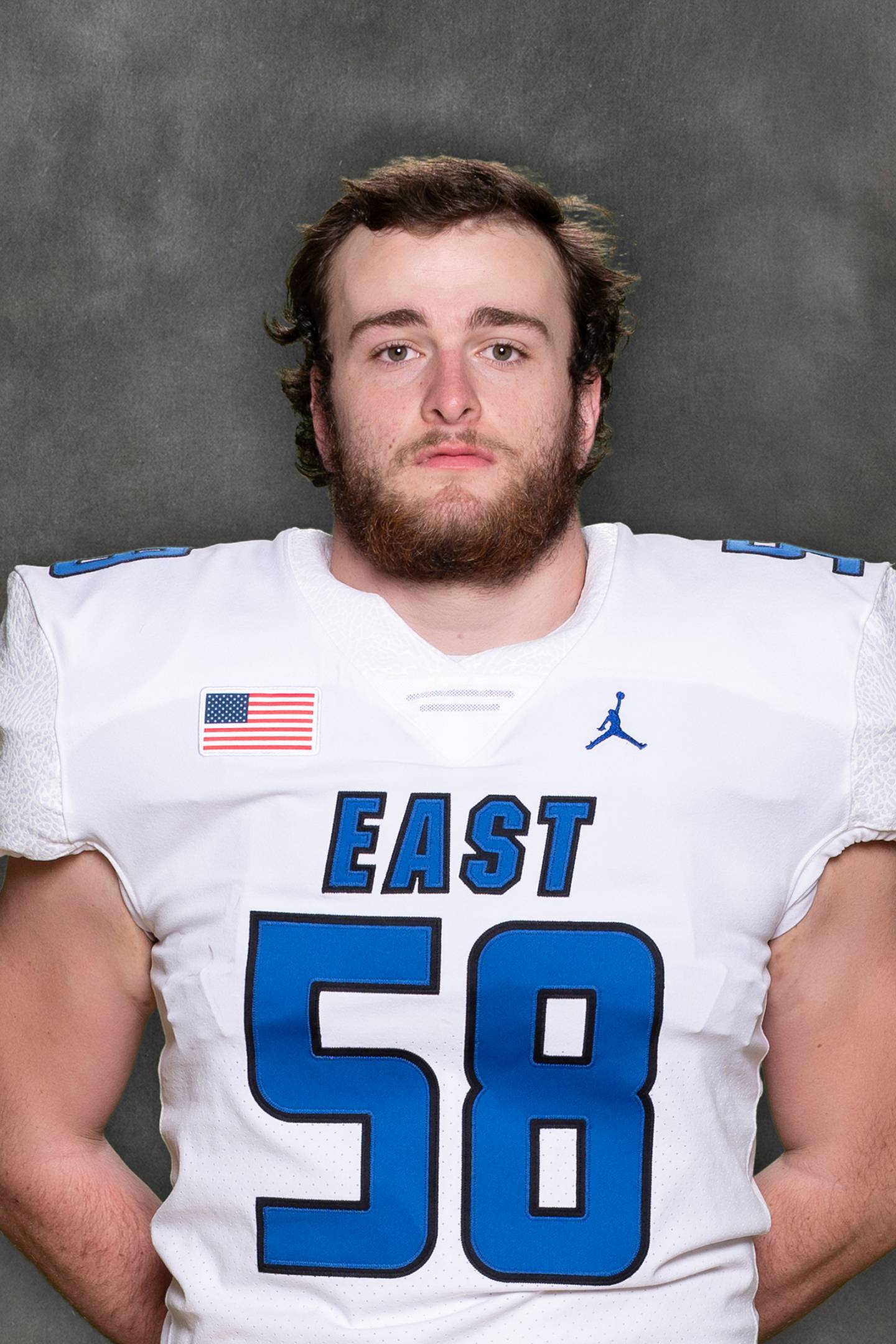 Ryan Stewart, Lincoln-Way East, OL: Stewart was the only returning starter on the offensive line from the 2019 Class 8A title squad, and this San Jose State recruit made sure the mostly new upfront unit did not skip a beat.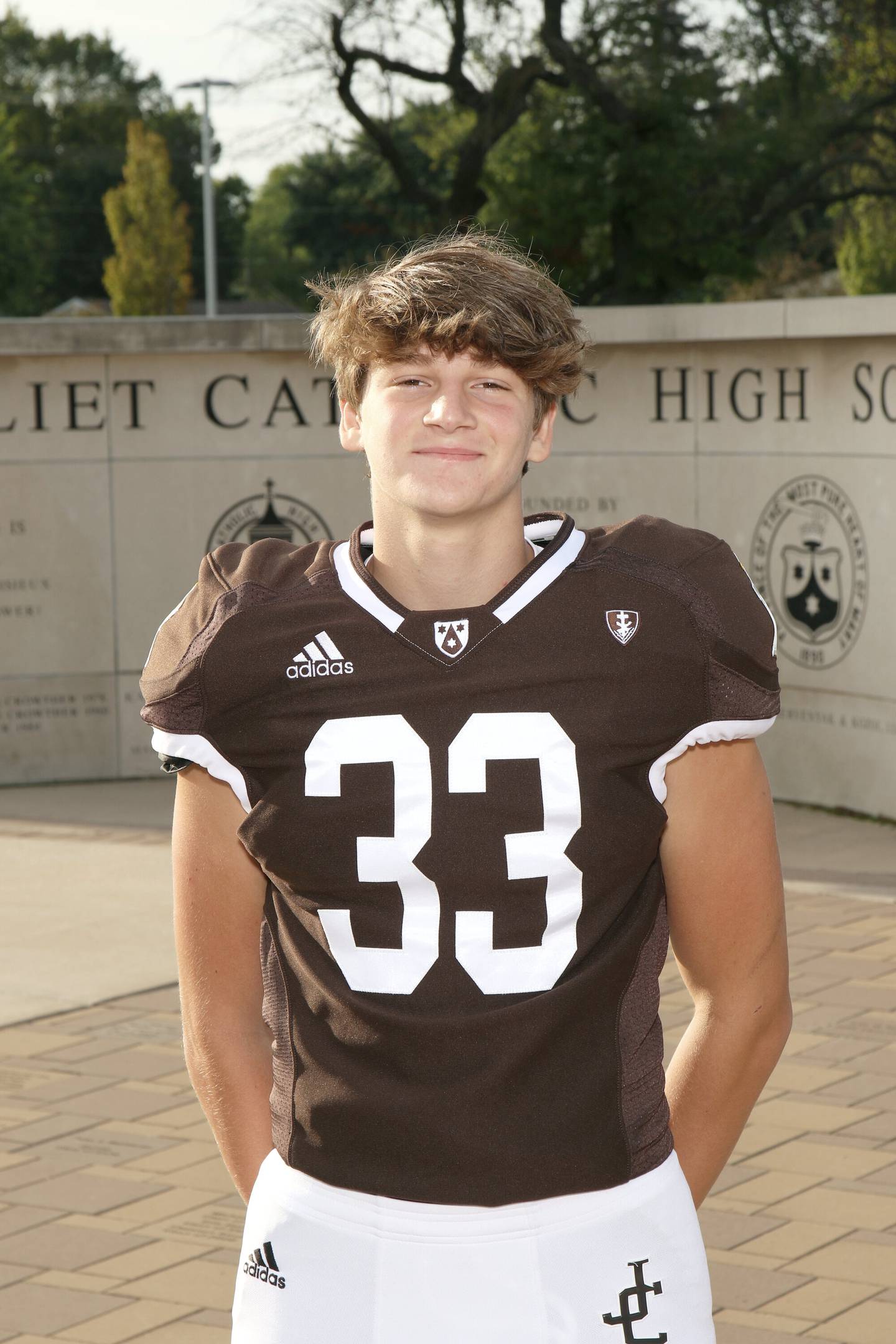 Pat Strocchia, Joliet Catholic, DE: Strocchia seemed to be everywhere on the Hilltoppers' front line, and odds are he was going to get the better of things in most interior scrums. He finished with 19 total tackles, four tackles for loss, seven quarterback hurries, 6.5 sacks, three fumble recoveries and three pass blocks.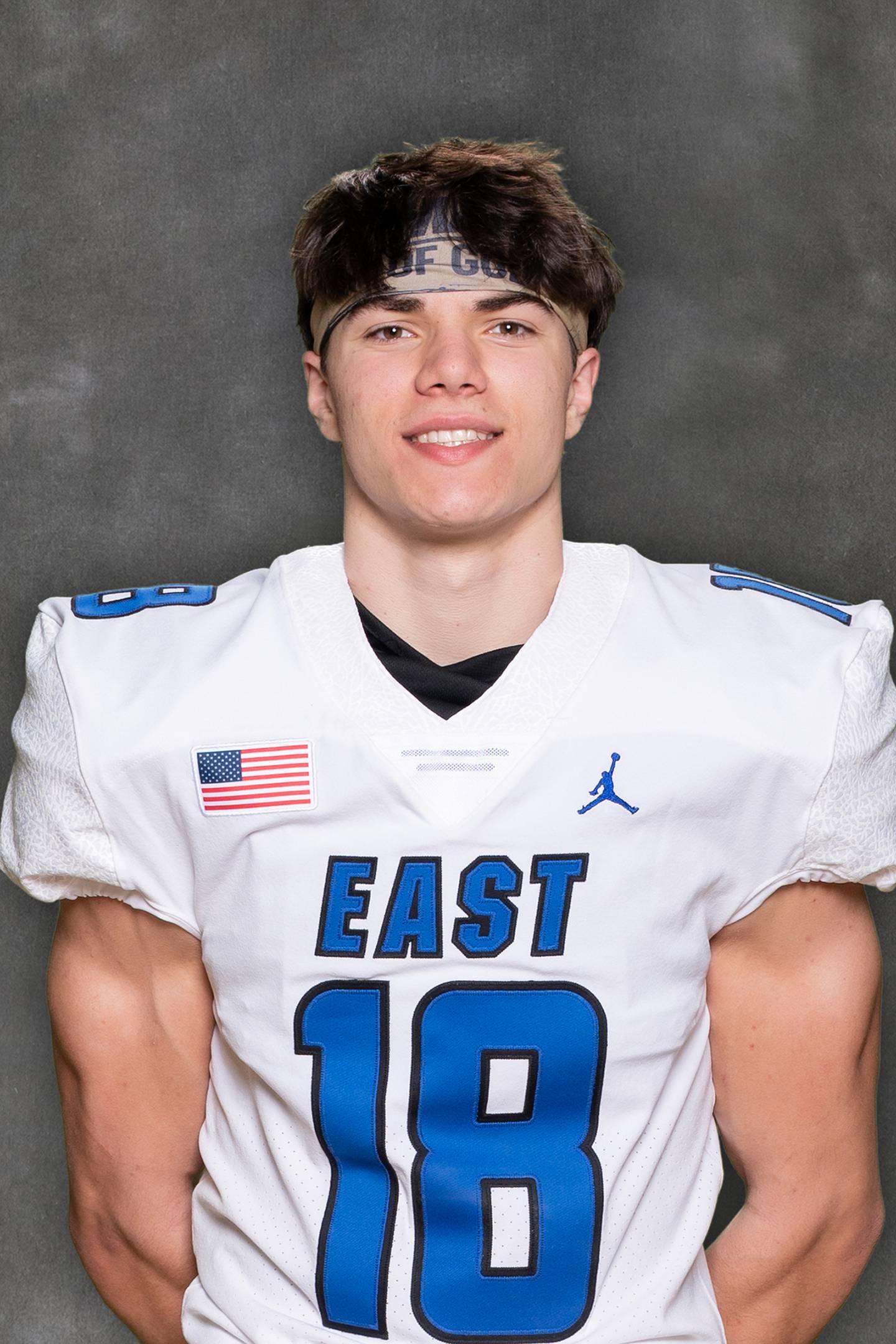 Max Tomczak, Lincoln-Way East, WR: Tomczak was a master of finding open space and turning small plays into big ones for the Griffins. In the few games when Lincoln-Way East was seriously challenged, Tomczak became the go-to guy for making plays of consequence.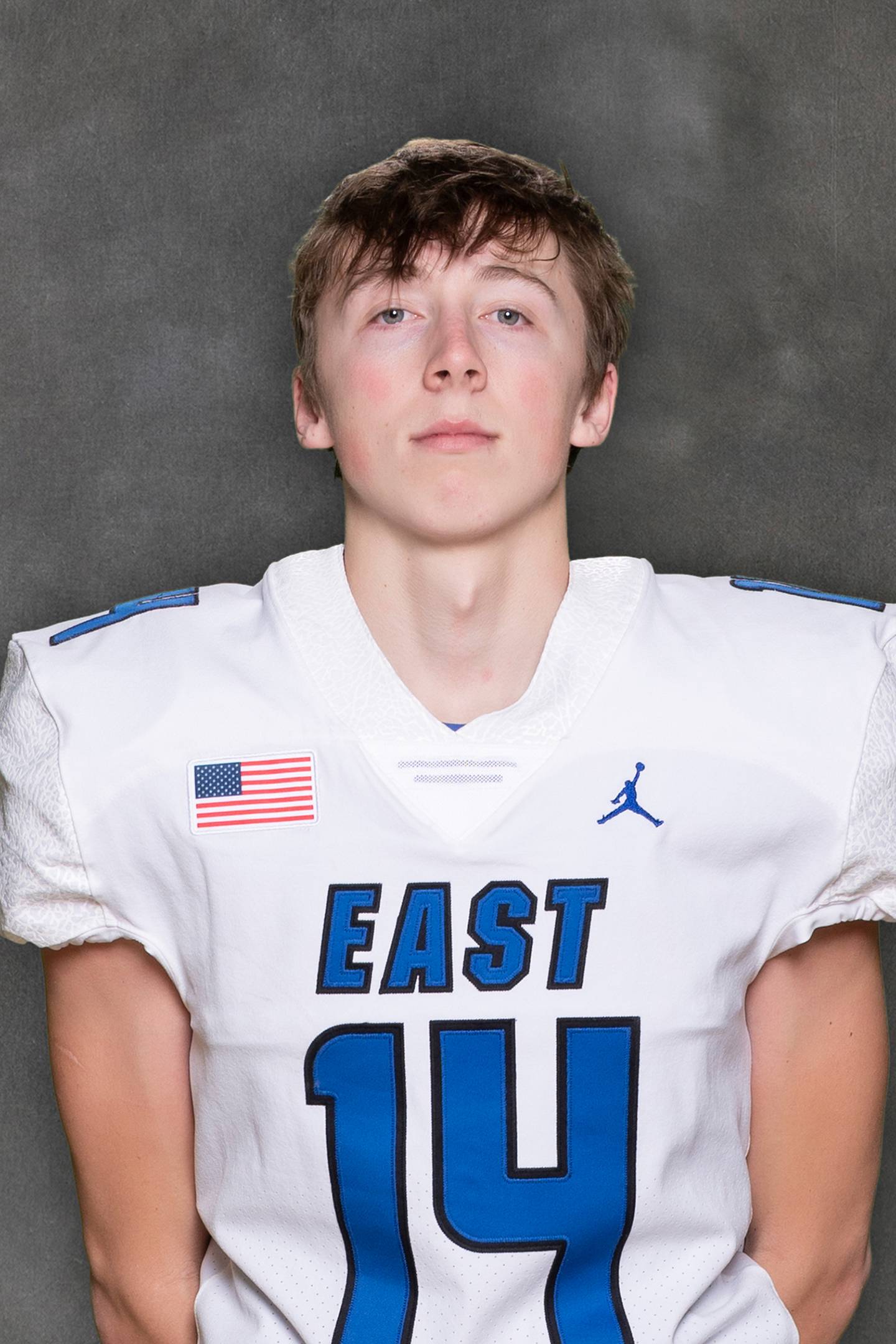 Sean Walsh, Lincoln-Way East, QB: Any team that tried to load up against the run against Lincoln-Way East this season quickly discovered that wasn't a real viable option with Walsh under center. He had a knack for making big plays when the Griffins needed them most and threw multiple touchdown passes in almost every game.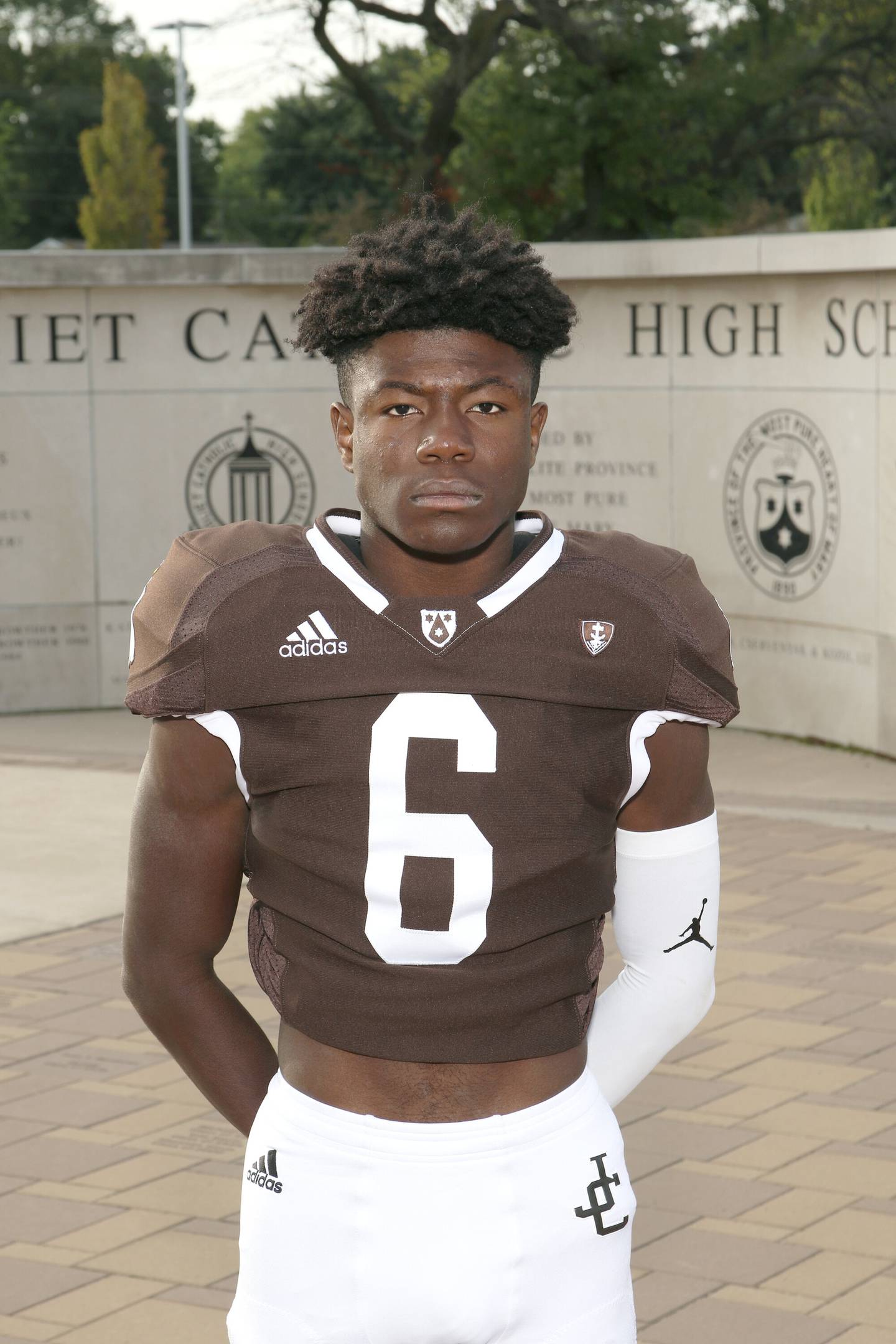 Jabril Williams, Joliet Catholic, DB: Teams rarely had the time or the inclination to throw the football against the Hilltoppers this season, but when they did, they largely had the good sense to stay away from the Army commit. Although passers rarely challenged him, he still managed to collect 30 total tackles and a pair of quarterback sacks.
Second Team
Cam Anderson, Morris, DB; Zach Barlev, Plainfield East, OL; Chris Bornhoeft, Plainfield South, OL; Cole Brannigan, Lemont, LB; Keith Bronson, Plainfield South, RB; Jack Duvall, Lincoln-Way Central, DB; Joe Fiorillo, Lockport, LB; Brayden Garrigan, Providence, WR/DB; Justin Harris, Lincoln-Way West, RB/DB; Carter Kameron, Lincoln-Way Central, OL; Aaron Larkins, Plainfield Central, RB; Michael Morgan, Plainfield East, WR; Danny Nuccio, Plainfield North, FB/LB; Will Orban, Lockport, S; Payton Orth, Lincoln-Way East, LB; Allen Richards, Wilmington, LB/K; Michael Rouse, Joliet Catholic, LB; Hunter Ryan, Minooka, RB; Aidan Voss, Joliet Catholic, QB; Devean Washington, Joliet Catholic, DB; Zach Wingerter, Minooka, LB; Brett Winiecki, Plainfield East, QB; Evan Wydajewski, Lincoln-Way West, QB; Tyler Yates, Lemont, DL
Honorable Mention
Mike Alvarado, Providence, WR/DB; Sam Andriotti, Lemont, RB; Devin Bailey, Morris, DL; Jason Berger, Lemont, DB; Will Berry, Joliet Catholic, OL; Trace Brown, Plainfield South, DL; Kyle Burch, Coal City, TE/LB; Mike Cardill, Lincoln-Way East, DL; Jeff Ciucci, Lockport, DL; Dan Cueller, Coal City, OL; Josh Davis, QB, Minooka; Tyler Davis, Morris, DE; Andy Degner, Providence, LB; Josh Dennison, Romeoville, S; Clark Dilger, Lincoln-Way East, DB; Justin Dion, Lemont, WR; Turner Doran, Lincoln-Way Central, QB; Austin Ellis, Coal City, OL/DL; Declan Emery, Lincoln-Way East, K; DJ Enriquez, Plainfield East, OL; Ryan Farmer, Lincoln-Way East, DL; Mike Florentine, Lincoln-Way East, LS; Cody Franzen, Wilmington, RB/DB; Jacob Friddle, Wilmington, RB/LB; Jaylan Givan, Plainfield North, DB; Nick Gornik, Wilmington, OL; Zach Gouty, Lincoln-Way West, OL; Charlie Graefen, Lincoln-Way Central, WR; Jon Guch, Lincoln-Way East, DB; Jared Gumila, Plainfield North, RB; Jack Hawkinson, Lincoln-Way East, DL; Justin Hemmersbach, Morris, OL; Josh Hlavacek, Plainfield North, DL; Malachi Hood, Joliet Catholic, DB; Zahary Jefferson, Bolingbrook, OL; Nathan Jepson, Morris, WR; Luke Johnson, Plainfield Central, DL; Myles Johnston, Morris, WR; Caleb Kelley, Bolingbrook, DL; Ben Kingsbury, Lincoln-Way East, LB; Alex Knaperek, Lincoln-Way East, OL; Connor Kubik, Lincoln-Way East, RB; Albert Kunikis, Lemont, RB; Jaden Lacy, Joliet Catholic, OL; Joel Lee, Peotone, LB; Ryan Little, Lockport, WR; Andrew LoPresti, Lockport, RB; Mike Mardjetko, Lemont, OL; Kaden McCombs, Plainfield North, OL; Dominic McDonough, Plainfield East, LB; Nolan McGee, Lincoln-Way East, OL; Vincenzo Meschi, Bolingbrook, QB; Dylan Meyer, Minooka, OL/DL; Jack Narine, Wilmington, QB/DB; Jose Pantoja, Romeoville, OL; Riley Pfeiffer, Lockport, QB; Owen Phaby, Lincoln-Way East, OL; Mason Pierre-Antione, Lincoln-Way East, WR; Nolan Recker, Lincoln-Way Central, WR; Ben Ritter, Lincoln-Way East, WR; Quentin Rodney, Lincoln-Way East, DL; Jacob Rogers, Joliet West, OL; Ethan Russow, Lincoln-Way Central, RB; Kevin Spelman, Providence, OL/DL; Brian Stanton, Plainfield South, RB; Sevren Stuckey, Lincoln-Way East, DB; Will Theate, Plainfield North, FB/LB; Jack Tremblay, Lincoln-Way East, WR; Aaron Vaughn, Providence, RB; Matt Wallace, Lincoln-Way West, DB; Chase Wasielewski, Coal City, OL; Daniel White, Lincoln-Way West, LB; Tyler Wilms, Lemont, DL; Jack Wilson, Plainfield North, LB; Kanon Woodill, Plainfield North, K/P; Henry Woods, Lincoln-Way East, DB; Kyle Yehling, Lockport, TE; Jake Zator, Lemont, LB