About a block from the Illinois Rock & Roll Museum on Route 66 in downtown Joliet is a sculpture honoring a Joliet violinist.
The sculpture is of Donna Shea, professionally known as Scarlet Rivera, a pioneer of the electric violin. Rivera's music career took off when American singer-songwriter Bob Dylan invited her to participate on his 1976 album "Desire" and on the Rolling Thunder Revue tour.
Ron Romero, the museum's founder and executive director, said Rivera's sculpture is in the back of the parking lot at the corner of Cass and Scott streets.
"Not many people know it's there," Romero said. "I discovered it several years ago. I saw a bust of her playing violin and, next to that, is a little bit about her history."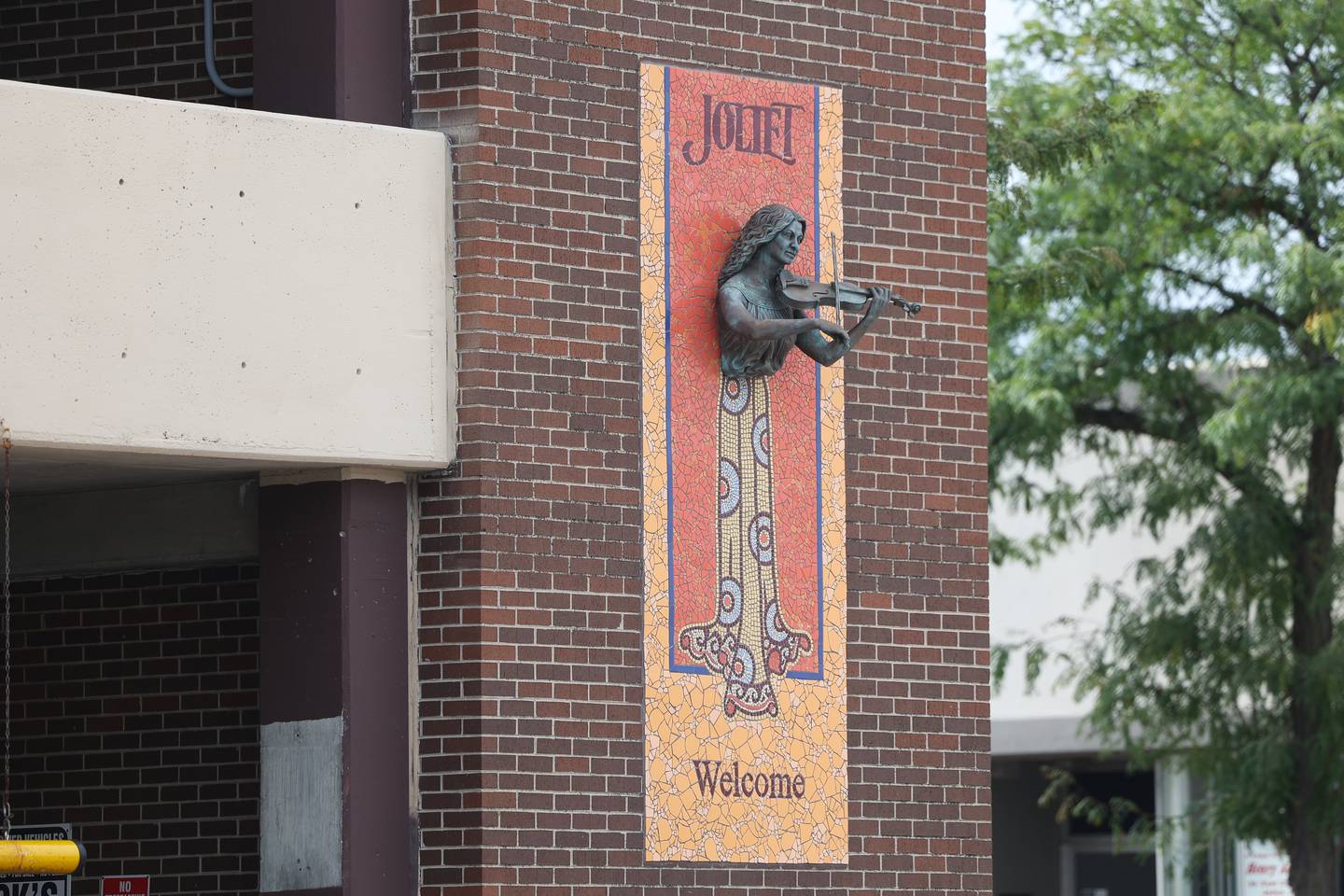 Romero met Rivera on Tuesday at the museum. She's in Illinois visiting family.
"I enjoyed having her come in," Romero said. "I enjoyed talking with her and learning a little about what she's doing. … She actually showed me her schedule of appearances. It wore me out just looking at it."
That schedule included a 30-minute concert at the veterans' home in Manteno on Wednesday as a representative of Angel Force USA. Rivera said attendees represented World War II, the Korean War, the Vietnam War, the Gulf War and the Iraq War.
"I'm bringing 50 T-shirts from Angel Force on Monday," Rivera said.
How did Scarlet Rivera meet Bob Dylan?
Rivera, who now lives in California, said she grew up on Iowa Avenue and attended Joliet Central High School. Rivera said she was drawn to the arts from the age of 5 and was always the class artist. She took private classical lessons on piano and violin, and always held first chair in the school orchestra.
During those years, her musical influences were Janis Joplin, The Doors, King Crimson and Bob Dylan, she said. During high school. Rivera was always "exhilarated to hear exciting music that was not classical," she said. She earned a scholarship to Southern Illinois University.
"But before I graduated, I felt compelled to break into contemporary music and saw violin could be a lead instrument," Rivera said in an email. "I bought a one-way ticket to [New York City] to pursue my vision."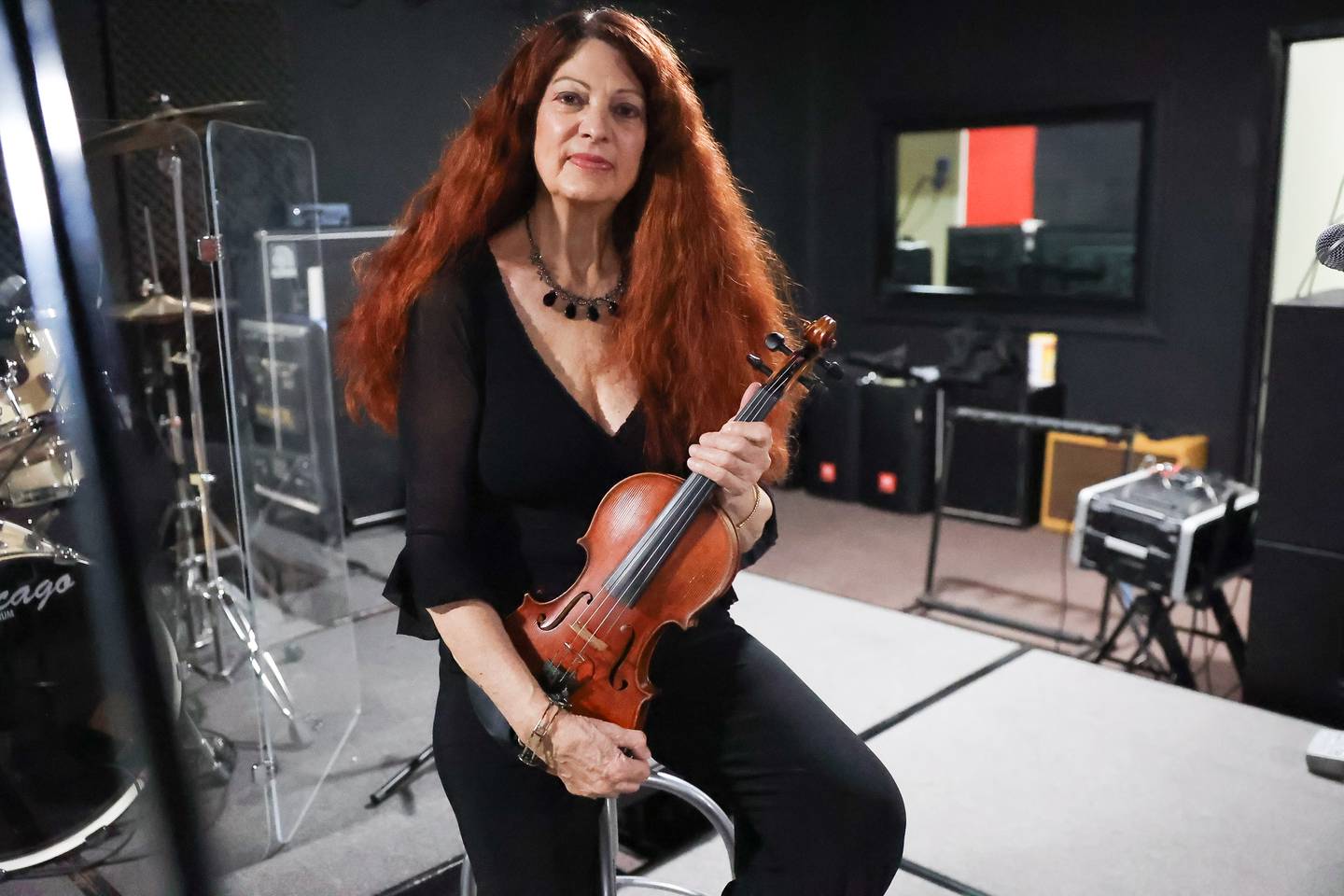 Once in New York, Rivera said she played with a Cuban band, a rock fusion band and in an off-Broadway play featuring the music of the Ornette Coleman and the Revolutionary String Quartet.
In a twinkling, Rivera's life changed.
"It was on a hot June afternoon in 1975 when I was carrying my violin case on 13th Street in the East Village on my way to a rehearsal when a car slowly followed me and the driver asked if I could play," Rivera said.
The driver, she said, was Bob Dylan.
"He insisted on hearing me play and led to a long impromptu audition at his nearby studio, where he observed my abilities of improv and following a song with little to no instructions," Rivera said in an email. "After several hours, he said he had to hear a friend play and invited me to come along."
The friend was Muddy Waters, she said. She recalled sitting at a table, expecting to listen to Dylan "sit in" on the performance.
"But after one song, he said, 'Now I want to bring up my violinist!" Rivera said in an email.
The rest became musical history.
What is Scarlet Rivera doing now?
Rivera has since performed with the Indigo Girls, Tracy Chapman, Eric Andersen, Keb' Mo', Peter Maffay, David Johansen, Sylvia Tyson and Cindy Cashdollar, according to the Scarlet Rivera website. She continues to tour and record.
And she's very thankful to Dylan.
"The fateful simple twist of fate that brought us together," Rivera said. "And his confidence and support of my musicianship to the world stage elevated my stature and dramatically stamped my career path."
Why the name change from Donna Shea to Scarlet Rivera?
"The short answer is the name Scarlet Rivera came to me and I knew this was to be artistic identity beyond a stage name," Rivera said in an email.
She said Dylan "continues to influence my life and career to this day." In 2022, Rivera released an EP called, "Dylan Dreams."
Rivera also just returned from a three-month tour through Italy, Spain, France and Switzerland. She's performing in Bobfest on Aug. 20 at Oslo Concert Hall in Norway with a "longtime Dylan guitarist and other top Norwegian artists," Rivera said.
In addition, Rivera said she will receive screen credit for being part of the film score of an upcoming Viggo Mortensen film, "The Dead Don't Hurt."
And she loved being photographed at the Illinois Rock & Roll Museum.
"It is rewarding to be more fully recognized in my own home town and state for my career accomplishments," Rivera said.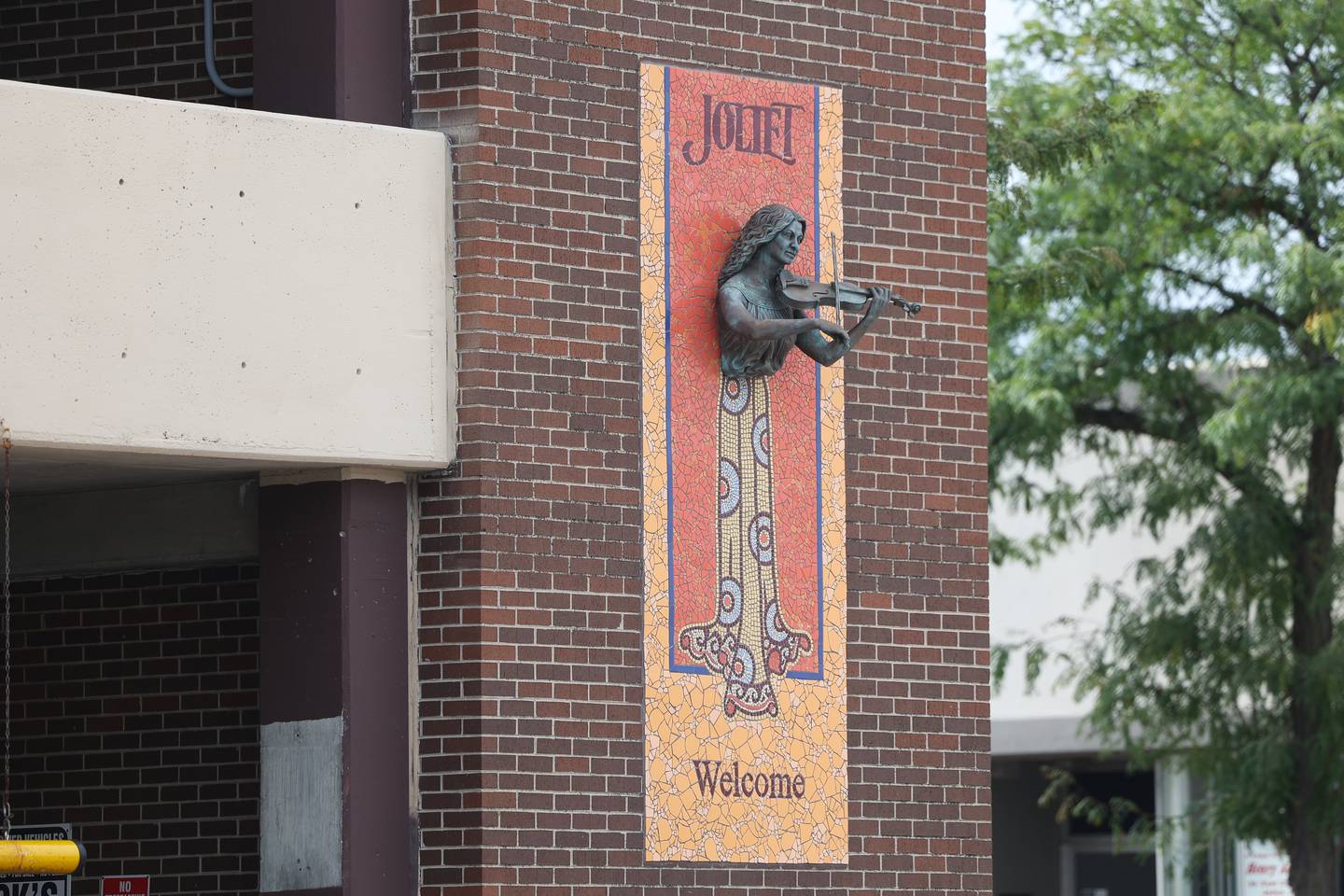 Romero felt the recognition was well-deserved.
"She's still performing, she's still dong great things in music. If you look at her resume, it's pretty impressive. She's played with a lot of important people in the music industry, including Bob Dylan, but so many more than that, too."
On that note, Rivera offered some advice for today's young musicians.
"Serious practice, perseverance and diligence are the ingredients of success in music and the field of entertainment."