"Mom, can I go for a drive?"
Parents often hear that question when their children get their first car. But, the question was extra special when Lawson Sizemore, 20, of Shorewood asked it of his mother, Marlene Sizemore, on Monday.
Lawson has Charcot-Marie-Tooth disease type 1A, a disorder that affects the peripheral nerves. He had just picked up his accessibly van from MobilityWorks in Plainfield, which put him in the driver's seat for the first time in his young life.
And where did he go?
"He went to buy me flowers," Marlene said.
For years, Marlene drove Lawson to all his activities. He is an associate coach for football, basketball and baseball for Joliet West High School, Lawson's alma mater. He plans to graduate from Joliet Junior College this summer and then study journalism with a concentration in sports broadcasting from the University of Illinois.
And Lawson wants to drive to U of I to check out the school soon.
"If I can do this myself and gain independence and have the freedom, then why not?" Lawson said.
Marlene said she and her husband, Al Sizemore, were worried Lawson might never reach this milestone. Al praised Lawson's handling of the van.
"He drives it very well," Al said.
The one person who might be happier than the Sizemore family is Jeff Peterson of Crest Hill.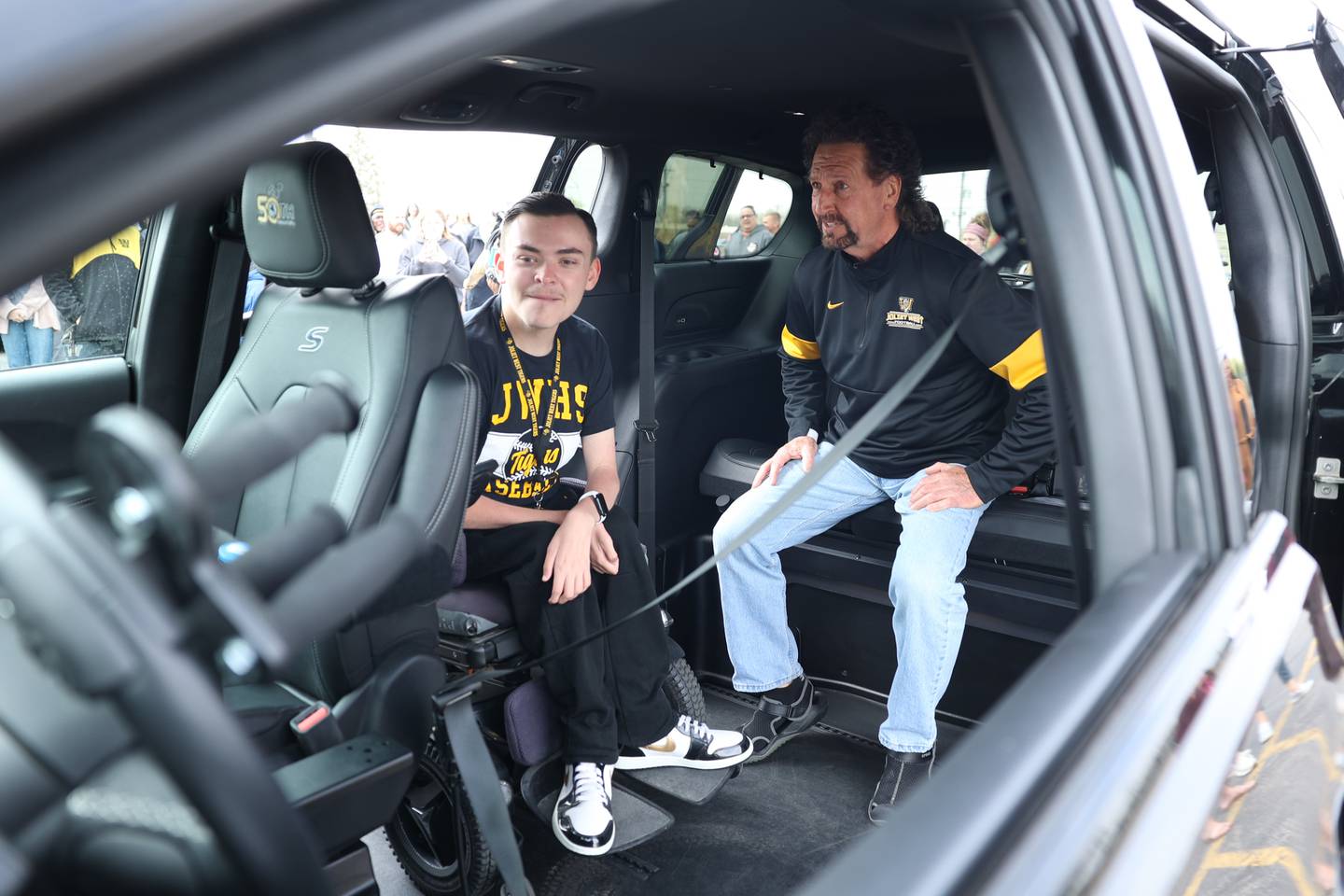 'Here, Mr. Peterson. This is for Lawson'
Peterson said he learned about Lawson's need for a van from his son, a teacher at Joliet West. A family friend had started a GoFundMe page in the summer of 2020 to replace the family van, which was nearly beyond repair.
Plus, Lawson's spinal fusion to correct his scoliosis added several inches to his height, making him too tall to comfortably ease into the family's conversion van.
So Peterson approached Marlene and asked if he could help.
"We met at a bank," Peterson said. "We opened up a bank account. And I reached out on social media and made phone calls to organizations, family and friends, and money started to be deposited in our account."
[ Crest Hill man determined to raise money for teen's adaptive van ]
Peterson said the donors included D'Arcy Motors, Jennette D'Arcy, R. L. Sohol General Contractor in Plainfield, United Cerebral Palsy-Center for Disability Services in Joliet, Mammo Strong Inc. in Joliet, Knights of Columbus Joliet Council No. 382 in Joliet, Knights of Columbus No. 4400 in Joliet, Lincoln-Way Area Business Women's Organization, Pink Heals of Joliet, Joliet Fire Department and City of Joliet Employees Union.
A cruise night in 2021 was well-attended by the community and brought him more donations, Peterson said.
But it was the letters and more unusual donations that "put tears in my eyes," Peterson said, like the thank you card that came in the mail from a nursing home with $20.
"The note said, 'God bless you,'" Peterson said. "It wasn't signed, but it had a 20-dollar bill to give to Lawson. And then I had a woman donate her car [which was sold and converted to a donation]. ... I had kids at Joliet West hand me money: 'Here, Mr. Peterson. This is for Lawson.'"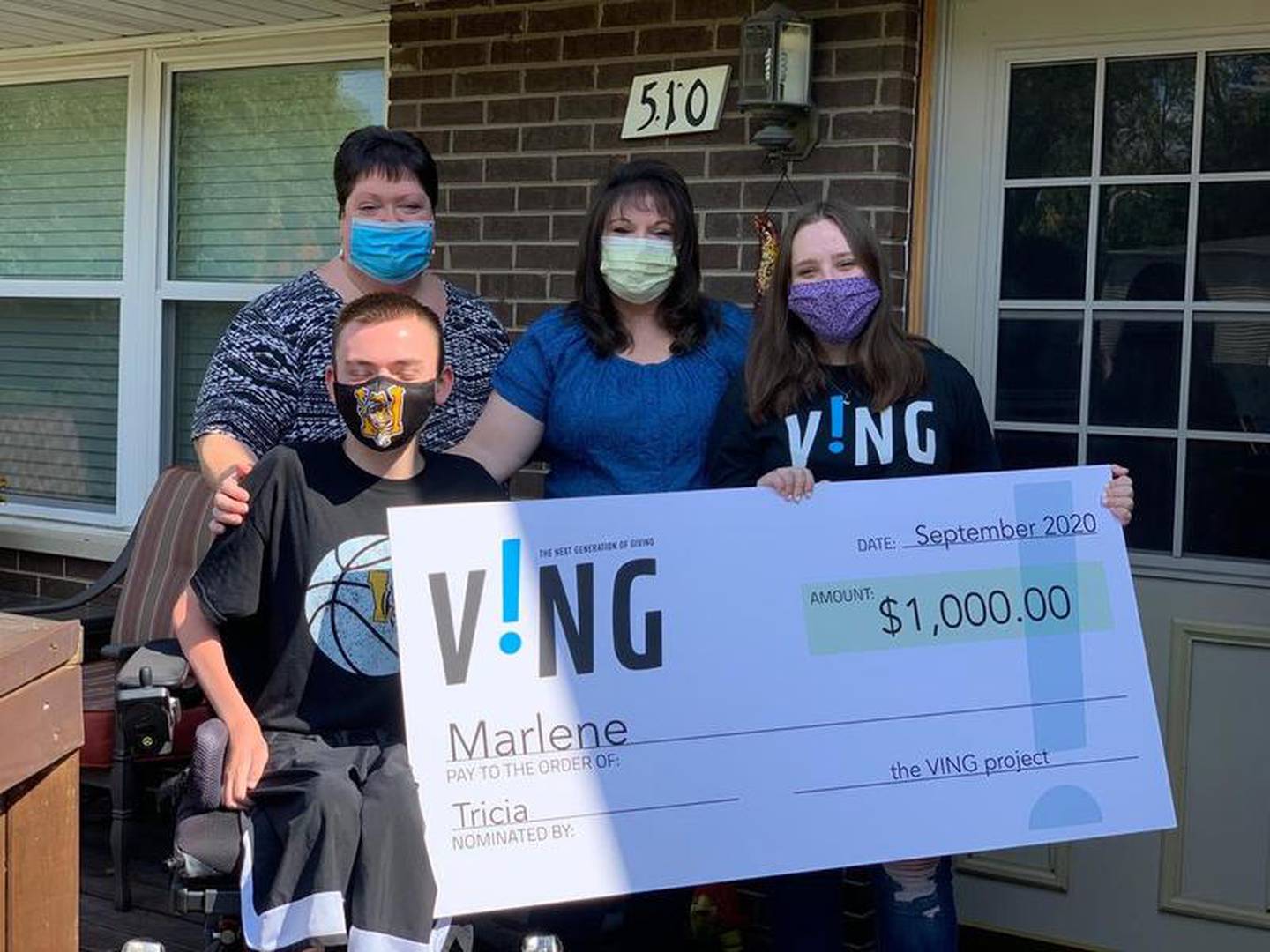 Peterson estimates Lawson's GoFundMe account had about $7,000 when he took it over in September 2020. A year later, Peterson said Lawson had $100,000 for his new van.
"Then Lawson decided he wanted to drive," Peterson said. "So in December 2020, we went a different route. He took driving lessons, and by April 2022 he had a driver's license."
But the hardest part of the process was not raising the money or Lawson learning to drive.
"Our biggest setback was, because of COVID, we had trouble finding a van," Peterson said. "We could not find a van for a long time. Not until June 2022 did we find a van."
The following month, Team Lawson Sizemore took first place at the 2nd annual Great American Big Wheel Race at Busey Bank Joliet Memorial Stadium. Fourteen teams competed for first place and $5,000 for the charity of the winning team's choice, according to UCP-CDS.
"We added another $5,000 to our total," Peterson said. "In August 2022, they purchased the van."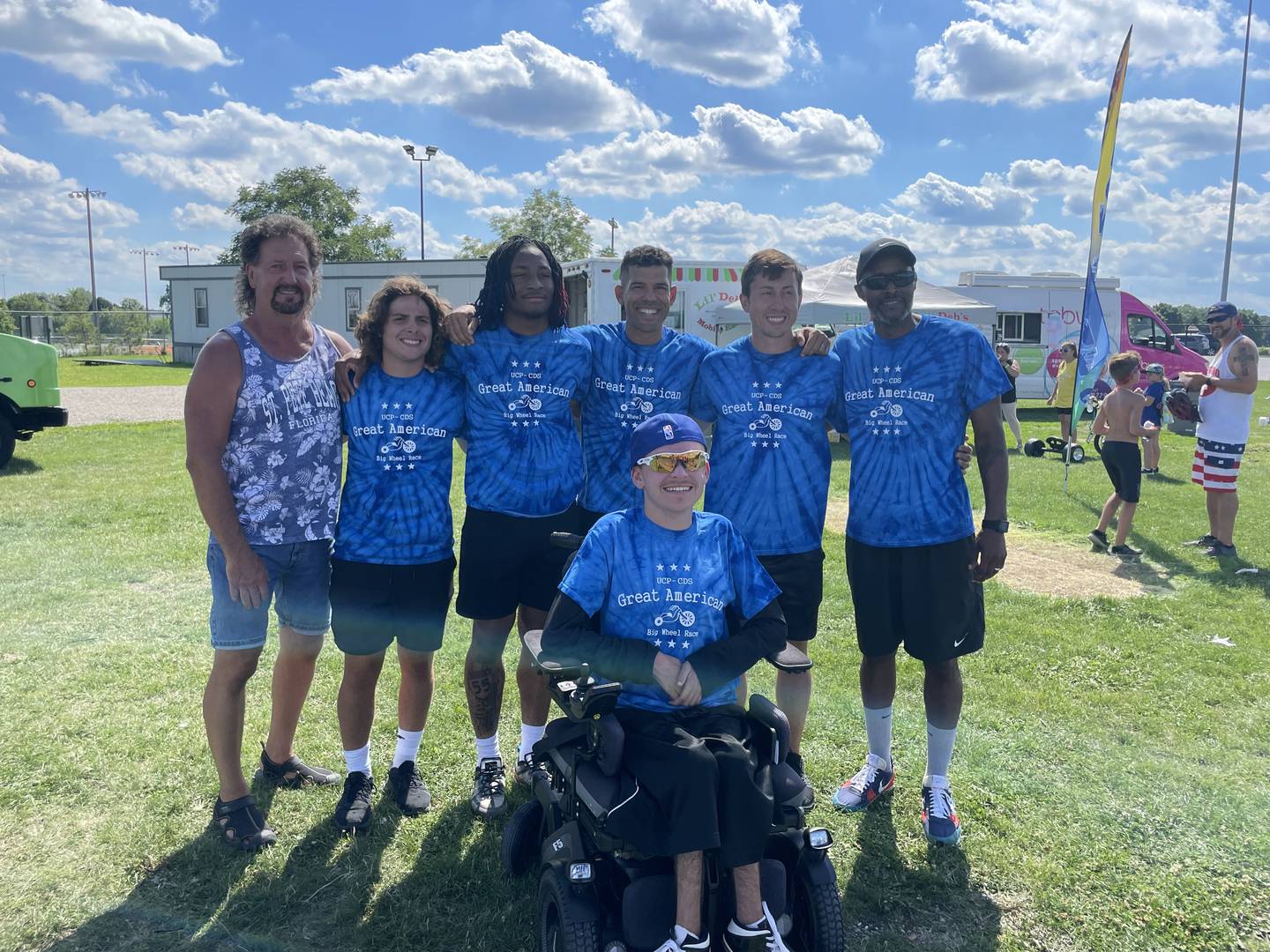 More setbacks
The necessary accommodations for Lawson created more setbacks. A part for the van went to California; another part went to Maine, Peterson said. Then parts were delayed because of supply chain issues, Peterson said.
"It took us about 10 months, but he drove the van home today," Peterson said with real joy in his voice Monday. "He is on the road as of today."
Peterson said he met "so many nice people" throughout this entire process.
"And not one person in that whole time told me, 'No,'" Peterson said. "They either donated what they could or sent me to someone else who could help."
Peterson said Marlene sent out "thank you" notes to everyone who donated. One donor sent a note to Peterson after receiving his and wrote, "I feel you are genuine. I want to give you some more money," Peterson said.
And the donor sent a second donation, Peterson said.
But it's Lawson's good reputation and fine character that ultimately made Peterson's efforts a breeze.
"Fifty percent of the people I contacted knew Lawson," Peterson said. "He so built his legacy. He made this possible. I just made the phone calls."
[ Joliet West special needs athlete celebrates golden birthday with a parade ]
Lawson, who formerly played baseball with the Miracle League of Joliet, said the "passion and love" he has for sports was instilled in him at an early age. His accessible van will now make it easier for him to pass the blessing on to other athletes.
"I'm the kind of person that, if I have the opportunity to be around it in some capacity or some level, I'm going to keep doing it," Lawson said. "I'm able to bring a unique perspective and touch so many athletes and students and change their lives."