Morris Hospital has a limited supply of sotrovimab, a monoclonal antibody treatment that's effective against the new omicron variant.
And that supply is being limited to high-risk patients, according to a news release from Morris Hospital.
"It's disheartening considering the high rate of infection and hospitalizations," Alyssa Knoderer, pharmacy director at Morris Hospital & Healthcare Centers, said in the release. "The reality right now is that we have very, very few doses available due to the significant demand because there are so many people who are [COVID-19] positive. There's just less overall to go around."
Morris Hospital was administering four to six monoclonal antibody infusions each day before the omicron variant, according to the release.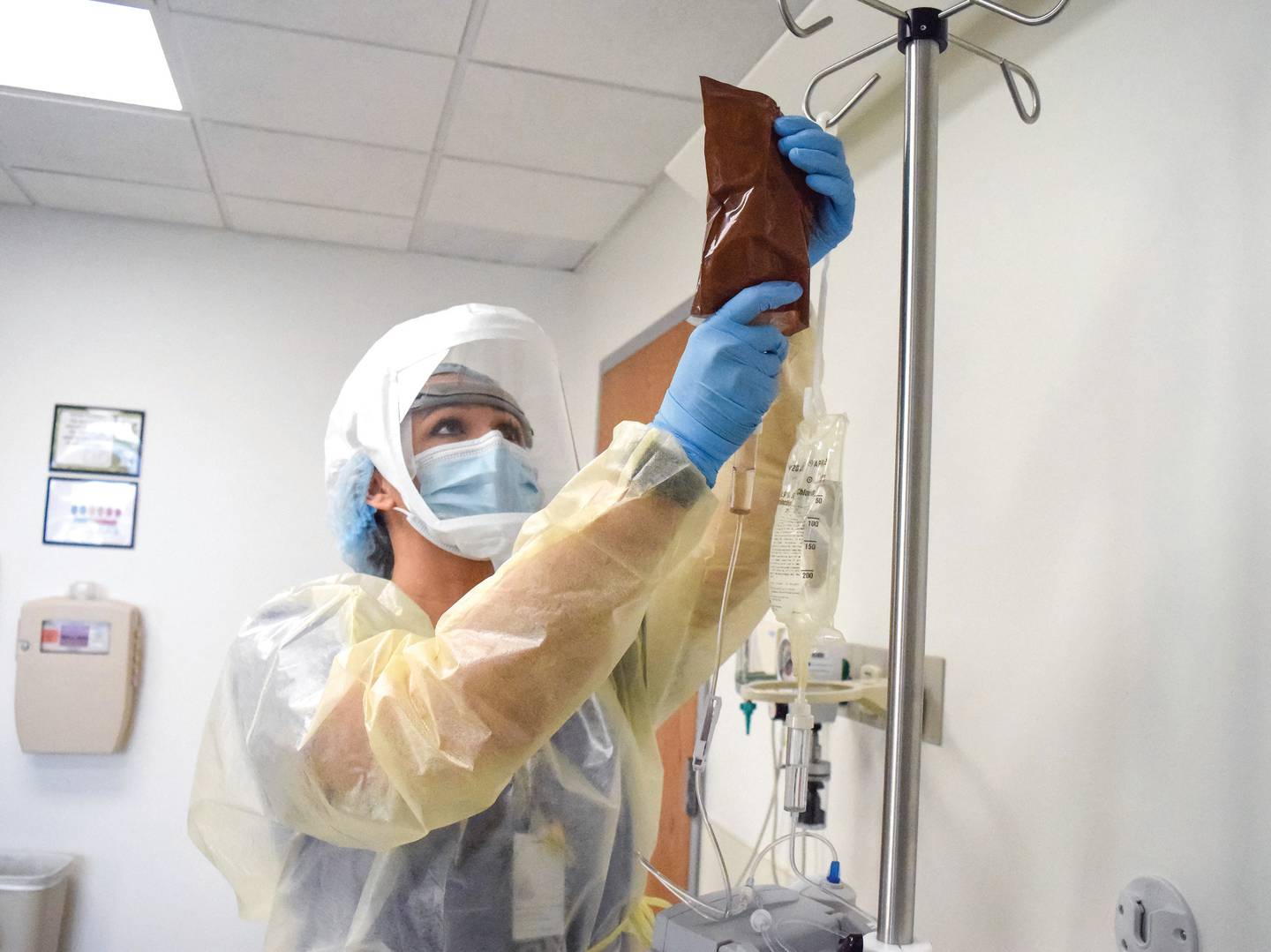 Eligible patients must have mild-to-moderate COVID-19 and a high risk for severe illness, according to the release. Patients also must receive the infusion within 10 days after experiencing symptoms, according to the release.
AMITA Health Saint Joseph Medical Center's "BAM" Clinic is still "up and running with no issues," Timothy Nelson, AMITA Health's system director for communications and media relations, said in a text message Monday. St. Joe's began offering infusions of just bamlanivimab Jan. 25, 2021, for patients with mild to moderate COVID-19.
Knoderer said in the release that monoclonal antibody treatment doesn't replace vaccination.
"Vaccination is always the best option in the fight against COVID-19," Knoderer said in the release. "It's the safest and most effective method against severe illness and hospitalization."
Although the FDA recently gave emergency-use authorization of two oral antiviral medications to treat COVID-19, they come with plenty of unknowns, Knoderer said in the release, especially in the areas of "distribution and eligibility due to potential drug interactions and other risk factors," according to the release.
"It's very difficult to treat [COVID-19]," Knoderer said in the release. "It's just a really tough situation now with so many people being [COVID-19] positive and low vaccination rates. People who are unwilling to get vaccinated are putting a strain on every resource we have – people, medications, supplies. It's straining literally everything that we have."
On Monday, Morris Hospital had 67 total in-patients, according to its COVID-19 dashboard. Thirty were being treated for COVID-19, and 22 of those 30 were unvaccinated. Five were vaccinated and three had received COVID-19 boosters.
Seven COVID-19 patients were in the intensive care unit, and all but one were on a ventilator. One of the patients on a ventilator was vaccinated and one of the patients had received a COVID-19 booster.