JOLIET — It took a little while for both Providence Catholic and Joliet West to settle into Thursday night's nonconference match.
Once they did, though, it became a match to remember, with Joliet West emerging with a 24-26, 25-22, 31-29 win over the Celtics.
It was a win that didn't come easily for the Tigers, who won their second straight match to open the season under first-year coach Tara Litwicki.
Both teams struggled to keep the ball inbounds on both serves and attacks in the early going as seven of the first 10 points were scored on either serving or hitting errors. Providence (0-2) gained the edge soon after, using an ace by Camren Tierney and a pair of kills by Adam DeRubertis to move out to a 15-9 lead.
Joliet West rallied, and got three aces by Landon Brouwer and two kills by Tommy Fellows to tie it at 17. Providence got two more kills by DeRubertis, who had a team-high 11 to go with three aces and grabbed a 23-22 lead before a serving error tied it at 23. The game was tied at 24 before Providence got back-to-back kills from Sean Kane and Kaden Kaczmarek to end it.
The Celtics also controlled the early going of the second set, as Joliet West did not lead until a kill by Nathan Fleischauer put the Tigers ahead 15-14. Fleischauer later served back-to-back aces to put his team ahead 20-17, but Providence answered with a pair of aces by Nico Krabbe and tied it at 20. West scored the next four points and Brouwer ended it with a kill.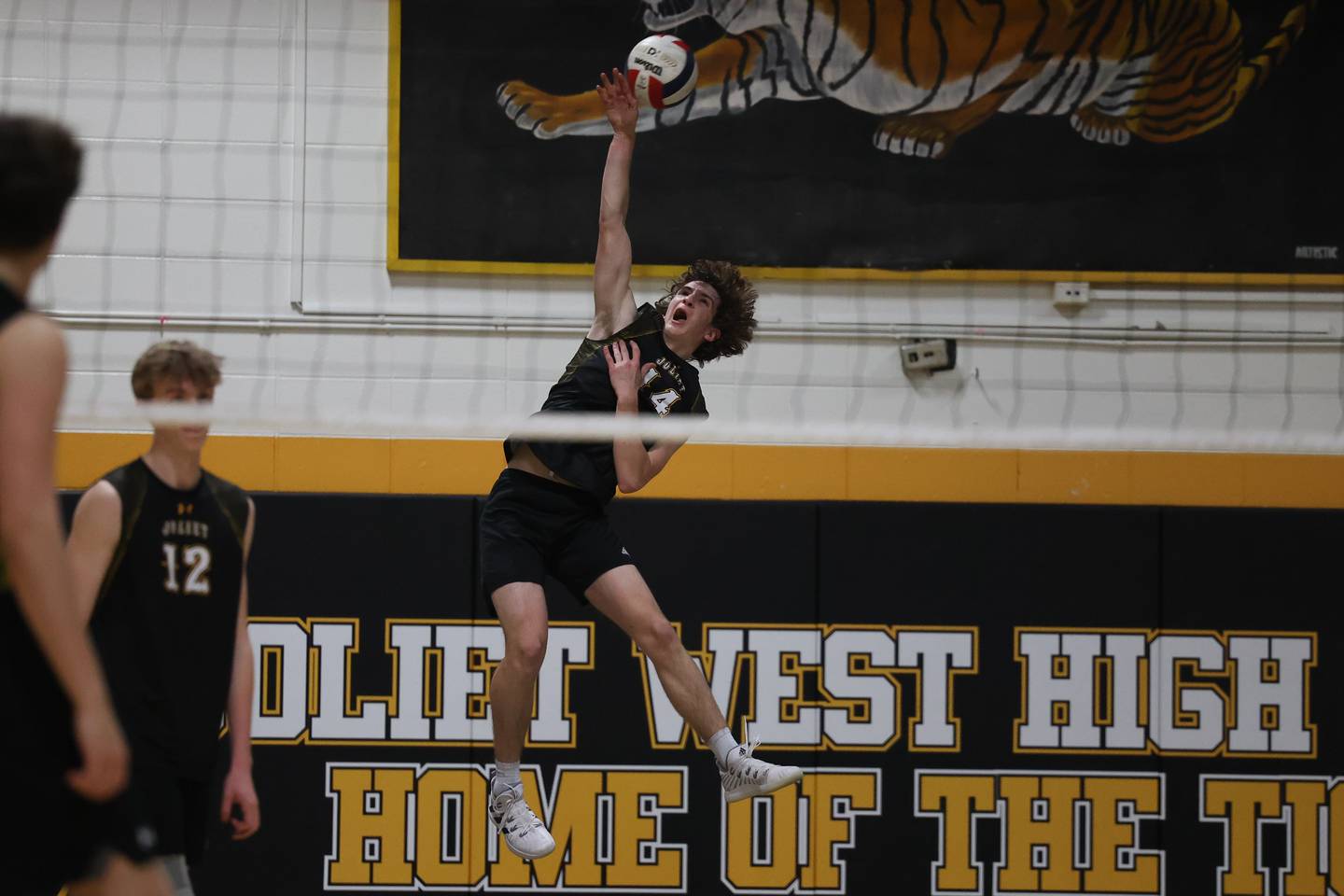 Providence also took the early advantage in the third set, leading 11-5 and then 16-10 before West mounted its comeback. The Tigers got two kills from Drew Johnson, one by Fellows, and an ace by Fleischauer in a 9-2 run that put them ahead 20-18. The Tigers led 24-20 and were serving for the match, but a serving error gave the serve back to Providence and DeRubertis delivered four straight points, including two aces, to put his team ahead 25-24. A kill by Fellows tied it again. On three straight occasions, Providence took a 1-point lead, and Fleischauer tied it with a kill. The Tigers got the serve back on a serving error, and the match ended with a Fellows block.
Fellows had a team-high 12 kills for West, while Fleischauer had 10 and Brouwer had five.
"We have a young team and we are still learning," Litwicki said. "We lean on our three junior captains – Nathan Fleischauer, Tommy Fellows and Landon Brouwer – and they are great leaders for us both on and off the court.
"Our serves were a little rough, but that's the nature of boys' volleyball. We serve aggressively. In the third set, we told our guys to ease up on the serves and try to hit some seams. We were able to do that and didn't give away as many points.
"It's fun to play a good team like Providence. It's never easy. It shows that we have to prepare and build our culture in practice. We don't make things easy on them in practice so they are ready for the game situations. And, you have to have the little things down, the routine stuff like footwork and passing. Those have to become second nature and you have to work on them every day in order to do that."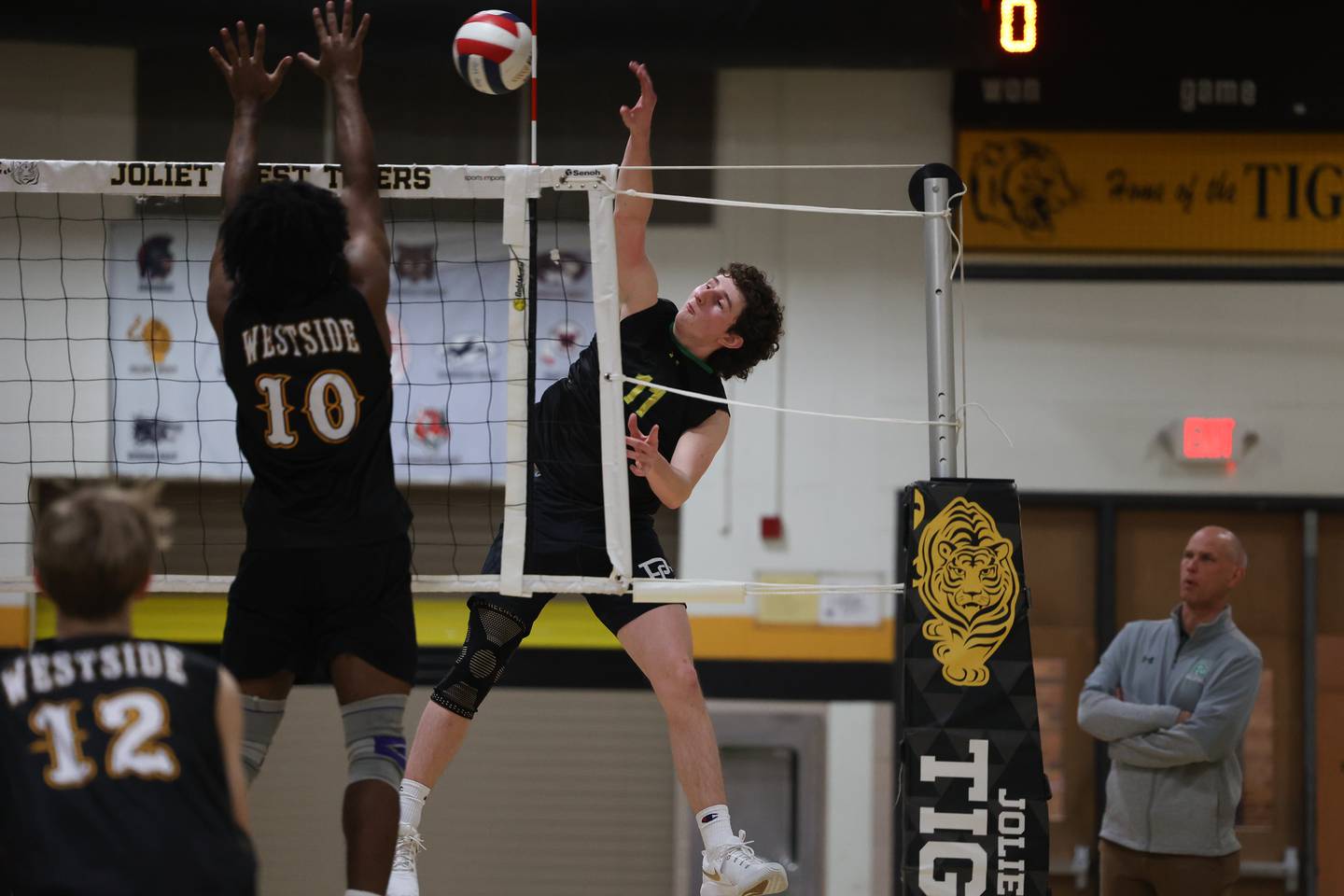 Providence coach Lee Rucinski was pleased with the effort of his team as well.
"We did everything but win," he said. "For us to come out here and hang with a team like Joliet West, I couldn't be happier with our guys. We have a lot of youth on this team. We're running a 5-1 offense with a sophomore setter, so it's going to take some time for everyone to get to know each other on the court.
"We know we have the high-end talent to keep up with a lot of teams. Now, we have to be able to do it consistently."