BLOOMINGTON – Alicia Tucker didn't know how she was going to win a state title on Saturday, but there was one thing Tucker knew:
She wasn't going to lose.
Tucker trailed 1-0 heading into the final period of her 155-pound title match at the IHSA Girls Wrestling State Tournament in Bloomington, but like the Plainfield Central sophomore has all season, she found a way to come back when everything seemed bleak to win her program's first state title.
"I was really excited, it was such a surreal experience," Tucker said. "I almost didn't know what to do with myself."
Tucker led a group of eight Joliet Herald-News-area wrestlers who placed at the second annual state tournament held at Grossinger Motors Arena. Lincoln-Way Central's Gracie Guarino (110), Lockport's Claudia Heeney (125), Joliet's Nydia Martinez (170) and Eliana Paramo (115) each finished runner-up, while Morris' Ella McDonnell (110) took fourth, and Joliet Township's Chloe Wong (100) and Peotone's Kiernan Farmer (155) finished sixth.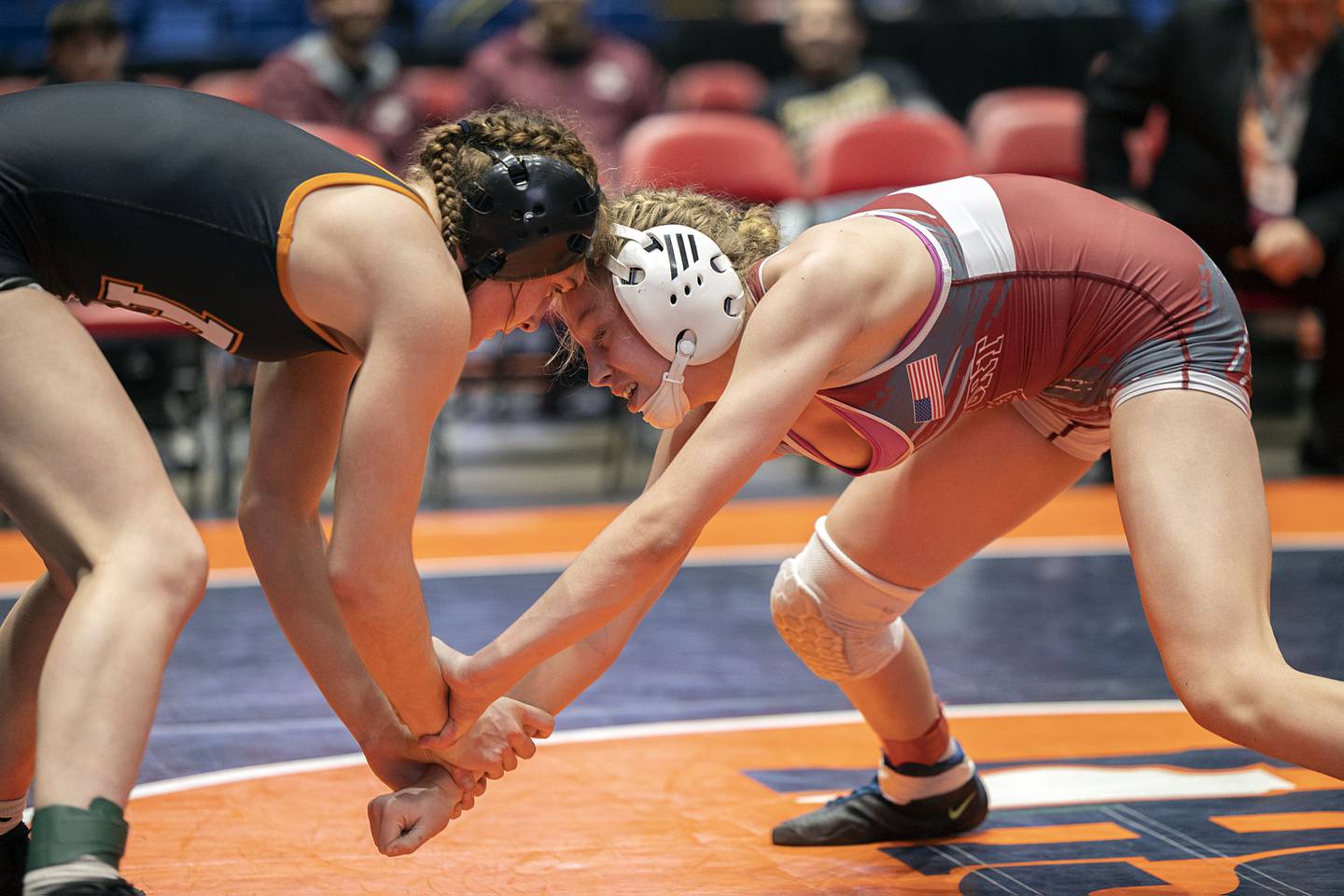 Tucker and Moline's Maryam Ndiaye sized each other up in the first period before Ndiaye took a 1-0 lead in the second period by escaping. After taking some time to break free, Tucker tied the match 1-1 midway through the third period by escaping and didn't have a plan on how she wanted to win the match.
She planned on stalling and taking the match into overtime until Ndiaye threw Tucker on her back, which forced her to panic. She made her move to escape and take a 3-1 lead with the final seconds ticking away to secure the win and the historic state title
Tucker couldn't truly understand what was happening in the final seconds of the match. But at the end, she stood there having made history and hopefully providing inspiration to others.
"It means everything," Tucker said. "I hope this inspires at least somebody to do whatever they want, try anything. You never know what you're good at."
Martinez didn't expect to be battling for a state title after missing her last two seasons with a neck injury and then ACL and MCL injuries. But there Martinez was, competing against Highland's August Rottmann for the 170 title.
Rottmann took an early 2-0 lead in the first period and made it 6-3 after the first. Martinez tried to battle back but couldn't pick up the points, losing by fall in the third period.
Despite the loss, Martinez was proud of making it all the way to earn a runner-up medal.
"It means a lot," Martinez said. "I would've loved to get first, but to come this far from recovery, it was hard, and I made it back. It was fun to see."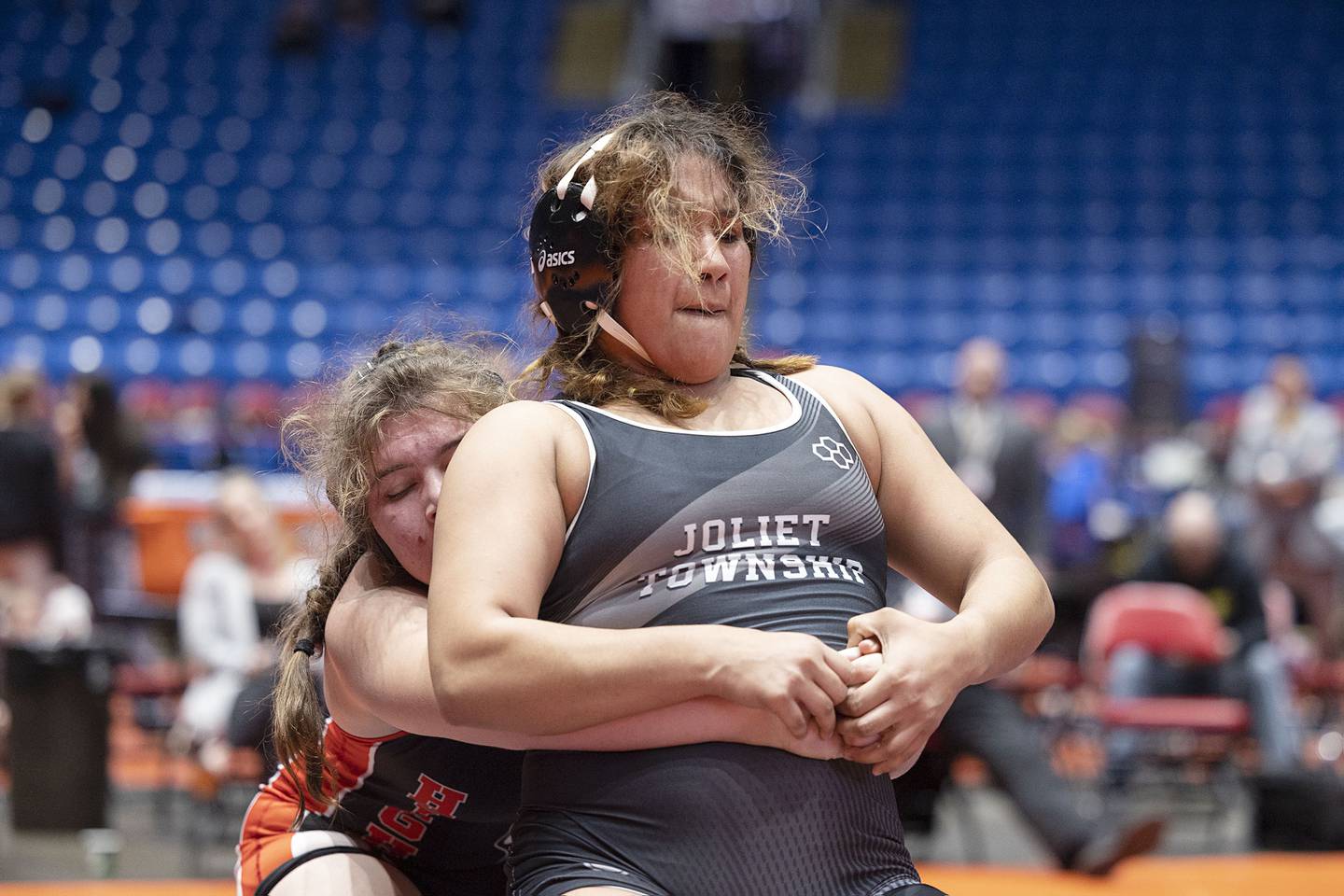 Guarino came close to redemption Saturday after finishing as the state runner-up last season. Neither she nor Grant's Ayane Jasinski could take control of the match in the first three periods before it went into overtime, where Jasinski picked up two points to earn the overtime win.
Paramo led 2-0 after the first period in her 115 match before Glenbard North's Gabriella Gomez flipped Paramo in the second period to take a 3-2 lead she wouldn't give up. Paramo finished runner-up after losing 12-3.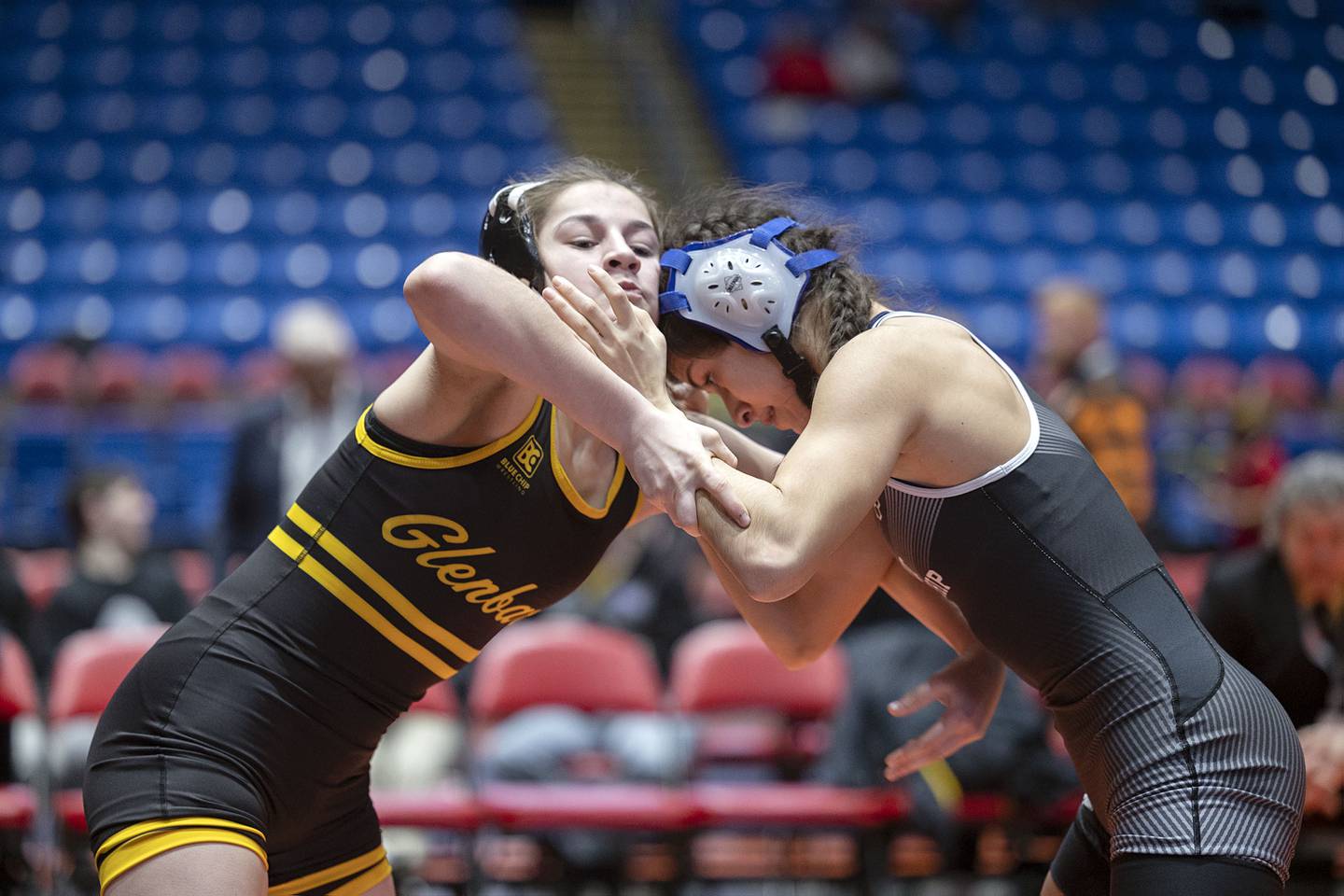 Lockport's Claudia Heeney entered her 125-title match 42-0 with her sights set on finishing an impressive freshman season with an undefeated record and a state title. Heeney fell into a 2-0 hole in the first period before Freeport's Cadence Diduch took a 6-1 lead on her way to a 12-2 win.
Although Heeney didn't get a chance to finish her season undefeated, she's proud of what she accomplished and is looking forward to learning from Saturday's performance.
"I'm really proud of myself, but I'm not satisfied yet," Heeney said. "I want to go out and do something nationally, that's what my main goal is. [This is] one stepping stone."
Morris' lone entrant, McDonnell, used a 4-0 decisioning of Burlington Central's Victoria Macias in the consolation semifinals to earn her place in the third-place match. There she fell by 10-0 major decision to Mt. Zion's Sydney Cannon to finish fourth with a 33-13 record.
For Joliet, Wong started her state run 3-1 including a late pinfall win in the consolation bracket's third round before dropping her final two bouts — also both ending via third-period pins — to place sixth.
Farmer was pinned in 1:38 in the fifth-place match to wrap up her 2-3 state tournament.