ROMEOVILLE – Not a lot of teams have a guard combination the likes of Romeoville's Laila Houseworth and Jadea Johnson.
Joliet Central got a firsthand look at the Spartans' talented pair Friday night, and the duo didn't disappoint as each scored 21 points to lead Romeoville to a 57-40 Southwest Prairie East win.
It was only fitting the Spartans' dynamic duo took control of the game, as the Romeoville players all donned superhero capes during a senior night ceremony that honored teammates Fafali Hodogbey, Maya Edrada and Sarina Silva.
Houseworth's superpower came from beyond the 3-point line as she hit her first three 3-point attempts to help the Spartans move out to a lead they never relinquished. Her third long-range shot put Romeoville ahead 11-6, but Joliet Central rallied to make it 14-12 at the end of the first quarter, getting 10 points in the quarter from freshman Elliana Fowler, who led the Steelmen with 19 points.
"Sometimes it's easier for me to hit 3-pointers than it is the shots closer in," Houseworth said. "Then, when I make a couple, the energy excites my teammates, and it just feels natural to shoot from out there."
Houseworth's long-range work opened things up in the lane for Johnson to use her talents to drive to the basket. She did that with great effect in the second quarter, getting a basket on a short jumper, then another soon after on a steal and layup to put her team ahead 23-17.
After a timeout by Joliet Central, Houseworth hit another 3-pointer – her fifth of the first half – for a 26-17 lead. The two later collaborated on a beautiful give-and-go with Johnson passing to Houseworth in the lane, then Houseworth feeding Johnson who was darting to the basket. That helped the Spartans (16-14, 8-6) head into halftime with a 32-21 lead.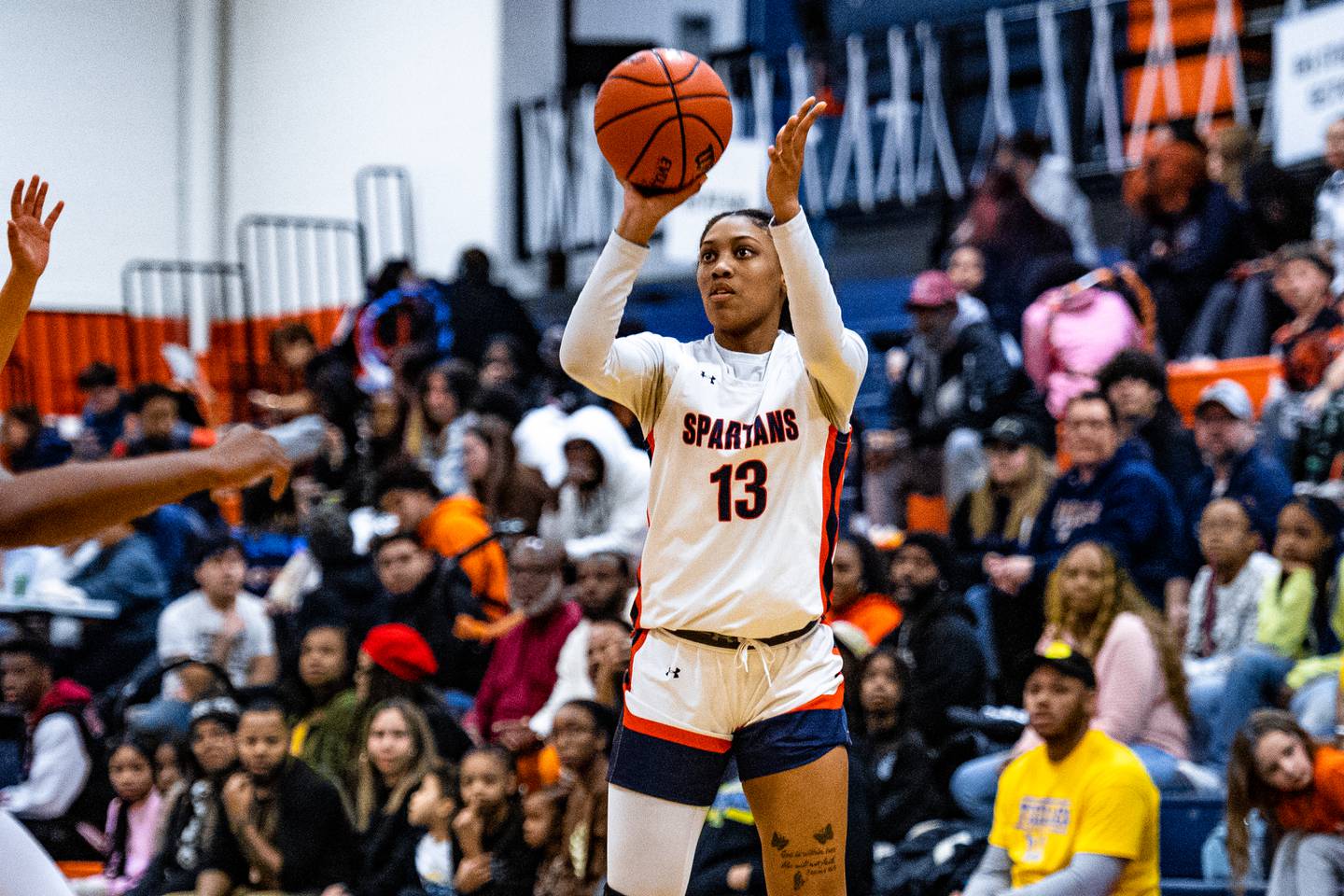 "Jadea and I have good chemistry," Houseworth said. "When things are clicking, I look for her, and she looks for me. We've been playing together since grade school so we know each other really well.
"Tonight we both had 21 points, and sometimes it's like a friendly competition to see who can get more. It's fun, because I want her to get hers, and she wants me to get mine."
The Spartans stretched the lead to 50-31 by the end of the third quarter, as Emily Gabrelcik turned two steals into layups, Johnson scored six points, and Houseworth had four. All 10 of the points for Joliet Central (10-17, 4-11) in the period were scored by freshman Alexis Bradley, who finished with 12.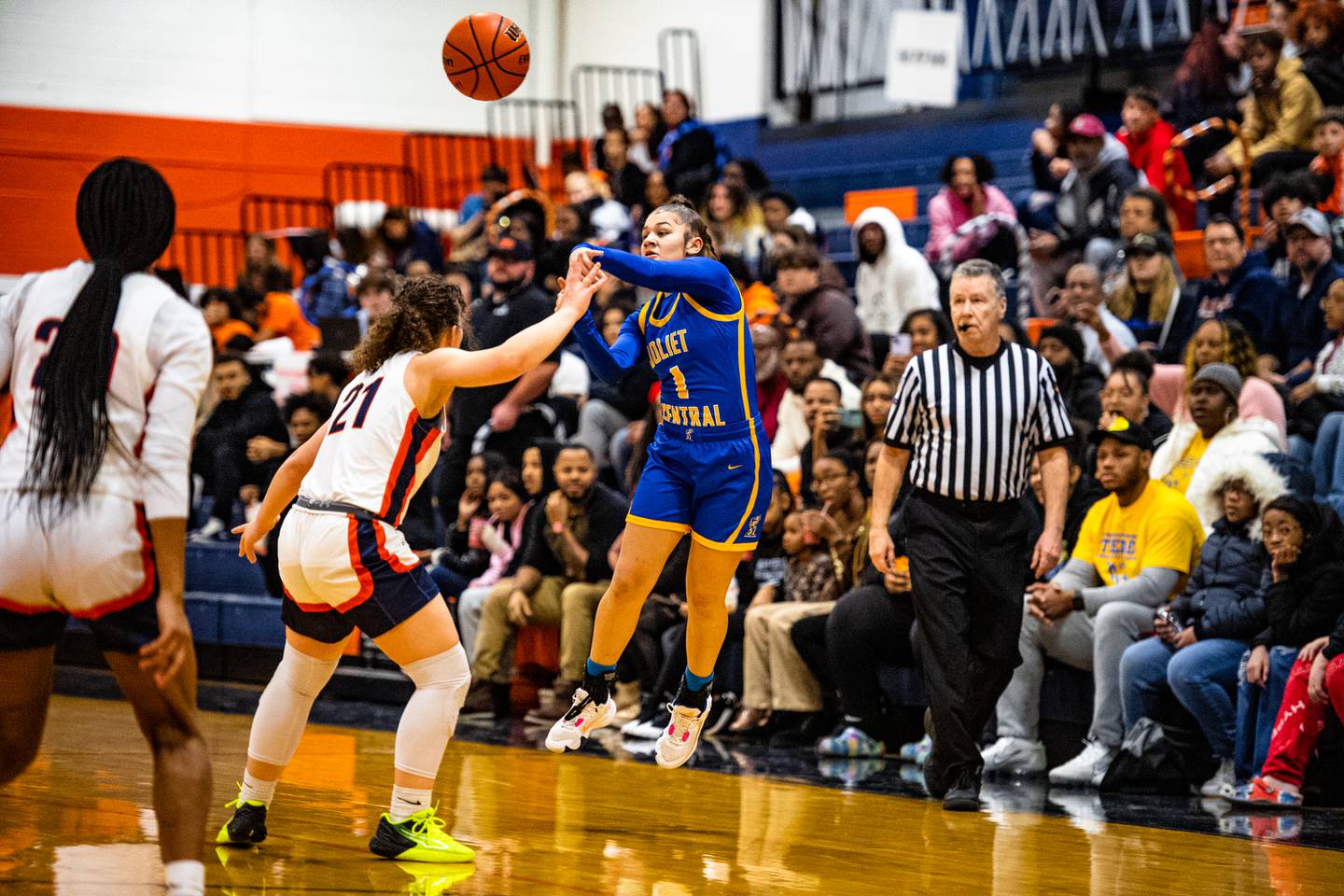 Romeoville coach Devin Bates liked what he saw from Johnson and Houseworth, as well as the rest of the team.
"I am biased, but I think Laila is the most underrated player in our conference," he said. "Everyone talks about Jadea, which she deserves, but Laila is right there with her. She had a game against Plainfield North where she had 36 points and 19 rebounds. When you have two big, athletic guards like those two that can score and get rebounds, as well as energize our defense and make the other team go faster than they want to, it makes us tough.
"We are in a tough sectional, maybe the toughest in the state. But I guarantee we aren't going to be an easy out for anyone. We want to take them into the deep water and see if they can swim. I don't think anyone wants to play us right now."