STERLING – After celebrating senior night Monday at Musgrove Fieldhouse, Sterling came out ready and raring to go.
The Golden Warriors grabbed the momentum from the start and never let up in a 25-15, 25-16 Western Big 6 win over Alleman.
"I feel like we just had momentum from the start," senior Olivia Melcher said. "The vibes were good, everyone communicated really well, and it was intense. It was really great."
"After we came out slow against UT [last week], we promised ourselves we're not going to play like that again," senior Sienna Stingley added. "Plus, I had it in the back of my head that I have an AP Psych test tomorrow, so I had to get out of here fast."
[ Photos from Sterling vs. Alleman volleyball ]
Melcher ripped a kill for the first point of the match, then reeled off nine straight service points – including four aces – to stretch the lead to 10-0.
Two kills each from Stingley and junior Delali Amankwa and another Melcher ace made it 20-8.
"The lead was nice, but I feel like the score isn't a big deal for us, because we just play our game no matter what," Stingley said. "That's what we've been really working on practice, is our setter-hitter connections, and getting our passing down. We were all working well together tonight."
Carley Sullivan and Stingley had kills around a Macy Anderson ace, then Sullivan had another kill before senior Elexa Varden stuffed a block to end the first set.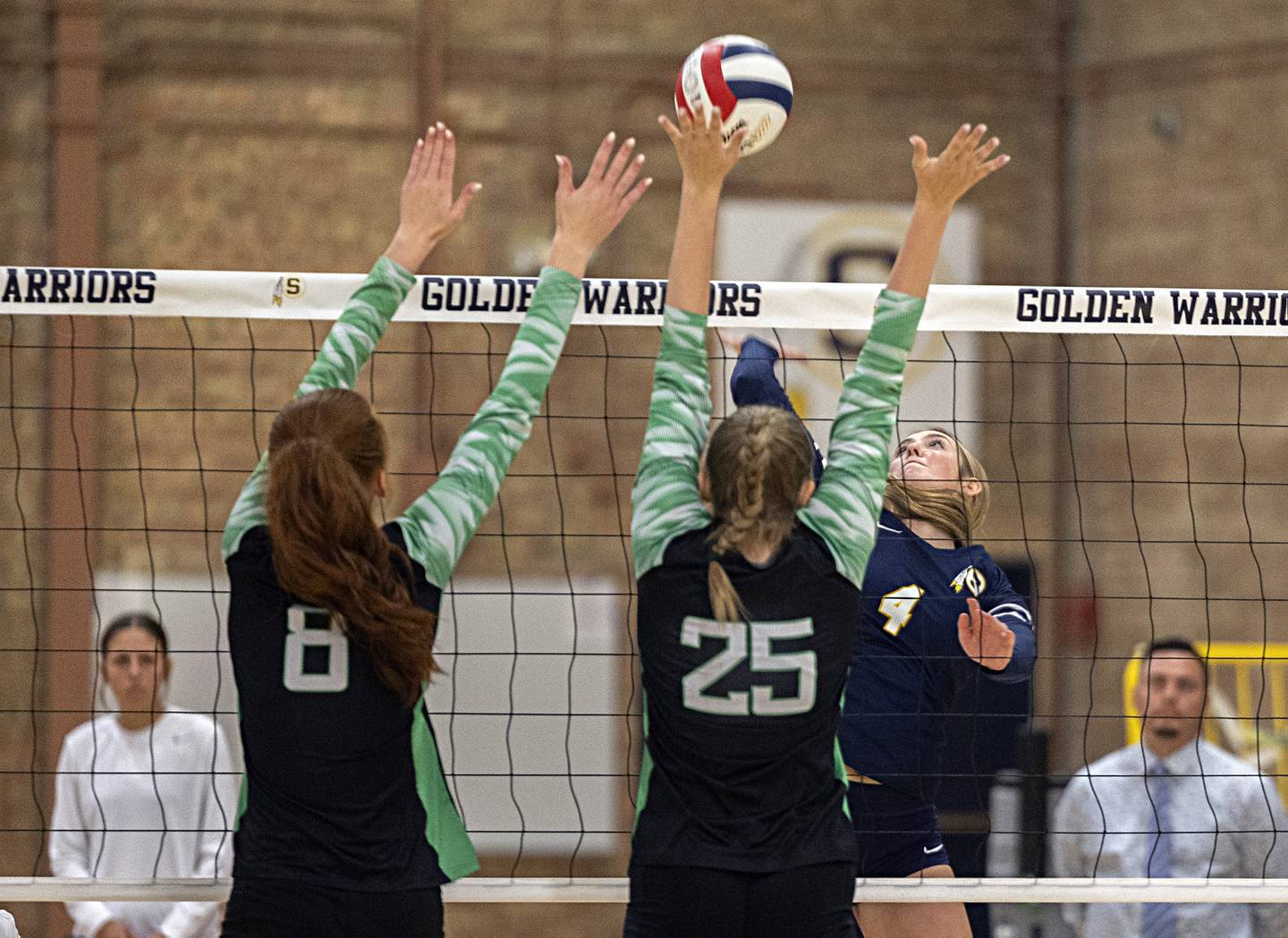 After Alleman (4-6, 1-5 WB6) scored the first two points of the second set, a kill by senior Kirra Gibson gave Sterling (8-5-1, 4-2) a sideout, then Melcher served three more aces in a seven-point run for an 8-2 lead; Sullivan also had a pair of kills in that stretch. A kill by Stingley and an ace by Rowzee a little later made it 16-4.
"I could count on them a lot tonight, all the hitters. I kept moving the ball around a lot to set everyone up, because they were all reliable tonight," Rowzee said. "The passing was pretty spot-on, too, and there were little to no errors made. The serving really helped, too."
Amankwa had two more kills, but kills from Alleman's Clair Hulke and Emilye Polich and an ace by Megan Hulke cut the Pioneers' deficit to 18-12.
"Sterling had a lot of energy from their senior night, and we're a team that takes a little while to wake up sometimes, so we're kind of a second-half-of-the-season, second-half-of-the-set team," Alleman coach Morgan DeBruine said. "I feel like we just woke up a little late. I was proud of how we started to come back. We just came back a little late for our comfort. It was going to take a little bit of a run, but we didn't have enough space [in the score] to close the gap."
It was certainly Sterling's night, and it showed when Anderson and Melcher each made diving saves on consecutive hits in the same point to give the Warriors a 22-14 lead. Amankwa then dumped a second-touch kill before back-to-back Alleman errors ended the match.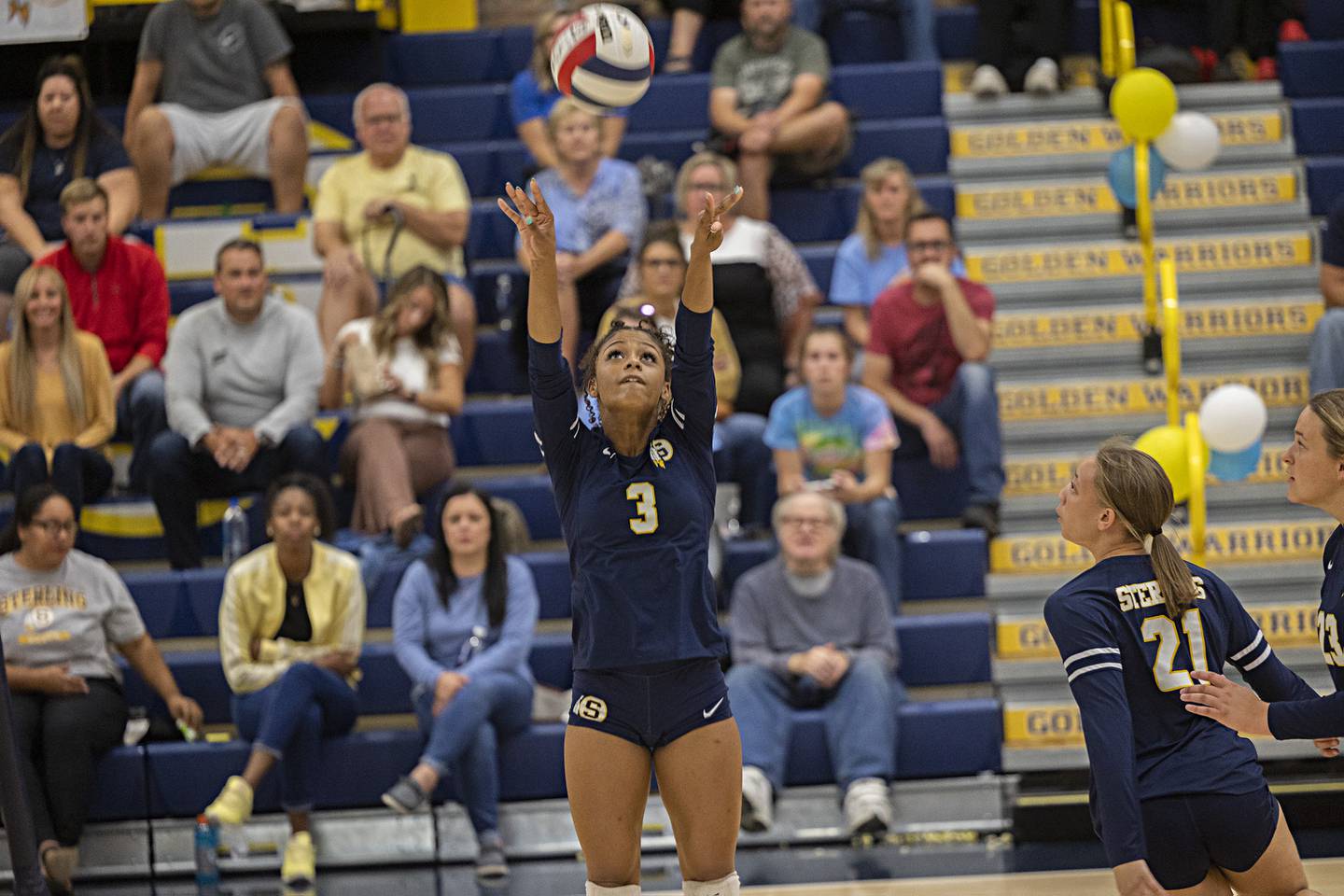 Stingley and Sullivan each had six kills, and Sullivan added six digs for Sterling. Amankwa finished with 13 assists, five kills and two aces, Melcher had 18 points, eight aces, six digs and three kills, and Rowzee dished six assists. Anderson added two aces, and Gibson chipped in a pair of kills.
"Playing against slower-paced teams can be hard for us – I feel like we kind of play slow ourselves – but I thought we stayed at our pace tonight and we ended up doing a really good job," Melcher said.
"Everybody stepped up for us tonight," Rowzee added. "Team bonding has really helped; team dinners bring us together a lot more than last year. It's way better this year, and it shows on the court."
Clair Hulke led Alleman with six kills and nine digs, and Megan Hulke dished 11 assists. Ashley Wood had six digs and two kills, and Polich, Delaney Orendorff and Audrey Erickson each stuffed two blocks.
"They have some strong servers, so I think that was definitely something that was a challenge for us and our passing. We're working on that right now as a team, and it kind of shows up one day and doesn't the next day, so that's something we're learning to become consistent at," DeBruine said. "Serve receive certainly got to us in a few rotations where it normally wouldn't, so that's an improvement we need, and also moving the ball around on the set a little bit; we were kind of a little too predictable with a couple of those plays. We have talent, we just weren't able to show it today, so hopefully next time we play, we'll be able to show some of that."