Brian Weidman made it two Senior Lincoln Highway Tournament titles in three years this past weekend, shooting a 36-hole total of 146 to win medalist honors by six shots.
Weidman, playing for Sunset, won the inaugural Senior Lincoln Highway in 2021, and took second last year by one stroke when the event was shortened to one day due to rain. He also won the Men's Lincoln Highway Tournament title in 2003.
Emerald Hill, which hosted Saturday's first round, took home the team title for the second consecutive year. Sunday's second round was played at Deer Valley,
For Weidman, it was strong drives and approach shots that were key to the victory.
"It was nice and boring, a lot of fairways and greens, and only one three-putt all weekend," Weidman said. "I drove the ball really good, mostly down the middle – just the way I like it – and my irons were pretty solid. I'm sure my playing partners were very bored watching me."
Ironically, it was a slow start and the only three-putt of the tournament that sparked Weidman over the final 27 holes.
"I got off to a rough start on Saturday, bogey and double bogey on the first two holes, and I was 3 over after I three-putted from 18 to 20 feet on the ninth hole," he said. "But I think that woke me up a little bit. I got kind of mad, and I had one birdie and only one bogey the rest of the round. That really straightened me out."
Two wins and a runner-up finish in the first three years of the tournament is something Weidman is proud of, and he says the vibe of the tournament is something that really fits in well with his attitude and demeanor on the golf course.
"It's a tournament that I really like. It's a lot of guys either my own age or slightly older, and there are some really good players in this thing; a lot of these old guys, including myself, can still play a little bit," he said. "It's more social than the Lincoln Highway. It's still a competition, but it's also a lot of fun to be with these guys before and after the rounds. It's my first tournament of the year, so it's a good way to kick things off for me."
Indian Oaks' Pete Barenie shot a 152 to take second, one shot ahead of Emerald Hill's Gregg Petrosky and Indian Oaks' Bob Hill. Timber Creek's Bob Venier and Sunset's Cary Bennett tied for fifth with 156s.
Shady Oaks' Jim "Sparky" Larkin fired a 157 to win Super Senior medalist honors, while Emerald Hill's Don Mekeel was the Super Senior Best Against Bogey winner at +20.
Other than the medalist race, where the winner is determined by stroke play, the rest of the tournament is a best-against-bogey format. Weidman finished with a tournament-best +34 against bogey.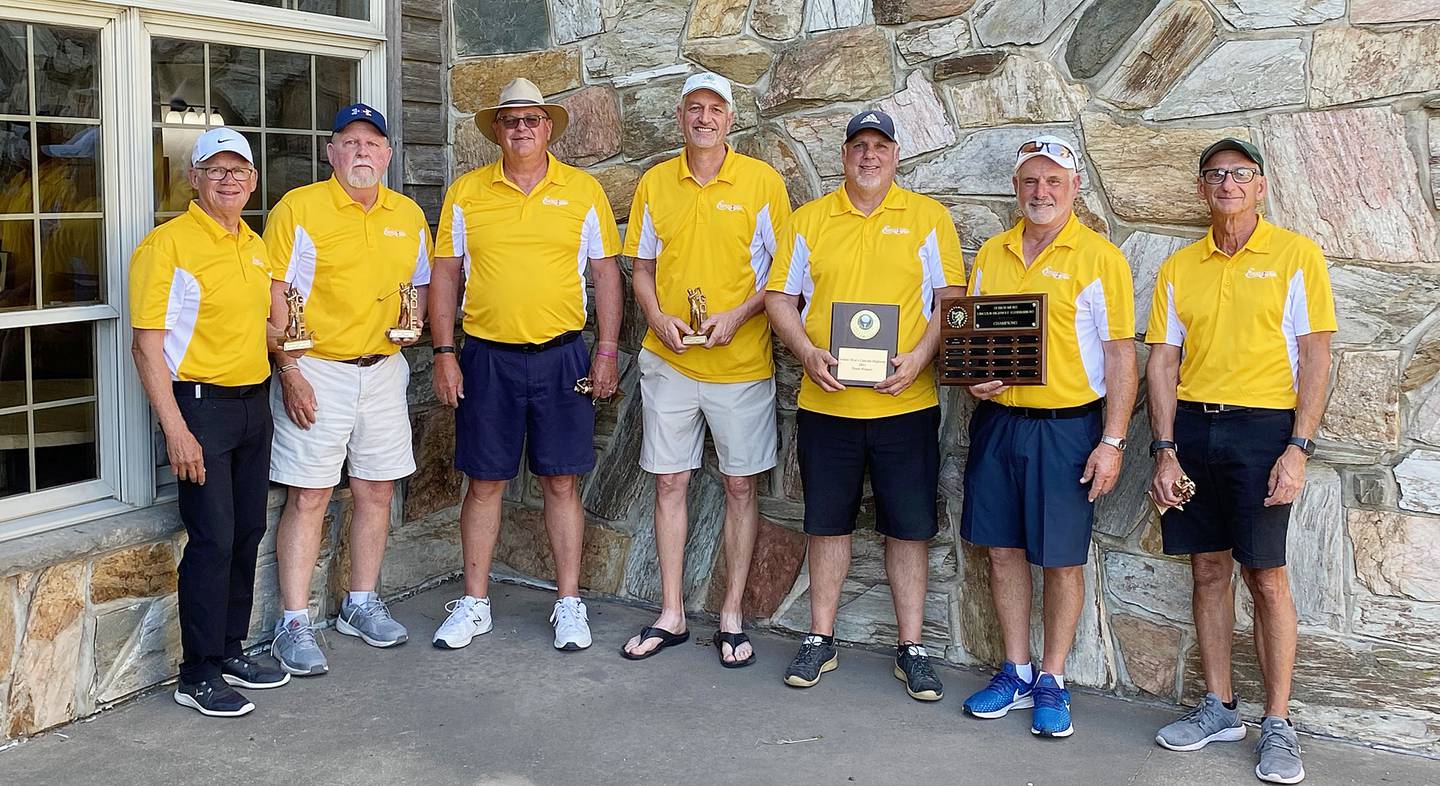 Emerald Hill won the team title with a +124, 10 points ahead of Indian Oaks (+114). Deer Valley took third (+107), Sunset finished fourth (+95), Shady Oaks placed fifth (+67), Timber Creek was sixth (+60), Fairways finished seventh (+25), and Lost Nation placed eighth (+19).
Emerald Hill had four flight winners and a runner-up, as Rod Anderson (+21) won the second flight, Petrosky (+27) took the third flight, Norm Deets (+17) won the fifth flight, and Jim Franson (+14) took the seventh flight. Jim Capp (+11) was runner-up in the eighth flight. Mekeel, John Miller (+24) and Dave Jakobs (+9) rounded out the Emerald Hill lineup.
Deer Valley's Todd Nelson won the first flight with a +25, and Mike Batten (+17) won the fourth flight. Tim Slavin (+18) took second in the second flight, Dalbert Wiebenga (+12) was runner-up in the sixth flight, and John Bellini (+13) was second in the seventh flight.
Sunset got second-place flight finishes from Bennett (+24) in the third flight and Terry Severns (+24) in the fourth flight.
Timber Creek's Venier (+25) was second in the first flight.
Indian Oaks got flight wins from Kevin Schmidt (+12) in the sixth flight and Hill (+27) in the eighth flight. Mike Dunn (+13) was second in the fifth flight.