Megan Fiorini accomplished something three times before she turned 16 that I've been trying to do a good chunk of my life.
Namely, hoisting a Rock River Classic medalist trophy.
I started playing in one of the area's top local amateur tournaments when I was about 10 years old, and with the exception of some years during and immediately after college, have been competing in it ever since. Another opportunity awaits this weekend, after a lot of close calls over the years.
Fiorini, meanwhile, is now a three-time defending champion in the tournament after putting on quite a display last weekend at Rock River G and Pool in Rock Falls. She finished with a two-round total of 137, which is 7-under par for the women. She won by a mere 18 shots.
For this week's Links With Locals, I was able to tag along with Megan, her father, Dan, and a family friend of the Fiorini's, Jerry Bianchi, on Monday to Aldeen Golf Club in Rockford. That was the site of the Illinois State Junior Girls Amateur Championship that was held Tuesday and Wednesday.
Dan and Brenda Fiorini have been submitting briefs from their daughter's golfing exploits for years, but Monday was the first chance I had to tee it up with her. My early impression: this high school sophomore is pretty tough.
Granted, you can only learn so much from an informal practice round. Megan hit some extra drives and approaches, and on each green, putted to spray-painted dots that were there to indicate where the pin placements would be for the junior tournament.
Still, it's hard not to notice a swing that produces mostly straight tee shots, accurate irons and a deft short game. It will be interesting to see what her future in golf holds.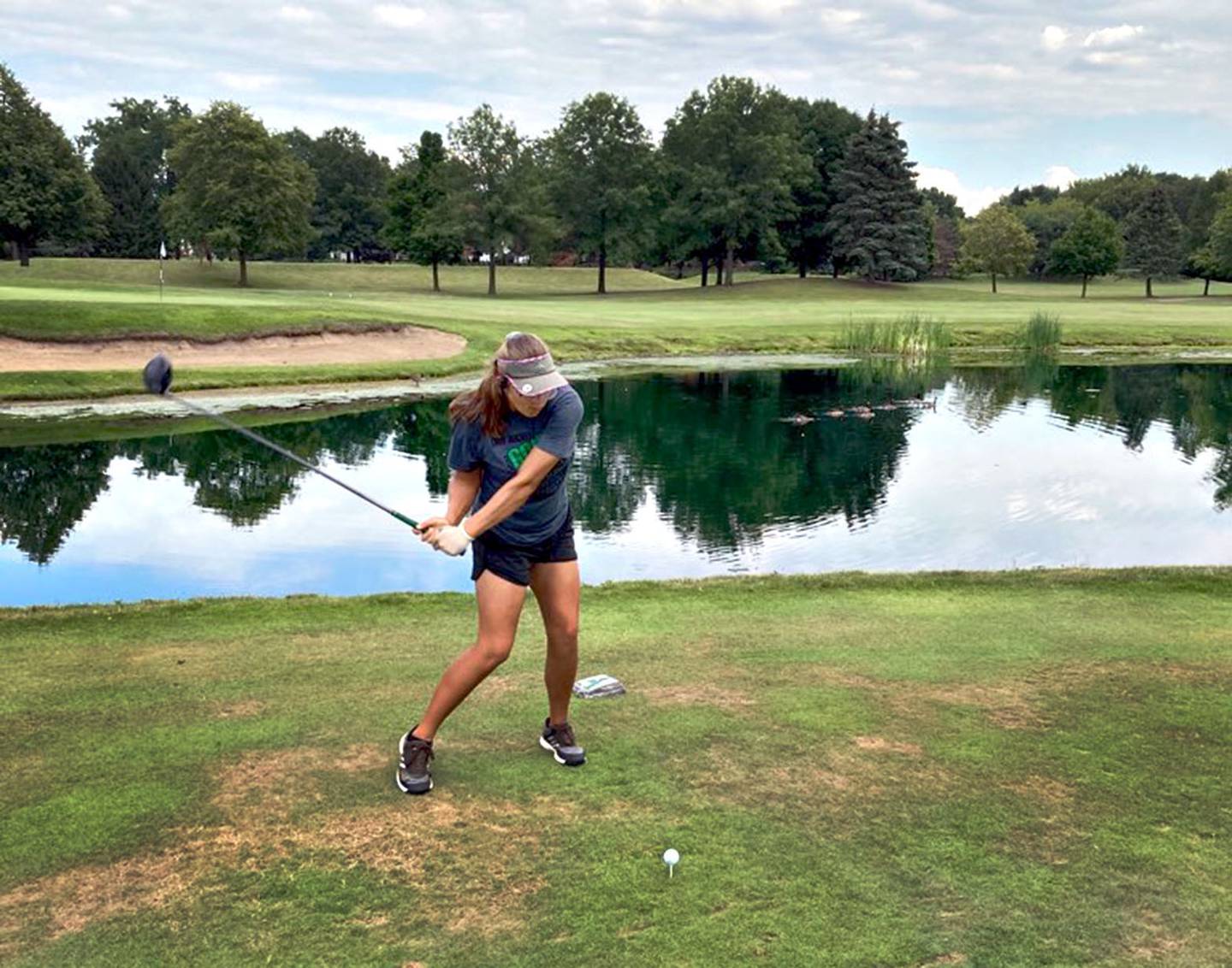 Pretty soon, that will be as the anchor for a Rock Falls High School girls golf team that should be one of the area's best. The Rockets have two other solid players in Ellie Wasson and Lauren Tupper, and if a serviceable fourth can be found, watch out.
Athletic achievement in the Fiorini house is nothing new; just look at Megan's father. Dan Fiorini, a 1975 graduate of Rock Falls High School, won a state wrestling championship at 155 pounds as a senior. While that was sweet, it could have been back-to-back titles.
As a 145-pound junior, with a record of 26-0 entering the Peoria Richwoods Sectional, Fiorini was disqualified in the first round for a slam of a Peoria-area wrestler named Mark Talarico. When Talarico couldn't continue, Fiorini's season was done.
Fiorini went on to wrestle three seasons for Northern Illinois University, and was a two-time Mid-American Conference Tournament runner-up at 167 pounds. After that, he embarked on a career in education and coaching.
After 1 year at Sycamore in 1983-84 and 1 year as an assistant wrestling coach at Illinois State, Fiorini came to Dixon in 1985 and was a physical education and driver's education teacher for 32 years. He was also the Dukes' head wrestling coach from 1985-2000.
He retired in 2016, but not completely. He has worked as a teacher's aide and a substitute teacher in Rock Falls, and for 1 year (2017), was a driver's ed teacher in Erie.
Bianchi was also an educator. He retired in 2001 after 25 years as a special education teacher in Rock Falls. Since then, his life has been been filled with golf, substitute teaching in Rock Falls, Sterling and Dixon, and going to a lifetime's worth of youth sporting events – something that won't end anytime soon.
His son, Cory, a fireman in Sterling who lives in Rock Falls, was a two-year starting quarterback at Sterling, and helped the Golden Warriors to their first 10-win season in school history in 1991. Cory's children are also accomplished athletes.
Twins Easton and Cade Bianchi were each multi-sport athletes at Newman. Easton is a senior at Brigham Young University and a sprinter on the track team, while Cade is a defensive back at St. Ambrose University.
Mattea Bianchi is a sophomore at Sauk Valley Community College and plays softball for the Skyhawks. Sophie Bianchi is transferring from Newman to Sterling this year, and will be a sprinter for the track team next spring.
Jerry Bianchi's daughter, Michelle Halvorsen, lives in Huntley. Her daughter, Emma, is a cheerleader and softball player at the school, and Jerry has made the trek to Huntley many times to see her do her thing.