OREGON – A robotic lining machine is the new rookie for the Oregon School District's Building and Grounds team.
But the new autonomous Turf Tank One has been emblazoned with a recognizable name when it ventures out to line the Hawks' athletic fields.
The little white robot has been named Mikey in honor of Michael J. Myers, a member of the district's building and grounds crew, who passed away on Sept. 30, 2021 at the age of 51.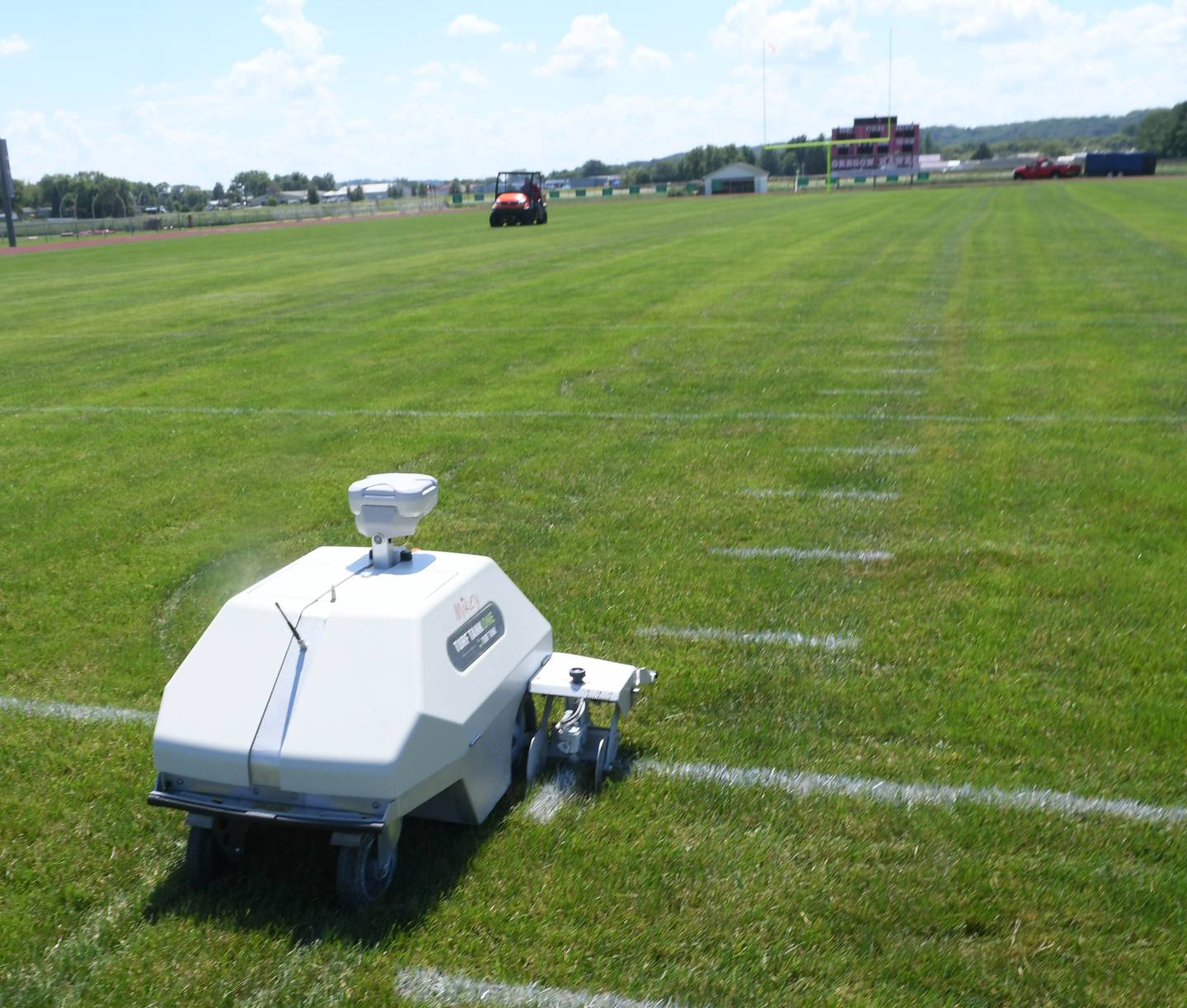 Mikey was getting his wheels wet on Tuesday lining the Hawks' football field with building and grounds crew member, Charlie Perrine, riding alongside in an all-terrain vehicle.
"Did you see the name on it?" asked Perrine. "We named it for Mikey."
Oregon Superintendent Tom Mahoney told the school board on Monday that the robot will save time and money for the district.
"We purchased a robotic field striping machine that literally lines the fields for us," Mahoney said. "It will be saving our maintenance guys time and labor."
Mahoney said the district purchased the robot for a one-time cost of $10,000.
"It's really neat and so far it's been working really well," activities director Mike Lawton said.
Mahoney said the machine uses a GPS tracking system similar to what farmers use in their fields.
According to the Turk Tank website: "It's faster than using a hand-pushed machine and with its state-of-the-art GPS system it's much more precise. There is no need either to measure out all the lines before applying the paint. Using the Turf Tank ONE app, the robot can be programmed to draw any pattern desirable. And it's not just its accuracy which is better than traditional line marking. The spray system and quality of the paint are too, so that each coat of paint lasts longer saving on time and paint."
Mikey's work can be viewed Friday during the football scrimmage portion of the school district's Red & White Spirit Night, where fall sports teams are introduced.