It's Labor Day Weekend. By tradition, the end of the summer, so it's a chance to sneak in one final getaway: to light the grill for dogs and brats or find a pool or pond for a day of swimming. A smattering of other events in the Sauk Valley are worth a quick trip.

1 RB&W Park in Rock Falls is home to the yearlong sculpture exhibition and Rock Falls Tourism is excited to be getting 8 new sculptures. The Art in the Park Sculpture Walk & Outdoor Art Gallery will be 2 to 6 p.m. Saturday. Meet several of the sculptors in person. Visitors can browse the Outdoor Art Gallery, shop from crafters and vendors, listen to the Rock River Jazz Inc. and enjoy wood fired pizza from a vendor. People are also invited to see the sculpture installation on Friday.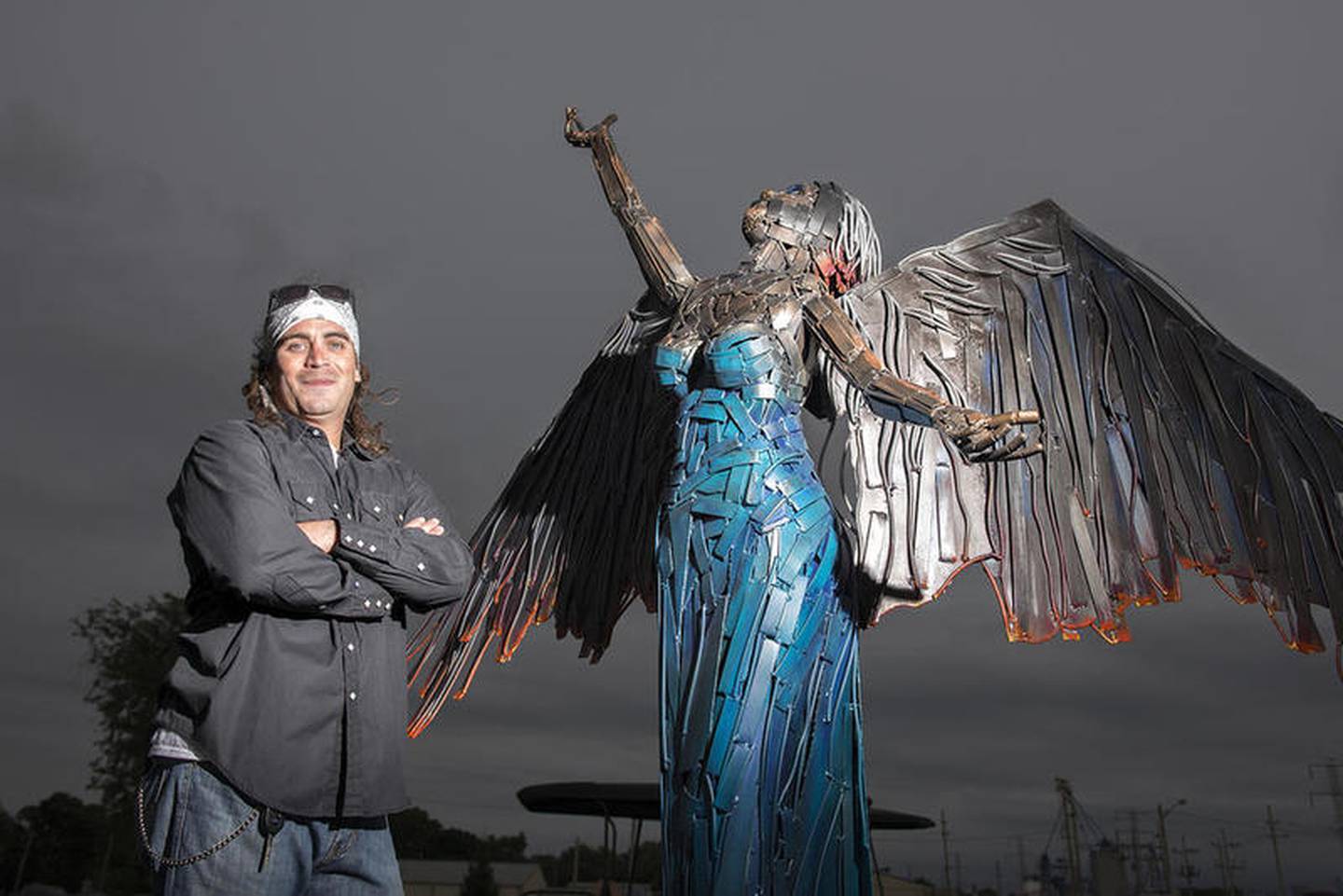 2 The 27th Min's Mississippi Memorial Walk-Run will be 8 a.m. Saturday in Thomson. The four-mile run starts at the west end of Main Street. Money raised goes to the Melinda Ann Wilkinson Memorial Scholarship Fund.
3 Shannon Homecoming Celebration, 10 a.m. Monday. Established in 1919, it is northwest Illinois' oldest hometown celebration. It was originally started to welcome back veterans of the Great War. Parade starts at 10 a.m. and include a day filled with other activities.
4 Up early Sunday for the Prophetstown Fire Department's annual pancake breakfast. It runs from 7 a.m. to 1 p.m. Cost: Donations accepted for the meal of pancakes, eggs, locally-raised pork sausage and hash browns.
5 Weep & Willow, the duo of Miles Nielsen and Kelly Steward, will perform 5:30 p.m. Friday at John Dixon Park in Dixon for the season finale of Music at the Square.
Information on events and attractions for Sauk Valley Media's weekly calendar should be submitted to news@saukvalley.com. Include a contact person and phone number.
Around the Sauk Valley
Other events and activities in the region:
The World Series of Demo Derby for Peat Monster 4x4 Pro-Sho and Truck Mud Drags and Bogs will be 4 p.m. Saturday, Sept. 4 at 13524 Black Road in Morrison.
Blooze Brothers Review, 7 p.m. Saturday at Timber Lake Playhouse.
Paw Paw Lions Club will have its Labor Day Celebration starting at 1 p.m. Monday.
Indian Hills Orchard apple barn opens from 11 a.m. to 5 p.m. Friday. Varieties available are Pristine, Zestar, Paula Red, Gala and Early Honeycrisp. Pick your own or pick a small bag for $4 to $5 or a large one for $8 to $10.
Herm VanDerLeest Memorial Rodeo, 6 p.m. Saturday continuing through Sunday at Whiteside County Fairgrounds, 201 W. Winfield St., Morrison. This is an Illinois High School Rodeo Association event.
Bontrager Family 6 p.m. Sunday, Sept. 5 at Spring Valley Reformed Church, 10960 Spring Valley Road Fulton.
The 26th annual National Karting Alliance Grand Prix will be in downtown Rock Island Sept. 4 and 5. Organizers also are planning expanded festival weekend activities.
14th annual Art in the Park at 10 a.m. Sunday at Krape Park in Freeport. Music will be by Mr. Ed, Dean Wright and Jukebox Baby.
Chana Route 64 Auction Barn Inc. auction, 10 a.m. (first and third) Sunday at 620 S. Stone Hill Road. For information, concact Chana Auction Barn on Facebook or call 815-830-3898.
First Friday Open mic, from 6 to 10 p.m. Friday at Northside BarBQ, 117 N. Fourth St., Oregon; draw for performance positions at 5:45 p.m. for a 15 minute time slot; when not onstage, groups perform outside; no charge to listen, donations accepted. Find First Fridays Open Mic in Oregon on Facebook or call (815) 449-2660.
Postponed
An appearance by Franc D'Ambrosio for his show "Broadway, Songs From The Great White Way," which was to be Saturday at Historic Dixon Theatre was postponed because of COVID-19 mitigations. Tim Boles, executive director of the theater said it is working with the Illinois Department of Public Health for new protocols for future performances. The show was to be the venue's premier performance after extensive renovations.
Theater productions
Tickets are on sale for the following shows at Historic Dixon Theatre, 114 S. Galena Ave.: Lorrie Morgan Sept. 18, October Rendezvous Oct. 6, Completely Unchained Oct. 27, Who's Bad The Ultimate Michael Jackson Experience Nov. 5-6, November Rendezvous Arts Nov. 11, A Christmas Carol Dec 3-5, December Rendezvous Acts Dec. 9.
Art exhibits
The Sauk Art Gallery proudly presents Ontogenesis, by Professor Glenn Bodish, from 7 a.m. to 6 p.m. Monday and Tuesday, and from 7 a.m. to 5 p.m. Wednesday and Thursday at 173 state Route 2, Dixon; Glenn Bodish, glenn.s.bodish@svcc.edu.
Autumn festivals
Indian Hills Orchard apple barn opens from 11 a.m. to 5 p.m. Friday. Varieties available are Pristine, Zestar, Paula Red, Gala and Early Honeycrisp. Pick your own or pick a small bag for $4 to $5 or a large one for $8 to $10.
Farmer's markets
River's Edge Farmers Market from 5:30 to 7 p.m. Thursday, off North Second street behind Oregon Fire Department, 100 W. Washington St.; locally grown produce, meat, handmade items, activities for kids, and other special events; Facebook and Instagram.
Twin City Farmers Market from 8 a.m. to noon Saturdays, year-round indoors and out; 106 Avenue A in Sterling, 815-626-8610, twincitycarmersmarket.com and Facebook.
Dixon City Market from 5 to 8 p.m. Wednesdays, Dixon Riverfront, 87 S. Hennepin Avenue; fresh produce and artisan crafters; weekly food trucks; discoverdixon.com and Facebook.
Haymarket Square Farmers Market from 7 a.m. to noon Wednesdays and Saturdays through October; 513 W. Second St., Dixon; fresh produce and crafts; dixonparkdistrict.com/farmers-market and Facebook.
Mt. Morris Farmer's Market from 4:30 to 7 p.m. Wednesdays and Fridays through September at Union Savings parking lot, Wesley Avenue and state Route 64; locally grown produce, homemade items; mtmorrisil.net
Lanark Farmers Market from 3 to 6 p.m. Tuesdays through October at Broad and Locust streets; fresh produce, demonstrations, classes, music, food, arts and crafts, kids' events and more; visitcarrollcountyil.com or Facebook.
Rock Falls Farmers Market from 7 a.m. to 1 p.m., Wednesdays and Saturdays, 400 W. Second St.; locally grown.
Mt. Carroll Farmers Market from 8 a.m. to noon Saturdays through October on the courthouse square, 301 N. Main St.
Museums, exhibits and attractions
"The Art of Surviving: The Journey of Burmese Karen Refugees" in Illinois. An exhibition Aug. 24 to Nov. 12 at the NIU Art Museum, first floor, West End Altgeld Hall that is based on the work of Northern Illinois University doctoral and masters-degree students who either lived within the refugee camps along the Burma-Thai border who worked with Illinois Karen Refugee communities for the last 10 years. Running concurrently with "Refuge and Refugee," an exhibit featuring the works of Luciana Abait, Karen Albanese Campbell, Yolanda del Amo, Tere Garcia, Bernhard Jaeger, Judith Joseph, Rebecca Keller, Eddy Lopez, Stephen Walt and Kathy Weaver that explores the global humanitarian crisis of displaced persons. Gallery hours are 10 a.m. to 1 p.m. Tuesdays and Wednesdays, noon to 6 p.m. Thursdays and Fridays and noon to 3 p.m. Saturdays. Group tours can be scheduled by appointment.
Savanna Museum and Cultural Center from 1 to 4 p.m. Saturdays and Sundays through Labor Day weekend; 406 Main St.
Amboy Depot Museum from 10 a.m. to 4 p.m. Saturday, and starting 1 p.m. Sunday through October, 50 S. East Ave. The museum is a two-story brick and limestone building with eight distinctive chimneys. It has 19 rooms filled with items specific to the Illinois Central Railroad and local history. The Freight House and Palmer 1- room School House also are open. Donations are welcome.
Franklin Grove Grist Mill from noon to 4 p.m. Friday-Sunday, 1893 Twist Road; natural history and locally made gifts; guided hikes of the Franklin Creek State Natural Area, 9 a.m. to noon on the last Saturday of the month from May through September; franklincreekconservation.org or 815-456-2718.
Loveland History Museum from 9 a.m. to 2 p.m. Thursdays and Fridays, Loveland Community House, 513 W. Second St., Dixon; free admission; lovelandcommunityhouse.org or 815-284-2741.