AMBOY – All it took for Loreen Mead to find her niche was a chance to do something she never did before – and a dining room wall.
It was 30 years ago and she wanted to do something different in her dining room. That "something different" turned out to be rural mural filled with larger-than-life flowers. It was her first time tackling a mural, and her talent just kept blossoming from there.
"I had a beautiful farmhouse, and I knew I wanted a mural in it but couldn't afford to have it done," she said. "I thought, 'Maybe I could do it'" — and she did.
It didn't take long before drawing and painting went from being a hobby to being a passion. Mead went from being a full-time mom raising three children on a sesquicentennial farm to being in-demand for her work turning walls into a canvas for her creativity.
Today, the 68-year-old Sublette native's talents can be seen throughout Amboy. If it's a painting on a wall, and it's in Amboy, chances are Mead had a hand in it – and in that hand, a brush.
Her journey as an artist didn't begin in earnest until well into her adult life, so she knows what she's talking about when she tells people it's never too late to answer their calling. No matter what stage of life they may be in, she said, they'll find their purpose at some point.
For Mead, she found hers in her dining room.
"I didn't know I could do it, but I just walked up to the wall and just started," Mead said. "It just snowballed, and every time I would do one, it would get better and better."
While her work has kept getting bigger through the years, so has her audience. In fact, she has a legion of fans who appreciate her recent series of works: paintings that pay tribute to members of the military at Amboy's Legion Park.
In 2017, Mead commenced work on a painting honoring those who served in World War I. It depicted a service member paying tribute to a fallen soldier, capped with the phrase, "In war, there are no unwounded soldiers," penned by Argentinian author Jose Narosky.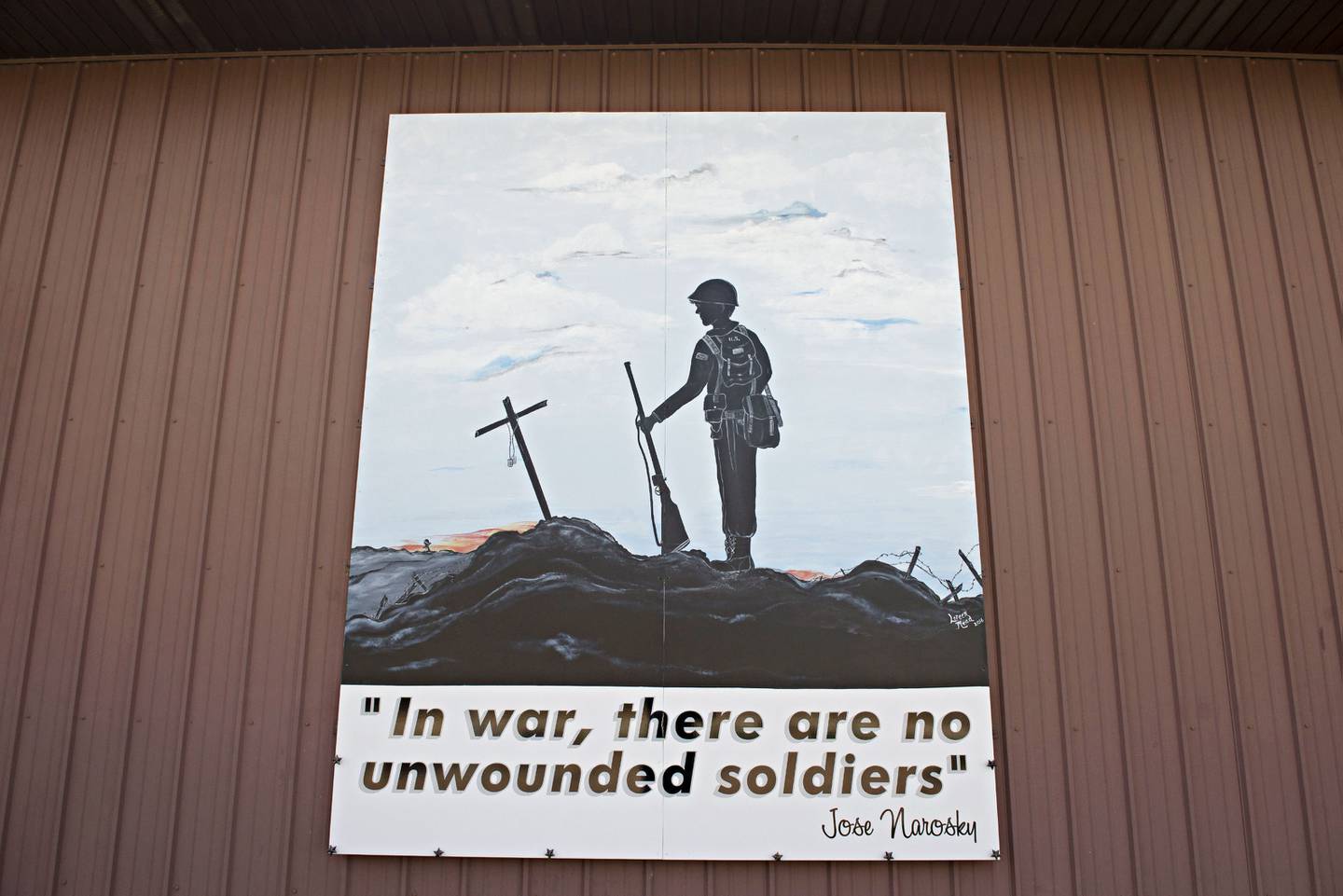 The painting was an important piece of the revitalization of the park in recent years; the triangular parcel was established in 1919 by the newly opened American Legion post, Poths-Lavelle No. 403. It honored World War I soldiers from the area who lost their life either in France or from the Spanish flu, said Loreen's husband, Jack, 71, who also is commander of the local Legion.
Murals used to adorn a building at the edge of the park, but those was destroyed when it caught fire. The park has since doubled in size, while retaining its triangle shape, and Loreen's artwork looms over the park while hanging on the side of Becker Auto Body.
"It was like that for a long time, and there was a minor expansion, but we felt like we needed a better flag area," he said. "That was the kick start of getting this going, and working with several area landscapers, now it is what you see. We made a lot of progress."
The paint used for the pictures is a weather-resistant, outdoor acrylic, and the metal canvas came from Turnroth Signs in Rock Falls. That initial painting drew enough interest to persuade her to do two more, with World War II and Vietnam War themes. Those were unveiled in 2020.
"I only planned on that one," Loreen said. "Then they liked it and asked for another, but I couldn't do just one more, there needed to be two to flank that."
The World War II work depicts a scene at Omaha Beach, where American troops landed to launch the Invasion of Normandy. The Vietnam one pays homage to the Dustoff medevac operations in the heat of battle. Dustoff is the military's tactical call sign for the emergency patient air evacuation of casualties from a combat zone. The procedure was a quicker method of recovering and treating the wounded from the battlefield, as opposed to a MASH unit near the front line.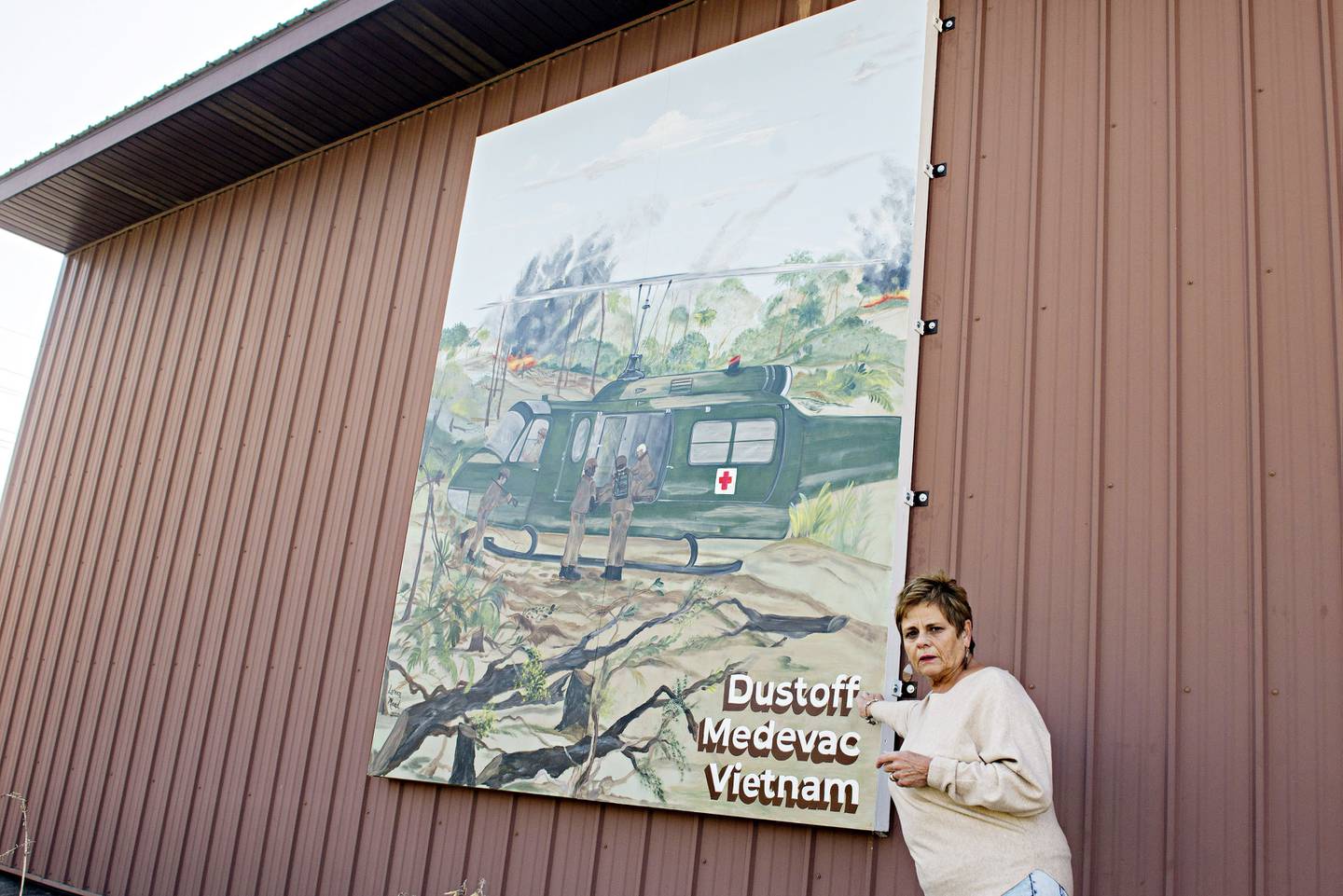 Vietnam was the first war where wounded soldiers were evacuated directly from the battlefield and whisked to an aid station for treatment before being transported to a base hospital.
"In Vietnam, they flew in right in the midst of battle," Jack said. "It made much people people live and survive wounds because they got them out of there while they could still be saved."
The scenes, like the other two, come from a mix of images Loreen sees in recollections and a mental image of differing vantage points, so what is seen in a painting isn't necessarily an exact replica of a published photo.
"The Vietnam one, because I know a lot of guys that age, they just want to talk about it," Loreen said. "They'll say that they were either on that stretcher, 'I flew that helicopter,' 'I cut down those trees,' 'I was in the Dustoff operation.' It was amazing just how many people wanted to talk about it."
People liked them so much, Loreen said, that it elicited several memories from these events.
"After I did those and they were hung this past fall, I cannot believe the guys that come up to me that thank me for doing it, and that want to talk about being there," Loreen said. "There are only a few left of the older guys, they want to come and look at the D-Day one because either they were there, or they were in that war. They want to talk about that and thank me for representing them."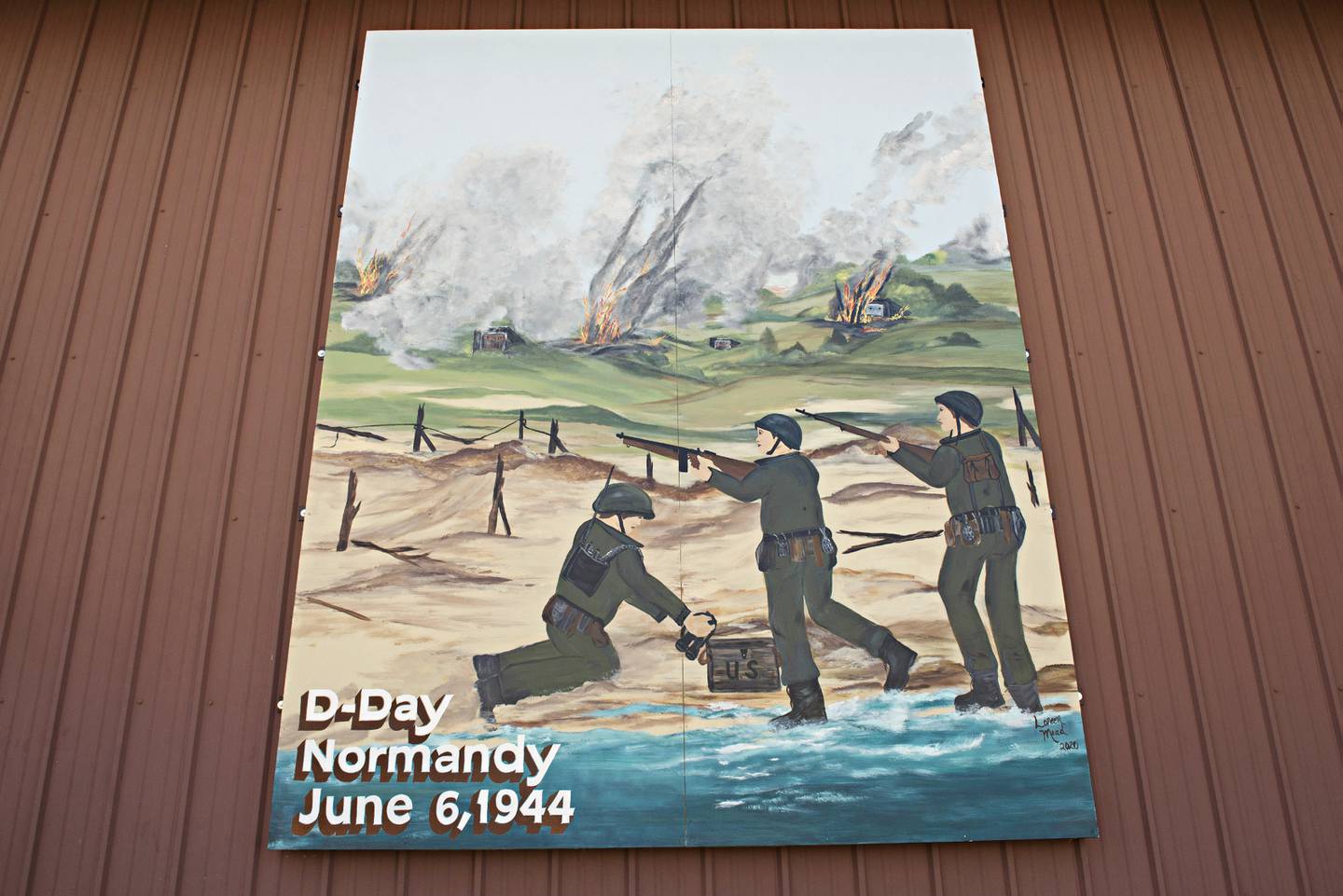 Such moments, as numerous as they are, still come as a surprise for Loreen.
"If you're talking to them at a wedding, or somewhere else, none of that is in their mind. When it's there, it's like, they talk about it and they talk about it – it's kind of surprised me and really got me in the heart."
A lot of people are talking about her work. It can found in homes, businesses, schools and churches, wherever her talent takes her – even all the way to Africa. One of her recent creations was work an a wall depicting an African safari; a friend recently went on one and showed Loreen pictures to help give her an idea of what to draw.
"I think I've done a lot of fun stuff over the years," she said. "I wish I could just keep doing it all of the time."
Some of her creations have an added dimension, such as the nature dioramas at Woodhaven Lakes Nature Center, where her murals take on a life of their own, with stuffed animals and streams to add a sense realism.
While she does commissioned work, Loreen has donated many of her pieces – especially those for children. She enjoys all of her work, and demand for it has kept her busy, but she has a soft spot in her heart for bringing a smile to children's faces.
One of her current projects is at Sweet Pea's Pediatric Therapy center in Bettendorf, Iowa, a facility that cares for autistic and special needs children.
"I wish I could just stay out there and do it, but I can only do 4 hours a day and have to come home," she said. "I love my job – it's not even a job, I could stay up all night painting if my arm would let me do it. I absolutely love what I do. It's just so fun for me."