There's usually a common denominator among softball teams that qualify for state, and that is dominant pitching.
When Sterling and Highland meet at 10 a.m. Thursday morning in a Class 3A semifinal at the Illinois High School Association State Softball Tournament at the Louisville Slugger Sports Complex in Peoria, that will not be an exception.
Highland (23-1) is paced by senior right-hander Samantha Miener, who is 23-0 with a minuscule earned run average of 0.21. An Austin Peay University recruit, she has thrown all but six of the 173 innings her team has played in 2021 and allowed just five earned runs, 71 hits and 15 walks, with 211 strikeouts.
Miener also leads the team in runs batted in with 20. Maggie Grohmann, a sophomore first baseman, has 18 RBIs and is tied with Miener for the team lead in doubles with six.
The team's other top player is senior second baseman Sydney Parkerson, who has knocked in 17 runs. She will play at Truman State next season.
The team's only loss was to Collinsville, 5-4, in the regular-season finale back on May 29. This will be the Bulldogs' first state tournament appearance.
Highland got the attention of Sterling coach Becki Edmondson with a 5-1 victory against Marion in a sectional semifinal. Marion had been the top-ranked team in Class 3A.
"They upset the No. 1 team in the state when they beat Marion," Edmondson said. "That's the first thing that I think of. I think of them like us – they're going to be fighters, they're not going to back down from challenges, and we're an underdog in a sense, too.
"I think we're a little bit more of an underdog than they are, but I'm hoping they're not going to be ready for us. They can go ahead and talk to a lot of people that are out there, but they didn't see this team. They saw a different team."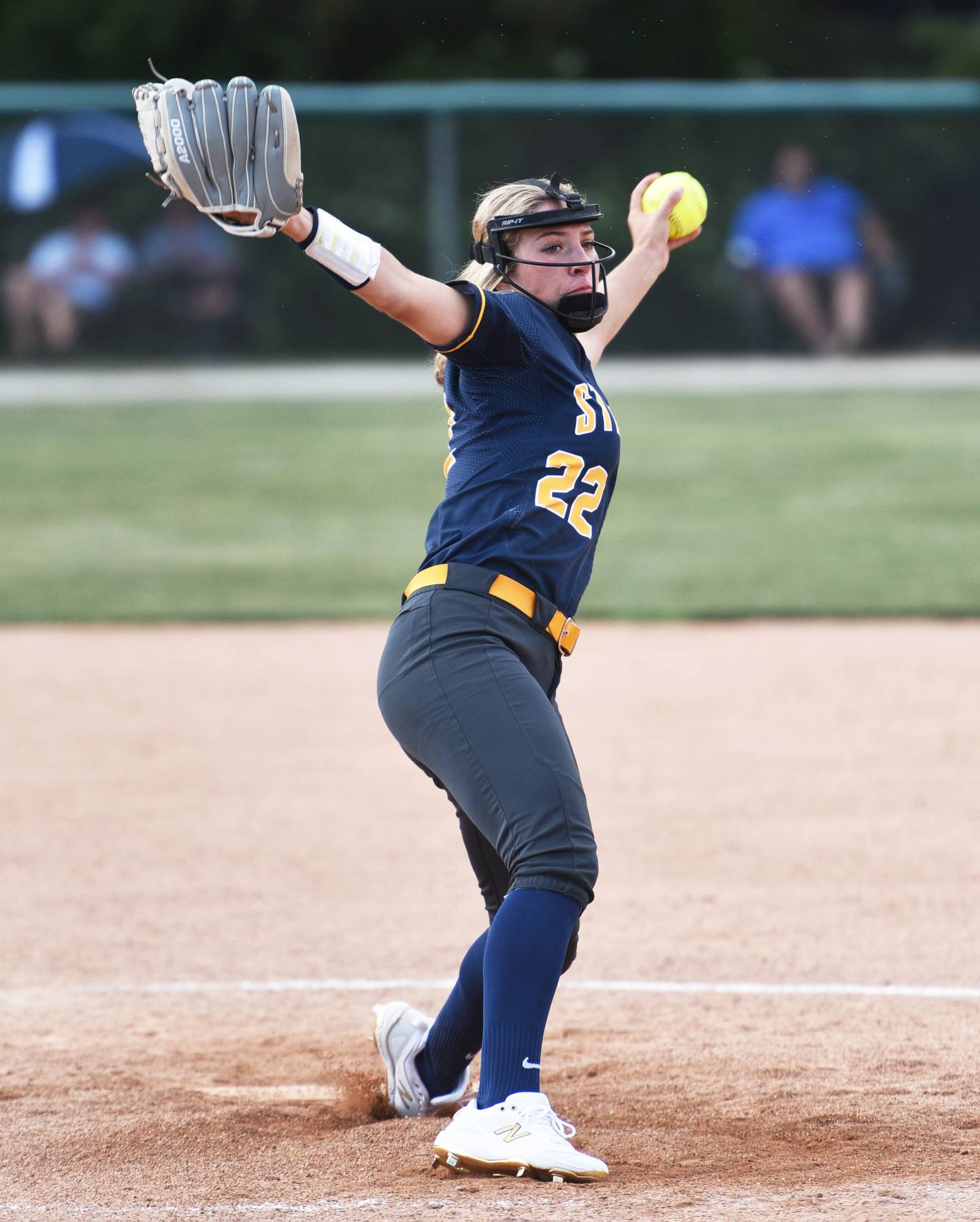 Sterling (17-7) has caught fire in the postseason due in large part to the dominant pitching of junior left-hander Elizabeth Palumbo. In 35 innings, she has allowed just two earned runs, and those were in regional wins against Freeport and LaSalle-Peru. She has since posted shutout wins against Sycamore, Kaneland and Antioch, and Edmondson is confident she'll continue this hot streak.
"They're aggressive, which is fine. We like that," Edmondson said. "They're swingers. That's fine. We like tha, too, because we can make them swing and miss."
Overall, Palumbo is 14-4 with a 1.85 ERA in 121.1 innings in the circle. She has allowed 32 earned runs, 90 hits and 23 walks, with 150 strikeouts.
Palumbo also swings a potent bat, as she's hitting .391 (27-for-69) with nine doubles, four home runs and 21 RBIs.
The Golden Warriors' biggest offensive threat is senior shortstop Amayia Hernandez, who is batting .426 (40-for-94) with team-highs in home runs (11), RBIs (40) and runs scored (36).
The other 3A semifinal, also at 10 a.m., will pit Lemont (27-4) against Ridgewood (24-4). The third-place game will be played at 1:30 p.m. Thursday, while the championship game is at 2 p.m.