STERLING – The Class 3A Sterling Regional softball championship between Dixon and Sterling had a little of everything Saturday afternoon: big innings by both teams, stellar defensive plays, and clutch hits on both sides.
The decisive blow came on the final swing of the bat, as Sterling's Elizabeth Palumbo singled up the middle with two outs in the bottom of the seventh inning to send the Golden Warriors to a 7-6 victory over the Duchesses.
The game saw Sterling (5-6) jump out to a 6-0 lead after a five-run second inning, only to have Dixon (18-9) rally to tie it with a five-run fifth inning, capped by a three-run home run by senior Izzi McCommons – her first career varsity homer.
[ Photos from Sterling vs. Dixon softball in 3A regional final ]
But the Warriors found a way to win their 10th straight 3A regional crown, thanks to senior standout Palumbo's clutch base hit.
"I was just focusing on what I needed to do to get a hit," Palumbo said of her approach in the final at-bat. "I wasn't doing as good hitting this game, but I just tried to stay relaxed. I was going to do it for my team."
Katie Dittmar led off the seventh with a perfectly placed bloop single down the right-field line. Katie Taylor and Neveah Frey laid down sacrifice bunts to get Dittmar to third.
"I went up to bat thinking that I really just needed to get on base, and I trusted my teammates behind me that they were going to hit me around and I was going to score and we were going to win the game," Dittmar said. "Going into that inning, we felt like we really needed to kick it into gear. This was our chance to win, and now we needed to go. It started off with me, and it just kept going from there."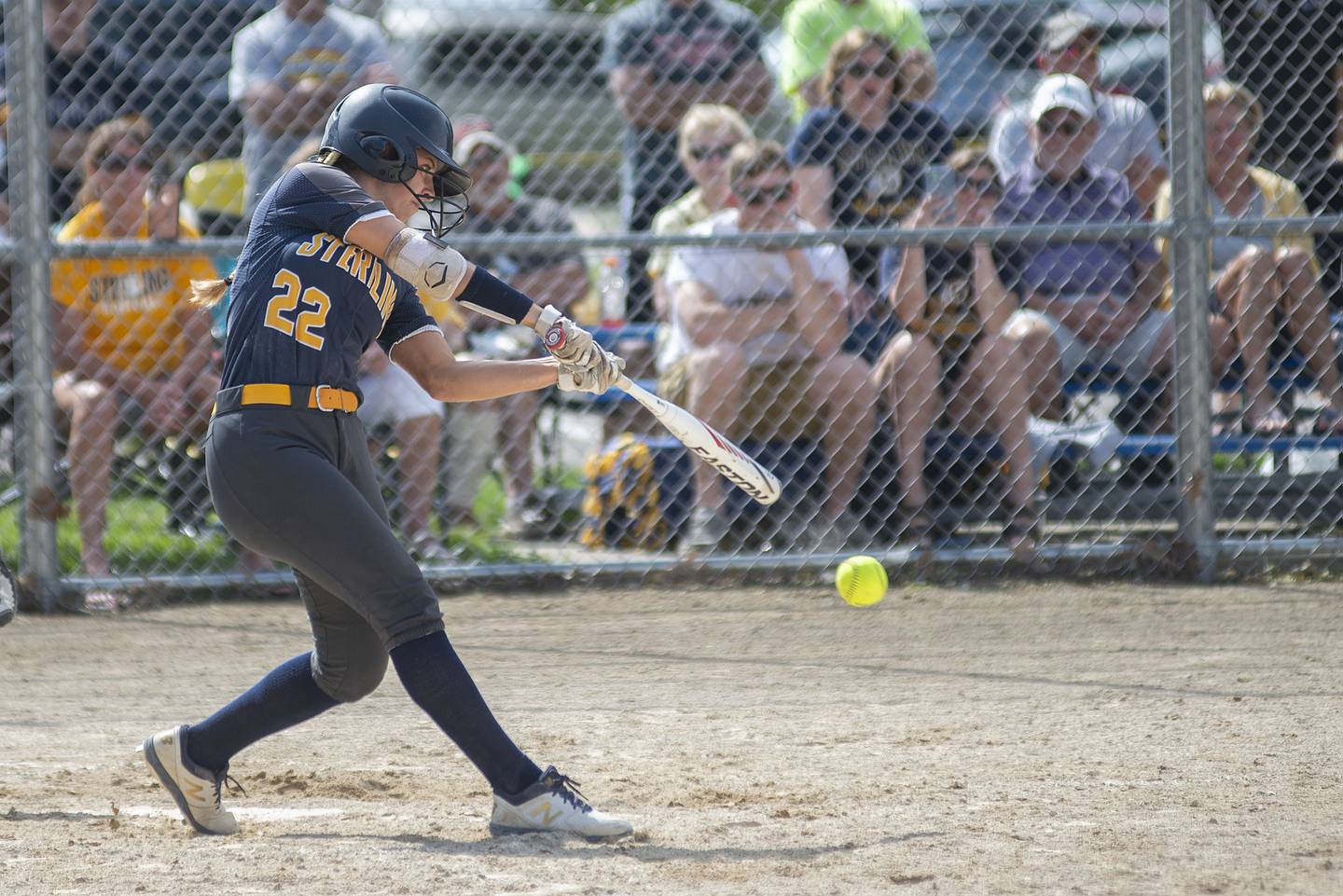 Palumbo seized that chance, hitting a sharp ground ball just to the right of second base to easily drive in Dittmar and kick off a wild walk-off celebration as her teammates mobbed her between first and second base.
"I was hopeful when Katie got on base to lead off the inning, because we needed that really bad," Palumbo said. "I was confident, because I thought Katie [Taylor] and Neveah would bunt, and I felt like if they could move Katie [Dittmar] over, then I could try to put the ball in play and get her in."
Dittmar was the first baserunner for either team since the fifth inning, when Dixon grabbed the momentum with a game-tying rally.
Trailing 6-1, the Duchesses did all their damage with two outs in the inning. Olivia Mowery reached on a bad-hop single, then Holli Miller bunted her to second. Palumbo notched a strikeout, but Bailey Tegeler singled up the middle to drive in Mowery and cut the deficit to 6-2.
Sam Tourtillott followed with a single up the middle – her third hit of the game – before Ana-Kate Phillips ripped her second RBI single in as many innings to make it 6-3.
McCommons then came up and scorched a frozen-rope line drive that just cleared the top of the fence in left-center field for a game-tying three-run homer. The ball was hit so solidly and on such a straight line that it couldn't have risen higher than 2 or 3 feet over the top of the fence during its entire journey from the bat to the grass beyond left-center.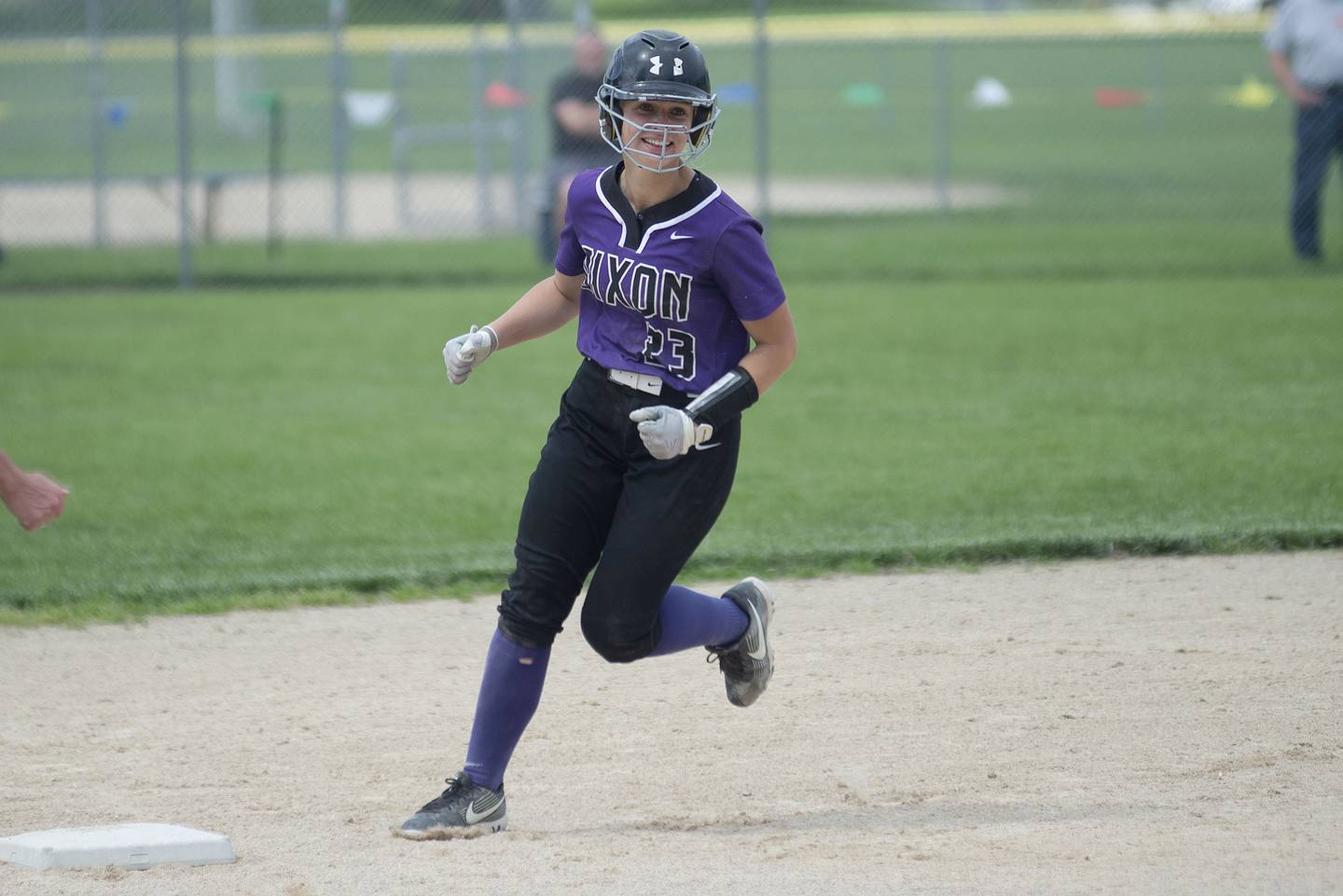 "Honestly, I didn't even know I hit a home run until everybody started screaming," McCommons said. "So that was really amazing. The adrenaline started going, and I really just felt we had that game, we were in it – until we weren't at the very end."
"That was super-exciting. I thought we had the momentum there," Tourtillott said. "We wanted it more than anything, but some of the plays just didn't go our way. We didn't do anything wrong, I thought we put our hearts out there and played our best game."
That hit knocked Palumbo from the game. Sienna Stingley came on in relief and retired all seven Dixon hitters she faced over the final 2 1/3 innings.
And while the Warriors were momentarily stunned, they never showed any panic as they tried to wrest the momentum back in the final innings.
"I tried to talk to my team, tell them 'OK, it's a new game, just like 0-0, we can still get on top really easy, we just have to score one run,'" Palumbo said. "I think we all played for each other, not individually. I was so happy for Sienna that she was throwing all those trikes and getting people out, because that's for our whole team, and that's what we need for the postseason."
That never-fazed quality might come from the experience they gained during last year's run to the 3A state tournament, and the bonds the team developed during that postseason.
"I think we just trust each other enough not to make mistakes and have that domino effect where it's one thing after another that goes wrong. Whoever's pitching, I know that they trust us to make plays behind them, and I trust them to make good pitches and get outs," Dittmar said. "I think it's really about trusting each other, and keeping your confidence up and that energy up so everybody's together and we're all working as a team instead of it being everybody for themselves. I think it's just trusting each other, believing in each other, and it just goes up from there."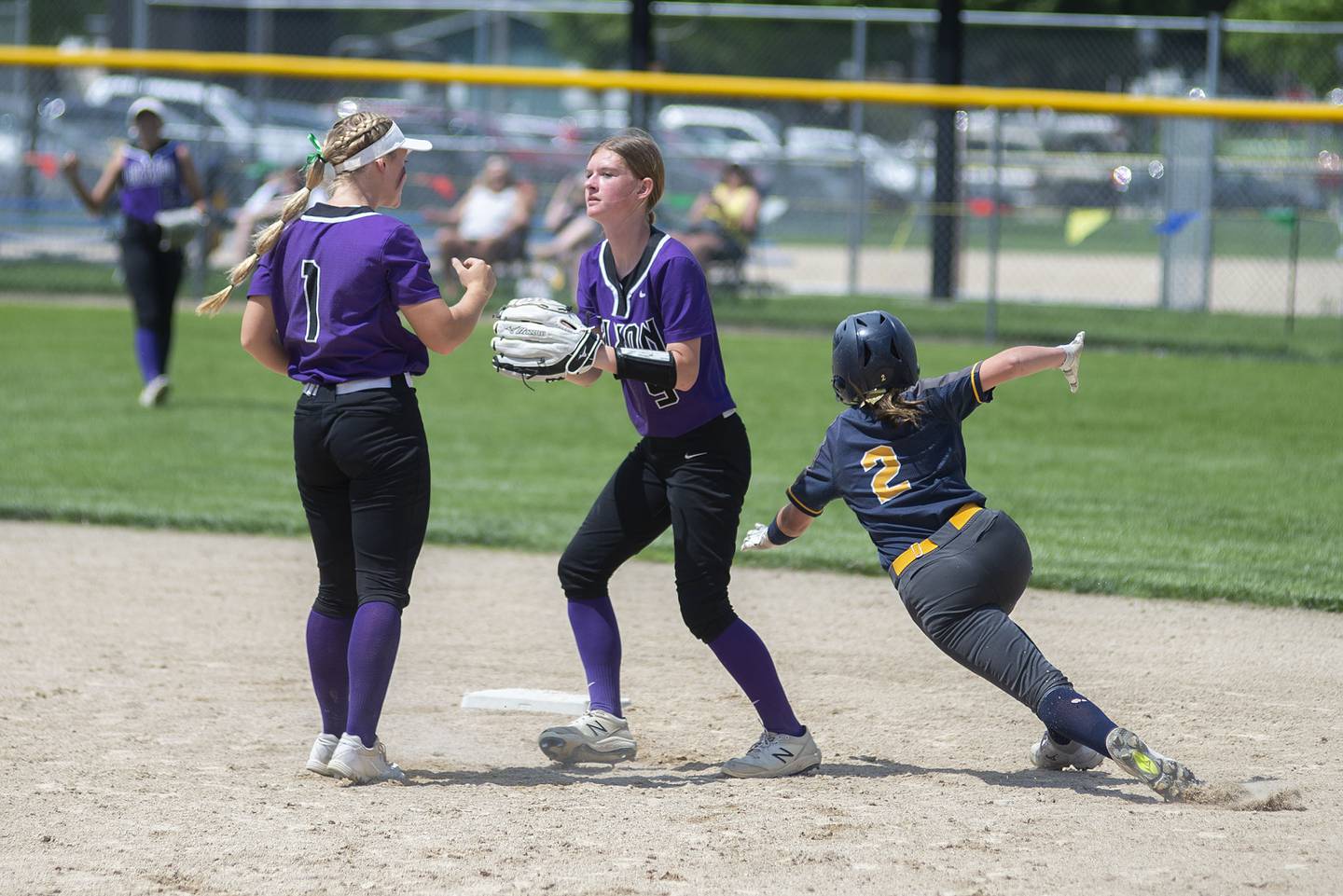 Sterling opened the scoring in the bottom of the first, when Lauren Jacobs singled and went to second on an overthrow, then advanced to third on a wild pitch before scoring on a two-out error.
The Warriors stretched the lead to 6-0 in the second inning. Dittmar led off with a single, then Taylor beat out a bunt and Frey singled to drive in Dittmar. Palumbo chopped an infield single to load the bases, then Tourtillott made a diving catch on Jacobs' line drive to shortstop, but she couldn't get back to her feet quickly enough to double off any of the runners.
Sechrest then hit into a fielder's choice where no out was recorded, scoring Taylor, and Carley Sullivan was hit by a pitch with the bases still loaded to force in Frey. Ellie Leigh and Stingley followed with back-to-back RBI singles, but Dixon got the second out of the inning when Tegeler fired in from center field on Stingley's base hit and got Sullivan in a rundown between third and home; catcher Arianne Smith eventually tagged out Sullivan. Elle Jarrett then got a comebacker to end the inning.
The Duchesses got one run back in the top of the fourth when Tourtillott led off with a double to right-center and Phillips followed with an RBI single up the middle, before the comeback with the explosion of runs in the fifth.
"I've never played on a team with more heart," Tourtillott said. "We're all best friends, we all love each other, and we just try to fight for each other."
The season comes to an end in heartbreaking fashion for Dixon, which tied the school record for wins in a season and made its first-ever appearance in a regional championship game.
The Duchesses fell just short of their goal of getting their team added the boards in Lancaster Gym that have all of the DHS regional, sectional and state titles listed for each sport, but they know that doesn't take away from the success they had this season.
"We wanted to get on the board [in Lancaster Gym] so bad; no Dixon softball team has ever done that," McCommons said. "We came here to make history, and we did – we tied the school record for wins – and we played with our hearts and put it all on the field. That's all we could ask for."
"Obviously the game didn't turn out the way we wanted, but this is one of the best softball teams Dixon's ever had," said coach Candi Rogers, who played on the 1998 team that also won 18 games. "They showed heart today, and I'm so proud of them."